Social sharing is one of Spotify's best features that enables users to share playlists with others easily and quickly. If you are fond of making personalized playlists on Spotify but not yet familiar with the process to publish those playlists to the world or share them to your friends and family, then you can take a few minutes to dig this post which will offer the most popular and easiest options for sharing playlists from Spotify. Let's check out how to share Spotify playlist now.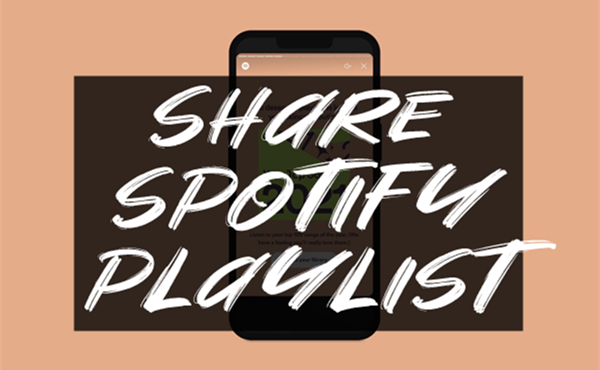 Part 1. How to Share Spotify Playlist from Computer
If you primarily use Spotify music service on your Mac or PC computer, you should simply follow these instructions to share your playlists on the Spotify desktop.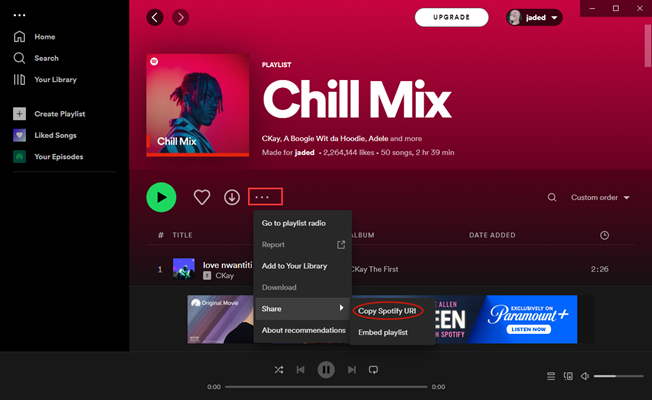 Step 1. Firstly, launch Spotify on your PC or Mac. If you haven't created a custom playlist yet, you should click the New Playlist button on the left side of the screen to create one then name the new playlist and add your favorite songs to it.
Step 2. Now open the newly created playlist or your existing playlist and then click the three-dot icon and you'll find a pop-up window.
Step 3. In the pop-up window, click the Share button and select Copy link to playlist. Then you'll copy a link to the playlist to your clipboard so that you can share it with your friends and family later.
Note: You may be confused by the two options to share Spotify playlist, including Copy Song Link or Embed Track. Specifically speaking, using embed code, you can insert Spotify music into a blof or forum post, while Spotify link will open the playlist in the Spotify desktop when someone clicks it. Anyway, you can choose any link sharing options that mostly meets your request.
Part 2. How to Share Spotify Playlist on Android & iPhone
As Spotify also supports both iOS and Android devices, you can easily share Spotify playlist on your mobile devices like iPhone, iPad, iPod, or Android device. The process to share Spotify music is like the desktop app. Here's how to.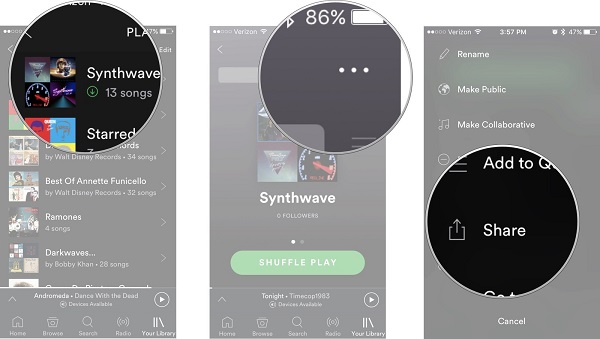 Step 1. Launch Spotify on your phone and log into your Spotify account.
Step 2. Locate the playlist you want to share and tap the three-dot icon.
Step 3. Then select the Share option to share the playlist with others.
Note: To share Spotify playlist from your mobile or tablet, you can choose to share it to social or messaging apps. Or by copying a link, your friends can directly open it in Spotify. The other user can also use Spotify to scan a Spotify code then access your shared playlist.
Part 3. How to Share Spotify Playlist on Your Social Platforms
For most users, the social platform like Instagram, Facebook, and Discord could be a good place to share their liked Spotify playlists. However, you are not allowed to share Spotify playlists from a computer. Currently, you can only select sharing platforms on your mobile devices.
How to Share Spotify Playlist on Instagram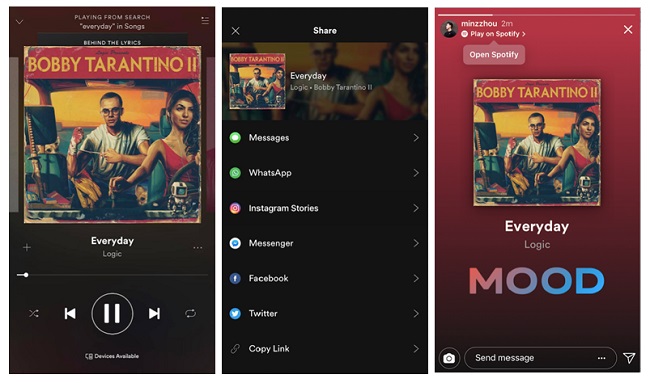 Step 1. On mobile, fire up the Spotify app and find the playlist you want to share.
Step 2. Touch the three-dot at the top right corner of the screen.
Step 3. Tap Share and select Instagram Stories from the list of sharing options.
Step 4. Go to the Instagram app and tap Send to after finishing editing your sharing post.
How to Share Spotify Playlist on Facebook
Step 1. On mobile, launch the Spotify app and locate the playlist you want to share to Facebook.
Step 2. Tap the three-dot next to the like icon in the top right-hand corner and then tap Share.
Step 3. Tap Facebook and select Facebook Stories or Facebook News Feed.
Step 4. Confirm to share Spotify playlist to your Facebook after editing your post.
How to Share Spotify Playlist on Discord

Step 1. On desktop, open the Discord app and click Connections in the menu on the left then select Spotify.
Step 2. Go to connect Spotify to Discord in the pop-up web page.
Step 3. Choose a display when you're listening to Spotify music in real time on your profile. Now your friends can see what you are listening to and choose to listen along with you.
Part 4. Alternative Way to Share Spotify Playlist without Limits
Other than sharing the links of Spotify playlists, you can also choose to share your liked songs from Spotify with your friends, especially those who are using a free account. As a free subscription doesn't allow the user to download Spotify playlists, this method will only enable your friends or family to access and enjoy your sharing online on some specified devices.
To make it easier to enjoy your sharing Spotify songs, all you need is an extra Spotify music tool called ViWizard Spotify Music Converter. It's a smart app that can easily download any song and playlist from Spotify and save it as MP3 or other common formats supported by all music players. Besides, it can preserve the original audio quality as well as the ID3 tags.

Key Features of ViWizard Spotify Music Converter
Download Spotify music, album, playlist, radio, and podcast for sharing
Preserve Spotify music with very high quality and ID3 tags info
Remove format protection from Spotify music efficiently and fastly
Once downloaded with ViWizard software, you can freely share Spotify playlist with family and friends with the full control on the songs. Now download and install ViWizard Spotify Music Converter to your computer then follow the below three steps to download songs from Spotify.
Step 1

Add Spotify Playlist to ViWizard

Once launching ViWizard Spotify Music Converter, it will load Spotify automatically. Then locate your playlist in Spotify and drag it from Spotify to the main window of ViWizar software.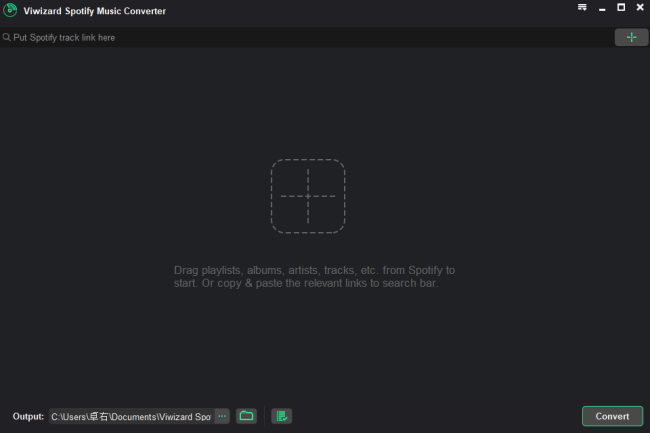 Step 2

Choose Output Audio Format

When the songs are loaded into the converter, click the top menu, and choose Preferences where you can set the output format like MP3, as well as the bit rate, sample rate, and channel.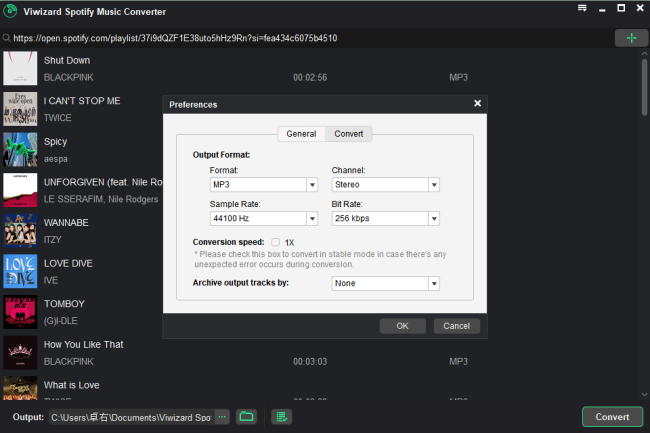 Step 3

Download Spotify Music to MP3

Now click the Convert button to begin downloading and converting Spotify playlist to MP3 or other formats available in ViWizard software.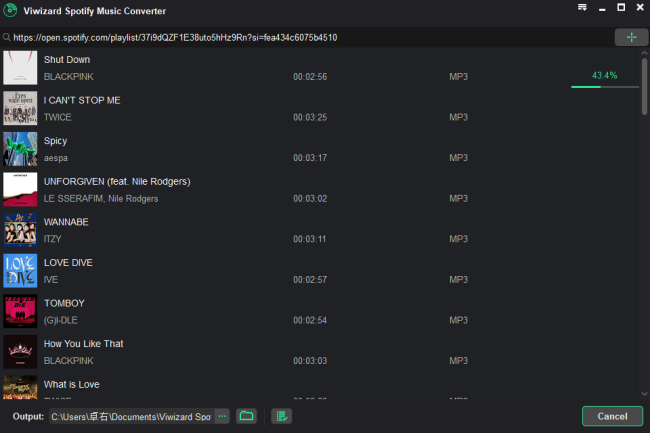 Conclusion
With the above methods, sharing Spotify playlist could become easier for you. You can choose to share playlist from Spotify desktop or mobile. But to make your sharing playlist playable on more devices, you can turn to ViWizard Spotify Music Converter. It can help you download your favorite songs and playlists from Spotify to several popular formats for playing anywhere.

Matt Smith is an amateur writer engaged in ViWizard in 2013. He is a movie lover who write a lot of movie reviews for many websites and blogs.