Make a playlist for your pet, a road trip, a gym session… Anything! - Spotify.
Spotify has a playlist for all of these situations, ang more. However, when users are getting familiar with the songs in their lists, especially in the created ones, normal case is that there's a new preferred order of the songs in them.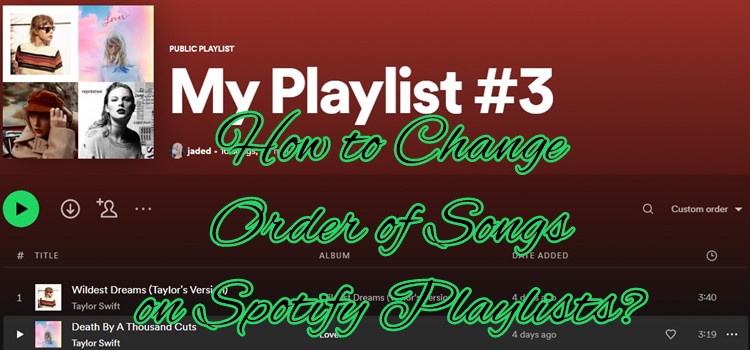 No more for endless scrolling down to find a specific song to start streaming, use several clicks or taps! You can change order of songs in playlists! In this article, we offer respective instructions of the two most-used methods - sort and customize for how to change order of song on Spotify on desktop and mobile.
Part 1. How to Change Song Order on Spotify Playlist for Desktop
For starters we recommend to use Spotify app for desktop because mobile users may need some work to finish the same task.
Change Order of Songs on Spotify Lists for Desktop
There are two methods available for how to change order of songs on Spotify playlist for desktop: sort and customize.
Sort to Change Order of Songs in Spotify Lists
Sort lets you view or stream lists in a particular order. Here's how.
1. On desktop, open its web or the app to see the side menu on the app and find your liked and created playlists here.
2. Click on a specific playlist that you want its order of songs to be rearrange.
3. In the new view, note there are columns at the top to choose how items are listed and thus change the order of songs.
From here feel free to click on TITLE, ALBUM, DATE ADDED, Duration (Clock icon) at the column header for a quick sort of items below. More options are available to choose with a click on Chevron down icon at the top: Custom order, Title, Artist, Album, added Date and Duration.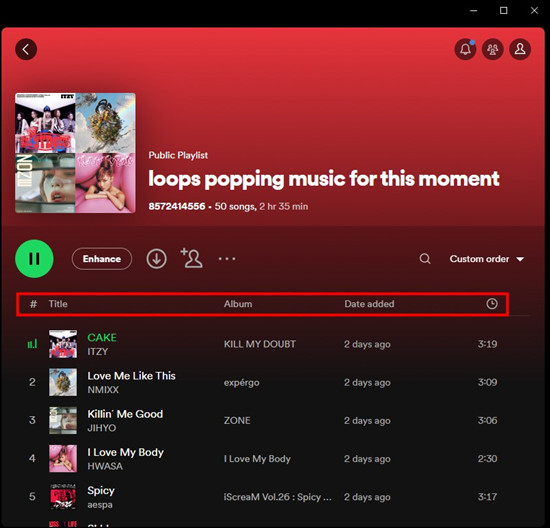 What if Some Columns Don't Show?
To reveal more columns or show hidden columns, adjust the app's screen size.
Note: The small green ↓↑ (Arrow down or up icon) next to the selected option show how the songs are sorted into one particular order. Click the column again to reverse the order. Remember to check this to find out how.
Customize to Change Order of Songs in Spotify Lists
True, sort is convenient with all those columns, but we still can customize the order of songs to make it work for us, which is called custom order.
You should have noticed the Custom order in the sort list. Now pick up the desktop device to find out how.
Thing You'll Need: Spotify App for Desktop
You need the desktop app to set a custom order, but it shows on all devices.
1. On desktop, still see the side menu and click on one specific playlist.
2. Click on a specific playlist that you want its order of songs to be customized with drags-and-drops.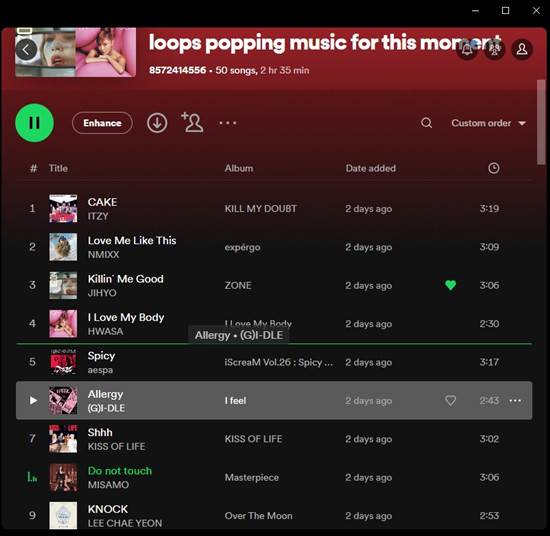 From here scroll down to find a song or several songs to put it to preferred position in the playlist. Or if the playlist is large, use the search tool next to the sort to locate a specific song.
3. To pin a special one song to the top (or other preferred position), just drag and drop it to there.
Or
4. For several few songs, locate them and click on one song first and press and hold the shortcut "Ctrl" to multi-select songs to continue to drag these items and drop them to your preferred position.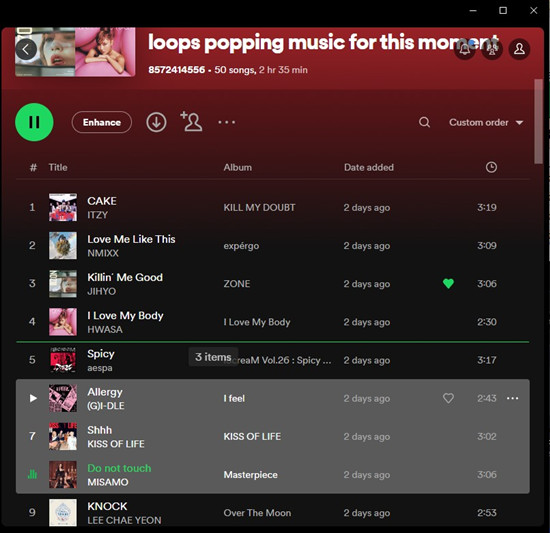 Tips: When dragging songs to a preferred position, see the green line and the information like "London Boy -Taylor Swift" and "2 items""2 items" in case of there's a mistake.
To show the songs in custom order, remember to keep the sort option as "Customer order" and all the other sort options should be grey. Feel free to keep it or leave it.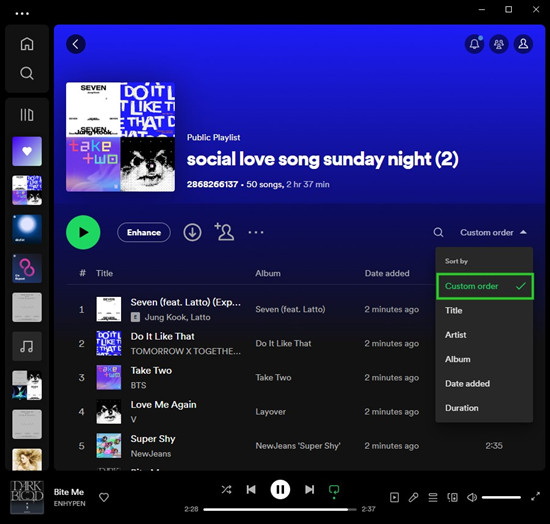 Note: This method also works for a change of how your playlists are listed.
Part 2. How to Change Song Order on Spotify Playlist for Mobile
On desktop, it's simple to move songs to the top with drags-and-drops. What's more, if custom order is preferred, once there's a change of the order of songs on the desktop app, there's no need to repeat the same steps to use the custom order on mobile.
Customize to Change Order of Songs in Spotify Lists
If the custom order has been enabled on desktop. A few taps can have it on mobile.
1. On mobile, open the app and see Your Library on the app.
2. Tap the Playlists bubble near the top of the screen.
3. Underneath Playlists, tap the ↓↑ (Arrow down or up icon) icon to open the Sort by menu.
4. Tap Custom order.
Now the custom order is the same both on desktop and mobile.
So besides the custom order, what if there's no an available Spotify app for desktop, can I change order of songs on mobile? Yes, but the mobile version needs some work to sort lists.
Sort to Change Order of Songs in Spotify Lists
On mobile, sort also lets you view or stream lists in similar orders like on desktop. Repeat the steps and see the Sort by menu on desktop app.
Choose how items are listed on Recently played, Recently added, Alphabetical, Creator and the Custom order (enabled on desktop)
Exclusive: Edit a Playlist with Premium
Premium subscribers can edit a list to change the order of list (not the songs in it) on iOS and Android. Just see and tap the More options button (three dots icon) on the list and then Edit.
Exclusive: How to Download Songs Playlist without Premium
Editing lists doesn't matter because you come for the methods above for either sorting or customizing to change orders of songs. However, there is one precaution for users.
All the accessible songs in lists are steaming for free, but can disappear or grey out one day and thus you may find the order is different. It's good to download them with Premium. It's even better to download them without Premium but with one more tool - ViWizard Spotify Music Converter! A few clicks and let it download and convert songs in lists in a particular order. Give it a shot!

ViWizard Spotify Music Converter Key Features
Convert and download Spotify songs to MP3 and other common formats
Download any Spotify track, playlist, album without premium subscription
Download any Spotify music with 5X faster speed
Save Spotify with original audio quality and ID3 tags
More Spotify Music Tips & Tricks