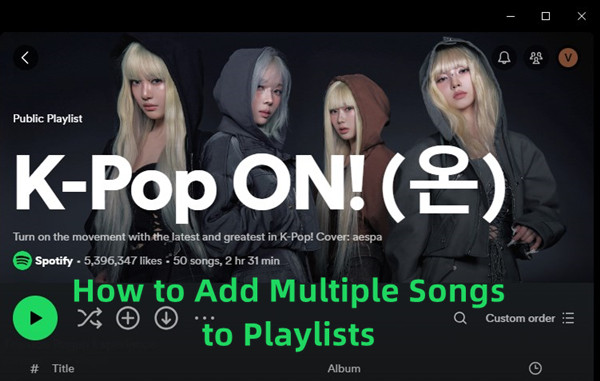 Are you a Spotify enthusiast looking to take control of your music collection? In this comprehensive guide, we'll walk you through the process of adding a song to multiple playlists on Spotify. Whether you're a desktop user or enjoy the flexibility of mobile streaming, we've got you covered. And there's great news for mobile users - Spotify has recently introduced a feature that allows you to add a song to multiple playlists with ease, streamlining the playlist management experience. So, let's dive into how you can make the most of this convenient update on both desktop and mobile platforms.
Part 1.

How to Add A Song to Multiple Spotify Playlists on Mobile

Mobile apps provide Spotify users with the convenience of carrying their entire music library and playlists wherever they go. With a recent update of the Spotify mobile app, adding a song to multiple playlists on your mobile device has become even more convenient.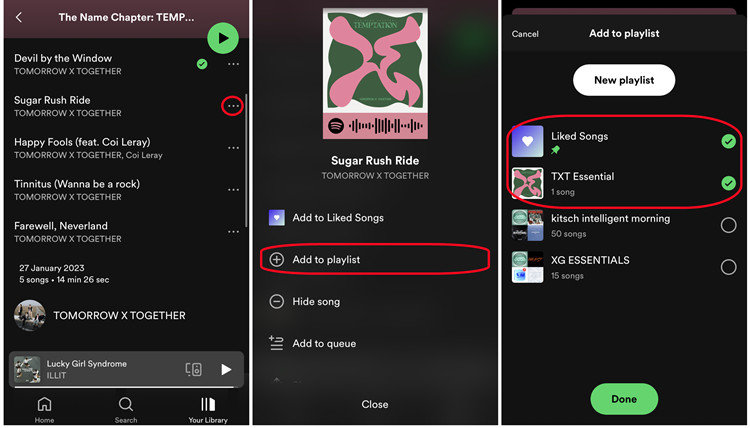 Begin by making sure the Spotify app is up to date. If not, open the Spotify app on your mobile device.
Navigate to the specific song you wish to add to multiple playlists. It could be a song you've newly discovered on Spotify or already saved in your library.
Once you've found the song alone or from a playlist, tap on the three dots icon (ellipsis) to access the song's options menu.
From the options menu, select "Add to Playlist." This will take you to a screen where you can manage your playlists.
Here you can now select multiple playlists to which you want to add the song. Simply tap on each playlist you want to include. A checkmark will appear next to the selected playlists. If you own a large library of playlists, you can also search for the specific playlist.
After you've chosen all the playlists where you'd like to add the song, double-check your selections to ensure you haven't missed any.
Tap the "Done" button to confirm your selections and add the song to all the selected playlists simultaneously.
Part 2.

How to Add A Song to Multiple Spotify Playlists on Desktop

While Spotify has updated the multiple playlists management option and streamlined the process on the mobile platform, desktop users still have to add a song to multiple playlists by utilizing the familiar drag-and-drop method. Simply open the Spotify desktop app, navigate to your library, locate the song, and drag it to each playlist individually in the side menu.
Begin by launching the Spotify desktop app on your computer.
In the left sidebar, click on "Your Library" to access your collection of songs and playlists. This will also expand your library.
Navigate to the specific song you wish to add to multiple playlists. You can locate it in your library or search for it on the Spotify platform.
Simply click and drag the song to one of your playlists in the side menu.
As you drag the song over a playlist in the side menu, notice that the playlist won't open if you drop the song swiftly. This allows you to efficiently add the same song to multiple playlists by repeating the drag-and-drop process for each playlist where you want the song to be included.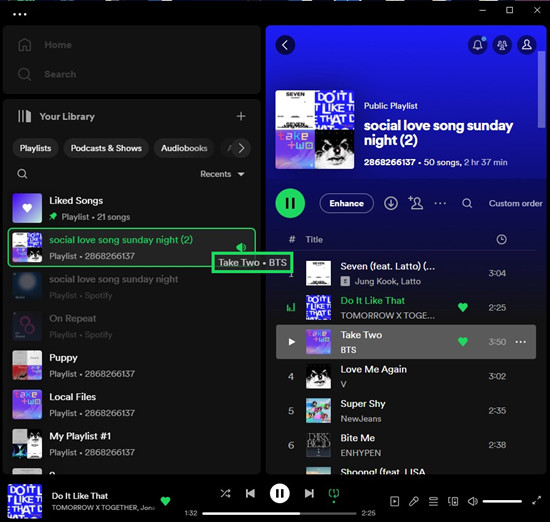 Of course, you can add a song to an individual playlist as you normally would. Simply right-click on the song, and select "Add to playlist," and choose the playlist, one at a time.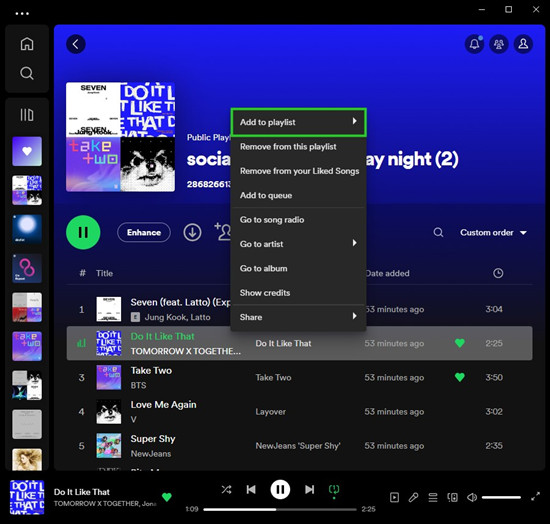 Bonus Tip:

How to Download Spotify Playlists to MP3

If you want to take your Spotify experience a step further and download your playlists to MP3 for offline listening or sharing, you can use a professional Spotify Music downloader like ViWizard Spotify Music Converter. This versatile tool is designed for both Premium and Free Spotify users and allows you to download your favorite Spotify music content, including all the playlists Spotify has curated for you.

With ViWizard Spotify Music Converter, you can enhance your Spotify experience by having your favorite playlists available offline in a usable MP3 format. This opens up the possibility to enjoy your music even when you're not connected to the internet or to share your playlists with friends and family. You can download either the Windows or Mac version of ViWizard for free and take your Spotify playlists to the next level. For a detailed guide on how to download Spotify playlists to MP3, check out our article:

Key Features of ViWizard Spotify Music Converter
Free Trial
Free Trial
* Security verified. 5, 481,347 people have downloaded it.
Download Spotify songs, albums, playlists, podcasts, audiobooks
Convert Spotify music to lossless MP3, AAC, FLAC, WAV, M4A, M4B
Support playing offline Spotify music on any device at any time
Compatible with Windows and macOS, as well as, the latest Spotify