Spotify, as a popular audio streaming service, has expanded to most major markets including the United States, Canada, and Australia and gathered most of the music lovers around the world. It is primarily known for its music streaming service, which allows users to save their favorite playlists to their library on Spotify. If you have spent a long time listening to music and creating a collection of playlists on Spotify, you might want to keep a text-based record of them offline.
However, you will find there isn't an option via the Spotify app or any of Web Player to export the data of playlists in text form. In by now, you may be confused about whether there is a method to achieve this. So, what's the best way to export your playlists from Spotify in the form of Text? Don't worry! We have figured it out and sorted out the detailed method to save Spotify playlist with the format of Text.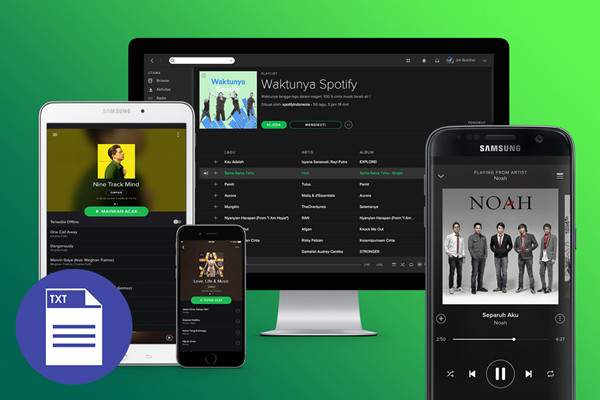 Way 1. Export Your Spotify Playlists Using Keyboard Shortcuts
For starters you can copy your Spotify playlists to a text document by using your keyboard. Just follow these steps:
Step 1 Open the Spotify desktop app.
Step 2 Head to the playlist you wish to save as text.
Step 3 When you're viewing the playlist's profile, press Ctrl/CMD + A on your keyboard to select all the items the playlist contains.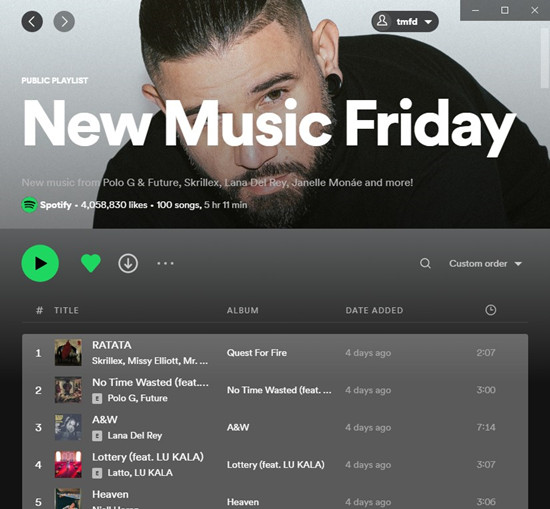 If you want to exclude particular songs, please press Ctrl/CMD and deselect the title.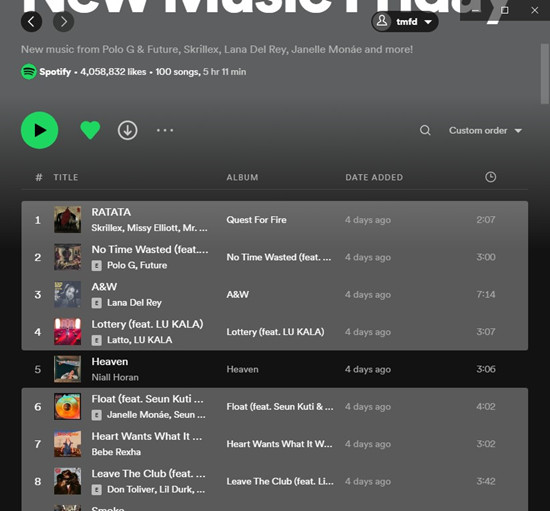 Step 4 Then press Ctrl/CMD + C to copy.
Step 5 On your desktop, create or open a text-document and press Ctrl/CMD + V to paste them into it. This will create a list with the URLs of the music tracks that are accessible on Spotify's web for http://open.spotify.com. That way, you don't have to right-click on every items that the playlist contains and select Share > Copy Song Link so as to save them to your txt-document by using the keyboard shortcuts only.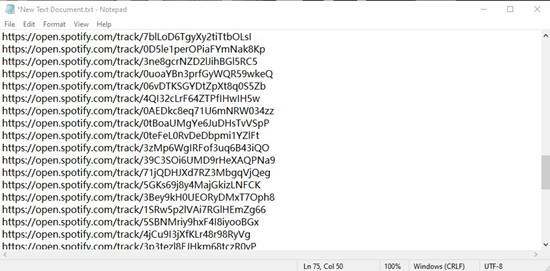 However, as stated this way only save the link of the tracks the playlist contains. Even this is enough for you to save it to a Spotify telegram bot to have some Spotify downloads for free. If you wish to get the full information of the playlist like the title, artist, album, duration, genre and more, you'll need to head to another 3 ways. From there you'll need a tool to help finish the task, either from Spotify official or a third-party that requires the access of your Spotify account.
Way 2 Export Your Spotify Playlists Using Download Your Data
As you may know that Spotify keeps and uses the data of all customers when they interacted with Spotify, so you get the music recommendations, and the Spotify Wrapped to see your top songs or artists at a certain time.
And of course Spotify allows you to check to see your personal data with a data file by using its official tool. That's called Download your data, which is accessible on Your Account Overview page. All you need to bring is your Spotify account and select the correct type of data that includes your Spotify playlists.
What's included in the data type of Playlist from Account data:
1. Name of playlist.
2. Date the playlist was last modified.
3. Names of songs contained within the playlist.
4. Names of artists for each song.
5. Names of artists contained within the playlist.
6. Names of artists for each song.
7. Names of albums or episodes (if podcasts).
8. Local track name, if the user uploaded locally saved audio to be played on Spotify service.
9. Any descriptions added by the user to the playlist.
10. The number of followers the playlist has.
In addition to playlists, Account data contains more items such as streaming history, your library, search queries, follow, payments, user data, and more. However, you have to wait for 5 days or so when Spotify prepares the data package you need. Then you can get a copy of the data file after you request it from Spotify.
Step 1 Visit the website of Your Account Overview to log in.
Step 2 Go to Privacy settings in the side bar.
Step 3 Scroll to Download your data, under it you should see the package of Account data.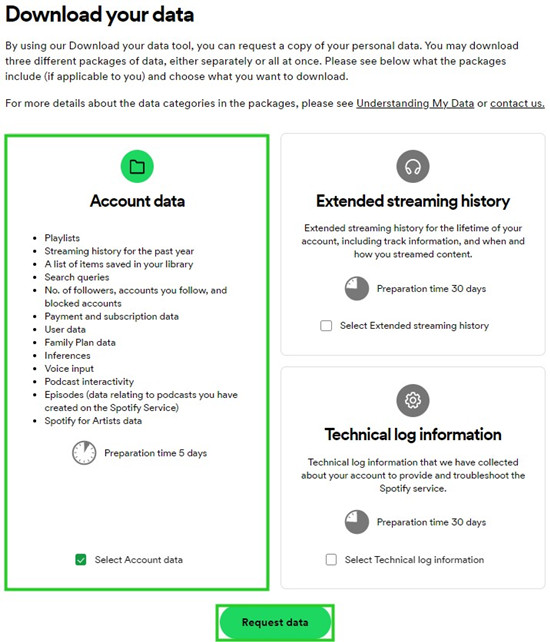 Step 4 Check the Select Account data box at bottom and head to Request data.
Step 5 Go to your email box to confirm this request. After the preparation time of 5 days, you'll receive an email and take activities to get the file of your Spotify playlists.
Way 3. Export Your Spotify Playlists Using Exportify
Exportify is a tool that helps you export your Spotify playlists to CSV. The application runs in a browser by clicking on the link below:
https://watsonbox.github.io/exportify/
Step 1 Fire up the app.
Step 2 Click "Get Started". And agree the permissions here to access your account to Exportify.

Step 3 Exportify will load all the playlists in your Spotify library, including the playlists you created and curated playlists by Spotify and your Liked songs playlist, which you can identify by the Owner column. It also displays how many tracks are contained in each playlist and whether it's public or not on Spotify.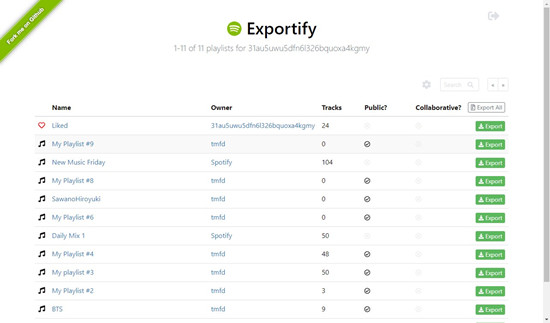 Step 4 You can either export all playlists here by clicking on the Export All to have a zip file. Or you can export some particular playlists here by clicking on the Export on the right of it.
Step 5 Exportify will start export the selected playlist without any hesitation. Open the CSV file from the download tab. You will get a very similar file like this one. Track data is exported in CSV format with these fields including Spotify URL, Title, Artist, Album, Disc and Track Number, Duration, Added By, and Added At.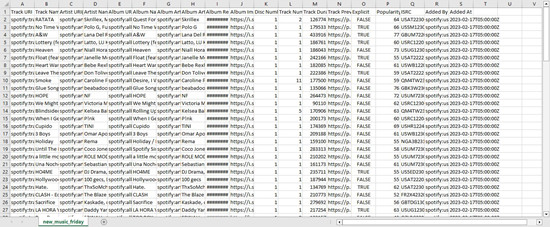 Note: The CSV export uses the HTML5 download attribute which is not supported in all browsers. Where not supported the CSV will be rendered in the browser and must be saved manually. You can change the format of CSV file as Text file.
Way 4. Save Your Spotify Playlists Using ViWizard Music Downloader
Except for using Exportify to create printable song lists, you can also download your Spotify playlists to mp3 for safekeeping. Even though you have cancelled Spotify subscription, you can still access the content of Spotify playlist without an internet connection. What's more, you can transfer those Spotify playlists to your portable device for listening on the move or in the car.
To achieve the aim of exporting your playlists from Spotify to your device or taking control of all tracks in your Spotify playlist, you can use ViWizard Spotify Music Converter to download and convert Spotify playlists to some ordinary audio formats including MP3, AAC, FLAC, M4A, WAV, and M4B. The tool also can keep ID tags and metadata information of each track from Spotify such as artist, track number, year, genre, composer, and more losslessly.

ViWizard Spotify Music Converter Key Features
Losslessly preserve original quality and metadata of Spotify music
Download all soundtracks from Spotify to MP3 or other plain formats
Get rid of all digital rights management protection from Spotify music
Configure all sorts of audio parameter like channel, bit rate and more
Step 1

Copy Spotify Playlist to Spotify Music Converter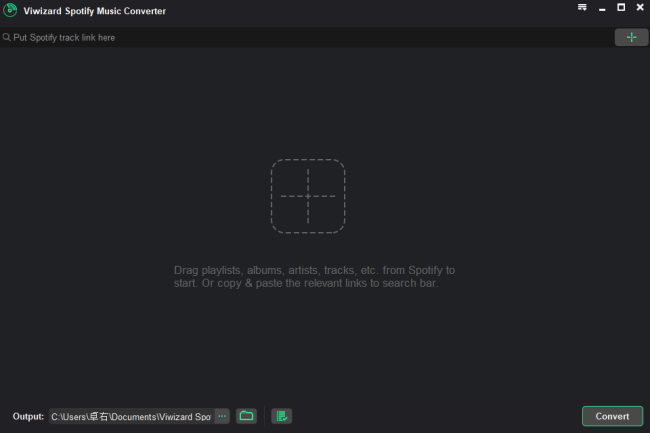 Launch Spotify Music Converter after you have installed it to your computer. Spotify app will be opened immediately with the opening of Spotify Music Converter. Then you need to choose a playlist you want to backup and drag and drop it to the converter. The program will recognize the playlist you add.
Step 2

Choose to Transfer Spotify Playlist to MP3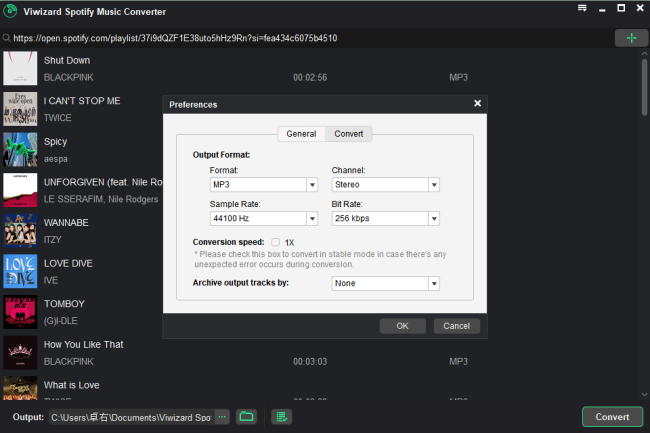 After the playlist is imported to the converter, you need to configure a collection of settings in this program. You could set the output audio format as mp3 or other plain formats like AAC. Otherwise, for better audio quality, you also need to configure the parameter of bit rate, sample rate and audio channel.
Step 3

Start to Convert Spotify Playlist to MP3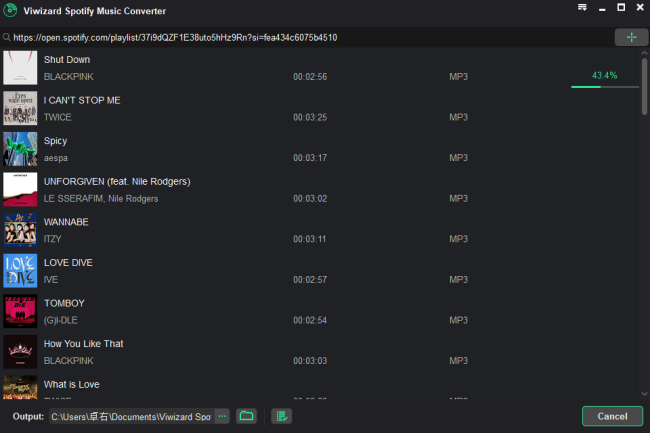 When you have done the above steps, you could start downloading and converting Spotify playlists to your personal computer. You need to click the "Convert" button to start converting. Once the conversion is completed, you can click the "Converted" button to check all the converted Spotify music. Now you keep these Spotify playlists forever no matter you are using a free account or premium account.