Spotify playlist limit is 10,000. This means you can add around 10,000 songs to your Spotify playlist. When you hit the maximum number, there's no way you can do to increase it. But there's are some alternative ways to improve this playlist song limit. Check this out.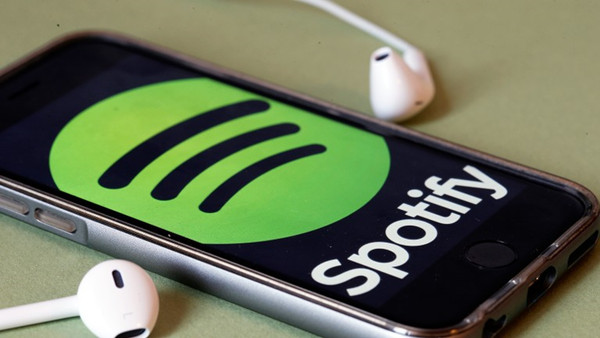 Part 1. Spotify Playlist Limit - What You Should Know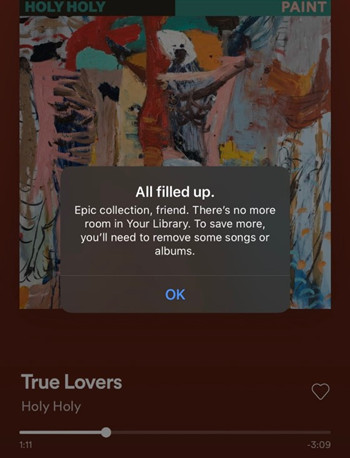 Spotify has long been criticized for the song limit on library and playlists. Although they've now removed the cap from user libraries, you still won't be able to integrate all your song collections of more than 10,000 songs into one playlist and stream them.
Spotify now has the number of users of more than 280 million as at March 31, and it says there're approximately 1% of the users will hit the Spotify playlist track limit, which is around 2.8 million. This large amount of users will receive a message telling them they're not able to add songs to the playlist anymore and they'll have to removes some songs if they really want to do so.
Some of them may try to download songs from playlists and turn all these files into one folder and stream them, however, when it rains, it pours. They run up against the trouble with a song downloading limit, and moreover, those downloaded songs can only be played on Spotify. And then again, they can not be all played under one playlist.
Why Spotify set the limit on the number of songs from playlists?
Actually, since 2014, there had been more than ten thousand votes for the request to remove this limit. But for some technical reasons and maybe Spotify thought there might not be so many users that could hit the song limit, and so they're not paying attention to take care of all of its users. They're focusing on rolling out more new features and variety of songs for that 99% of users to make more business sense rather than ditching the song limit for only that 1%.
Thankfully, there're some alternative ways to increase Spotify playlist limit, and there's also a tool to help achieve some of them.
Part 2. Use Liked Songs Feature to Increase Playlist Song Limit
"Liked Songs" with Unlimited Items:
Spotify's like songs feature gives you an option to add as many items as you want to the "Liked Songs" playlist. However, it's not usual for music fans to mess up their Liked songs on Spotify. Don't worry though, you still have 2 more options in this post.
If you want to add UNLIMITED items to one Spotify playlist, open the Spotify app on your device. Then go to the Spotify content's profile to like the song by pressing on the heart icon or "Save to your Liked Songs" button.
After that, go to the side menu of the desktop app and go into the "Liked Songs" tab, then you'll view and access all the songs you saved to this "Liked Songs" playlist. On mobile, go to Your Library instead to scroll to "Liked Songs" playlist, then all the items are synced to the same place on Spotify.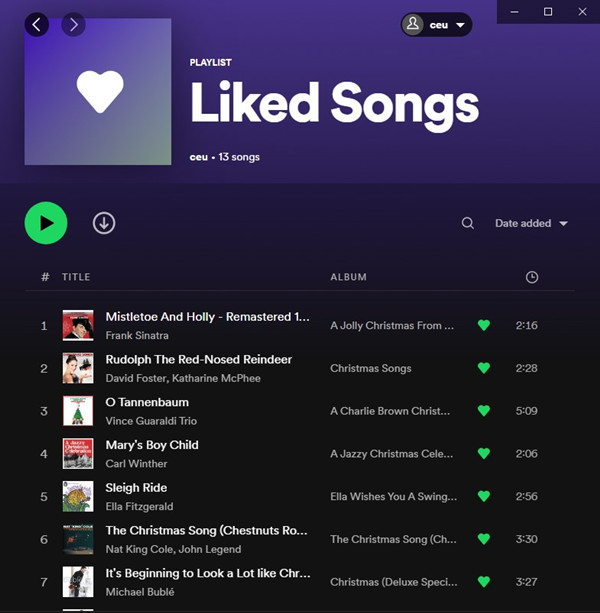 That's it! You can still play or download the whole playlist. However, you won't be able to edit it, share it with others or embed it to your website.
Part 3. Use Local Files Feature to Increase Playlist Song Limit
"Local Files" up to 21,000 Items:

If the first method doesn't make scenes to you, you can also have the benefits to Spotify's Local files feature. Spotify provide this for all Spotify desktop user to upload their music to Spotify. This means, if you have a folder that stores your playlist songs files, congratulations, you can choose to access it on Spotify's Local Files section for offline listening.
Adding your own music collection of the playlist you wish to make on Spotify like that could be a reasonable way, if you have all the music files of the Spotify songs. It took almost as long as that for you to get the music files from legal sources and you might expect a powerful tool can help, such as ViWizard Spotify Music Converter.
ViWizard Spotify Music Converter is the best Spotify Music downloader that can helps download the compatible music files of the desired Spotify contents with Local Files feature. With no Premium subscription required, you're able to download Spotify music files with the full ID3 tags and lossless quality kept. See how to download and converter Spotify Playlist to MP3 >>
| | |
| --- | --- |
| | Audio Files Formats |
| Local Files Compatible:  | MP3, MP4, M4A |
| ViWizard Output Supported: | MP3, M4A, M4B, WAV, AAC, FLAC |
Part 4. Use ViWizard Spotify Music Converter to Remove Playlist Song Limit
Is there a tool that can help me play Spotify songs in one playlist without any limitations? Yes, the ViWizard Spotify Music Converter rolls out services for downloading limitless Spotify songs which avoids running afoul of Spotify's flaw. By converting Spotify songs into unprotected local audio files with this tool, you'll be able to locate them anywhere. And that means there'll be no limitation curating these songs in any certain playlist and play them to your heart's content.
ViWizard Spotify Music Converter is designed to convert Spotify protected audio files into MP3, FLAC, AAC, WAV, M4A and M4B format. With no quality loss, it operates at the maximum speed of 5X converting songs to local files and make these songs accessible for any music player.

Key Features of ViWizard Spotify Music Converter
Convert and download Spotify limitless songs to MP3 and otherformats
Download any Spotify contents without premium subscription
Support the playback of Spotify music on any media players
Save Spotify with the original audio quality and ID3 tags
Step 1

Add Spotify Playlist to VIWizard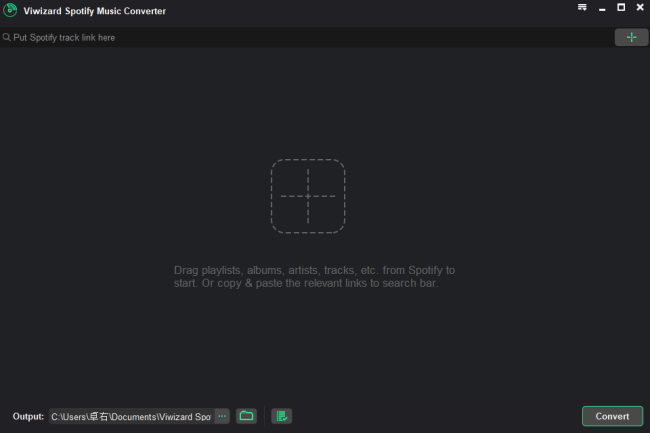 Launch ViWizard Spotify Music Converter. When it launches or relaunches the Spotify desktop app for you, make sure you log in your Spotify account to add the items you wish to make for your playlist.
Step 2

Customize Format Settings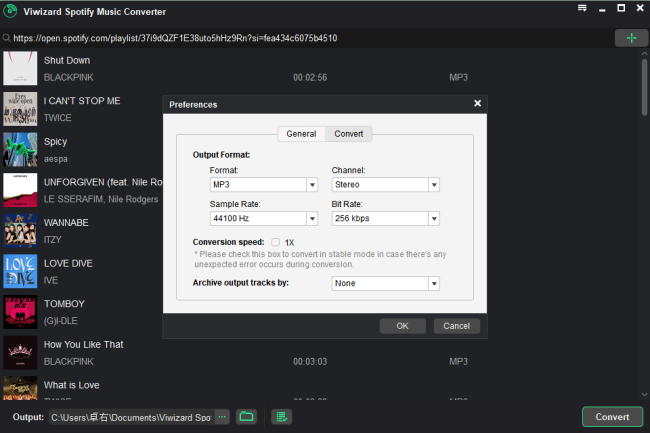 Open the apps menu to go to Preferences. Choose Convert > Format, then select MP3 from the drop-down menu. Click OK to save this setting.
Step 3

Download Spotify Music Files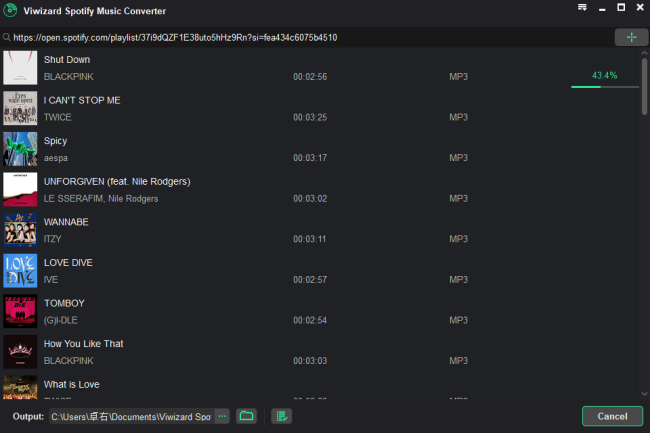 Before converting the added music tracks, you can choose to customize the output location for your music files. Click the More button at bottom to browse and select to the output folder. Click the Convert button to start the conversion at a 5x speed. You'll access the files in the selected folder.
Part 5. Use Spotify Music Files to Increase Playlist Song Limit
Now you have the ability to use the converted Spotify music files to increase your Spotify playlist song limit. We'd like to tell how you can use Spotify's Local Files feature to make the Local Files section the playlist for up to 20,000 songs or transfer them to iTunes for up to 50,000 songs.
As stated, you can choose to upload your music files to Local Files and Spotify will take care of the rest. You just need to make sure the songs you want within a playlist are stored in the same folder.
Step 1. On Windows or Mac, open the Spotify desktop app.
Step 2. From the app menu, go to Settings or Preferences.
Step 3. Scroll to Local Files, then switch on the "Show Local Files" option below. This will enable the "Show songs from" section.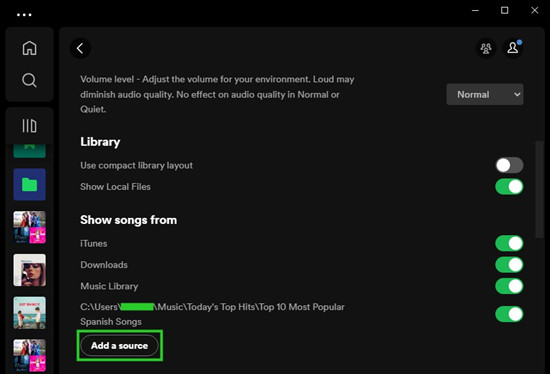 Step 4. Click the "Add a source" button to open the folder where the converted music files are stored in. Select the folder and click the Open button.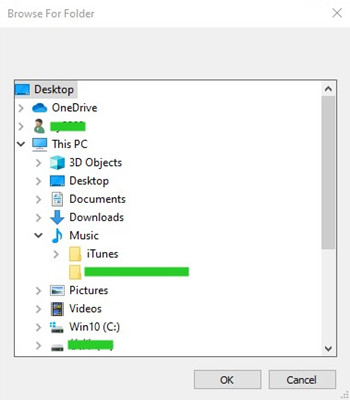 Step 5. Once added, make sure the added source is the only option enabled under the "Show songs from" section. You may also need to switch off the "Music Library" and "Download" options.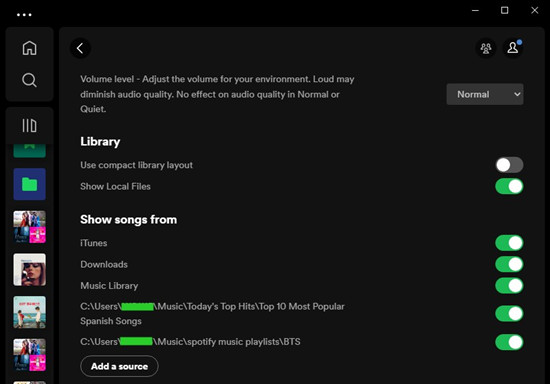 Step 6. Go to Your Library in the side menu and open Local Files.

That's it! You'll see Spotify creates the playlist based on the added sources from your computer device.
If you have iTunes, you're able to transfer your Spotify Library to your iTunes and create your ready-made Spotify playlists in your iTunes Library. iTunes playlist limit is up to 50,000 items for each.
Step 1. On Windows or Mac, open the iTunes Library.
Step 2. Right click under the Music Playlists section > New Playlist.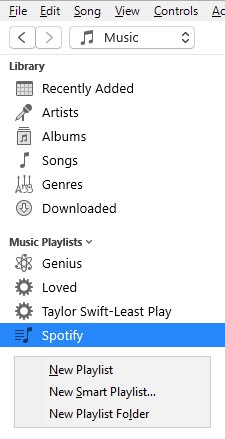 Step 3. Use Finder or Files Explorer to go to the folder where all the converted Spotify music files are stored in. Drag and drop the items to the playlist that you created.