I have many songs on my local computer and wanna listen to them on Spotify while working. Is that possible to import these tracks to Spotify library for listening? If so, how to do?
-- Nick from Spotify Community

Undoubtedly, Spotify is one of the best music services in the world that offers us an extremely easy access to over 70 million songs. In addition, it also serves as an all-in-one music player to play any kind of music, even including the local files stored on your computer. With just a few clicks and adjustments, you can easily control and play your own music on Spotify desktop and mobile wherever you are. Wonder how to upload local files to Spotify? The following steps will tell.
Part 1.

How to Upload Local Files to Spotify on Desktop

Local Files is a feature that let Spotify users to upload their own music files stored on the computer device. You can add your downloads as local files to Spotify up to 10,000 tracks across 3 devices. Once uploaded, you have the ability to play them in Spotify's Offline Mode even without an internet.

To upload your local files to Spotify, you'll need to use a computer device such as a Windows PC or Mac computer that runs the Spotify desktop app. The desktop app provides both Premium and free users the exclusive uploading feature, including the ability to sync and play your local files alongside your streaming music library. If you haven't download and install the desktop app, go to the official website to download the latest version.

Q1.Do I need a premium subscription to upload local files to Spotify?

A1.No, you can upload and play local files on Spotify with both free and premium subscriptions. However, the premium subscription allows for more control and features, such as offline playback of local files on mobile devices.
Step 1. Get Compatible Music Files with Spotify Local Files
Start by getting compatible music files with Spotify's local files feature. The desktop client supports various file formats including MP3, MP4, M4P, AAC, FLAC, and OGG. Files or downloads from illegal sources are not permitted. You should go and check to see the desired music files' format. If they're not in one of the formats above, consider using a conversion tool to convert the files to a compatible one.
Step 2. Upload Local Files to Spotify Desktop App
Once done, you can upload your files from your hard disk to the Spotify desktop app though the "Add a source" button under Settings.
Open the Spotify desktop app on your Windows PC or Mac computer.
Click the profile icon at the top right of the screen > Settings. Alternatively, open Spotify's app menu > Edit > Preferences.
Scroll through Settings to Library > Show Local Files, then make sure to toggle the switch next to Show Local Files to enable the local files feature. This will reveal more options including "Add a Source" under "Show songs from".

Locate the "Add a source" button and click on it. In the file browser window that appears, navigate to the folder on your computer that contains the local music files you want to upload.
Select the folder that contains your local music files and click OK or Open to add them as a source.

Once you've added the folder(s), the location will appear alongside with other options such as iTunes, Downloads, Music Library. Make sure to toggle on each folder to enable synchronization.
Note
Spotify will then continue to scan and process the local files, and any new files will be added to your music library.
Step 3. Play Local Files in Spotify Desktop App
You can go ahead and check to see the local files in your music library.
Q2.Can I include local files in my Spotify playlists?
A2.Yes, once you have uploaded local files to Spotify, you can include them in your playlists just like any other Spotify tracks. However, you cannot add them to the Like Songs playlist as it's exclusively available for streaming music files.
On desktop, scroll through your playlists in the side bar to look for a playlist called "Local Files". If you have a large music library, you can choose the Playlists filter at the top to find the Local Files playlist at the top position.

Go into the Local Files playlist, and you'll see the local files.

You play the files in Spotify's Offline Mode. You can also add them to a new playlist or existing ones in your music library.
Q3.What happens if I move or delete the local files on my computer?
A3.If you move or delete the local files on your computer, Spotify won't be able to locate or play those files. Make sure to keep the local files in their original location or update the file paths in Spotify if you make any changes.
Q4.Why are my Spotify local files not working?
A4.There could be several reasons why your Spotify local files are not working. Here are some common troubleshooting steps you can try in another post.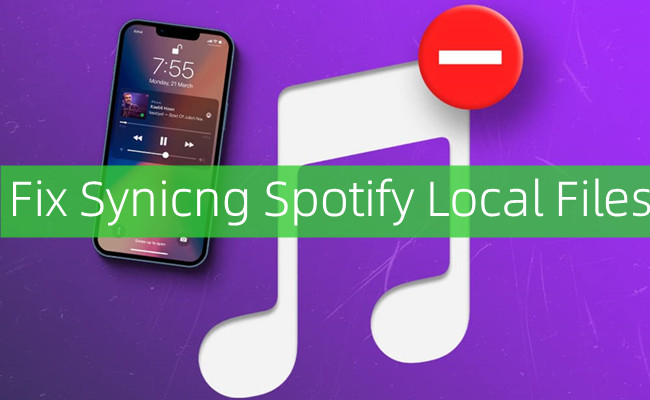 Part 2.

How to Sync Spotify Local Files to Mobile

If you want or need to access and play the local files on your mobile devices, such as smartphones or tablets, you have to do the syncing manually and subscribe to Spotify Premium. If you are on the free tier, the local files can only be played within the desktop app on the computer where they are stored.
Step 1. Add Local Files to Spotify Playlist [for Desktop]
Connect your computer and your mobile device to the same Wi-Fi network.
On desktop, click the + button next to Your Library > Create a new playlist, and rename the playlist.

Head over to the Local Files playlist and add the desired songs you want to sync to your mobile device. Right-click on a single or multiple songs > Add to playlist, then select the playlist.
Step 2. Sync Local Files to Spotify Mobile App
When connected to the same Wi-Fi network as the computer that runs the Spotify desktop app, open the Spotify mobile app on your device.
Ensure that you are signed in to the same Spotify account used on your computer, and your music library will be synced automatically.
Step 3. Download Local Files on Spotify Mobile App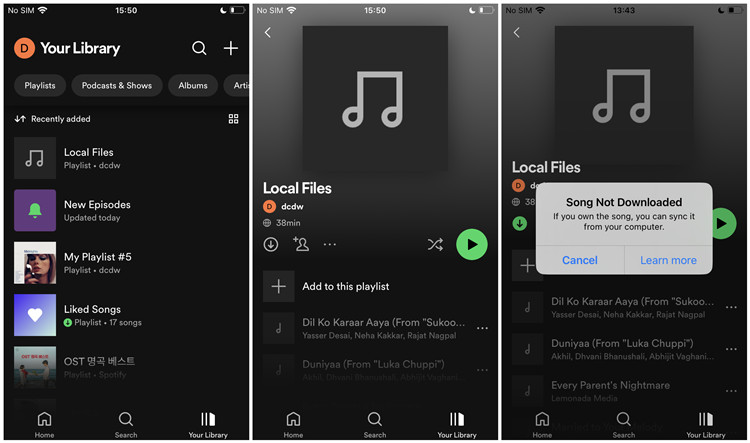 On mobile, go to Your Library.
Scroll through your library and locate the playlist that includes the local files.
Go into the playlist, and tap on the Download button there. This will start syncing the playlist and its local files to your mobile device. Meanwhile, the playlist should be available offline.
Wait for the syncing process to complete, and your playlist songs should be playable in the mobile app.
Part 3.

How to Save Spotify as Local Files on Desktop

Sometimes you may want to download music from your music library or Spotify's music catalog to music files for your own personal collection that stores on your devices and platforms. While Premium subscribers can download Spotify music for offline use, the downloaded music is encrypted in a protected file format and restricted to the Spotify app only. You'll need a third-party conversion tool to convert and download your favorite Spotify music to the desired file format, such as MP3, WAV, or FLAC.

Key Features of ViWizard Spotify Music Converter
Free Trial
Free Trial
* Security verified. 5, 481,347 people have downloaded it.
Download Spotify songs, albums, playlists, podcasts, audiobooks
Convert Spotify music to lossless MP3, AAC, FLAC, WAV, M4A, M4B
Support playing offline Spotify music on any device at any time
Compatible with Windows and macOS, as well as, the latest Spotify
ViWizard Spotify Music Converter is the best Spotify music downloader designed for both Premium and free users to download Spotify music files to a computer. You can download individual songs, playlists, albums, artists, podcasts, and even audiobooks to play them anytime, anywhere. Meanwhile, the lossless audio and full ID3 tags can be kept with each downloaded music files. It's always a great idea to create a local backup of your Spotify music library with ViWizard.