As of December 2021, Spotify had over 381 million monthly active users and 172 million subscribers. It now provides access to more than 70 million songs on most modern devices, including smartphone, computer, tablet, smartwatch, game consoles, smart speakers, and more. To make it easier to listen to Spotify music on smart speakers or TVs, it introduced Spotify Connect which can stream songs via Wi-Fi while using Spotify as a remote. If you are unfamiliar with Spotify Connect yet, you can read this post then you'll know what is Spotify Connect and how to use Spotify Connect across your devices.
Part 1. Spotify Connect: What Is It
As opposed to its competitors, Spotify is majorly liked multiple users becuase it uses super-fast Wi-Fi connectivity which cannot be harmed by dropout. It can not only offer a vast range and quality sounds but also enable users to easily play music due to its standalone audio system. When it comes to the playback, you cannot ignore the great feature – Spotify Connect.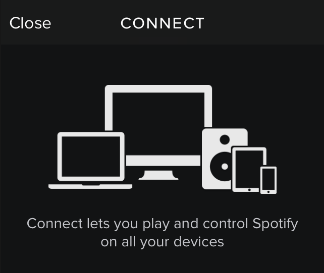 What is Spotify Connect?
Spotify Connect is a way of giving users effortless control of music across their smartphones, speakers, smartwatches, and TVs with million of tracks buil-in. It was officially launched in 2013 and then introduced into the market in 2014. Spotify Connect is now one of the leading methods enabling users to listen to their favorite songs on their device via the stereo system.
How Spotify Connect Works?
Spotify Connect works over a cellular network connection or high-speed Wi-Fi. However, it will not work unless you have contents to stream from such as your smartphone able to run the Spotify app. Also, have the receiver such as a compatible set of speaker or other hardware with Spotify Connect onboard. The ideal thing is that Spotify streams music directly to your device not on your mobile device.
When that happens, your mobile device becomes a remote control but carries out other tasks like allowing you to answer phone calles without muting the music. This method saves your battery as well. In addition to that, it works with other hardware in the house including multi-room smart speaker system, cars with compatible systems, as well as, Amazon Echo and Google Home. With Spotify Connect, you are likely to switch devices without skipping any beat.
Part 2. Spotify Connect: Compatible Devices
With Spotify Connect, you can use one device to remotely control listening on another. So, what devices are compatible with Spotify Connect? In fact, Spotify has established cooperation fellowship with lots of brands and devices from smart speaker system to smart wearables, as well as, lots of smart TVs. On those devices, you can directly play Spotify or link your device for playback via Spotify Connect.
Smart TVs: Apple TV, Amazon TV, Samsung TV, Hisense TV, Philips TV, Sony TV, and so on.
Smart Speakers: Amazon Echo, Google Home, Apple Homepod, Sonos, and so on.
Smartwatches: Apple Watch, Samsung Galaxy Watch, Garmin Watch, Fitbit Watch, and so on.
Part 3. Spotify Connect: How to Set up & Use It
Setting up Spotify Connect is an easy job, and you can simply use it on your iOS or Android device. If you want to use Spotify Connect, make sure that you have updated your device to the latest version and installed the latest Spotify app on your device. Just check if your device is able to detect Spotify Connect supported device which is already connected to the Wi-Fi network, then start using Spotify Connect to stream your liked songs.
On Mobile & Tablet:
Step 1. Open the Spotify app on your mobile or tablet and choose to play something.
Step 2. On the bottom of your screen, you'll see a speaker icon reading Device Available.
Step 3. Tap on the icon to see a list of available Spotify Connect players on your network.
Step 4. Choose one that you want to stream and then it turns the message green.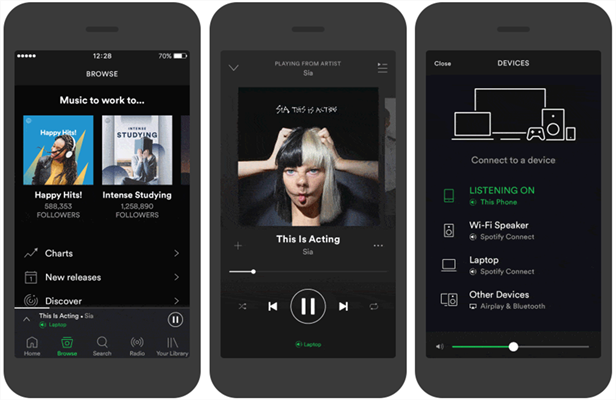 On Desktop & Web Player:
Step 1. Launch the Spotify app or the Spotify web player on your computer and play something.
Step 2. In the bottom-right, you can find a speaker icon then click on the Device Available button.
Step 3. Browse a list of Spotify Connect supported devices and pick the device you want to play on.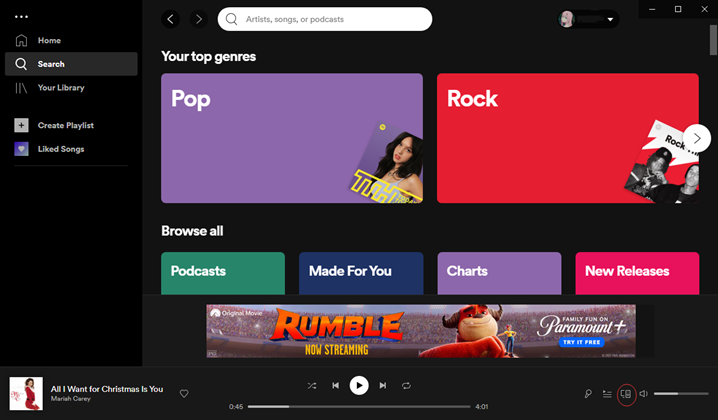 It's pretty simple to set up Spotify Connect. Therefore, you can simply use it to shuffle songs, develop playlist and adjusting volume as you keep listening to the music. Besides, you can use voice commands to play music from Spotify when you have a smart speaker like Google Home, Sonos One or Amazon Echo Plus.
Part 4. Alternative: Listen to Offline Spotify without the Spotify App
Apart from Spotify Connect, there are some other ways that can also enable you to play Spotify music on other devices without using the Spotify app. For instance, you can use a third-party Spotify music downloading tool, that is, ViWizard Spotify Music Converter to download and convert Spotify songs to MP3 with lossless sound quality retained.
With ViWizard Spotify Music Converter, you are able to track music from Spotify and save them to several widely-supported audio formats no matter whether you are using a Free or Premium Spotify plan. Also, you can customize the output audio parameters such as bit rate, sample rate, and channel according to your personal demand.

ViWizard Spotify Music Downloader Key Features
Download Spotify music tracks, playlists, albums, artist without premium
Convert Spotify music tracks to six plain audio formats like MP3, AAC, etc
Remove DRM protection from Spotify music and work at 5× faster speed
Preserve Spotify music tracks with the original audio quality and ID3 tags
1

Select Spotify songs to download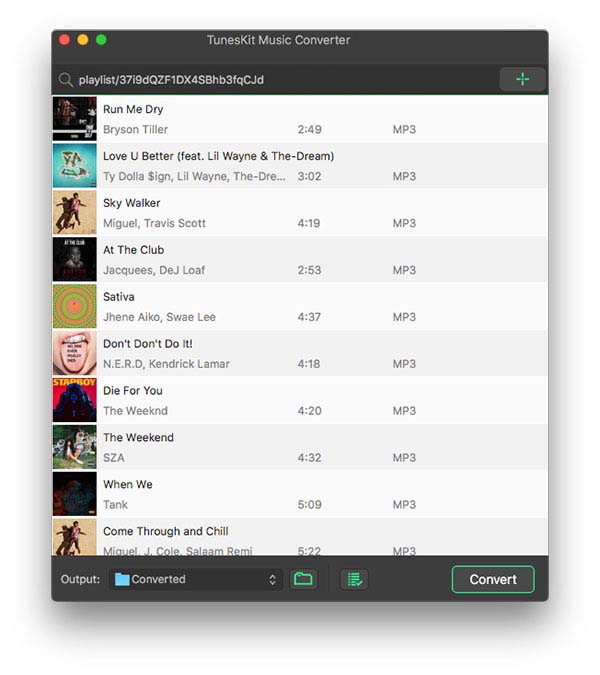 Launch ViWizard Spotify Music Converter on your computer, and with the Spotify app loaded, select any track, album, or playlist you want to download. Then directly drag your target songs into the main interface of the converter. Or copy the URL of the playlist into the search box in the converter to load the tracks.
2

Configure the output parameters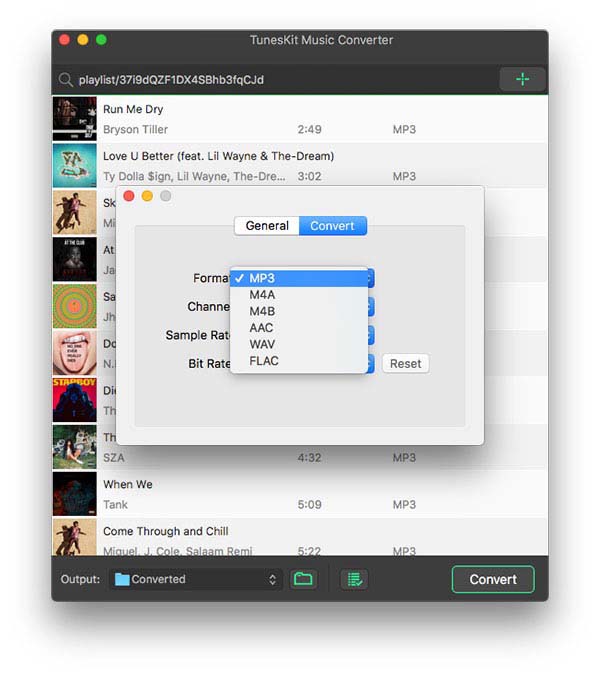 To configure the audio parameters, click the menu bar, select the Preferences option, and then switch to the Convert tab. In the pop-up window, set the output audio format, bit rate, sample rate, and audio channel. There are six audio formats, including MP3, AAC, M4A, M4B, WAV, and FLAC, available for you to choose.
3

Start downloading Spotify songs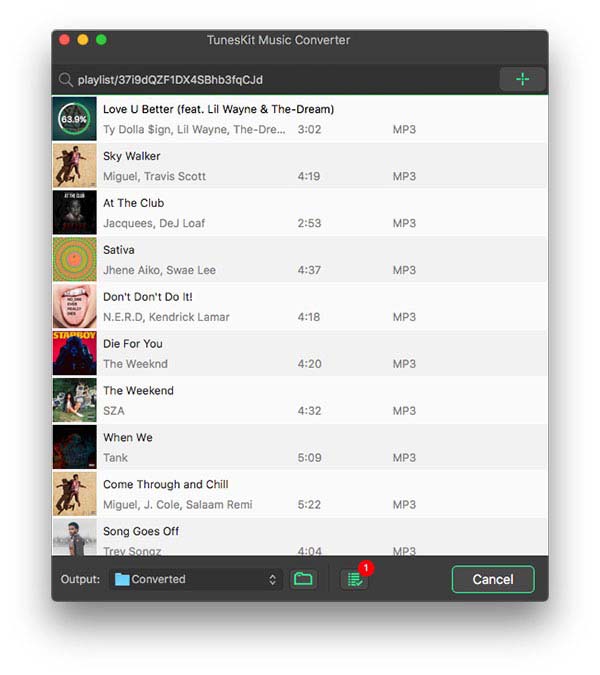 Once the settings is completed, click the Convert button at the bottom right of the converter. Then the converter will soon download and convert Spotify songs to your required formats. After conversion, you can browse the converted Spotify songs in the history list by clicking the Converted icon. Also, you can transfer those songs to your device for playing anytime.
Part 5. Spotify Connect Not Working: How to Fix
With Spotify Connect, you can easily get your songs on those devices without the Spotify app. But in the process of using Spotify Connect, there appears some Spotify Connect issues. For example, Spotify won't connect devices or Spotify Connect fails to work. If you are facing this proble, you can try the following solutions to resovle it.
1) Restart the Spotify app on your device.
2) Close any other applications you're not using.
3) Restart your devices and Wi-Fi.
4) Upate your device and Spotify to the latest version.
Conclusion
That's all! Spotify Connect makes it easier to stream your liked songs to other devices like smart speakers and smartwatches when you play out of doors. If you want to play Spotify without the Spotify app, then have a try of ViWizard Spotify Music Converter and you'll find it out.

Matt Smith is an amateur writer engaged in ViWizard in 2013. He is a movie lover who write a lot of movie reviews for many websites and blogs.