In May 2020, Spotify launched its Group Session feature which allows users who are having a party or having fun together to share what they play on Spotify. This feature supports everyone in the session controls what is playing. People in is group can listen to this song together and control playback such as play, stop, skip the song, and change the volume of song.
In the beginning, Users all have to be in relatively close proximity to each other. Starting 2020, July 28th, Spotify expanded Group Session. It now allows you to listen with friends across long distances. No matter you're 6 feet away or several thousand miles away, you can enjoy the same song and podcast with friends in real-time.
Next up in this passage, I will show you how to start a Spotify Group Session and invite your friend. But noted that this feature is only open to Premium users. How to listen to Spotify with friends without premium? If you are a free user, do not worry, in the last part, there will be a tip to get this feature without Premium.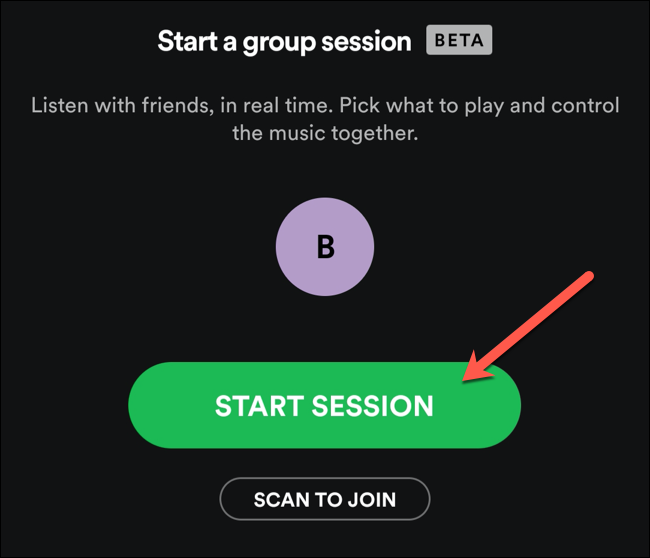 Start A Spotify Group Session
Before you use this feature and share it with your friends, all your Spotify accounts should have subscribed to a Premium plan. Unfortunately, free users might stop reading here, but you can turn to the next part to get a similar feature without Premium.
Step 1: Open Spotify on phone or tablet
You can only start Spotify group sessions on your phone or tablet. You cannot use this feature on other devices like computers. If you still insist on doing that on your computer, go to the next part to use the second method.
In March 2021, the available devices expand to Polestar 2 electric vehicles. Up to five Spotify Premium users staying in the same car can connect Spotify playback in real-time with Spotify Group Session.
Step 2: Enter Connect Page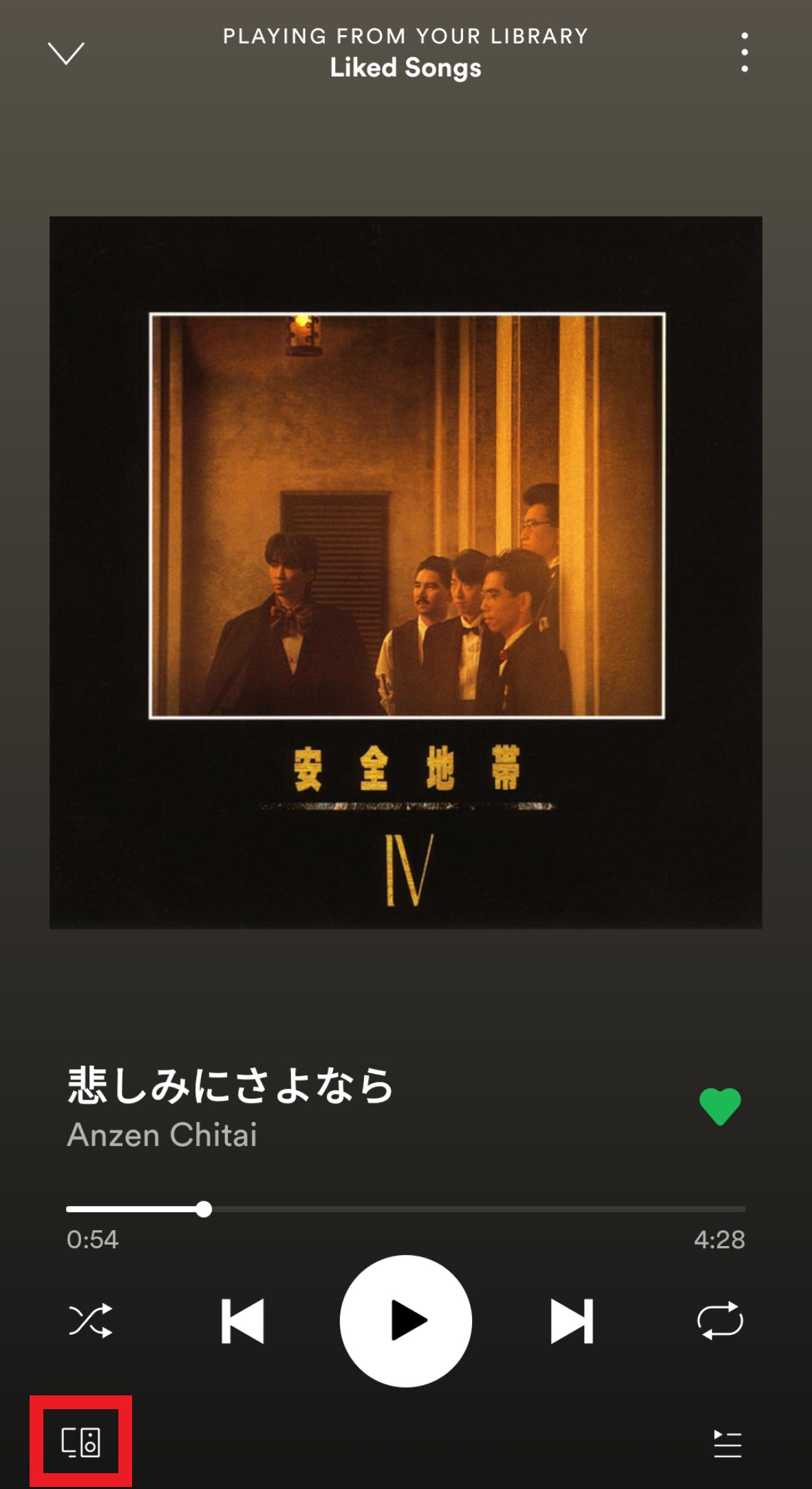 Play a song and tap the Connect button at the bottom left of the screen.
Step 3: Start Spotify Session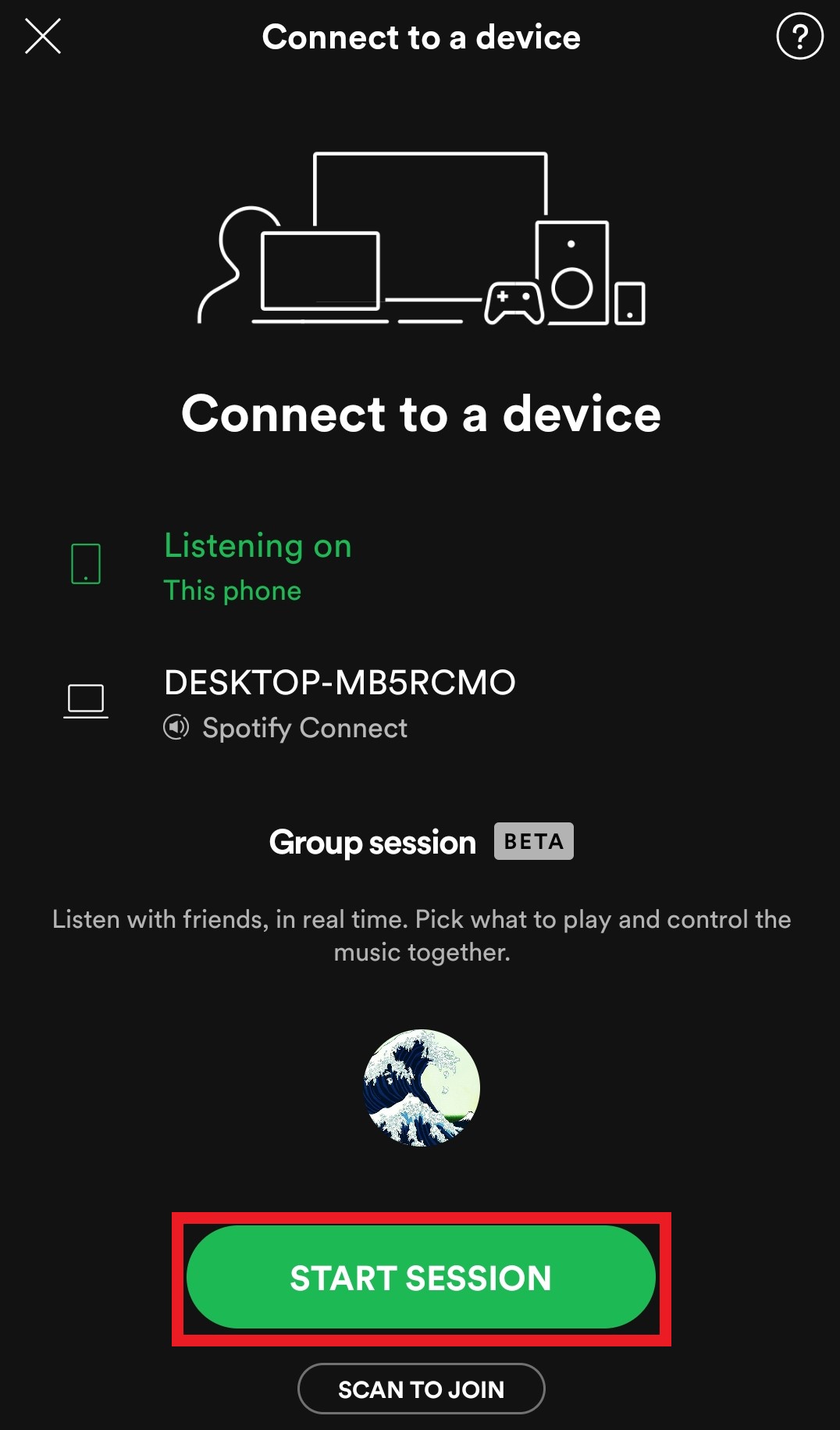 Tap START SESSION under Start a Group Session.
Step 4: Tap INVITE FRIENDS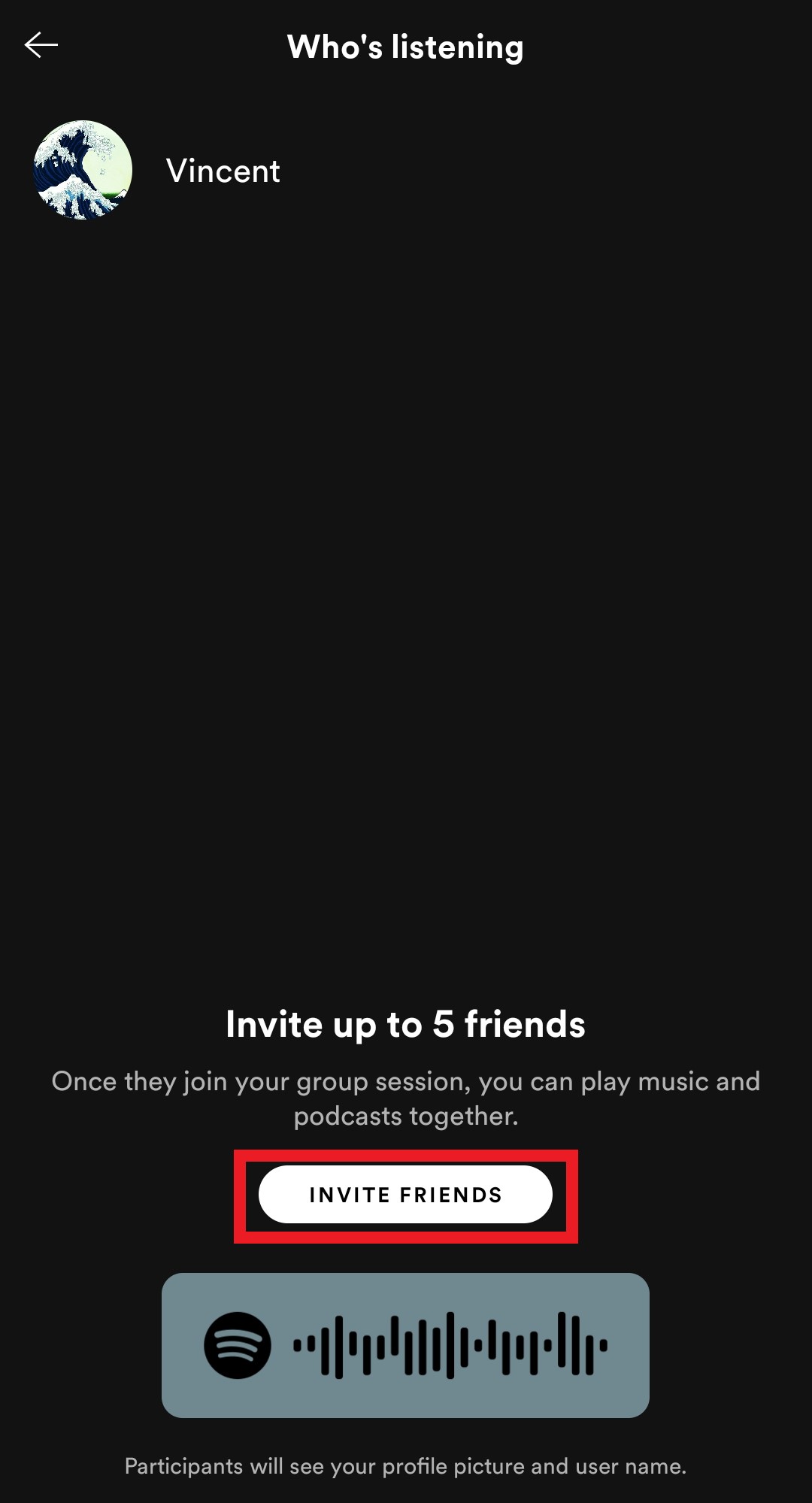 And the invited people can listen on their device or listen on your device while control on their devices. All the members in the group will be able to play, pause, skip and select tracks in queue. They can also add new songs to the queue.
Step 5: Leave or End a Spotify Group Session
If you are an invited player, tap LEAVE SESSION under Group Session to leave this Spotify group session. If it is you who started the group session, tap END SESSION to give an end to this session.
What's more fun?
If you have multiple devices that can log into Spotify accounts, and you happen to have several Spotify Premium accounts in hand. You can even build a home audio system by using the Group Session feature to invite all your Premium accounts and play songs on multiple devices at the same time in your house.
Use Spotify Group Session without Premium
Is Spotify Group Session only for Premium users? How to listen to Spotify with friends without premium?
This is one of the big limitations of the Group Session feature. Spotify only allows its Premium users to access to playing music with friends around or virtually hanging out with the music on. If you want to share Spotify songs with your friends and use Spotify listen together without Premium, you just have to simply download Spotify songs with ViWizard Spotify Music Converter and share the downloaded files with anyone you want to listen with. This is the best way to get Spotify Premium features for free.
ViWizard Spotify Music Converter is designed to convert Spotify audio files into 6 different formats such as MP3, AAC, M4A, M4B, WAV and FLAC. Almost 100% of the original song quality will be kept after converting process. With 5X faster speed, this tool can download Spotify songs within a few minutes. Below is the free trial version of ViWizard Spotify Music Converter.

ViWizard Spotify Music Converter Key Features
Convert and download Spotify songs to MP3 and other formats
Download any Spotify contents at 5X faster speed
Play Spotify songs offline without Premium
Share Spotify songs with friends without limitations
Save Spotify with the original audio quality and ID3 tags
1

Launch ViWizard and Import Songs from Spotify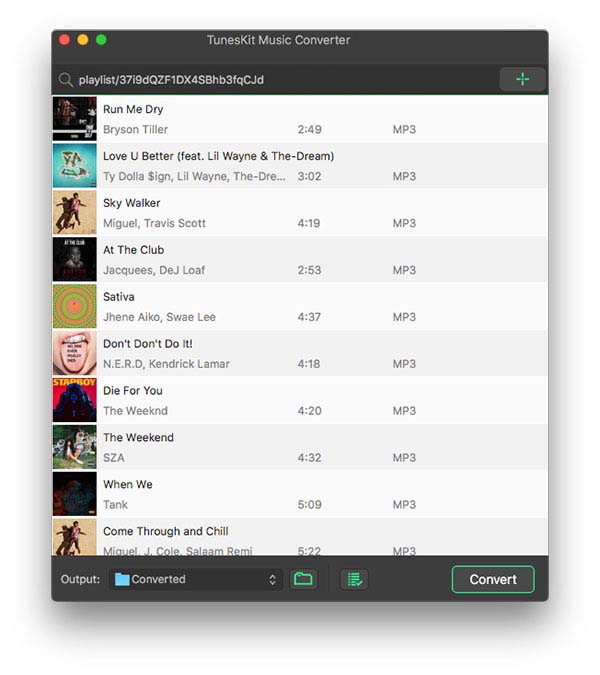 Open ViWizard software and the Spotify will be launched simultaneously. Then drag and drop tracks from Spotify into the ViWizard interface.
2

Set Up Output Parameters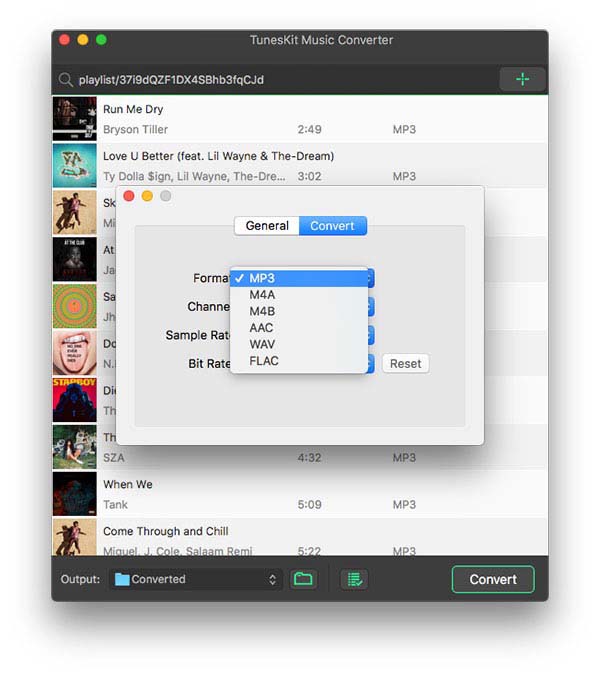 After adding music tracks from Spotify to ViWizard, you can choose the output audio format. There're six options including MP3, M4A, M4B, AAC, WAV and FLAC. And then you can adjust the audio quality by selecting the output channel, bit rate, and sample rate.
3

Start the Conversion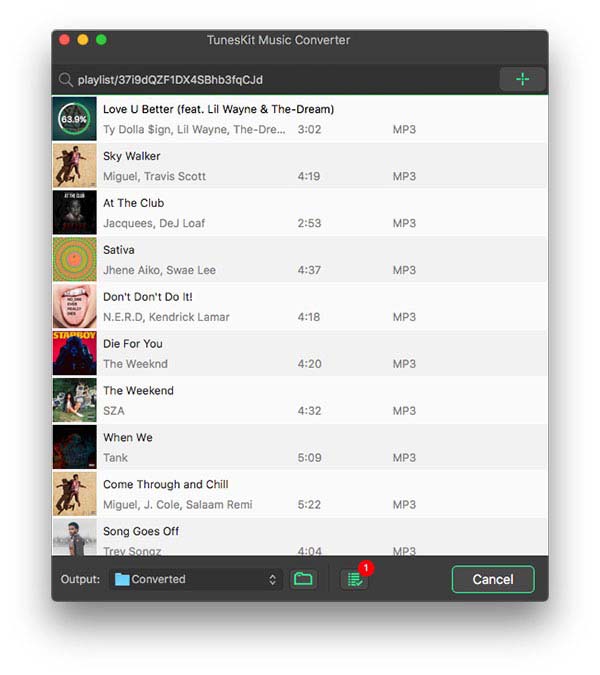 Once all the setting is finished, click the "Convert" button to start loading Spotify music tracks. After the conversion, all the files will be saved to your specified folder. You could browse all the converted songs by clicking "Converted" and navigating to the output folder.
4

How to Listen to Spotify Together without Premium

After downloading these Spotify songs, you can import them to your phone or anywhere available to stream these songs. You can also share them with friends and hold a Spotify listening party without Premium.
Conclusion
Spotify Group Session provides a way to improve the social relationship with the help of music for Spotify Premium users. And free users can use ViWizard Spotify Music Converter to get similar Spotify Premium services for free.
More Spotify Tips & Tricks