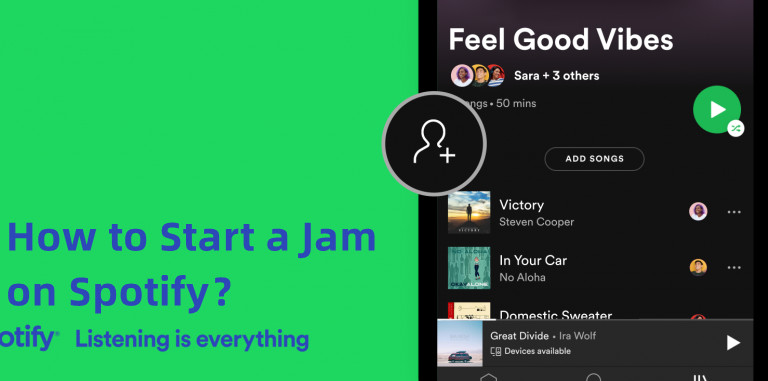 Over the past few years, Spotify has been on a mission to enhance the power of music as a means of connection. They've introduced a range of social features like Collaborative Playlists and Blend, designed to make sharing the music you love easier than ever on Spotify.
Building on the success of these social features, Spotify now introduces "Jam" - a personalized, real-time listening session designed for groups to enjoy together. Jam takes the essence of connecting though music to a whole new level by combining the best of Spotify's social features with cutting-edge personalization technology.
Best Ways to Listen to Spotify Music Together in 2023
Feel bored at home? How about listening to Spotify together with your beloved ones? This passage will show you some of the best way to share what you're listening on Spotify with family or friends and a bonus tip to get this feature without having to subscribe a Premium plan.
Part 1.

What Is a Jam Session on Spotify?

Jam is the latest addition to Spotify's social repertoire. It is a feature that allows Premium subscribers to invite others to participate in a shared musical experience made exclusive for everyone listening. Think of it as your personal concert experience right at your fingertips, with your friends as co-curators.
How does Jam work?
Begin by choosing a playlist or song that you're excited about. It could be your liked song or carefully curated playlist for a specifical occasion. Look for the "Start a Jam" button, which you can find by clicking the speaker icon at the bottom of your screen. Alternatively, within your favorite playlist or song, you can access it through the 3-dot menu. Once you've clicked "Start a Jam," you can also choose the device on which you want to play the music. It could be your phone, a Bluetooth speaker, or any compatible device. Altering starting the Jam, you can invite your friends and family to join the session by sending the link. The beauty of Jam is that it's inclusive for both Premium and Free users, so everyone can participate.
If you're on a shared Wi-Fi network, those in your household will be prompted to join the Jam when they open Spotify. This effortless integration means you can seamlessly involve everyone around you in the musical fun. During the Jam session, you can easily see who added which track to the playlist. The best part? Jam goes a step further by helping you find the perfect songs to add to the queue. It identifies the overlaps in your listening experiences and suggests tracks that everyone will love.
Part 2.

How to Start a Jam Session on Spotify

Spotify's Jam is now available to all users worldwide, whether you're a Premium listener or on Spotify's free tier, you can join the Jam experience. Just ensure your app is up-to-date to dive into this exciting feature. Follow these steps:
1. Start a Jam Session on Spotify
On mobile, open the latest version of Spotify app.
Navigate to the song or playlist where you want to start a Jam.

Start playing the song or playlist, and enter the Now Playing screen. Tap on the speaker icon located on the bottom left. You'll access the "Start a Jam" button.

Alternatively, you can tap on the 3-dot icon on the playlist or song. Select "Start a Jam" option from the 3-dot menu.
2. Invite Friends and Family to a Jam Session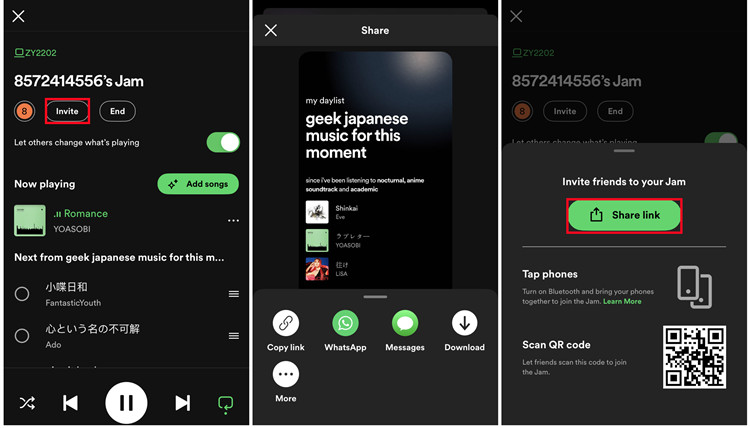 Once starting a Jam session, you can invite friends to join.
You can either hit the "Share link" to send the link through various social platforms.
Or, have your friends scan the QR code on your host screen.
Or, Tap your phones together when Bluetooth is turned on.
3. Add/Remove Songs in a Jam Session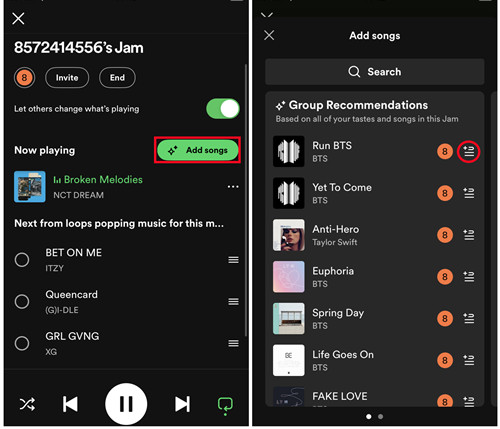 To add tracks to the queue from recommendations, tap "Add songs" on the host screen.
Choose which track recommended by group you want.
Your friends and family will receive invitations. After joining the Jam session, they can add tracks to the queue, see recommended tracks and who added which track.

You, as the host, can determine who's in the session, change the order of the tracks, or remove a track from the queue.
4. End a Jam Session
To end the Jam session, just back to the host screen, and tap on the "End" button to end it entirely.
Bonus Tip:

How to Share Spotify Playlists with Others as MP3

While Spotify's Jam feature provides a fantastic way to collaborate on playlists in real-time, you might also want to share your carefully curated playlists with friends and family who are not on Spotify or simply prefer to have the songs in MP3 format. Here's how you can do it using ViWizard Spotify Music Converter:

Start by downloading and installing ViWizard Spotify Music Converter on your computer. This software allows you to convert Spotify songs and playlists to various formats, including MP3, M4A, M4B, WAV, AAC, and FLAC.

By using ViWizard Spotify Music Converter, you can make your playlists accessible to a wider audience, ensuring that your music reaches everyone, regardless of their streaming preferences. It's a convenient way to share your music library and make your favorite tracks accessible to your loved ones, even if they aren't Spotify users.

Key Features of ViWizard Spotify Music Converter
Free Trial
Free Trial
* Security verified. 5, 481,347 people have downloaded it.
Download Spotify songs, albums, playlists, podcasts, audiobooks
Convert Spotify music to lossless MP3, AAC, FLAC, WAV, M4A, M4B
Support playing offline Spotify music on any device at any time
Compatible with Windows and macOS, as well as, the latest Spotify