With more social features added to Spotify - like Group Session, its social sharing continues to help Spotify users connect to their friends across platforms - like Facebook. There's another added feature to help users share their music tastes with friends, while creating a personalized playlist with Blend.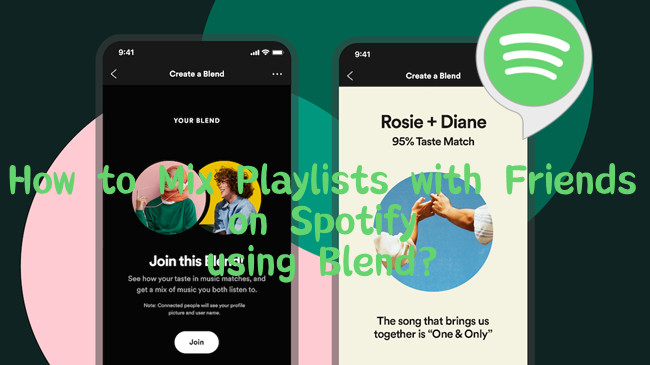 In this post, we'd like to introduce how users connect with friends on Spotify and how users can benefit from the Spotify Blend with friends.
Part 1. How Users Connect with Friends on Spotify
With contents of music, podcasts and playlists, several social features are clever new tools that cater to many different ways you can connect with your friends - however on Spotify! In this part, we'd like to introduce what social features that Spotify users use to connect with their Spotify friends.
1.1 "Follow Friends"
What comes with the "Follow Friends" are your friends on Facebook. You can add friends with Facebook or without Facebook and make them as Spotify friends! Just add a bunch of Spotify friends, then follow them or so as to unlock more social features like "Friend Activity" and "Blend" on Spotify!
1.2 "Friend Activity"
"Friend Activity" comes with a default panel on the right side of the Spotify app for desktop, which is part of familiar "Community" feature on mobile. This really makes senses if you want to see your friends' listening activities on Spotify while as the time share your own music tastes with them in "Friend Activity". To have more privacy, it's OK to enable "Private Session" !
1.3 "Blend"
Spotify Playlists are a huge part of the music-streaming experience. Of course Spotify users can share Spotify Playlists to Friends without Facebook. However, when it comes to personalized playlist on Spotify, Spotify Blend with friends is a popular feature among Spotify users.
Part 2. How to Mix Spotify Playlists with Friends
On Premium for mobile, it's simple for subscribers to use the "Blend" feature to mix playlists with friends on iPhone, iPad, Android phone or tablet.
2.1 How to Make Spotify Blend with Friend
To get started with this Blend feature, you can choose to first create a Blend with an invited friend, then add more friends to it.
1. On one mobile device above, open the Spotify for mobile app.
2. In Search, enter "Blend" then tap the first result.
Or
2. In Search, tap Made for You section.
3. Scroll down to the Made for Two section to Create a Blend.
4. Tap Invite to open the device's Share menu, send it to friends.
From here your friends will need to open the link on their phone or tablet:
5. Once invited to join a Blend on Spotify, your friends will need to Copy the link on their own phone or tablet.
When your friends join the Blend, the Blend playlist will be automatically created as "FRIEND'S USERNAME + YOUR USERNAME" . Your Blend is simple to find in Made for You or in Your Library under Playlists.
2.2 How to Add Friends to Spotify Blend
Once there's a playlist in Blend, it's much easier to add friends to a Blend.
1. Still in the Spotify app for mobile, go to the Blend.
2. Tap add people icon.
3. Tap Invite more, then repeat the steps to send it to more friends up to 10 to Spotify Blend with.
2.3 How to Spotify Blend with Friends
This is basically how Spotify Blend works:
Add Songs to a Blend:
In the playlist with the title of "FRIEND'S USERNAME + … + YOUR USERNAME", songs are labeled based on which friend that came from in the form of a small avatar icon next to the titles.
Follow a Blend:
Blend playlists are kept in where you could find them - in Made for You or Your Library under Playlists, but you can Follow it with a tap on the Follow button under the title of "FRIEND'S USERNAME + … + YOUR USERNAME".
Download a Blend:
You can also download a created Blend playlist for offline listening, just switch the Download toggle from off (grey) to on (green).
Leave a Blend:
If you want to leave a Blend, tap the More button (3 dots icon) to select Leave Blend (dislike icon).
Note that to leave a Blend is not the end of this feature because Spotify has added another feature based on Spotify Blend with friends: "Friends Mix".
2.4 How to Make Friends Mix
Part of the Blend feature, Friends Mix is familiar for Premium subscribers to combine your listening experience with your friends' tastes on Spotify.
We've already let you through the Friends Mix feature in the process of creating a TWO-PERSON Blend then invite ONE ANOTHER FRIEND with the title of "FRIEND'S USERNAME + YOUR USERNAME".
Yes. To make a Friends Mix, you just need to create 2 more two-person Blend. Once you've created 3 two-person Blends in Made for You, you'll see a new playlist - Friends Mix in a different place - Made For US instead.
Tips: On Premium or Free, you can access Friends Mix on desktop to or mobile devices above.
Bonus Tips: How to Share Spotify Playlists with Friends across Platforms
Other than on Spotify mix with friends to create a Blend with Premium subscription, here're more methods to share Spotify Playlists with Friends across Platforms from computer and mobile to social platforms like Messenger, Instagram, Snapchat or Facebooks without Premium!
While a simple download of the Spotify Playlists will require an active Premium, here we'd like to make the whole process easier with one more powerful tool - ViWizard Spotify Music Converter. This ViWizard software can help download and convert all Spotify contents, including songs, podcasts and playlists into MP3 and more - no Premium requires!

ViWizard Spotify Music Converter Key Features
Convert and download Spotify songs to MP3 and other common formats
Download any Spotify track, playlist, album without premium subscription
Download any Spotify music with 5X faster speed
Save Spotify with original audio quality and ID3 tags