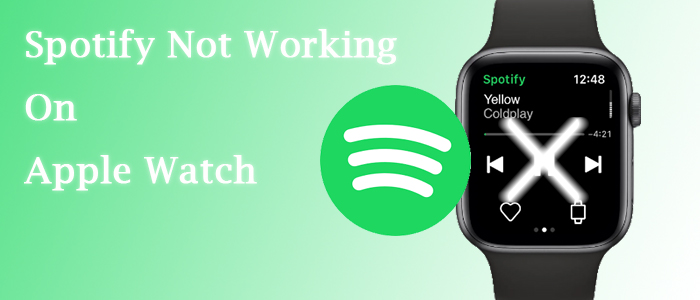 Since 2018, the Spotify app for Apple Watch has been improved a lot, aiming to provide a better service for Spotify listeners. 2022 witnessed the revamp of the Spotify app on Apple Watch with larger artwork and new features, like direct downloads. That is, Spotify Premium users can listen to playlists and podcasts on Apple Watch offline. Even when your iPhone is not in your hands, you can enjoy music on your Apple Watch. However, there are some listeners who find the Spotify app can not work on their Apple Watch. With Apple Watch's so highly compatible system, why this problem still exists, and how to solve Spotify not working on Apple Watch? Here are our answers. Let's scroll down!
Part 1. Why Does Spotify Not Working on Apple Watch?
Have you encountered some troubles after you downloaded and got the Spotify app on your watch? Like why is Spotify not working on my Apple Watch? How can I connect Spotify to my Apple Watch? Can I listen to Spotify on my Apple Watch? If these problem have haunted you for a long time, you might as well check which setting was wrong. Several reasons Spotify crashes on your watch are as follows:
Internet Connection
Many customers face an issue how to connect Spotify to Apple Watch? So before launching Spotify on your Apple Watch, make sure your Apple Watch is connected to Wi-Fi which is simultaneously connected to your iPhone. If it's not, then your Spotify app won't work on your watch. So ensure you're using the same network for both devices, and then try Spotify again.
Bluetooth Issue
If your Bluetooth on your watch is off, then you can't get access to your headphones and listen to Spotify music. Confirm the Bluetooth is turned on to pair the headphones. Otherwise, Spotify on Apple Watch would not working.
No Paired Bluetooth Headphones
Click the Bluetooth settings to check whether your headphones are in pairing mode and whether they can be connected by Bluetooth, which enables your headphones to run successfully. After your headphones successfully paired with your watch, you're capable of starting listening to your favorite music on the Spotify app of your watch.
Obsolete Version of Spotify
Test if you can listen to spotify on apple watch. If you can't hear Spotify music, maybe it keeps crashing instead of playing a song from your playlist, it's likely that the app needs to update.
Bug in Spotify App
There usually exist problems like crashing, and Spotify is no exception. When your Spotify app is freezing up, it is normal that you can't access it, let alone play music on Spotify. At this time, forcing it to close may helps you fix Spotify not working on apple watch.
Apple Watch Series 1 or 2
If your Apple Watch was bought before 2017, that is to say, if it is Apple Watch Series 1 or 2, clear that there is no way to stream Spotify on your Watch.
Low Version of WatchOS
Spotify is not compatible with WatchOS below 7.0. If you can't get to Spotify to play on your Watch, chances are you haven't updated the WatchOs.
Spotify Free Account
Offline listening is only provided for Spotify users with a premium subscription. Free Spotify users can use the Watch to control Spotify on other devices, but cannot stream directly to or listen offline on their Watch.
Part 2. How to Fix Spotify Not Working on Apple Watch
After understanding why Spotify does not work on Apple Watch, helpful measures should be taken. The above issues require specifically tailored methods. Let's go step by step tutorial.
Enable Internet Connection and Bluetooth
To play Spotify music via the watch, now all you need to do is follow these four steps to confirm your watch has been connected to the internet and Bluetooth.
1. Touch and hold the bottom of the screen, then swipe up to open Control Center.
2. Touch and hold the WiFi button, then tap the name of an available WiFi network.
3. Type the correct password the WiFi needs, and finally, click Join to connect successfully.
4. Move to the Bluetooth. Repeat the above first step, and tap the Bluetooth icon which will turn blue if your Bluetooth is on.
Pair Bluetooth Headphones with Apple Watch
After checking whether Bluetooth is on, long-tap the Bluetooth icon to enter a new interface, in which you can start to search for your headphones' name on the Apple Watch device screen and tap it to pair. Please make sure your headphones are charged and they are in pairing mode.
Update Spotify to the Latest Version
Spotify developers update Spotify from time to time in order to offer users a better experience and security. In every update, they try their best to fix the bugs in Spotify, solve problems that users fed back to them, and give new features for users. So why not use the latest version of Spotify? Enable the latest version to run Spotify smoothly on your watch. Go to the Apple Store and update now. Or go to your iPhone settings to enable Spotify automatic app install.
Restart or Reinstall the Spotify App on Apple Watch
There's a possibility that your Spotify is freezing up, and not working properly. The best way to do is to force to quit it, and restart it after a few seconds. If it continues to be unresponsive, remove the Spotify app from your watch and go to the Apple store to reinstall it. Try again, maybe this time you can listen to Spotify on Apple Watch.
Update Apple Watch to WatchOS 7.0 or above
Please ensure that your Apple Watch is not the old version, best at the latest WatchOS version, follow these steps to check for and update your Apple Watch if necessary. Keep in mind before updating, be sure that your Apple Watch is fully charged so that can finish the update process completely without a pause.
1. Open the Apple Watch app on your iPhone.
2. Tap My Watch > General > Software Update.
Reboot Your Apple Watch
It is the simplest but sometimes useful way to reset both your iPhone and Apple Watch, which can help you clear up any glitches. To restart, just press and hold the side button until you see the power button in the upper-right corner of the display. Then tap the power button, and drag the Power Off slider. After your Watch's screen turns black, long press the side button again, then you manage to reboot it.
Get Access to Spotify Premium
Free Spotify users are limited to offline listening, while Spotify Premium users can stream music, podcasts, and audiobooks from Apple Watch, and also download them to play offline without an internet connection. If you want to play music on your Apple Watch without the need of your phone and internet, subscribing to the Spotify Premium Plan is the best choice. Please pay attention that you can't download individual songs, but you can put them in a playlist for downloading, and there's a limit of 100 downloads per playlist.
Contact Apple Support
If the above solutions don't work, and Spotify on Apple Aatch still stops working, you'd better go to the Apple website and contact Apple support for further assistance.
Part 3. How to Play Spotify Music Offline Without Subscription
As you know, even though premium subscribers can download songs for offline listening in the Spotify app, all online songs are in OGG Vorbis format and come with cache files, which means although you have downloaded songs for playing offline, you can't take music out of Spotify. So there is an amazing downloading tool whether for Spotify Premium users or Free users --- ViWizard Spotify Music Converter. It helps you download and convert music, playlist, album, audiobooks and artists from Spotify to MP3 with lossless audio quality which is equivalent to Spotify very high quality!
Download Spotify Music to MP3 with ViWizard
Now go to your Windows or Mac computer, and click the following Download button to download this best tool. It is pretty easy to navigate! Now just follow the following three steps, then you can download your favorite songs from Spotify and enjoy them on your Apple Watch offline.

Key Features of ViWizard Spotify Music Downloader
Download Spotify tracks, artists, albums, and playlists without Premium
Support to convert Spotify to six audio formats at 5× conversion speed
Save Spotify music with lossless audio quality and metadata information
Enable you to play Spotify music on various devices without any hassle
Step 1

Drag Songs from Spotify to ViWizard Software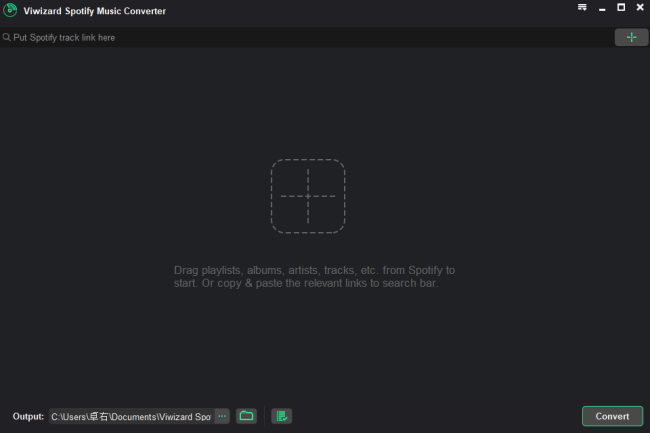 Before converting, ensure you have downloaded the current version of Spotify on your computer. And then you can drag the song you like to the ViWizard search bar, or copy the link from Spotify and paste it in the top of ViWizard Software.
Step 2

Adjust the Preferences for Spotify Music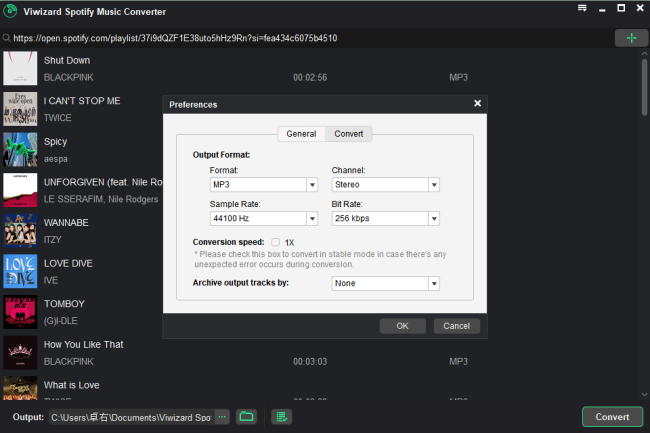 ViWizard Spotify Music Converter offers options for you so that you can customize output songs as you like. Such as, format like MP3 which is high compatible and you can play on your Apple Watch and more, channel, sample rate and bit rate.
Step 3

Start Converting Spotify Music to MP3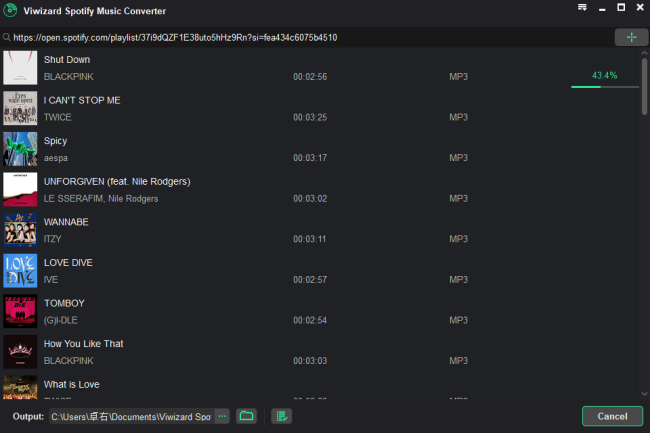 Just one-click the Convert button, you can download a batch of Spotify tracks as MP3. And then you are free to listen to them at any time, anywhere, on any device. After conversion, you can click the bottom Converted icon to browse the downloaded songs. Or, you can locate the folder for saving Spotify music files.
Sync Spotify Audio Files to Apple Watch
After all the music you want to listen to has been downloaded as local files, now you can sync the converted songs to your Apple Watch via iPhone. Then the next time you want to go for a run -- or just a walk -- you can leave your iPhone behind and enjoy Spotify music on your Apple Watch. So how do you sync my Apple Watch to Spotify? Before syncing, you need to transfer your local audio files into your iPhone.
1.Make sure the Bluetooth on your both devices is on. If not, go to Settings > Bluetooth to turn it on.
2. Open the Apple Watch app on your iPhone.
3. Tap My Watch, then scroll to Music and tap it.
4. Tap Add Music, then find the song or album that you want to sync.
Summary
For the Spotify app not working on Apple Watch, we give 8 solutions according to its reasons in order to fix it and recommend an easy-to-use tool to help you download Spotify Music for offline listening even though you're a Spotify Free user who can't access downloading. With the help of ViWizard Spotify Music Converter, you can save Spotify music as local files forever even if your subscription is expired. What are you waiting for?! It is time to listen to music at will and bust a move on your Watch!