I just began playing Spotify Premium in order to download songs for offline listening. But after downloading them, I found that there are no Spotify songs stored in my drive. How can I can find and play those offline songs with
Windows Media Player
? Or how to transfer my Spotify songs to my MP3 player? I just want to extract MP3 from Spotify. What should I do?
Unlocking the world of Spotify Premium comes with its perks, especially the ability to download songs for offline enjoyment. However, there's a catch - these downloaded tunes are tethered to your Premium subscription, limiting their accessibility once the subscription ends. The culprit behind this limitation is Spotify's special DRM technology, a digital lock that restricts the playback of your cherished songs.
Even with a Premium subscription, the joy of your downloaded Spotify songs is confined to the Spotify app. Your tunes won't dance beyond the app's boundaries, leaving you wondering: "Can I extend the reach of my Spotify music to other devices?
The good news is, yes, there's a way to break free from the Spotify app shackles. In this post, we're about to introduce you to a tool that will change the way you experience Spotify. A professional Spotify music extractor is the key to unlocking your music's full potential. Join us as we guide you through the complete process of extracting audio from Spotify effortlessly, ensuring you can enjoy your favorite tunes on any device, anytime, anywhere.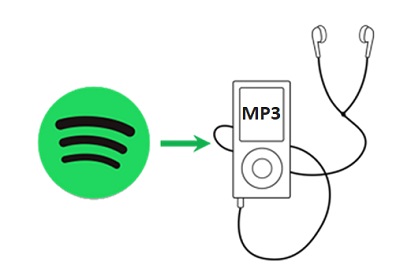 Part 1.

Can I Extract Music Files from Spotify?

Spotify, a leading music streaming platform, employs the Ogg Vorbis audio format for its music files, renowned for its superior compression and high-quality audio. While Ogg Vorbis delivers impressive audio fidelity, its compatibility may pose a challenge for users seeking a more universally recognized format like MP3.

In the quest for music that seamlessly spans across devices, applications, and platforms, the preference for MP3 becomes apparent. Despite Ogg Vorbis offering excellent audio quality at lower bitrates, MP3's widespread recognition and adaptability make it the format of choice for many users.

However, the road to obtaining MP3 versions of Spotify's content is obstructed by Digital Rights Management (DRM) encryption. Spotify employs DRM to safeguard the rights of content creators and the integrity of its platform. This encryption prevents users from directly accessing or converting Spotify files into other formats, acting as a barrier against unauthorized distribution and reproduction of copyrighted material.
The Solution: ViWizard Spotify Music Converter.
Enter ViWizard Spotify Music Converter, a third-party solution designed to navigate the complexities of Spotify's DRM protection. This powerful tool empowers users to overcome the inherent limitations and convert their favorite tracks into MP3 files, all while preserving the original audio quality.
In your quest to extract MP3 from Spotify, ViWizard Spotify Music Converter emerges as an indispensable tool, catering to the needs of both Free and Premium users. Recognized as one of the most popular music solutions, ViWizard empowers users to download Spotify songs locally, providing a seamless and versatile music experience.
Part 2.

How to Extract MP3 from Spotify Music [Windows/Mac]

ViWizard goes beyond the realm of mere MP3 extraction. This robust Spotify music converter allows you to download songs, albums, and playlists from Spotify in various formats, ensuring compatibility with different devices and applications. Supported formats include not only MP3 but also WAV, AAC, FLAC, M4B, and M4B, offering you a spectrum of choices to suit your preferences.

One of ViWizard's standout features is its commitment to maintaining the integrity of the original music quality and metadata information. Your downloaded Spotify songs, regardless of the chosen format, will retain their pristine audio fidelity and associated details. This ensures that your music library remains rich in both sonic excellence and organizational accuracy.

ViWizard understands the value of your time. With the ability to save Spotify songs in batch and an impressive 5× download speed, ViWizard enhances efficiency, allowing you to build your music collection swiftly. Whether you're extracting a single track or an entire playlist, ViWizard's accelerated download speed ensures a quick and seamless process.

Key Features of ViWizard Spotify Music Converter
Free Trial
Free Trial
* Security verified. 5, 481,347 people have downloaded it.
Download Spotify songs, albums, playlists, podcasts, audiobooks
Convert Spotify music to lossless MP3, AAC, FLAC, WAV, M4A, M4B
Support playing offline Spotify music on any device at any time
Compatible with Windows and macOS, as well as, the latest Spotify
Extracting MP3 from Spotify Track, Playlist, Album, Podcast, and Audiobook:
Designed with user convenience in mind, ViWizard boasts an intuitive and user-friendly interface. First of all, you need to download and install ViWizard Spotify Music Converter from the link above on your Mac or PC. Then follow the instructions below to learn how to download music from Spotify to MP3 for listening on any device or player.
Step 1

Import Spotify Songs/Playlists/Albums to ViWizard

Launch ViWizard Spotify Music Converter on your computer, then you will see the Spotify desktop app being loaded automatically. Once done, go to your music library in Spotify and choose songs, albums, or playlists you want to extract as MP3 files. Then drag them to the downloading window of ViWizard software. Alternatively, you can copy and paste the music link into the search box on the converter to add the songs.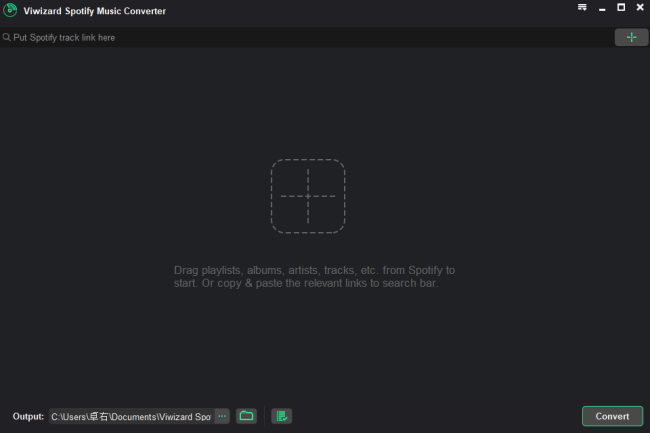 Step 2

Set the Output Format and Other Parameters

After importing Spotify songs into the conversion list successfully, navigate to top menu and select the Preferences where you can set MP3 as the output format. Besides, you are allowed to adjust the bit rate, sample rate, and channel. It also supports other common audio formats, including AAC, WAV, FLAC, M4A, and M4B. After completing the settings, click the OK button to save your settings.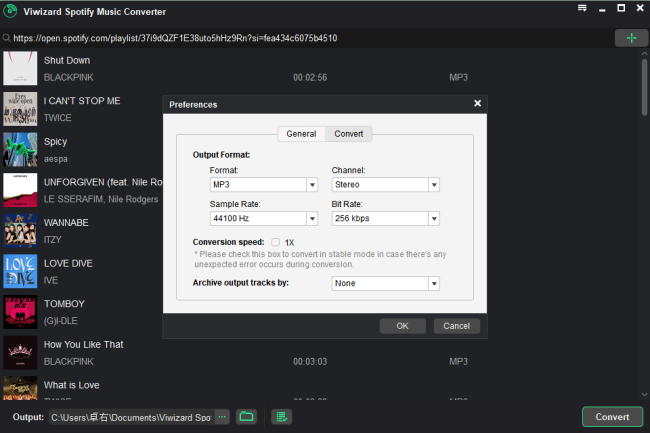 Step 3

Start to Extract Playlist from Spotify to MP3

When it's set up, click the Convert button at the bottom right corner and start to download and convert Spotify playlist to MP3. When the conversion process is completed, you can find all the MP3 music files that are extracted from Spotify by clicking the Converted icon. Then you can do whatever you like to to those Spotify MP3 files. You can transfer them to your MP3 player or share them with your friends.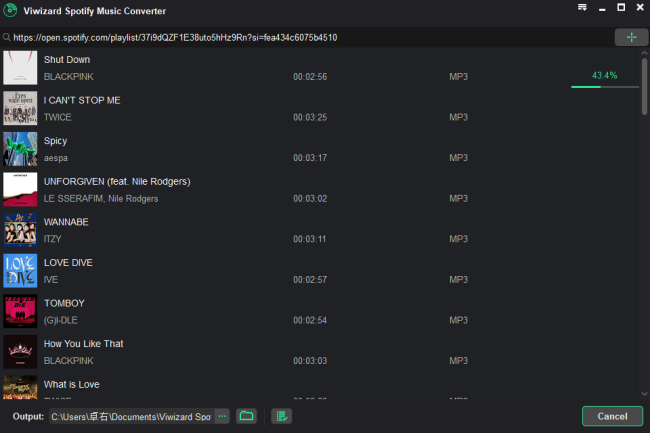 Part 3.

How to Move Spotify MP3 Music to Your Devices [Android/iOS]

Congratulations on successfully extracting your favorite Spotify songs with ViWizard! Now, let's explore how you can seamlessly transfer these MP3 gems to your mobile device, whether it's an Android phone or an iPhone.
Moving Spotify Music to Your iPhone with MP3 Files:
Connect your Android device to your computer. This usually involves plugging in a USB cable.
On your Android device, create a new folder where you want to store your music. This is where your extracted MP3s will reside.
Open the folder on your computer where you saved the MP3 files extracted by ViWizard.
Simply copy the MP3 files from your computer and paste them into the folder you created on your Android device. Your Spotify tunes are now ready for on-the-go listening!
Moving Spotify Music to Your Android Phone with MP3 Files:
Simply plug your iPhone into your computer. The connection should be detected automatically.
If you're using a PC, open iTunes. For Mac users, open Finder and locate your connected device.
Find the "Music" tab in iTunes or Finder. Check "Sync Music" and choose "Selected playlists, artists, albums, and genres."
Pick the ViWizard-extracted songs you want on your iPhone and hit the "Sync" button. Your chosen tracks will now be on your iOS device, ready to play wherever you are.
Conclusion
Here you may understand how ViWizard Spotify Music Converter works in extracting music from Spotify and saving them as MP3 format. With this smart Spotify extractor, you can quickly download all Spotify songs, playlists, albums, and artists to a common audio format for playing on multiple mobile devices with ease. Now download the trial version to start extracting playlist from Spotify. Share your thoughts and experience with us in the commend section below.