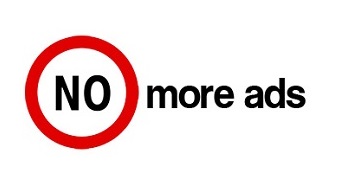 It's really an annoying experience to get ads playing all of a sudden in the middle of a pretty song. But this kind of situation just happens to Spotify users who are using the free version of Spotify. That's a specific limit applied to those Spotify Free users while providing the right to remove ads to three types of membership, namely Duo, Individual, and Family.
Those Free Spotify users don't need to spend money listening to Spotify. But the cost to this free service is that they have to accept random ads occurring in the song and they can't download songs for offline listening. To remove Spotify ads or other limits, you can upgrade to Premium or Family Plan by ponying up a fixed amount of subscription fee monthly. If you don't want to spend such an investment, you can try the following methods to remove ads from Spotify.
Part 1. FAQs about Remove/Block Ads from Spotify for Free
Spotify Premium allows you to listen to music without ads. Officially, you can subscribe to Spotify Premium for $9.99 per month so as to get the Premium benefits including listening to music without ads, downloading music for offline listening, and accessing higher quality audio and more. But you may still want to remove or block ads from Spotify without Premium, then we'd like to answer the most frequently asked questions of your request.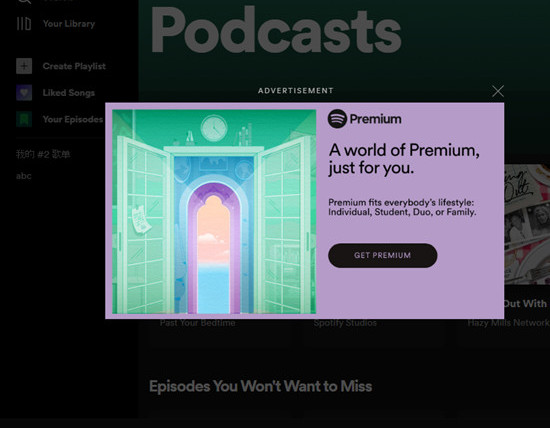 #1. Can I remove ads from Spotify for free?
There is no officially way to remove ads from Spotify without Premium. However, for new starters you may want to get a free trial of Spotify Premium, which allows you to have the benefit of listening to Spotify music without ads.
#2. Are there any alternative ways to remove ads from Spotify without paying for Premium?
Yes, there are some alternative ways to remove ads from Spotify without paying for Premium. For existing Spotify free users, you may want to remove or block ads from Spotify for free with one of the following third-party software tools or Google Chrome extensions.
#3. What are the benefits of Spotify Premium?
Spotify Premium allows you to listen to music without ads, download music for offline listening, and access higher quality audio. You also get access to exclusive content and the ability to skip an unlimited number of tracks.
#4. Can I use an ad blocker to remove ads from Spotify?
It is technically possible to use an ad blocker that works with Spotify platform to remove ads from it, but not all ad blockers on the market are safe and may result in your account being banned. If you wish to get the ad-removal feature without Premium, the best alternative way is to download the ad-free version of the songs on Spotify by using a third-party software tool in Part 3.
If you don't plan to use a paid subscription, you need to listen to Spotify with ads. But it doesn't matter! There are several methods to help you play nonstop Spotify music without ads on web, desktop, or mobile.
Part 2. How to Block Ads from Spotify with Chrome Extension for Web
There are many Spotify ad blockers on the internet. These tools help Spotify Free users to block Spotify ads. Most of them support PC, Mac, Android, and iOS. If you're using the Spotify Web Player, you can have the benefits from some Google Chrome extensions such as uBlock, Adblock, and EZBlocker. These ad blockers are popular among users of Spotify Web Player, and they all worked with open.spotify,com as expected. They ususally block the loading of Spotify ads and mute them when they load on Spotify, with other audios on your device not be affected. Just pick the one you like and you'll have the ability to block the ads from Spotify for free.
Best Spotify Ad Blocker for Web - uBlock Origin

It is possible to use uBlock Origin to block ads on Spotify's web player, but it may not be effective in all cases. Spotify can frequently change their ad delivery system, and it's possible that uBlock Origin may not always be able to block all of the ads.
How to use uBlock to block ads from Spotify Web Player: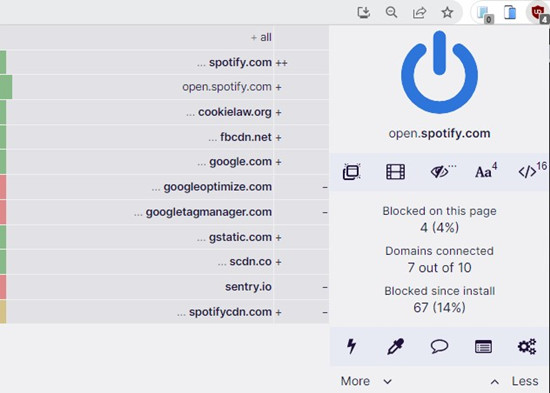 Step 1. Open Chrome Web Store to search for uBlock Origin and add it to Chome.
Step 3. Click on "Puzzle" icon on the right hand side of Chrome bar.
Step 4. Pin the extension as it should be blue pin in front of the extension name "uBlock Origin".
Step 5. Select "Open the uBlock Origin dashboard" from the dropdown menu.
Step 6. Click on the "My Filters" tab.
Step 7. Add the following filters to block Spotify ads:
bashCopy code
! Block Spotify ads
||audio-fa.scdn.co/ads/
||imasdk.googleapis.com/js/sdkloader/ima3.js
||pagead2.googlesyndication.com/pagead/js/adsbygoogle.js
||www.googletagservices.com/tag/js/gpt.js
||www.googletagmanager.com/gtm.js
||www.google-analytics.com/analytics.js
spotify.com###header-ad-container
spotify.com###leaderboard-ad
spotify.com##.ad-container
Step 8. Click "Apply changes" to save the filters.
Please note that while this method may be effective in blocking some ads on Spotify's web player, it may not be 100% effective. Spotify may find ways to bypass uBlock Origin's filters in the future, so you may need to update your filters periodically to ensure they continue to work.
Part 3. How to Remove Ads on Spotify with Music Downloader for Desktop
If you use the Spotify app for Windows or Mac to listen to Spotify music for free but with higher audio quality, you'll want a third-party software tool instead. To remove ads from Spotify once and for all in a legal way, you're highly recommended to download the ad-free version of your favorite songs with a powerful third-party software tool called ViWizard Music Converter.
Best Spotify Ad Remover for Windows & Mac - ViWizard Music Converter
ViWizard Spotify Music Converter is designed for both Premium and Free users to download Spotify music tracks to unprotected audio formats like MP3, AAC, FLAC, WAV, M4A, and M4B losslessly. While cracking the DRM protection from your selected Spotify music tracks, ViWizard Music Converter will remove Spotify ads as well. After the conversion, you can listen to Spotify music offline even without Premium. And you won't lose the access to your downloads since they're saved to your devices as audio files.

ViWizard Spotify Music Converter Key Features
Remove ads from Spotify without Premium Plan
Function as a Spotify add blocker and downloader
Convert Spotify songs to common formats like MP3
Preserve lossless Spotify music and ID3 information
How to use ViWizard Music Converter to download ad-free version of Spotify songs:
ViWizard Music Converter is available for both Windows PC and Mac. For starters, please download the correct version of ViWizard to your PC or Mac from the download box above.
1

Add Spotify Songs to ViWizard Software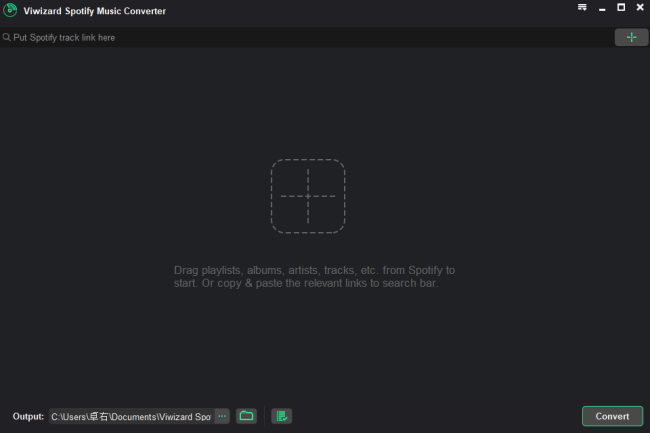 Launch ViWizard Spotify Music Converter on your computer, and it will open the Spotify application automatically. Find your targeted songs, albums, or playlists in Spotify and then drag and drop them to the interface of the converter. Or simply copy and paste the music link into the search box to load the songs.
2

Set the Output Audio Preferences for Spotify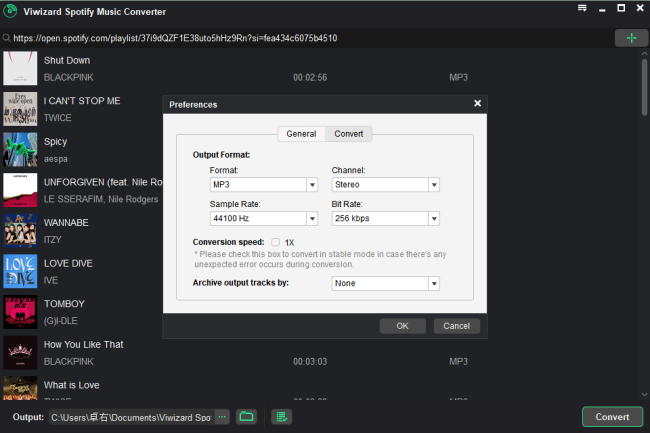 Go to the top-right menu and click on the Preferences button. You'll then view the windows where you can set the basic parameters, including the output format, channel, sample rate, and bit rate. You can choose any format like MP3, AAC, FLAC, M4A, M4B, and WAV according to your own needs.
Note: If you need to store Spotify songs as Artist/Album automatically, check the option of Archive output tracks by. Otherwise, all of your Spotify songs would be converted into one big folder by default.
3

Start to Download Ad-free Spotify Songs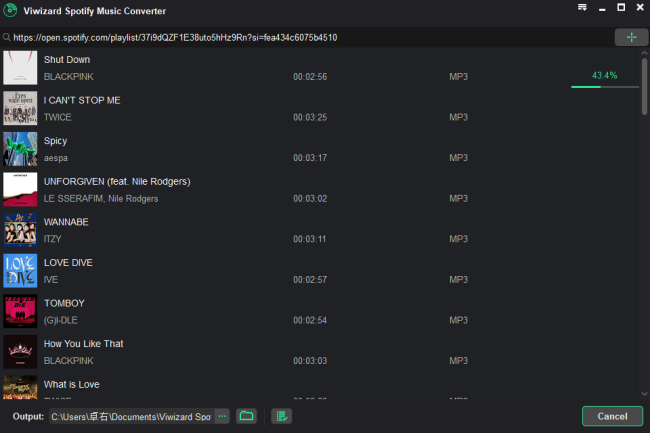 After the above settings, click on the Convert button, and ViWizard software will start converting Spotify music to MP3 or other formats. Once the conversion finishes, all ads from Spotify will be removed completely so that you can listen to Spotify music without the distraction of ads and share those ad-free Spotify songs with others.
Part 4. How to Remove Ads on Spotify with Host File for Desktop
You can change the host file on your Windows or Mac computer to get rid of Spotify ads while listening to music in Spotify. Here's how to remove ads from Spotify by changing the host file.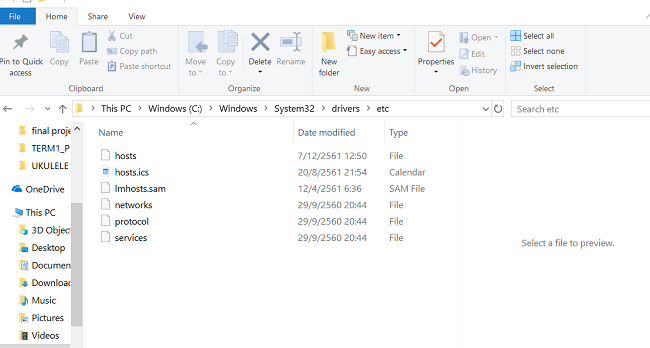 On Windows PC: Go to C:\Windows\System32\drivers\etc\hosts as a administrator. Refresh the DNS cache with ipconfig /flushdns.
On Mac: Open Finder and navigate to Go > Go to Folder then find /private/etc/hosts.
You need to replace the old host file with the new one. But the problem is Spotify constantly changes the ad parameters so that you need to always add new host files. Therefore, this method is not suitable for those who want to get this thing done for once.
Part 5. How to Remove Ads on Spotify for Mobile [Android only]
If you use Spotify app for free on your Android smartphones, you can pick a program called xManager.
Best for Android smartphone: xManager
xManager is released and available on GitHub. It allows you to get some Premium features and functions, including listening to ad-free Spotify music. Here's how to remove ads from Spotify on Android by using the xManager.
Step 1. On your Android phone, open a web browser (ex: Chrome) to search for xmanager spotify apk and download the latest version of it from GitHub.
Step 2. Once downloaded, open the apk file and install the app to your Android phone.
Step 3. Open the xManager app, then find and click Telegram to head to join their telegram server and download your choice of Spotify version you want.
Step 4. Once installed, you can now log in with your free account.
Step 5. After that, close the Spotify app and return to the xManager app.
Step 6. Choose refetch and reboot.
Step 7. Now you can reopen the Spotify app and try to stream something. You'll find that the ads are removed.
Conclusion
For those methods mentioned in this post, using a Spotify converter is the most reliable and safe solution, since editing host files is too much complicated and using a Spotify ads remover is too risky. And another advantage is that you can download Spotify songs for listening on any device after conversion with ViWizard Spotify Music Converter. In addition to the above methods, you can still choose to join Spotify Premium with Spotify 6 month free trial or upgrade to Spotify Family Plan or Duo Plan to remove Spotify ads.