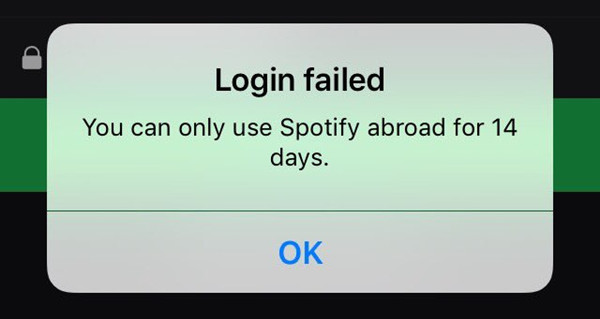 I signed up to Spotify while in Australia using my Facebook details now I am back in New Zealand where I live I can't use Spotify at all it's giving me an error when I try logging in saying I can't use it abroad for more than 14 days. I'm in my hometown and Spotify thinks I'm abroad. - - User from Spotify Community
I'm on the business trip to the UK and I can't log in to my Spotify account. I'm from the US if that matters, can I listen to Spotify abroad?   - - User from Reddit
Users of Spotify may run up against the problem when they're traveling or doing business abroad. A prompt will show up saying that you can only use Spotify abroad for 14 days. That means you can no longer use the Spotify app when you're not in the country where you registered your account and thus you lose access to your Spotify music. This could be pretty annoying especially if you listen to Spotify on a daily basis.
In this passage, I'll be showing you four tips to troubleshoot the disturbance and help you enjoy your Spotify abroad without limitation.
Tip 1: Change Your Country
If you have reached the limitation of using Spotify 14 days abroad, that means you have used up the days of your legal use in that country and you have to change the country you're in for unlimited use.
1. Log in to your Spotify account page
2. Click Edit profile
3. Click the Country bar below and select the country you're in from the dropdown list.
4. Click SAVE PROFILE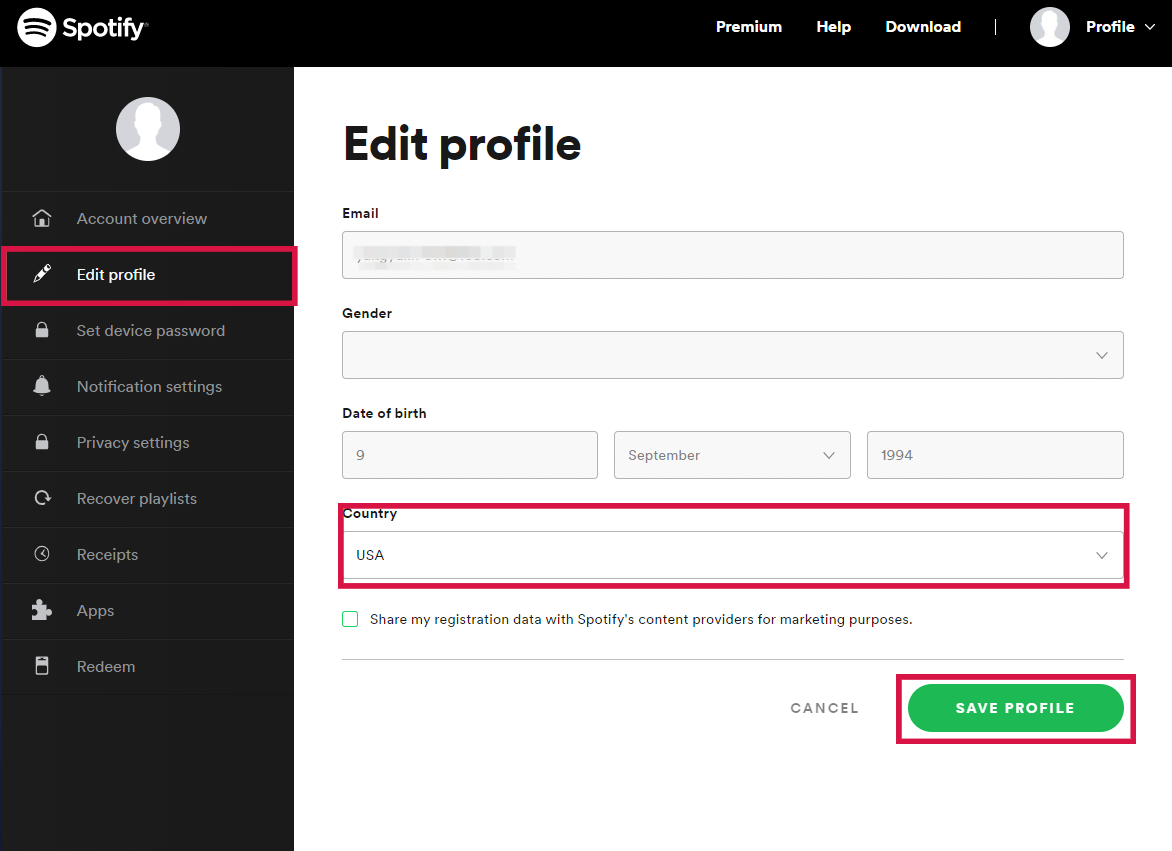 Tip 2: Subscribe A Premium Plan
Spotify imposes the country restriction only when the account is free. So if you become a subscriber of any of its Premium plan, you'll be able to listen to Spotify in any country where Spotify is available.
To subscribe Premium:
1. Log in to your Spotify account page
2. Click Premium on the top of the page
3. Choose a plan
4. Type in your payment details and get Premium activated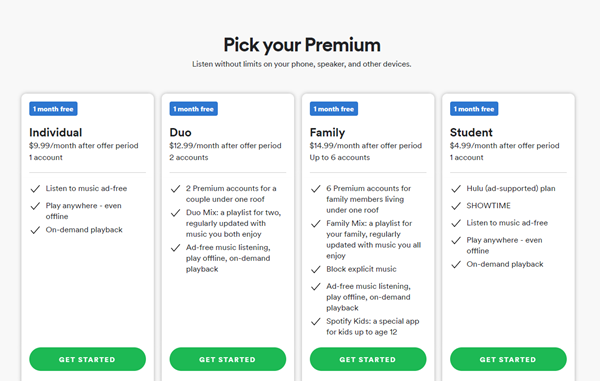 Tip 3: Use A VPN to Change Your Internet Location
Spotify recognizes your location by your IP address. When the address is not in your original country, Spotify will regard you're in the other country. So a VPN will help you change the IP address to your home country and Spotify will not activate the restriction.
1. Install a VPN that contains a server of your home country.
2. Connect to the internet and choose the server of your country
3. Launch Spotify app and a few seconds later, you'll be regarded in your own country.
Tip 4: Remove Spotify Abroad Restriction via ViWizard
All these methods mentioned above require a good internet connection to stream Spotify songs. However, in real scenario of traveling abroad, people usually can't even get enough internet speed for online texting, let alone streaming Spotify music. You don't want to listen to a song with a dozen times of buffering. What's worse, if you stream Spotify songs in high quality, the network fee could be staggering.
But, with the ViWizard Spotify Music Converter, you can directly download all your favorite Spotify tracks into MP3 before you set off. And then you can import Spotify songs to your phone and listen to them with your local music player. Just enjoy your trip with unstopped streaming music!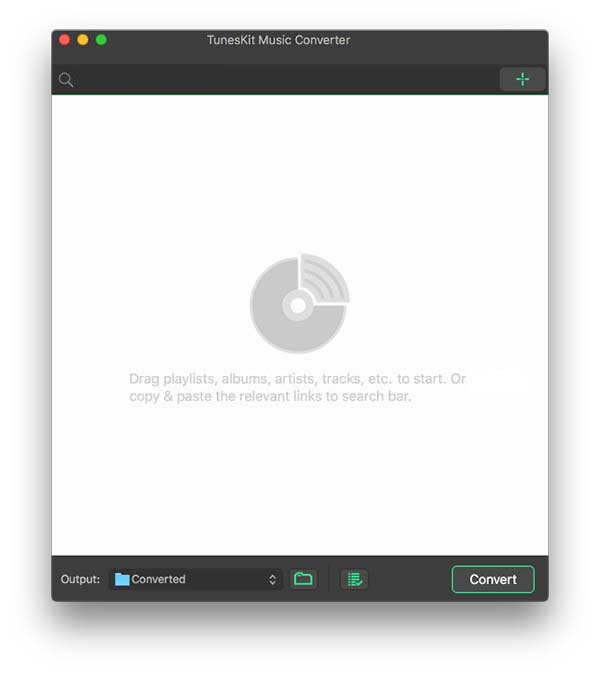 ViWizard Spotify Music Converter is designed to convert and remove DRM from Spotify song files into 6 different formats like MP3, AAC, M4A, M4B, WAV and FLAC. All the original quality of the song will be kept after converting at 5X faster speed. The converted songs can be sorted in any squence and played in any order.

ViWizard Spotify Music Converter Key Features
Convert and download Spotify songs to MP3 and other formats
Download any Spotify contents without premium subscription
Play Spotify songs in any country with no limitations
Save Spotify with the original audio quality and ID3 tags
1

Upload Spotify Songs to ViWizard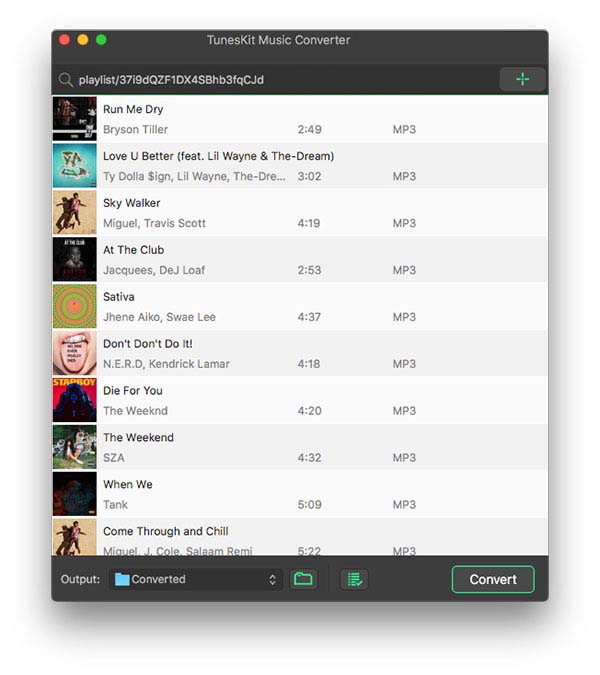 Open ViWizard software and the Spotify will be launched simultaneously. Drag and drop these tracks into the ViWizard interface.
2

Set Up Output Parameters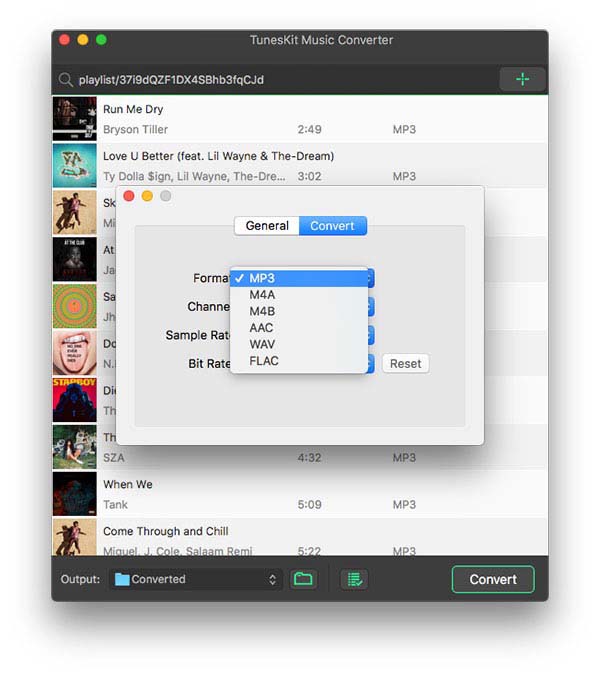 After adding music tracks from Spotify to ViWizard, you can choose the output audio format. There're six options including MP3, M4A, M4B, AAC, WAV and FLAC. And then you can adjust the audio quality by selecting the output channel, bit rate, and sample rate.
3

Start the Conversion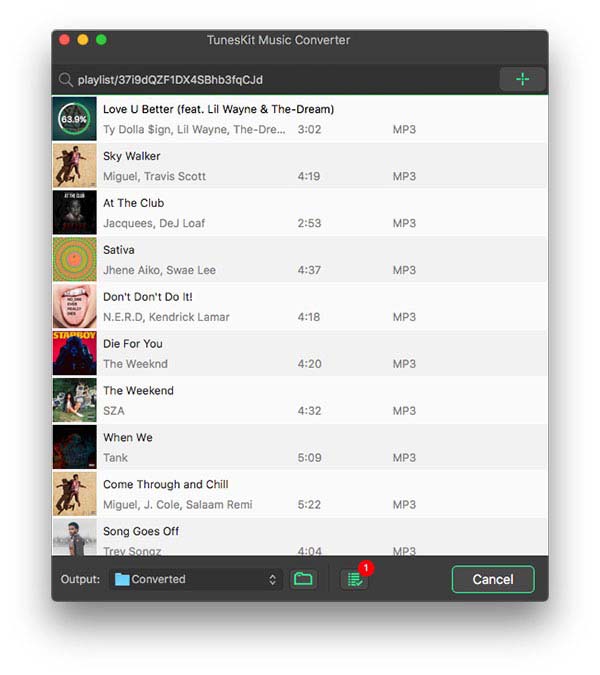 Once all the setting is finished, click the "Convert" button to start loading Spotify music tracks. After the conversion, all the files will be saved to your specified folder. You could browse all the converted songs by clicking "Converted" and navigate to the output folder.
4

Play Spotify Songs in Any Country

After downloaded all the Spotify audio files, import them to your phone. These songs can be streamed through any given music player in your phone with no country restiction, just take them with you and have a blast on your trip!

More Spotify Tips & Tricks