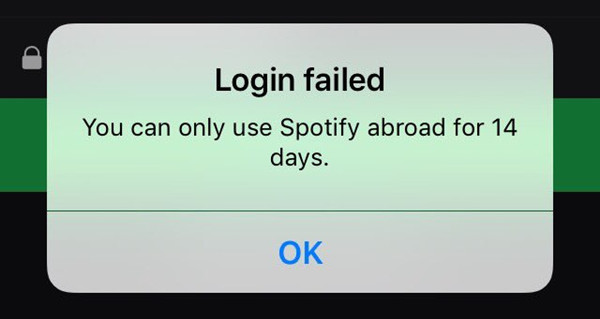 "I signed up to Spotify while in Australia using my Facebook details now I am back in New Zealand where I live I can't use Spotify at all it's giving me an error when I try logging in saying I can't use it abroad for more than 14 days. I'm in my hometown and Spotify thinks I'm abroad." - - User from Spotify Community
"I'm on the business trip to the UK and I can't log in to my Spotify account. I'm from the US if that matters, can I listen to Spotify abroad?"- - User from Reddit
Users of Spotify may run up against the problem when they are traveling or doing business abroad. A prompt will show up saying that you can only use Spotify abroad for 14 days. That means you can no longer use the Spotify app when you're not in the country where you registered your account. Thus, you would lose access to your music library in Spotify. This could be pretty annoying especially if you listen to Spotify on a daily basis. Here we'll tell you several methods to remove Spotify abroad restriction and help you listen to Spotify abroad.
Part 1. FAQs about Spotify Abroad for Premium & Free
You always access the Spotify's service with your account. As you may know the country or region settings with your account have been determined based on where you were when you signed up. But if you're away from home and travel to a different country or region, you may wonder whether Spotify is still available there. For starters you need to identify that the country or region is available to sign up for Spotify. If you're not sure, you can check the list for available countries and regions.
Q1. Does Spotify work abroad?
A: Sure, Spotify can work abroad. You can listen to music in Spotify abroad with a Free account, but it is only available for 14 days.
Q2. Can I use Spotify abroad without WiFi?
A: Yes, you can use Spotify abroad without WiFi if you have other internet connection.
Q3. Can I use my Spotify Premium account abroad?
A: Of course, if you have a Premium account, you can listen to Spotify freely without 14 days abroad restrictions.
What does the "14 days" mentioned above stand for?
Even you can access Spotify's service since the place is among the available list, how long you can listen to Spotify depends heavily on your subscription plan. If you are an existing Premium subscription for individual or family plan, you can enjoy the unlimited service. But if you use a Spotify free account, Spotify may log you out after 14 days and you'll receive this message:
"Enjoying your trip? To listen abroad for more than 14 days, tell us where you are at Spotify.com/account."
So, you've been to Spotify.com/account, but what should you do next? Well, that's why you'll want to remove this abroad restriction because you don't want to go home yet, and fortunately you've come to the right place. If you're confused with this message since you have Premium, don't hesitate to check for the status of your Premium subscription. Go ahead.
Part 2. How to Remove Spotify 14 Days Abroad Restrictions
You can remove this "14 days" restriction when you're abord with any of the following options:
Option 1: Change your Country and Region settings
If you wish to remove Spotify's 14 days abroad restriction on Free or check for the status of your Spotify subscription plan, follow these steps properly.
Step 1 On the device that runs the compatible browser, visit Your Account Overview. If you use the Spotify desktop app, you can click the Profile icon > Account to head to the same page. Make sure you log in with the account that you have received the "14 days" message.
Step 2 Head to the Account overview page, and scroll down until you see the Your Plan box, which display the subscription plan you use for now.
If don't have Premium, under Your plan you should see: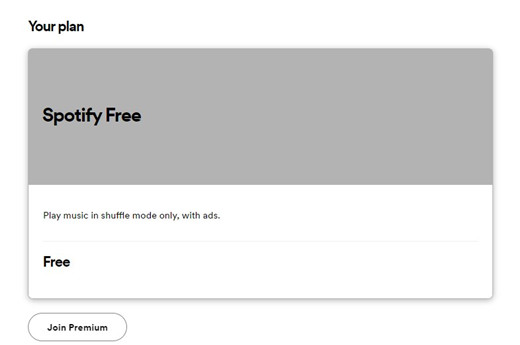 If you get Premium, under Your plan you should see: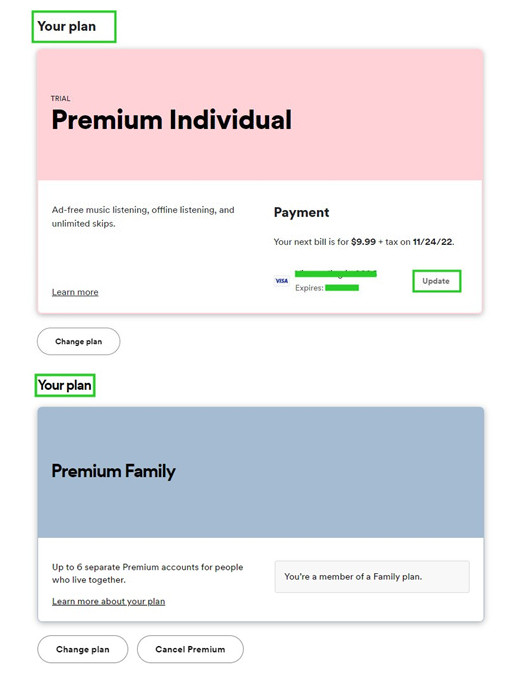 Step 3 Head to the Edit profile page on the side bar if you're on Spotify Free. Under the Edit profile you should see the Country or region tab. From here you'll need to tell Spotify which country or region you are in now by selecting it from the drop-down list.
Step 4 Once it's done, click the Save profile button in the upper-right corner.
Got Premium but still won't be able to use Spotify in the country or region where you're traveling? You'll want to contact Spotify's Support team via support@spotify.com. Or you can try changing your country or region by updating your payment method to the one that's issued there. However, the changes will take effect from your next billing date. If you're a member of a Family plan, you won't be able to change it.
Step 1 Repeat some steps to log in to your account page.
Step 2 Under Your plan, click Update next to your payment method.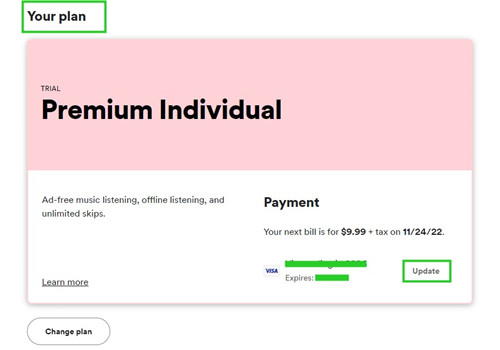 Step 3 Enter a new payment method that was issued in your new country or region.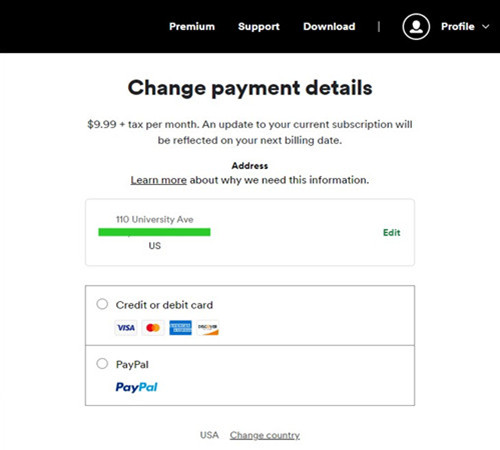 Option 2: Upgrade to Spotify Premium
With an active Premium subscription, you can travel anywhere without having to change your account settings in Option 1. Or if you're new to Spotify and haven't tried Premium yet, you can choose to accept Spotify's offer for a Premium free trial.
Step 1 Repeat some steps to log in to your account page.
Step 2 Under Your plan, click Join Premium.
Step 3 You can pick your Premium subscription for either Individual for $9.99/ month or Family for $15.99/month.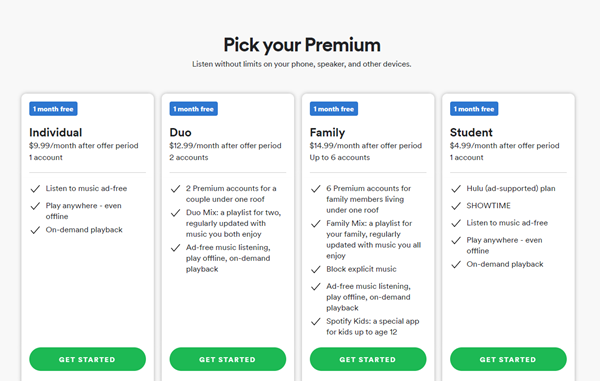 Option 3: Change the Internet Location via a VPN
Spotify recognizes your location by your IP address. When the address is not in your original country, Spotify will regard that you're in the other country. So, a VPN will help you change the IPD address to your home country, and Spotify will not activate the restriction.
Step 1 Install a VPN that contains a server of your home country.
Step 2 Connect to the internet and choose the server of your country.
Step 3 Launch Spotify app and a few seconds later, you'll be regarded in your own country.
Bonus Tip: How to Remove Spotify Services Limits Forever
All these methods mentioned above require a good internet connection to stream Spotify songs. However, in real scenario of traveling abroad, people usually can't even get enough internet speed for online texting, let alone streaming Spotify music. You don't want to listen to a song with a dozen times of buffering. What's worse, if you can stream Spotify songs in high audio quality, the network fee could be staggering.
But with ViWizard Spotify Music Converter, you can directly download all your favorite Spotify songs into MP3 before you set off. And then you can import Spotify songs to your phone and listen to Spotify music with your local music player. Now you can listen to Spotify music abroad for more than 14 days. Go to use ViWizard Spotify Music Converter to download Spotify songs, and just enjoy your trip with unstopped streaming music.

ViWizard Spotify Music Converter Key Features
Convert and download Spotify songs to MP3 and other formats
Download any Spotify contents without premium subscription
Play Spotify songs in any country with no limitations
Save Spotify with the original audio quality and ID3 tags
1

Upload Spotify Songs to ViWizard Software

Open ViWizard Spotify Music Converter then the Spotify app will be launched simultaneously. Go to select songs, albums, or playlists you want to download and directly drag and drop them into the main interface of ViWizard software.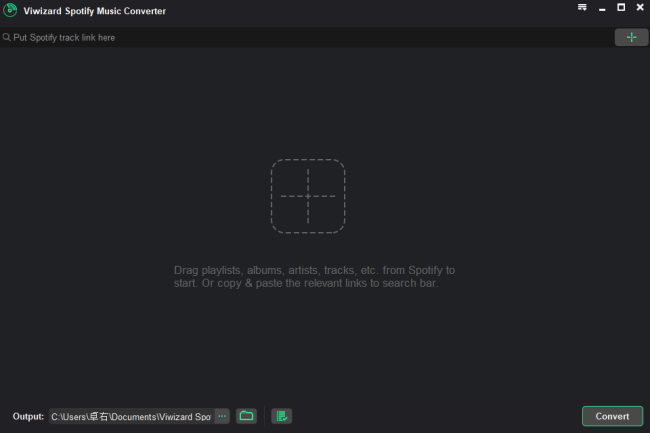 2

Set up the Audio Parameters for Spotify

After importing Spotify songs to the conversion list, you can choose the output format and set the output bit rate, sample rate, and channel. Click on the menu bar, select the Preferences option, then there will pop up the settings window.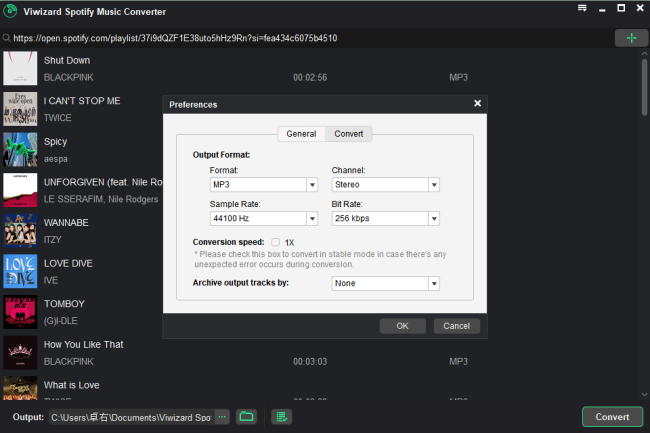 3

Start the Conversion of Spotify to MP3

Once you finish the setting, you can click on the Convert button to start downloading songs from Spotify. All the downloaded Spotify songs will be saved and exported to your computer. You can browse all the converted songs in the history list by clicking the Converted button.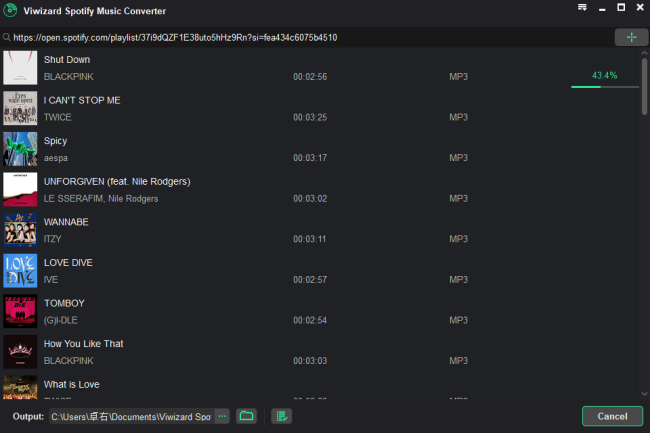 4

Go to Play Spotify Songs in Any Country

Now you can import all the downloaded Spotify songs to your iPhone or Android phone for playing. These songs can be streamed through any given music player in your device with no country restriction. Just take them with you and have a blast on your trip!
Conclusion
If you are going to go abroad and want to listen to Spotify without restrictions, then you can choose to upgrade to a Premium subscription or change your location for using Spotify abroad. A better way is to use ViWizard Spotify Music Converter. Then you can listen to Spotify songs on your device offline even without using the Spotify app.
More Spotify Tips & Tricks