Being one of the most popular and best music streaming services, Spotify has long provided all users with easy access to a huge library of streaming music, say 70 million songs, according to Spotify, no matter if you are subscribing to the Free or Premium plan. However, in order to encourage people to pay for music, Spotify has applied some limits to the free membership. If you are new to Spotify and have no idea whether you should subscribe to Spotify Premium or listen free, you can refer to the following review. We compare Spotify Free and Premium from price, features and audio quality, etc. so that you can decide which Spotify plan is right for you.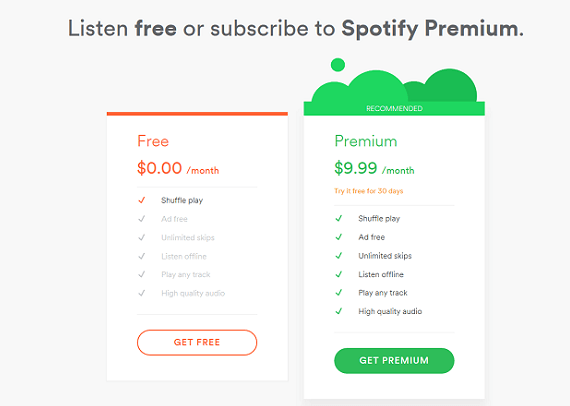 Spotify Free vs Premium - Price
The biggest difference between Spotify Free and Premium is the price. As the name suggests, Spotify Free is free for everyone with no cost at all. And Spotify Premium offers different plans for subscribers: Individual, Student, Duo, and Family. The price varies. To subscribe to Spotify Individual, you should pay $9.99 per month or $99 per year. The great thing for Premium is that Spotify offers you a 3-month free trial to test its features before you finally decide to sign up for the account.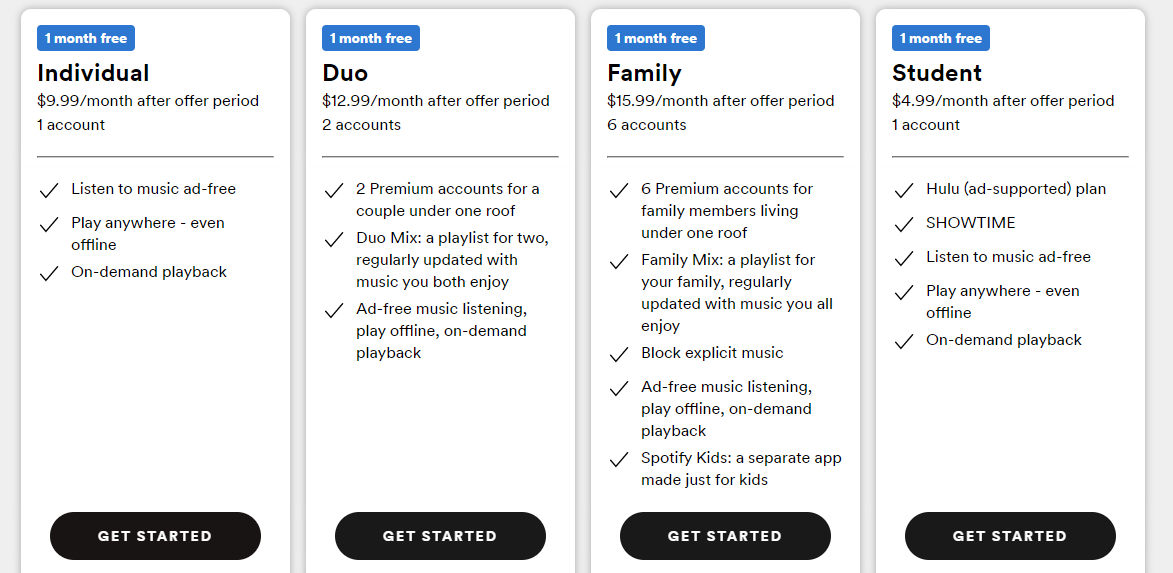 Spotify Free vs Spotify Premium - Library
Although Spotify offers its library of 70 million tracks to both Free and Premium users, for the last few years, Spotify allows artists to make their new releases exclusive to the Premium users for a 2-week period. So, you may find there are some songs you cannot listen to when they are released with the Spotify Free account.
Spotify Premium vs Free - Listening Experience
For the Free plan, the annoyance we cannot ignore is that it supports ads. Every 15 minutes, a short advert that longs up to 30 seconds will be played, which will somehow harm your listening experience, since you cannot remove Spotify ads. If you upgrade to Spotify Premium, it will remove all adverts so you can listen to the music without any interruption.
On desktop, you won't feel too limited by Spotify Free as it lets you choose any artist, album, playlist, or song that you'd like to listen to and rock out to it as much as you like. But on mobile, things get a bit more restrictive. Using an iPhone or Android device, you'll still have access to the Spotify catalog, but you'll be forced to listen to everything in Shuffle mode or pre-made playlists. However, the Premium plan unlocks full access on your mobile devices, meaning you can listen to any song at any time on your phone as exactly the same as that you listen on your desktop or laptop. Also, Spotify Premium users can skip any tracks as long as they want, while Spotify Free users can only skip 6 tracks per hour. The only exceptions are certain playlists on the homepage.

Spotify Free vs Premium - Offline Listening
When you're using Spotify Free, you'll need to be online to listen to music instead of downloading any track to play offline. And the huge benefit of Premium is the ability to download Spotify music for offline listening, which allows you to save up to 10,000 tracks on up to 5 devices.
Spotify Free vs Spotify Premium - Audio Quality
The audio quality you'll get from Free and Premium is also different. If you use Spotify Web player to listen to music, Spotify offers AAC 128kbit/s for Spotify Free users and AAC 256kbit/s for Premium users.
For desktop, mobile, and tablet users, you can choose the Automatic mode, and the audio quality will depend on your internet connection. Beside, Spotify Free provides 3 choices: Low(24kbit/s), Normal(96kbit/s), High(160kbit/s). As for Spotify Premium, you can choose from: Low(24kbit/s), Normal(96kbit/s), High(160kbit/s), High(320kbit/s). That means you can always enjoy the better audio quality and more choices with Spotify Premium.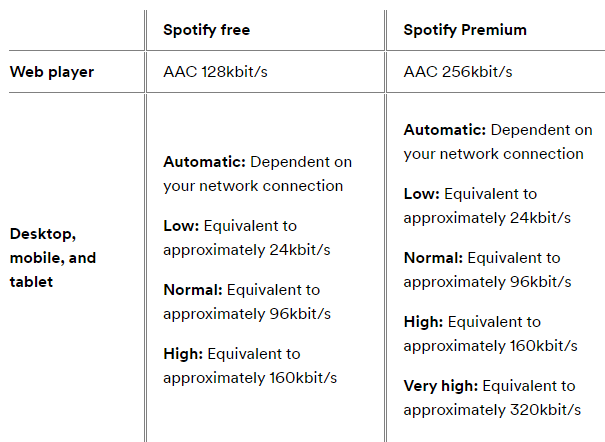 Spotify Premium vs Free - Other Features
For the Spotify Free Premium comparison, there are some small differences. Premium also prevails in other aspects as it owns some extra features that Free doesn't include, such as Spotify Connect, which controls Spotify music across multiple devices, making seamless transitions between listening on your phone and computer. Also, Spotify Premium supports audio normalization, which balances soft and loud songs to create a more uniform listening experience for you.
Conclusion: Should I Choose Premium or Stay Free
| | | |
| --- | --- | --- |
| | Spotify Premium | Spotify Free |
| Price | $9.99/month | Free |
| Library | 70 million songs | 70 million songs |
| Listening Experience | No limit | Listen with ads |
| Offline Listening | Yes | No |
| Audio Quality | Up to 320kbit/s | Up to 160kbit/s |
Here is the result of Spotify Free VS Premium. If you don't care much about the music quality and listening experience, the Free plan might just be enough for you. But if you are the kind of enthusiastic music lover who wants to hear the latest and high-quality songs, save music offline, hate ads, then Spotify Premium is absolutely the best investment you should make.
Extra Tip: Download Spotify Songs for Free without Ads
Only Spotify Premium users can download Spotify songs for offline listening, and play or skip any tracks on Spotify. Currently, if you are a Free plan subscriber, you can also download the Spotify songs and listen to Spotify without ads with a smart Spotify converter, like ViWizard Music Converter for Spotify. By using it, you can easily download any Spotify music file, such as tracks, albums, playlists, and artists, and convert the songs to common MP3, AAC, WAV, FLAC, M4A, M4B formats to play on any popular mobile devices and MP3 players. And you can play or skip any tracks as you want and enjoy without ads offline on any devices. For more details on how to convert Spotify songs to MP3, you can visit the following guide.