One of the most prominent music streaming platforms that you can access is definitely Spotify. Spotify has really revolutionized the music industry by making music tracks from all genres easily accessible on its platform. Apart from the versatility seen in the vast music collection that Spotify as under its catalog, another defining features is its multiplatform use feature.
The multiplatform use feature allows you to access music from different platforms such as the Spotify desktop and mobile version. For many Spotify users, the ongoing debate has for long been Spotify desktop vs mobile version, which is better of the two. Let's view this debate in depth so as to know which the best platform is.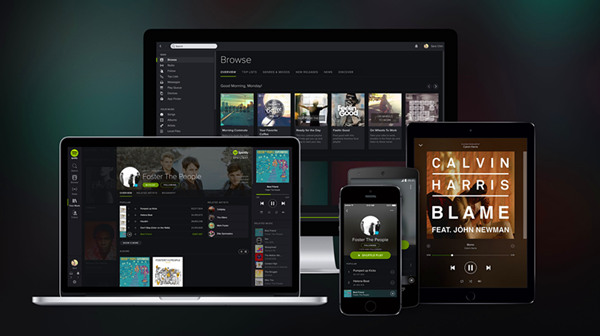 How to Distinguish Spotify Desktop and Mobile
To get the better of the two platforms – Spotify desktop and mobile version, we first need to know what distinguishes them from one another.
Spotify Desktop Version:
It is compatible with your desktop and is downloadable from Spotify's website and other app store. It supports all computers running Windows and Mac operating system, and saves you a lot of hustles that may come with using the Spotify web player. It is convenient to use and comes with a host of features that make it a worthy desktop music application.
Spotify Mobile Version:
The mobile version is there in order to take advantage of increased mobile phone use. It allows you to get access to Spotify's vast music catalog from the comfort of your mobile phone. Just like the desktop version, this is a more convenient way of endlessly streaming to your music selection. You can freely use this version on your iOS or Android device.
Features of Spotify Desktop and Mobile Version
To see what really distinguishes the two versions apart from the names are the feature. Let's look at each of their features. This the point where the debate on Spotify mobile vs desktop. Both of the platforms come with features that make each of them distinct from one another. Some of the features that the Spotify desktop and mobile version have are as seen below.
1. Edit Cover Image
You can have your own desired cover image on the desktop and mobile application when listening to music. Spotify normally picks for you the cover art, however, you can set the cover image that you want to feature as the music plays.
2. Email Sharing Playlist
When you get awesone music that you want to share with your friends, you can easily share it via Email or Messenger by simpy dragging and dropping. Click the playlist and drag and drop it to the sending medium then choose to send it. The recipient will receive the music track's link making for an awesone sharing experience.
3. View Listening History
You can view your song history from the desktop and mobile application. Within the desktop application, you can get a song by song liste of all the songs that you have played, while the mobile version allows you to view playlists and albums.
4. Track Lyrics View
Spotify allows all the users to see the lyrics of the song you are playing on display. You can sing along to the selected song using this feature. Now both desktop and mobile version suuport viewing the track lyrics.
5. Private Session
The Private Session feature allows you to play selected musical joints in private mode without Spotify bringing up suggestions to you. This is great especially for those joints that you only play once in a long time.
6. Audio Quality
Spotify has a range of audio quality options to suit your device, plan, and preferences. When you play Spotify music on your mobile phone, you can access the track at approximately 320kbit/s, so does Spotify desktop application.
What's the Difference between Spotify Desktop and Mobile
The features of Spotify desktop and mobile version enable you to have a great listening experience across your devices no matter you are using the desktop or mobile version. But we still can find a little differences between the desktop and mobile version.
1. Blend: Spotify Desktop vs Mobile
Blend is a shared playlist that combines the music you and a friend listen to. It updates daily with songs based on both of your listening habits. Now you can make a blend, share a blend history, and delete a blend on your mobile device.
2. Equalizer: Spotify Desktop vs Mobile
To find the right sound for you, you can use the equalizer to adjust the levels of bass and treble in music and podcasts. However, you can only enjoy this feature on your mobile device.
3. Car Streaming: Spotify Desktop vs Mobile
Spotify had teamed up with lots of third-party applications such as Google Maps. If you connect Spotify to Google Maps, then you can control your journey and your listening in one place. But this feature is only available for Spotify mobile users.
4. Voice Assistants: Spotify Desktop vs Mobile
With the voice assistant, you can use voice commands to control what plays on Spotify. The mobile version has the voice command feature that helps in getting a request accomplished. You just long press the Search button and ask Spotify to get any album, playlist, or whichever song you would like. This is a fast way of getting to your beloved music via voice command.
5. Link with Shazam: Spotify Desktop vs Mobile
Shazam is one of the greatest platforms that allows you to get a music title and composer of an unknown music joint playing. After linking Spotify to Shazam, you can save the playlist under your Shazam tracks. Now you can only connect Spotify to Shazam on your mobile devices.
6. Friend Activity: Spotify Desktop vs Mobile
Friend Activity shows you what your friends are playing. You can enable this feature on your desktop application, thus seeing what your friends are playing on Spotify. To show Friend Activity, go to switch it on under Settings.
7. Playlist Folders: Spotify Desktop vs Mobile
The desktop version has the option of creating folders if you have a long playlist that you would love to have organized. You just go to the file option on the desktop app and start creating a playlist folder and name it as you wish. You can then save your playlist on these folders for easy access to your music.
8. Group Session: Spotify Desktop vs Mobile
If you want to listen to music together in real time, you could start a group session. In a group session, everyone invited can control what plays. But Group Session is in Beta, and you only access this feature on your mobile device with a premium subscription.
| | | |
| --- | --- | --- |
| | Spotify Desktop | Spotify Mobile |
| Blend | × | √ |
| Equalizer | × | √ |
| Car Streaming | × | √ |
| Voice Assistants | × | √ |
| Link with Shazam | × | √ |
| Friend Activity | √ | × |
| Playlist Folders | √ | × |
| Group Session | × | √ |
How to Download Music on Spotify Desktop and Mobile
The same feature is that both Spotify desktop and mobile version allow you to download your liked songs if you have a premium account. But with the help of a third-party tool like ViWizard Music Converter, you can download music from the desktop application even using a free account. Now let's check out how to download Spotify music on computer and mobile.
Download Music from Spotify Mobile
Step 1. Launch Spotify on your mobile phone and find the album or playlist you want to download.
Step 2. Tap the download arrow to download your liked album and playlist.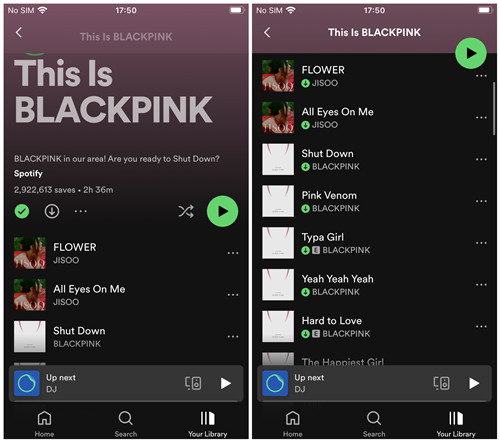 Download Music from Spotify Desktop
For Premium Users
Step 1. Open Spotify on your computer and go to the playlist you want to download.
Step 2. Switch the download button on and the downloads will be saved to your library.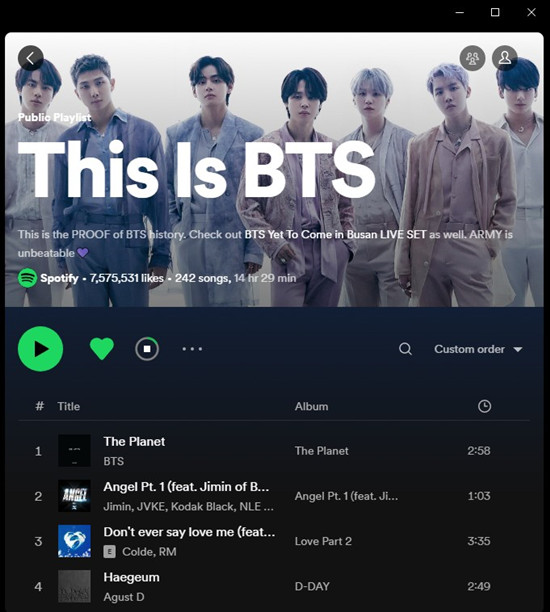 For Free Users
Step 1. Run ViWizard Music Converter on your computer and then drag your liked songs from Spotify to the main interface of the converter.
Step 2. Go to set the output audio format, bit rate, sample rate, and channel in the converter.
Step 3. Click the Convert button to start downloading songs from Spotify to your computer.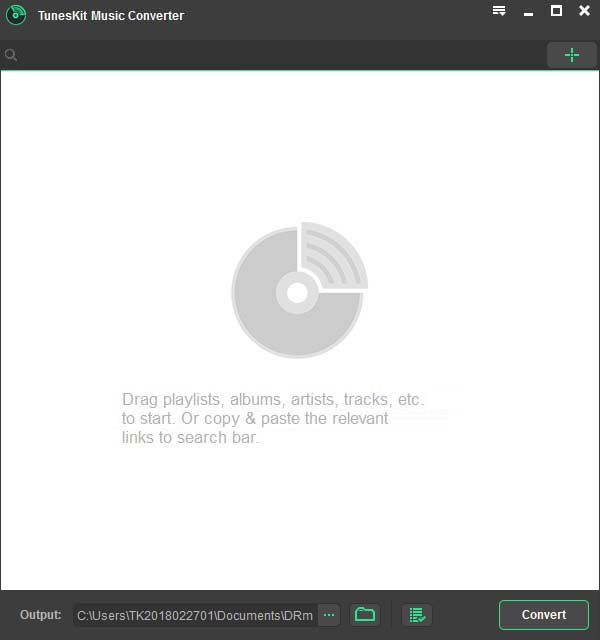 Wrap Up
The debate, Spotify desktop vs mobile app, seems so intense by looking at what each version has to offer. The mobile version is good for convenience and you can play your music at any place anytime so long as you have it installed on your mobile device. On the other hand, the desktop version comes with a host of features that the mobile version lacks such as Friend Activity. As a conclusion to this tight duel, you just choose one according to your own demand.
Yet, no matter you're using Spotify desktop client or mobile app, if you want to listen to Spotify songs offline anytime and anywhere, you need to upgrade to the premium account. Another easy way is to use ViWizard Music Converter, a powerful Spotify music downloader, to download Spotify songs, albums, and playlists to MP3, AAC, and more popular audio formats with lossless quality.