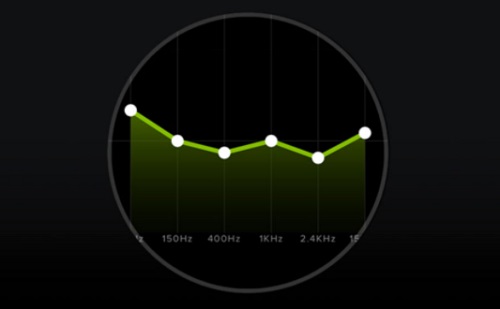 Equalizer, known as EQ, is a circuit or equipment used to achieve sound equalization by adjusting the amplitude of audio signals at particular frequencies. It's largely used by most online music services in order to meet different music tastes for all users.
As one of the earlier and largest music streaming services in the world, Spotify introduced the equalizer feature back in 2014 for iOS and Android users, letting you customize the music sound in the way you like. But it is a bit difficult to find it as Spotify equalizer is a hidden feature. Here we'll show you how to use Spotify equalizer for better sound quality when playing Spotify on iPhone, Android, Windows, and Mac.
Part 1. Best Equalizer for Spotify on Android, iPhone, Windows & Mac
In order to find the right sound for you, you can use the equalizer to adjust the levels of bass and treble in music. Here we've made a collection of best equalizer apps for Android, iPhone, Windows, and Mac.
1. SpotiQ – Best Equalizer for Spotify Android
SpotiQ is one of the simpler audio equalizer apps for Android. The app features an amazing Bass Boost System which can add and adjust deep, natural boosts to your Spotify playlist songs. You can also create new playlists by choosing any preset and apply it on your songs. It gives away its features for nothing, so you can use it for free.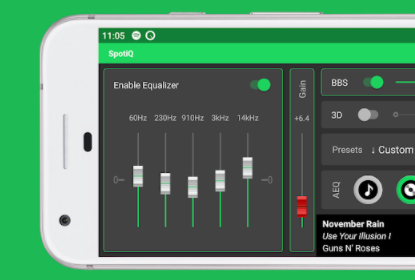 2. Boom - Best Equalizer for Spotify iPhone
Boom is the best bass booster and equalizer for your iPhone. The app redefines the way you listen to music with Bass booster, a customizable 16-band equalizer, and handcrafted presets. You can also experience the magic of 3D surround sound and feel your tunes come to life on any headphones. But you can only enjoy Boom for free with our 7-day trial version.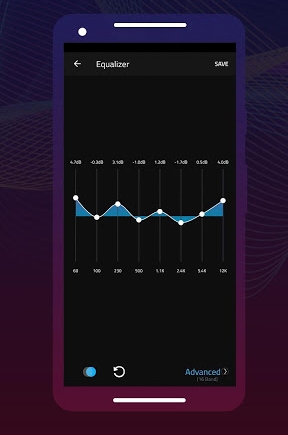 3. Equalizer Pro – Best Equalizer for Spotify Windows
Equalizer Pro is a Window based audio equalizer that works with most audio and video software you use on Window computers. Thanks to its clean and clutter-free interface, Equalizer Pro brings more user-friendly service to its users. But it is not free, and you need to pay $19.95 for the license after a seven-day trial.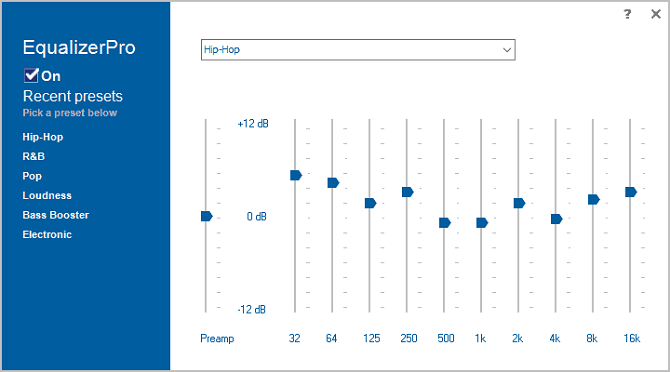 4. Audio Hijack - Best Equalizer for Spotify Mac
Audio Hijack is a professional-grade application that allows you to add effects to the system audio on your Mac computer. You can easily control your audio with a ten- or thirty-band equalizer and sculpt the sound precisely. What's more, it supports to capture audio from one app and enable you to reroute your audio.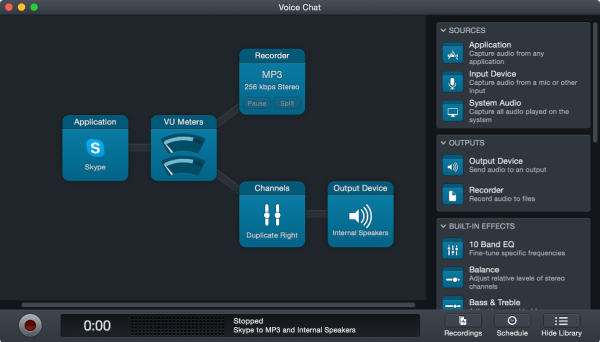 Part 2. How to Use Spotify Equalizer on Android & iPhone
Equalizer for Spotify can be easily accessible from Spotify for Android and iPhone since Spotify offers a built-in equalizer for users to get best equalizer settings for Spotify. If you cannot find this feature on your Spotify, you can perform the below steps.
2.1 iPhone Spotify Equalizer
If you get used to listening Spotify songs on iOS devices, you can follow these steps to adjust Spotify equalizer on iPhone, iPad, or iPod touch.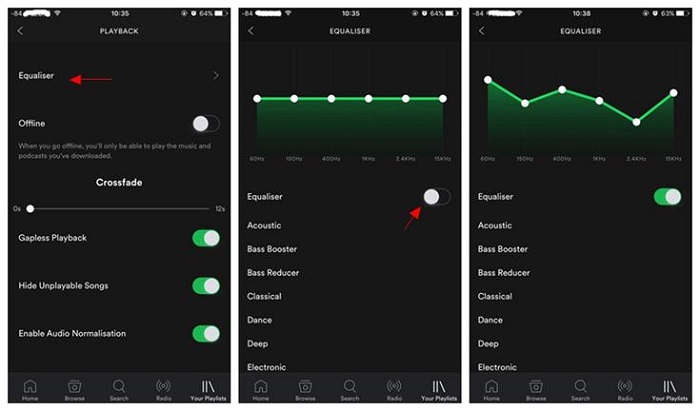 Step 1. Open Spotify on your iPhone and tap on Home at the bottom of the interface.
Step 2. Then tap on the Settings gear in the top-right corner of the screen.
Step 3. Next, press Playback option then tap Equalizer and switch it one.
Step 4. Now the built-in Spotify equalizer will pop up with a bunch of presets already tuned to the more popular genres of music.
Step 5. After that simply tap on any of the white dots and drag it up or down to adjust the sound quality until it meets your requirements.
2.2 Spotify Equalizer Android
The process on Android is similar to iPhone. If you are using Spotify music on Android devices, this is what you do.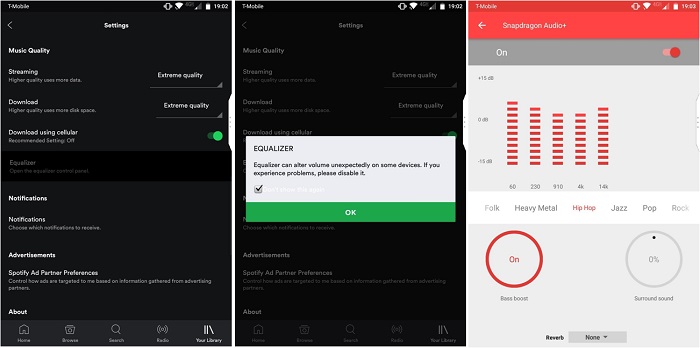 Step 1. Launch Spotify on your Android device and tap on Home at the bottom of the screen.
Step 2. Tap the Settings gear in the top right corner and scroll down to the Music Quality then tap Equalizer.
Step 3. Press OK in the popup window to enable the equalizer. Then you'll enter the equalizer interface where you can adjust the sound quality as you like.
Step 4. After that make your adjustments according to your needs. Now all songs you play in Spotify will be using your new equalizer preset.
Note: Depending on your Android version and OEM, it'll probably vary in terms of configurability and style. But if your phone does not come with a built-in equalizer, Spotify will display its own equalizer at this point.
Part 3. How to Use Spotify Equalizer on Windows & Mac
Currently Spotify for PC and Mac don't have an equalizer yet. It's also unknown whether there will be one in the future. Fortunately, there's still workaround to install equalizer to Spotify, although it's not an official solution.
3.1 Spotify Equalizer Windows
Equalify Pro is an equalizer for the Windows desktop version of Spotify. A valid Equalify Pro licence and having Spotify installed is required for Equalify Pro to work. Now perform the below steps to change the equalizer on Spotify PC.
Step 1. Install Equalify Pro on your Windows computer and it will integrate with Spotify automatically.
Step 2. Fire up Spotify and choose a playlist to play, then you'll see a small EQ icon at the top bar.
Step 3. Click on the EQ button and go to customize the music preset in the pop-up windows.
3.2 Spotify Equalizer Mac
Available at no cost, eqMac is a great equalizer for users who want to use Spotify equalizer on their Mac computers. If you feel like your Mac doesn't have enough bass or lacks a punch, adjusting that in eqMac is as easy as it gets.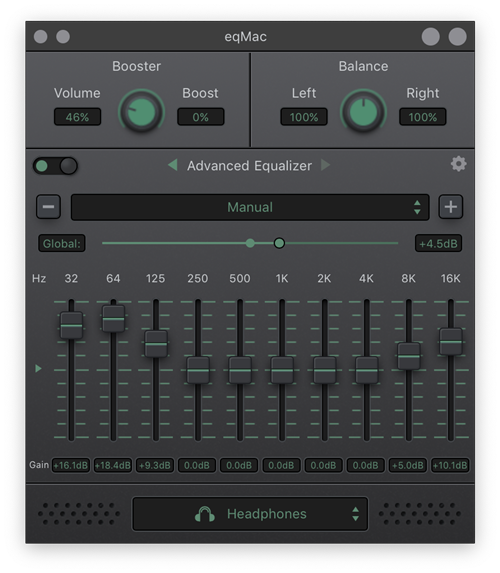 Step 1. Install eqMac from its official website and open Spotify to play a playlist you want.
Step 2. Choose Basic Equalizer from the main screen of eqMac to control volume, balance, Bass, Mid and Treble.
Step 3. Or go to adjust advanced Equalizer settings for Spotify music by using Advanced Equalizer.
Part 4. Method to Play Spotify with Equalizer Music Player
It's easy to get equalizer for Spotify on iOS and Android with its built-in feature. But for those desktop users, they need to seek help from other equalizers. So, is it possible to immigrate music from Spotify to those music players with equalizer for playing? The answer is sure, but you'd need the help of a third-party tool like ViWizard Spotify Music Converter.
As we all know, all songs from Spotify are encrypted in the format of OGG Vorbis, thus preventing you from playing Spotify songs on other music players. In this case, the best way to use Spotify songs is to remove the DRM limit from Spotify and convert Spotify songs to MP3 by using ViWizard Spotify Music Converter.
With the help of ViWizard Spotify Music Converter, you can easily download Spotify music to MP3 or other popular audio formats. Then you can transfer those Spotify MP3s to other music player with equalizer. For example, you can fine-tune specific frequencies of the sound spectrum by using Apple Music on your computer. Here's how to.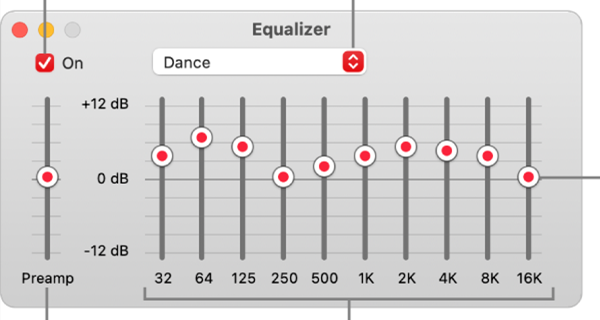 Step 1. In the Music app on your Mac, choose Window > Equalizer.
Step 2. Drag the frequency sliders up or down to increase or decrease the volume of a frequency.
Step 3. Select On to turn on the equalizer.
More Streaming Music Tips & Tricks

Matt Smith is an amateur writer engaged in ViWizard in 2013. He is a movie lover who write a lot of movie reviews for many websites and blogs.