Sometimes, you may be unsatisfied with the sound quality when listening to the music through specific headphones or third-party speakers. To make the songs sound better, you can simply adjust the equalization settings for your music. If you are using the Apple Music service, you can customize Equalizer for Apple Music right from the Music app settings on iOS devices and Mac. Not sure how? Just follow up on the guide below.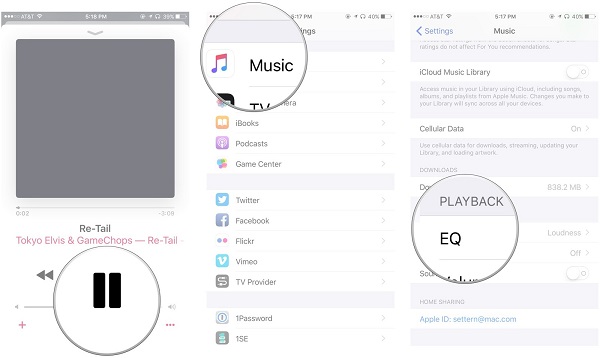 Part 1.

How to Use Apple Music Equalizer

If you prefer to use the equalizer settings to fine-tune the audio based on your preferences or to optimize it for specific listening environments or music genres, you can access and adjust Apple Music equalizer settings across devices and platform.

Note
If you set the equalizer settings to "Off" for Apple Music, it means that no equalization adjustments will be applied to the audio output. The sound will be played back in its original, unaltered form.
Use the Apple Music equalizer for Apple Music songs:
1.1 For iPhone/iPad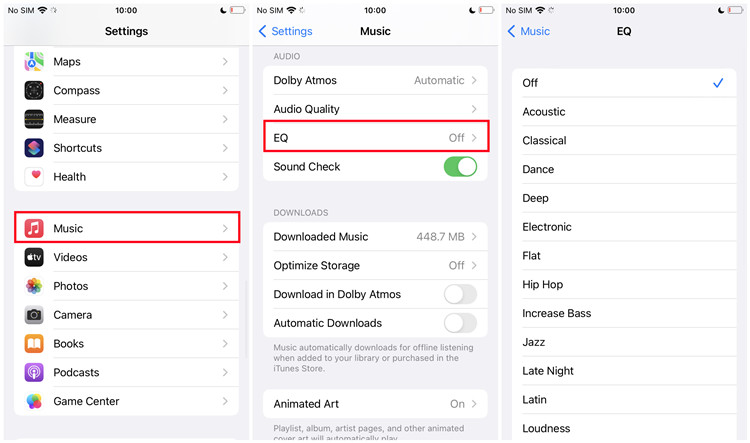 From the home screen of iPhone or iPad device, open the Settings app.
Scroll to Music.
Under the AUDIO section, select EQ.
You can access all the available presets, such as Pop, Rock, Electronic, and more.
Choose one from the list of equalizer presets or choose "Off" to disable the equalizer altogether.
1.2 For Android
In our experiences, the built-in equalizer settings for the Apple Music app has been gone. Android users who want to customize the equalizer settings for Apple Music should pick an equalizer software for Androids that can adjust the sound output system-wide, affecting Apple Music as well.
1.3 For Mac
Open the Music app.
Click Windows in the Apple Menu > Equalizer.

Equalizer settings window will appear on the screen.

Click on the chevron down icon next to "Manual" and select a preferred preset from the context menu.
Once done, select the checkbox next to "On" to turn on the equalizer.
1.4 For Windows/Mac
Open the iTunes app.
Click View from the top of the menu bar > Show Equalizer.

Now the equalizer will open on the screen. You can choose a preset option from the pop-up menu.

Select On to turn on the equalizer.
If you want to turn off the equalizer settings, just make sure to repeat some steps mentioned above to select "Off" from the context menu (for iOS/iPadOS) or deselect "On" (for Windows/macOS). Disabling the equalizer can be useful when you prefer to listen to Apple Music without any additional sound modifications or if you want to experience the music exactly as it was intended by the artist and producers.
Explore your best Apple Music equalizer settings:
A universal truth is there're no common options to have perfect Apple Music equalizer settings for all as people have different music tastes. You can explore the best equalizer settings according to your personal preferences and the type of music you listen to. Feel free to explore and experiment with different presets or create your own customize settings to achieve the perfect audio balance that suits your taste.
Here're some popular options:
Bass Booster: For deep, powerful bass.
Rock: For genres like rock, metal, and alternative music.
Vocal Booster: For clear and prominent vocals.
Electronic: For electronic, EDM, or dance music enthusiasts.
Classical: For classical music or orchestral compositions.
Acoustic: For acoustic performances or singer-songwriter genres.
Part 2.

How to Create Your Own Apple Music Equalizer

The built-in equalizer allows you to enhance or reduce specific frequencies ranges, such as boosting the bass or enhancing the treble, to customize the sound to your liking. By creating and saving your custom equalizer presets, you can apple them whenever you want to want to fune-tune the sound for your unique music listening experience within the Apple Music app.
Create your own equalizer presets for Apple Music songs: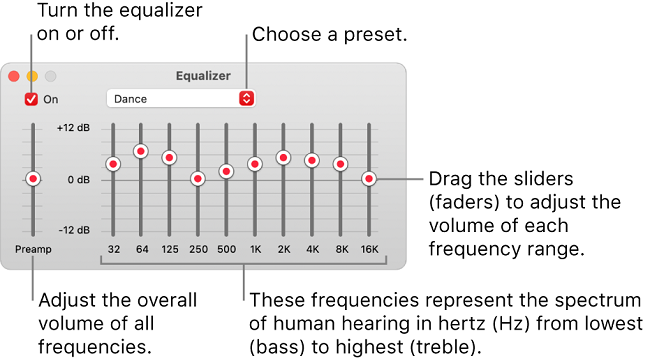 2.1 For Mac
In the Music app on Mac, choose Windows > Equalizer.
Drag the frequency sliders to adjust to frequencies. To increase or decrease the volume of a frequency (in decibels), drag the sliders (faders) up or down.
Choose Make Preset from the pop-up menu.
To manage the presets, chose Edit List.
2.2 For Windows/Mac
In the iTunes app on Windows PC or Mac, choose View > Show Equalizer.
Drag the frequency sliders to adjust the volume of a frequency.
Choose Make Preset from the pop-up menu.

To rename or delete a preset, choose Edit List from the pop-up menu.
Part 3.

How to Adjust Apple Music Equalizer

When the equalizer setting is set to "On" for Apple Music, it means that the equalizer adjustments you make will be applied to all songs played within the Apple Music app. This includes songs streamed from the Apple Music catalog as well as any downloaded songs in you library.

The equalizer settings within Apple Music will only affect the audio output of the app itself, and it does not apply to other apps or system-wide audio on your device. Each app may have its own separate equalizer settings, such as Spotify. For example, if you switch to Spotify on your device, the equalizer settings you applied within the Apple Music/iTunes or even the Settings app won't carry over to Spotify.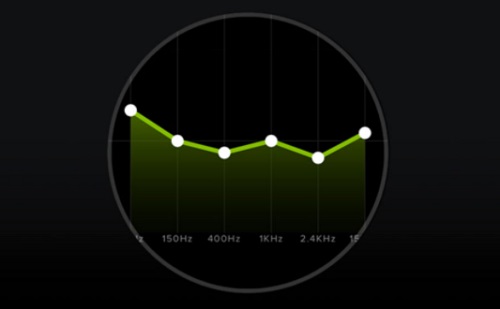 Choose equalizer presets for specific songs in your library:
However, you can choose the equalizer presets for different genres or styles of music in your library. For example, you could set a particular equalizer preset for songs in the Rock genera and a different preset for songs in the Pop genre. Of course, you can set any preset for any song in your library. This way, when you switch between songs in different genres, the equalizer settings will adapt accordingly.
3.1 For Mac
Open the Music app.
Navigate to the song/album/playlist to set a particular equalizer preset for it.
Control-click on the selected song and choose "Get Info" from the context menu.
Click Options, and choose a setting from the Equalizer Preset pop-up menu. You can only set it for one song at a time.

To choose presets for other songs, click the Next or Previous buttons.
Once done, click OK. The equalizer preset you choose applies to the songs whenever you play it.
3.2 For Windows/Mac
Open the iTunes app.
Navigate the song/album/playlist where you wish to set a particular preset.
Right-click on the selected song and choose "Song info".
Click Options, and choose a setting from the equalizer drop-down menu.

To set it for other songs, use the Next or Previous buttons.
Click OK to save these equalizer settings.
Part 4.

Best Apps to Adjust Equalizer for Apple Music

You can also have a test with the 3 most popular Apple Music Equalizer apps below, including both free and paid apps.
#1 Boom: Music Player & Equalizer

If you are looking for a finer Equalizer with a better Bass Booster for your music, the Boom music app is worthy of a try. As a music player as well as Equalizer, it's packed up by immersive 3D surround sound, punchy equalizer presets, multiple library accesses, audio intensity control, and more, providing an amazing listening experience for you with or without headphones. Whether the beat gets dropped or the tempo amplifies, with Boom you are going to feel Apple Music like you've never had!
#2 Equalizer Fx: Bass Booster App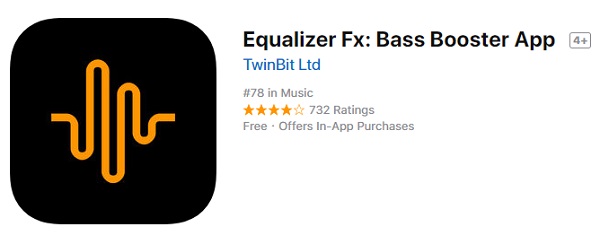 Equalizer Fx is another best eq for Apple Music that improves your music or audio quality by adjusting sound effect levels with the 5 band equalizer controller and bass booster. This app fully supports both iOS and Apple Watch systems. You can fluently play your Equalizer FX playback in the background on iPhone.
#3 Equalizer+ Pro: HD music player

Equalizer+ is a great music equalizer app for iPhone and iPad and one of the best equalizer for Apple Music. The Equalizer+ Pro is its premium version which costs you $4.99 only. With the paid version, you can mix, edit and customize the sound of your tracks with 7-band equalizer and 10 equalizer presets to achieve the best sound quality of the Apple Music songs. What's more, it offers you the chance to save your songs in all audio files formats and also stream your files on TV.
Part 5.

How to Play Apple Music on Other Platforms

The Apple Music Equalizer apps from above all work find, but there are problems surrounding the permission from Apple Music. In most cases, users will be warned that Apple Music songs are protected and the Boom effects can't be applied. To fix this error, a piece of software like ViWizard Audio Converter can help.
ViWizard Audio Converter: Apple Music Converter
ViWizard Apple Music Converter is a smart Apple Music converter that can help users unlock protection from Apple Music tracks and convert Apple Music to MP3. This tool also supports iTunes audios, Audible audiobooks as well as common audios. It runs at a 30X faster speed and will keep the ID3 tags.
You can follow this instruction to remove the protection from Apple Music with ViWizard Audio Converter for Mac or Windows.

Key Features of ViWizard Audio Converter
Free Trial
Free Trial
* Security verified. 5, 481,347 people have downloaded it.
Convert songs, albums, and playlists from Apple Music to MP3
Remove DRM protection from Apple Music, iTunes, and Audible
Save the converted audios with the original quality and ID3 tags
Support the conversion of up to 100 audio formats to others
Step 1

Add Apple Music/iTunes Music to ViWizard

Launch ViWizard Audio Converter and agree to launch the iTunes software on the computer. This will ensure the direct access to your library. Alternatively, you can click the Add Music button at the top of the program to load your library there, including your music and audiobooks. Select and add music or audiobooks, and ViWizard will display a list for you.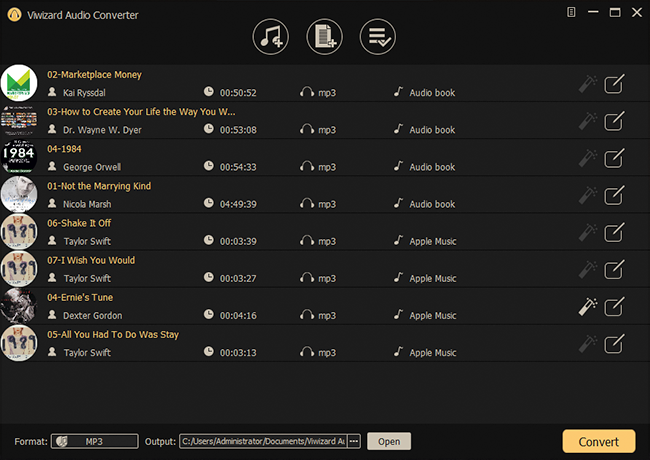 Step 2

Adjust Output Format

Then, you should adjust some related output formats for the selection. Click on the Format tab at bottom, and choose the desired format, such as MP3, AAC, or WAV. You can also adjust bit rate, sample rate, channel and more there. Once done, click OK to save.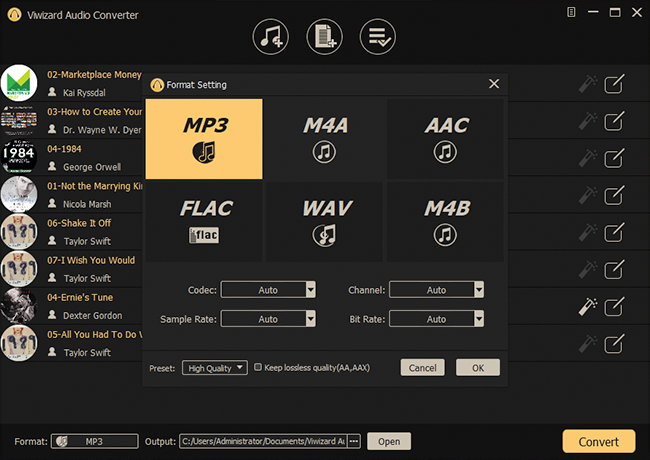 Step 3

Convert and Download Apple Music

Back to the main interface of ViWizard Audio Converter and click on the Convert button, and the conversion will start and finish at a 30x super faster speed. You can then head over to the folder to check to see the downloaded music files.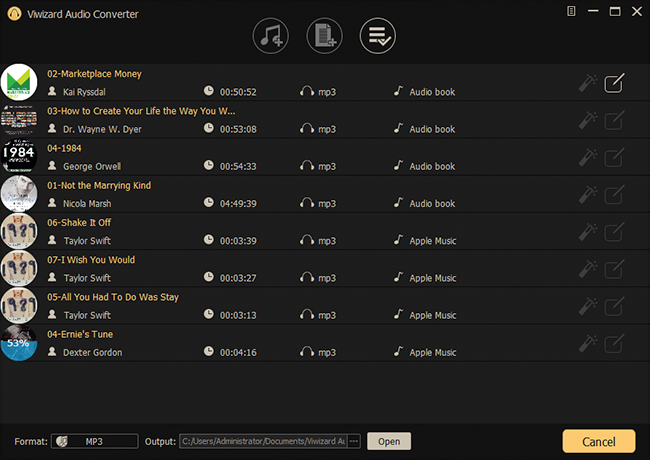 Conclusion
You should have all the exclusives offered here. Remember to come back for our updates of what's new for Apple Music Equalizer!