Sometimes, you may be unsatisfied with the sound quality when listening to the music through specific headphones or third-party speakers. To make the songs sound better, you can simply adjust the equalization settings for your music. If you are using the Apple Music service, you can customize Equalizer for Apple Music right from the Music app settings on iOS devices and Mac. Not sure how? Just follow up on the guide below.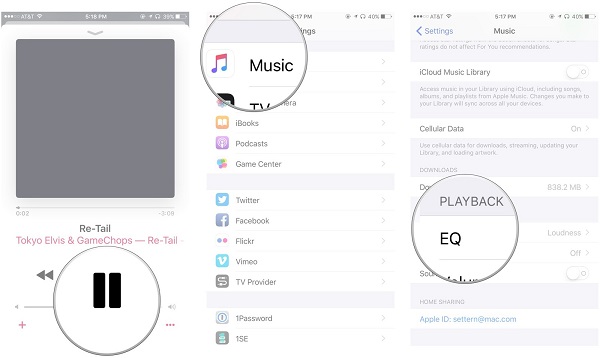 Part 1. How to Set Up Apple Music Equalizer Settings (iOS/Mac)
With the Music equalizer, you can fine-tune specific frequencies of the sound spectrum on iOS and Mac. Pick up your device for how to set up Apple Music equalizer settings.
Apple Music Equalizer Settings on iOS and Mac:
For iOS users, Apple Music equalizer is quite simple to set up and customize in the Settings because Apple Music is a built-in app of iOS. You don't need to use an extra app but can customize equalization settings for Apple Music contents within the Music app on iDevices instead. Also, you can set up Equalizer on Mac.
Set Up Apple Music Equalizer on iOS
Following are the common steps to set up Apple Music equalizer on iOS devices, including iPhone and iPad.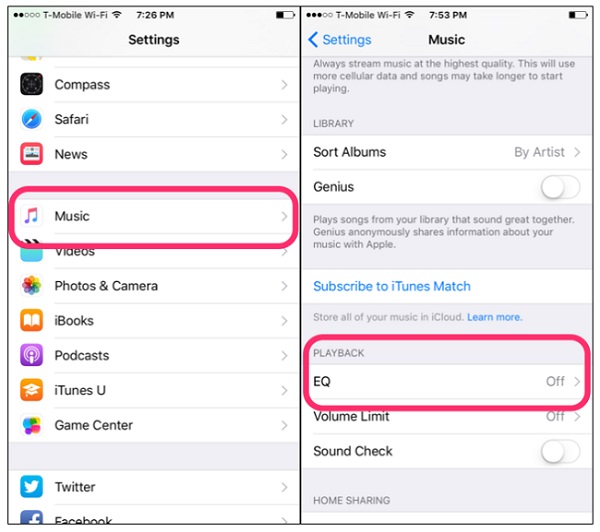 1. On mobile devices, open Settings > Music > EQ.
Note: Chance is that all sound output will be affected, but the settings here apply only to music played from Music.
Tips: Preloaded Effects under Apple Music equalization setting:
1. Acoustic;
2. Bass Booster;
3. Bass Reducer;
4. Classical and more.
Select a sound effect from above. Once the sound effect is chosen, you'll get it immediately while listening to the songs.
Note: To switch to another sound effect, feel free to repeat the steps to choose a preferred one and have it for the music from the Music app.
On Mac, you are able to customize the sound for different genres as well. Here is a guide to set up Apple Music Equalizer on Mac.
Set Up Apple Music Equalizer on Mac
For Mac with Music app, some simple control-clicks can set up the music equalizer.
1. On Mac, open the Music app.
2. Choose to Window > Equalizer.
From here choose one to do: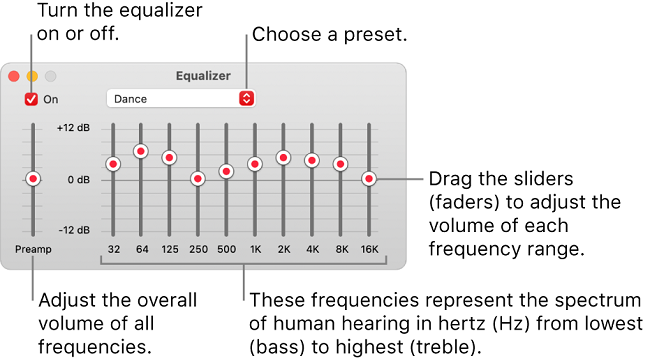 1. From the pop-up menu, choose a preset option.
Or
2. To increase or decrease the volume of a frequency, drag the frequency slides (faders) up or down.
3. To turn on the equalizer, select On.
Part 2. How to Make Apple Music Settings Better for More (iOS/Mac)
A universal truth is there're no common options to have perfect Apple Music equalizer settings for all as people have different music tastes.
However, considering that Apple Music users are provided with options to set this more correct than Amazon Music subscribers (there are no built-in equalizer settings in Amazon Music), we figure out and update this part for how to make Apple Music equalization settings better for more.
How to Make Apple Music Settings Better for iOS
Beyond the Music equalization settings, we manage to get more available settings and features on different versions of iOS.
More Apple Music Settings on iOS
There are flexible options including EQ, Sound Check, Volume Limitand Reduce Lound Sounds settings for iOS versions on select: iOS 12, iOS 13, iOS 14, and iOS 15.
Check the version of your iOS device to see if there are exclusives. If available, check out the Pro Tips follows the common guide to make these settings on most iOS devices.
Pro Tips: Set Up Volume Limit Settings on iOS
Note that the volume limit settings on following iOS devices are effective to help protect the hearing.
For: iOS 12, iOS 13 and more.
1. On iOS, open Settings > Music > Volume Limit.
To prevent changes to the volume limit:
1. Back to Settings > Screen Time > Content & Privacy Restrictions.
2. Turn on Content & Privacy (green).
3. Tap Volume Limit.
4. Then tap Don't Allow.
Mobile devices including iOS devices output music at up to about 110 decibels, but music tracks over 85 decibels is considered unsafe.
Pro Tips: Set Up Sound Check Settings on iOS
To normalize the volume level of the audio, aka to keep music's volume consistent, follow the steps.
For: iOS 12, iOS 13, iOS 14 and iOS 15.
1. On iOS, Go to Settings > Music.
2. Turn on Sound Check (green).
Pro Tips: Reduce Lound Sounds on iOS 15
One more thing deserves mentioning is there's no Volume Settings on iOS 15 but features Reduce Loud Sounds, which enables iOS users to have more options to adjust decibels for hearing.
For: iOS 15.
1. On iOS 15, Open Settings > Sounds & Haptics > Headphone Safety.
2. Turn on Reduce Lound Sounds (green).
3. Use the slider to set the maximum volume level.
Tips: To disable Reduce Loud Sounds, repeat the steps to adjust the same feature.
On the enabled Reduce Loud Sounds, feel free to select just how to audio can get through headphones before the audio kicks in.
Tips: Range in Reduce Loud Sounds starts from 75 decibels ("as loud as a vacuum cleaner") to 100 decibels ("as loud as an ambulance siren").
Note: To protect hearing, it's suggested to opt for a lower maximum decibel level (under 85 decibels)
How to Make Apple Music Settings Better for Mac
There're 2 more features in Apple Music settings on Mac - Sound Enhancer and Equalizer Presets for songs.
Pro Tips: Adjust the Sound Enhancer on Mac
Apple Music app for Mac features the Sound Enhancer for users to adjust and add depth and enliven the quality of music content.
To increase the perceived wideness of stereo effect, the Sound Enhancer can adjust bass and treble response for those are sensitive about the sound of most content from the Music app.
1. In the Music app for Mac, choose Music > Preferences.
2. Find and click Playback.
3. Make sure Sound Enhancer is supported and then selected.
4. Drag the slider to increase or decrease the effect of the Sound Enhancer.
Pro Tips: Choose Equalizer Presets for Specific Songs on Mac
More than creating your own equalizer presents on Mac, Apple Music also supports to choose equalizer presets for specific songs, including your loved songs or favorite ones in Apple Music.
1. Still, open the Music app on Mac.
2. In the Music window, select a song.
3. Chose Song > Info, then control-click on Options.
4. From the pop-up menu, choose a preferred setting.
Tips: To choose equalizer presets for other songs, in the bottom-left corner use the Next button or the Previous button.
5. Click OK.
Pro Tips: Create Your Own Equalizer Presets on Mac
Besides the normal use, you can also create your own equalizer presets on Mac. There are more than 20 presets of the most used equalizer settings, or adjust the settings and save the customized settings as a preset that can be used again.
1. On Mac, open the Music app.
2. Choose Window > Equalizer.
3. To adjust the frequency settings, drag the sliders.
4. From the pop-up menu, choose Make Preset and name your preset.
Tips: To rename or delete a preset, from the pop-up menu also choose Edit List.
See if the created or chosen equalizer presets for specific songs applied whenever streaming them in the Apple Music app.
Part 3. 3 Best Apple Music Equalizer Apps
You can also have a test with the 3 most popular Apple Music Equalizer apps below, including both free and paid apps.
Best Apple Music Equalizer Apps for iPhone, iPad
#1 Boom: Music Player & Equalizer

If you are looking for a finer Equalizer with a better Bass Booster for your music, the Boom music app is worthy of a try. As a music player as well as Equalizer, it's packed up by immersive 3D surround sound, punchy equalizer presets, multiple library accesses, audio intensity control, and more, providing an amazing listening experience for you with or without headphones. Whether the beat gets dropped or the tempo amplifies, with Boom you are going to feel Apple Music like you've never had!
#2 Equalizer Fx: Bass Booster App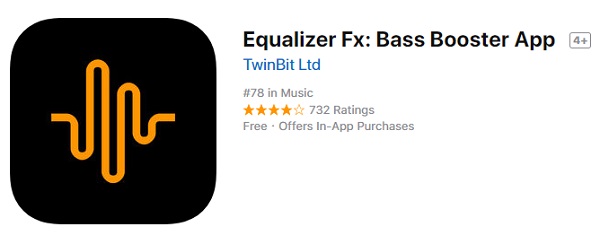 Equalizer Fx is another best eq for Apple Music that improves your music or audio quality by adjusting sound effect levels with the 5 band equalizer controller and bass booster. This app fully supports both iOS and Apple Watch systems. You can fluently play your Equalizer FX playback in the background on iPhone.
#3 Equalizer+ Pro: HD music player

Equalizer+ is a great music equalizer app for iPhone and iPad and one of the best equalizer for Apple Music. The Equalizer+ Pro is its premium version which costs you $4.99 only. With the paid version, you can mix, edit and customize the sound of your tracks with 7-band equalizer and 10 equalizer presets to achieve the best sound quality of the Apple Music songs. What's more, it offers you the chance to save your songs in all audio files formats and also stream your files on TV.
Part 4. Can't Set Equalizer for Apple Music with Available Apps?
The Apple Music Equalizer apps from above all work find, but there are problems surrounding the permission from Apple Music. In most cases, users will be warned that Apple Music songs are protected and the Boom effects can't be applied. To fix this error, a piece of software like ViWizard Audio Converter can help.
#4 ViWizard Audio Converter: Apple Music Converter
ViWizard Apple Music Converter is a smart Apple Music converter that can help users unlock protection from Apple Music tracks and convert Apple Music to MP3. This tool also supports iTunes audios, Audible audiobooks as well as common audios. It runs at a 30X faster speed and will keep the ID3 tags.
You can follow this instruction to remove the protection from Apple Music with ViWizard Audio Converter for Mac or Windows.

ViWizard Apple Music Converter Key Features
Losslessly download and convert Apple Music for offline playing on any device
Convert M4P Apple Music to MP3, AAC, WAV, FLAC, M4A, M4B
Retain 100% original quality and ID3 tags
Support converting Apple Music songs, iTunes audiobooks and Audible audiobooks
Convert between DRM-free audio file formats
Pro Tips: Remove Apple Music Protection with ViWizard
1. Launch ViWizard Audio Converter.
From here wait until ViWizard Audio Converter launches iTunes.
2. Use drag-and-drop to add Apple Music tracks to ViWizard.
3. Click the Add iTunes Library button (Add Music icon) at the top to load the whole iTunes library, then add songs from it.
4. Click on the Format tab at the bottom and set an output format (for example: MP3) and then OK to save settings.
5. Click the Convert button to start converting.
Now the ViWizard Audio Converter has converted all those protected formats into the most common MP3 or other formats. Just open a powerful Apple Music equalizer app or repeat the steps, the music songs can be activated for a better listening experience.
Conclusion
You should have all the exclusives offered here. Remember to come back for our updates of what's new for Apple Music Equalizer!
More DRM Music Tips & Tricks