"I used to listen to Spotify but have now switched to Apple Music. One feature that I truly miss is having a crossfade between two tracks. I really liked being able to select the transition time. Is it possible that Apple Music will implement this option soon?" – User from Reddit.
Do you like crossfade music? Crossfade can make a fade-out and fade-in effect when the two songs are joined. This feature can eliminate the silence between two songs and improve your listening experience. Do you know how to crossfade on Apple Music? Just follow this post if you want to know more.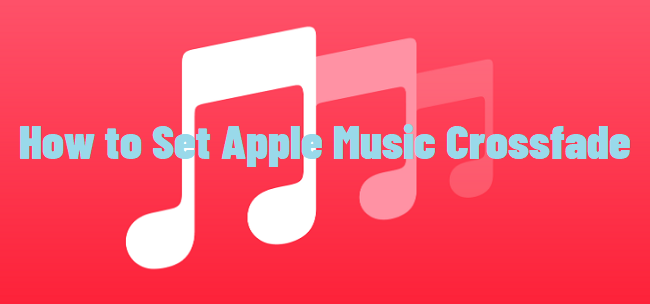 How to Set Crossfade on Apple Music on Different Devices
Does Apple Music have the crossfade feature? The answer is yes. Apple Music has released the crossfade feature years ago. But it doesn't support iOS devices now. So you may be unable to find this feature on your iOS devices. But we believe that Apple will add this feature on iOS devices soon.
Crossfade Apple Music on Android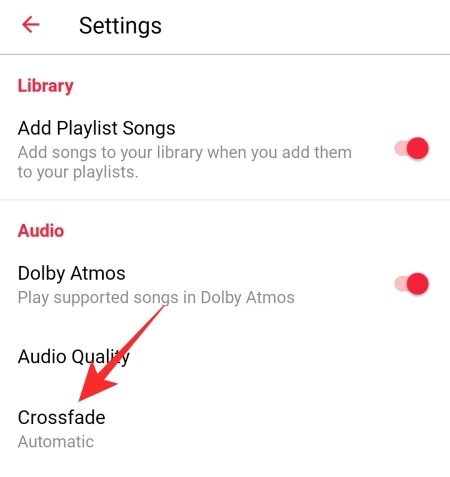 1) Open the Apple Music app on your android device.
2) Tap the Three-dot icon on the top-right corner and choose Settings.
3) Click the Audio > Crossfade.
4) Choose the Automatic option to turn on crossfade on Apple Music.
5) You can also choose the Manual option to adjust the transition time.
Crossfade Apple Music on Windows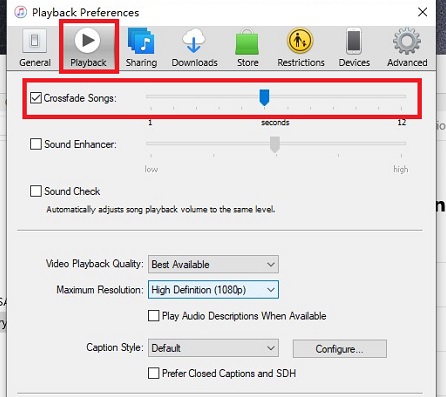 1) Open iTunes on your Windows computer.
2) Select Edit > Preferences.
3) Tap the Playback option.
4) Click the Crossfade Songs option and change the time by dragging the slider.
Crossfade Apple Music on Mac
1) Launch the Music app on your Mac.
2) Go to Music > Preferences > Playback.
3) Choose the Crossfade Songs option. Drag the slider to adjust the transition time.
Note: Crossfading is automatically turned off when Apple Music plays consecutive tracks from the same album.
Bonus: How to Remove the Playback Limit of Apple Music
Apple Music premium subscribers may listen to or download Apple Music as much as they like. However, because Apple Music files are encrypted, the downloaded Apple Music can only be recognized by the Apple Music app. Is it possible to remove the playback limit of Apple Music? Yes. We'll teach you how to use a sophisticated audio converter to convert Apple Music.
Here we will introduce you ViWizard Audio Converter. ViWizard is a powerful audio converter. It can convert Apple Music, iTunes audio, and Audible audiobooks to MP3, FLAC, and WAV formats, among others. The original audio quality will be preserved after the conversion. You may adjust the speed, sample rate, bit rate, volume, and other parameters to make your audio more fun. Apple Music's info tags will be retained as well, and you will be able to modify the tags.

ViWizard Audio Converter Key Features
Convert Apple Music to MP3 for offline playback on multiple devices
Convert iTunes audio and Audible audiobook into MP3 and others
30x high conversion speed
Maintain original output quality
Guide on Bypass the Playing Limit of Apple Music with ViWizard
ViWizard Audio Converter is a great tool to convert Apple Music to MP3. You can play your Apple Music playlists on the device you like when you get Apple Music MP3 files. You can follow the following detailed steps to free your Apple Music. Ensure you have downloaded and installed iTunes and ViWizard on your desktop.
Step 1

Import Apple Music Files for Converting Them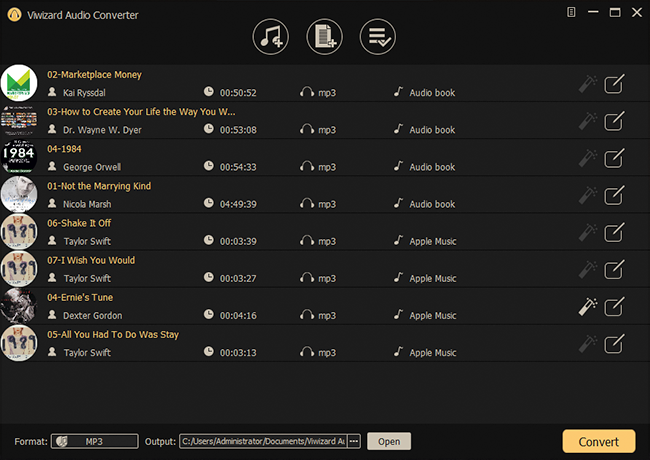 Launch ViWizard Audio Converter on your computer. The iTunes app will be launched in a second. To import your Apple Music playlists to ViWizard for conversion, click the Load iTunes Library option. You may also import the local Apple Music files by selecting Add Files. It's available to drag and drop the files into the converter.
Step 2

Configure the Output Format and Audio Parameters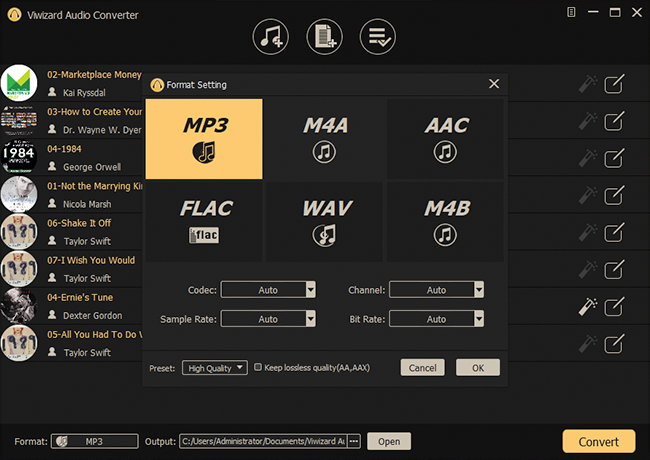 You may now change the output audio specs of your Apple Music by selecting the Format tab. We recommend that you choose MP3 as the output audio format so that it will play well on other devices. To fit your individual needs, you may also adjust the audio quality by altering the codec, channel, sample rate, and bit rate.
Step 3

Free Apple Music Playlists within A Click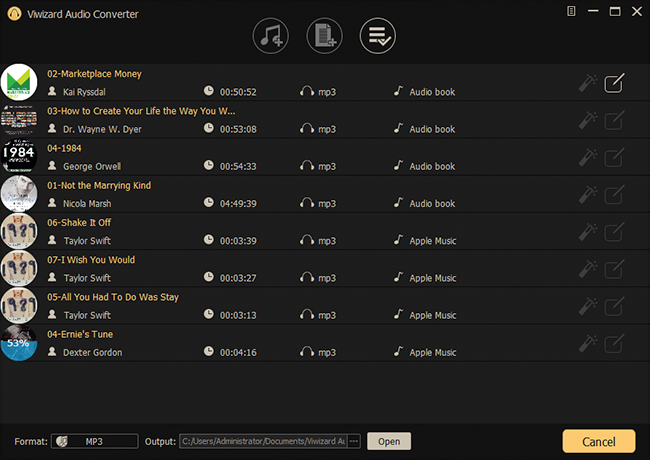 When you've selected all of the criteria, click the Convert button in the lower right corner to make ViWizard convert Apple Music right away. After the conversion is complete, click the Converted button at the top to navigate to the converted history and browse all of the converted Apple Music recordings.
Conclusion
After reading this post, you may know how to crossfade on Apple Music. If you are an Android/Windows/Mac user, you can find the crossfade under the playback setting in the app with the guides above. It's sad that this feature hasn't support on iOS devices. But I believe it will be available in the future. To play Apple Music on other devices you like, you can use ViWizard Audio Converter to convert Apple Music to MP3 or other open formats. Then you can transfer the converted Apple Music to other devices without restriction. Why not click the downloading button below to have a try now? You won't be disappointed.