What's the best way to play Spotify songs while you're working or connecting on something important on your computer? Using Spotify mini could be the best choice. You can either skip through songs or play and stop currently playing songs on Spotify mini player, which helps you to change a song without going back to the desktop application.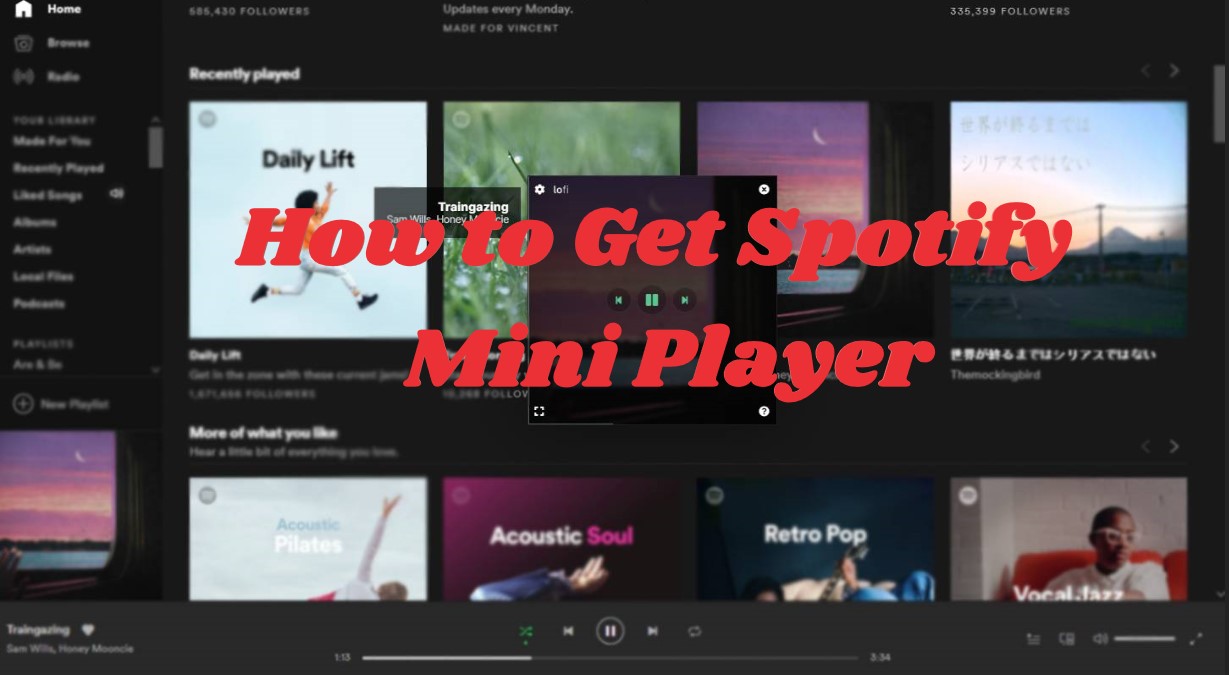 However, there is no Spotify pop out player provided by Spotify officially. Users of Spotify don't bother to implement it. So, users who genuinely need need a Spotify mini player can only get it on their own. You might want to directly adjust the Spotify API to make it smaller to look like a mini player, but the minimum size of the interface still covers a pretty huge proportion on the screen. Don't worry! There still are ways to get a Spotify mini player. Today, here you will know how to get Spotify mini player on your computer and access the best listening experience.
Part 1.

What Is the Spotify MiniPlayer?

The Mini Player is a remarkable feature that offers a minimalist yet powerful music playback experience. It takes up very little screen space, allowing you to control your music seamlessly while performing other tasks, including playing games.
Does Spotify Have MiniPlayer?
While most music streaming services, including Apple Music, offer a similar feature, Spotify's approach has been unique, and until recently, it lacked the Mini Player functionality on most platforms, expect for Spotify Web Player.
In other worlds, you can access and use the MiniPlayer function when listening to Spotify on the web. However, as of now, the Mini Player feature on the Spotify Web Player is only supported on the Google Chrome web browser. It offers a convenient way to enjoy your music while using your browser for other tasks. The Mini Player's compact design ensures that your music controls are always within reach, enhancing your Spotify experience on the web.
Spotify Desktop MiniPlayer - What to Expect?
As Spotify rolls out a redesigned user interface, more exciting features like "AI DJ" (Spotify's new DJ mode) have been introduced, suggesting that the Mini Player may soon become a part of the Spotify experience. Indeed, some desktop users have noticed the presence of a "MiniPlayer" button in the top menu bar of the Spotify desktop app, indicating that Spotify may be considering the inclusion of the Mini Player as a new feature.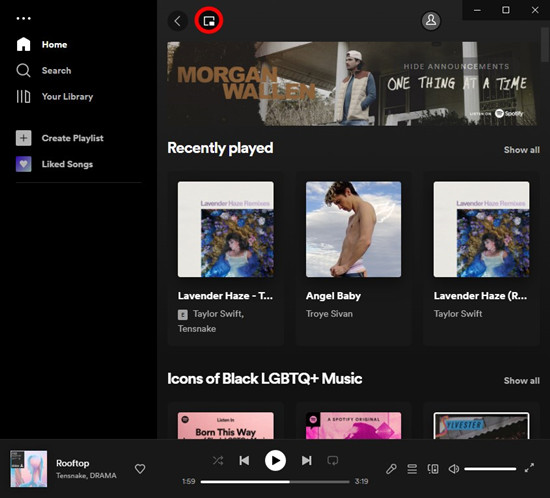 However, it's important to note that the MiniPlayer button appears to be in beta testing, and access to it may not be available until Spotify officially rolls it out to all users. If you're eager to enjoy the Mini Player on your Spotify desktop app or if you prefer using the Spotify Web Player, this post will guide your through workarounds to access the Mini Player on your Windows or macOS computer.
Part 2.

How to Use Spotify Mini Player on Web

If you're using the Spotify Web Player, you can access and use the MiniPlayer function. So, regardless of your device, you have options to enjoy the Mini Player's benefits while using Spotify. You can also explore some Google Chrome Extensions that can help enables the Mini Player functionality.

Note
While this accessiblity allows you to enjoy music from the Spotify web player with a Mini Player, it's essential to note that the streaming audio quality of the Spotify web player may not match the quality of the Spotify desktop app. If you're looking for a way to listen to Spotify music with a Mini Player on Windows computers without compromising audio quality, consider the following applications.
Use Mini Player on Spotify Web Player: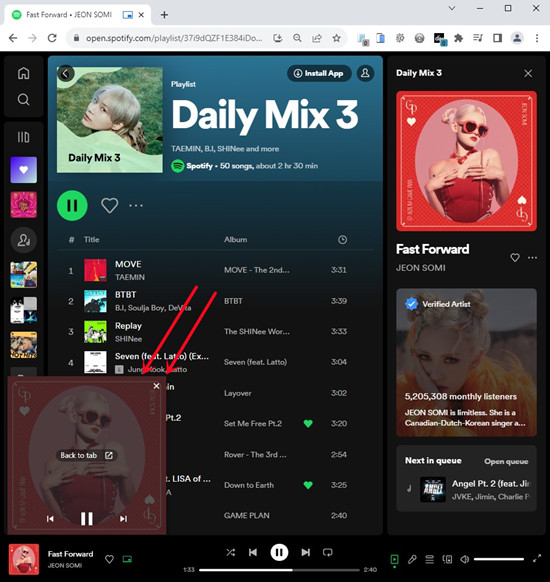 Open the Google Chrome web browser on your computer.
In the address bar, enter the following URL: https://open.spotify.com/. You will be directed to the official Spotify Web Player website. Make sure to log in to your Spotify account.
After logging in, choose a song, playlist, or album you'd like to play by clicking the Play button on it. The playback controls will appear at the bottom of the screen as the Now Playing bar.
To access the MiniPlayer, look next the song title, and you'll see an additional small, square icon.

Click on this icon, and a compact Mini Player window will appear on your screen. The Mini Player displays the album artwork of the currently playing song and provides easy access to essential controls, including "Previous track," "Next track," and "Play/Pause."
Part 3.

How to Use Spotify MiniPlayer in Xbox Game Bar

For gamers looking to have a popup Mini Player for Spotify while playing games on their Windows desktop, you can easily achieve this by enabling the Xbox Game Bar and linking your Spotify account to it. This feature allows you to control your music playback seamlessly while immersed in your gaming sessions. Here's how to set it up:
Use Spotify on Xbox Game Bar:
From the Start Menu, navigate to Settings > Gaming > Xbox Game Bar.

Ensure that the Xbox Game Bar is enabled. You can test it by pressing the Win+G keyboard shortcut.
While in a game or any application, press Win+G to open the Xbox Game Bar.
Click on the Spotify widget and choose "Link Account."

Continue by entering your Spotify login information. Launch the Spotify desktop app if you haven't already.
You should now see a Mini Player for Spotify that allows you to control your music playback seamlessly. Select a playlist, hit play, and open your game or any other application. This setup brings a Spotify Mini Player directly to your desktop, making it easy to manage your music library while gaming without needing to switch between applications.
Part 4.

How to Enable Spotify Mini Player for Windows

While the Spotify MiniPlayer is a fantastic addition to the web player, it's notably absent from the Spotify desktop app and certain other platforms. This absence can be frustrating for users who want to enjoy the Mini Player's convenience on all their devices. Here's why you might find it necessary to explore alternatives to enable the Mini Player function for Spotify.
No.1 Enable devtools in Spotify for Windows
The Enable devtools in Spotify for Windows help users activate the main developer options in the menu, Debug Tools (Only works with version 1.1.92 and above) and the item for employees in the Spotify settings, so you can enable the MiniPlayer for the Spotify desktop app and listen to songs with the audio quality benefits.
Go to the Guthub Relase page of "Enable devtools in Spotify for Windows". Github Release page: https://github.com/amd64fox/Enable-devtools-Spotify to download and install it to your computer then run the advanced Devtools settings.
When it opens the Spotify desktop app, head to the app's menu (horizontal 3 dots) > Show Debug Window.

Select OTHER > Remote Config. Find enableMiniPlayer to activate. Now you can try the MiniPlayer button on the top menu bar.
No.2 Lofi Spotify Mini Player
Lofi is a compact desktop client that can play Spotify songs with a window that only takes up 150×150 pixels of the screen. You can play, stop, skip forwards, and backwards in its tiny interface that displays with album artwork. It also creates visualizations, then you can choose one among Blue Wave, Rainbow Road, String Theory and seascape.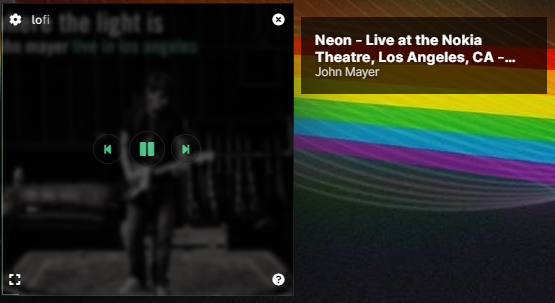 Go to https://www.lofi.rocks/ to download and install Lofi to your computer then open it.
Click on the Log In button and go to log in with your Spotify account.
Then you can listen to Spotify with a mini window.
No.3 AudioBand
AudioBand is developed by GitHub, and it adds support for your music player of choice through plugins. With the support of AudioBand, you can get a mini player for Spotify, iTunes, and MusicBee. By using this mini player, you can control your music from Spotify, including play, pause, previous, and next. Also, from this mini player, you view the song information, including the album, art, artist, title, and progress.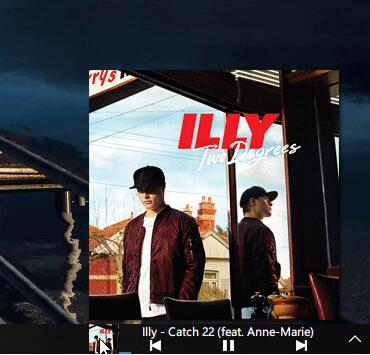 Go to download AudioBand to your computer and right-click on the taskbar.
Select AudioBand from the toolbars submenu and right-click on the AudioBand.
Click Audio Source then select Spotify. Now you use Spotify mini player.
Part 5.

How to Enable Spotify Mini Player for Mac

If you want to use a mini player for Mac, then you can use those third-party apps like Alfred Spotify Mini Player and MiniPlay for Spotify & iTunes. Here we've made a detailed introduction to those applications, and check out them now.
No.1 Alfred Spotify Mini Player
Alfred Spotify Mini Player is a mighty tool that can control almost everything you can do on Spotify. To get started, you'll have to download the workflow and set it up. It might be a little tricky for those who haven't done this kind of setup before, but if you're patient enough, you can explore many things out of this tool.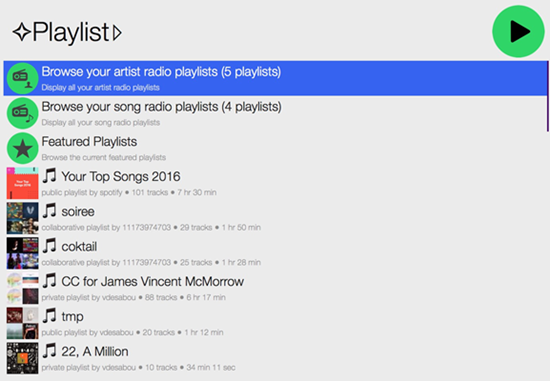 Download the workflow from https://alfred-spotify-mini-player.com/ then open it.
Follow the on-screen setup instruction to complete the installation.
Now you can use a Spotify mini player on Mac for listening to your favorite music.
No.2 MiniPlay for Spotify & iTunes
MiniPlay for Spotify & iTunes can show what's currently playing on Spotify. You can control the playback of Spotify and adjust the sound volume on this app. You no more need to switch to Spotify. Full-sized album artwork will be shown on this app, and you can view what's playing right now in the notification center.
Find MiniPlay for Spotify & iTunes in the App Store on Mac and choose to install it.
Then open it and click the Play button on the main interface of this mini player.
Click the OK button to agree that MiniPlay wants access to control Spotify.
Bonus Tip:

How to Get Mini Player for Spotify Music on Any Device

The workarounds mentioned above are all eligible to get Spotify Mini Player for your devices, but they also have shortcomings as stated: Spotify Web Player can only stream songs in 256kbps if you have Premium subscription and 128kbps if you use Spotify for free, and the feature won't apply to your local files since they're only available on the desktop app or the mobile one if you are Premium subscribers. Besides, those third-party mini player for Spotify won't change anything if you listen to Spotify with your Free account - you can only skip songs for several limited times and annoying ads keep popping up in the middle of the song.

While Premium subscribers have the unlimited listening with no skip limits and the offline mode, Free users should try the best solution to benefit from some free software to have the best listening experience with Spotify's music services and features. That way, you not only download your favorite Spotify contents with no Premium required, but also use the desired music player to play those music with its MiniPlayer feature. From here you must try the ViWizard Spotify Music Converter.
Thing You'll Need: ViWizard Spotify Music Converter
ViWizard Spotify Music Converter features the best on-demand Spotify Music contents downloader for both Premium and Free users to download and convert a selection of music tracks to actual files for free. With ViWizard, you're able to download Spotify songs, playlists, albums, artists, stations and even audiobooks to MP3 or other popular audio formats.
For the MiniPlayer feature, later you can put these songs in a media player on your computer and use the feature of the mini player to play Spotify songs without Premium. For example, if you have Windows Media Player or Apple Music app on your computer, you can import your Spotify library there so the MiniPlayer feature can be enabled for all compatible contents you downloaded with ViWizard. The best part is that ViWizard will keep and embed the full ID3 tags in each converted audio files after the conversion, so those files will work with any MiniPlayers as expected.

Key Features of ViWizard Spotify Music Converter
Free Trial
Free Trial
* Security verified. 5, 481,347 people have downloaded it.
Download Spotify songs, albums, playlists, podcasts, audiobooks
Convert Spotify music to lossless MP3, AAC, FLAC, WAV, M4A, M4B
Support playing offline Spotify music on any device at any time
Compatible with Windows and macOS, as well as, the latest Spotify
Step 1

Select Spotify Songs to Download

The opening of ViWizard Spotify Music Converter will automatically load the Spotify app on your computer. Then you can select any song, album, or playlist you want to download in Spotify. There are two ways to add them to the conversion list. One is to directly drag and drop the target items to the converter, the other is to copy and paste the music link into the search bar.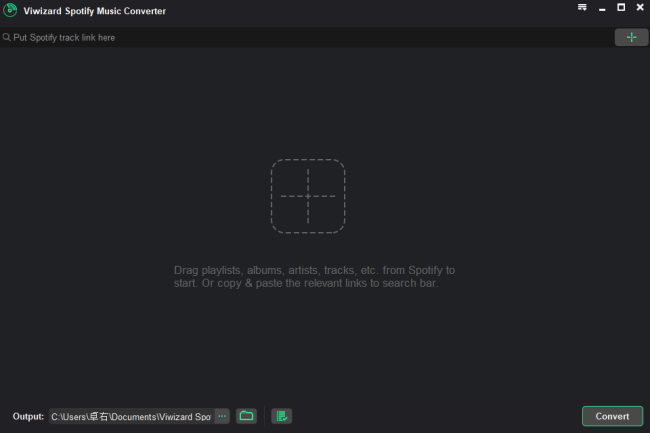 Step 2

Customize the Output Parameters

The second steps is to configure the output audio parameters according to your demands. Go to click menu > Preferences and there will pop up a settings window. Here you can select the output audio format and set the bit rate, sample rate, and channel. You can set MP3 as the output format and then remember to save the settings.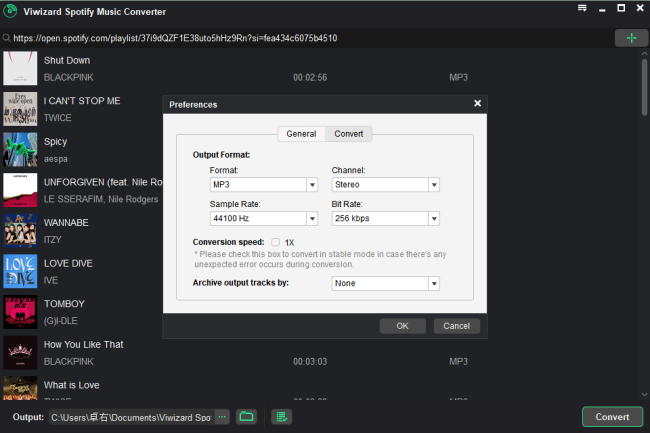 Step 3

Download Music from Spotify to MP3

After completing the settings, you can click the Convert button to initiate the conversion and downloading of Spotify music tracks. Then ViWizard Spotify Music Converter will download and export Spotify songs to your computer as your required audio format. Later, you can view the converted music tracks in the conversion list by clicking the Converted icon.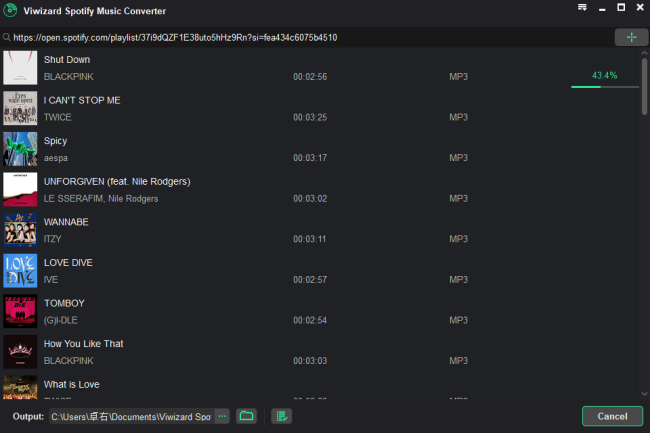 Now you have converted Spotify songs to MP3 or other playable audio formats. Then you can use those default media player on a Mac or PC computer to play those Spotify songs. Here's how to use Windows Media Player on PC and Apple Music app for Mac.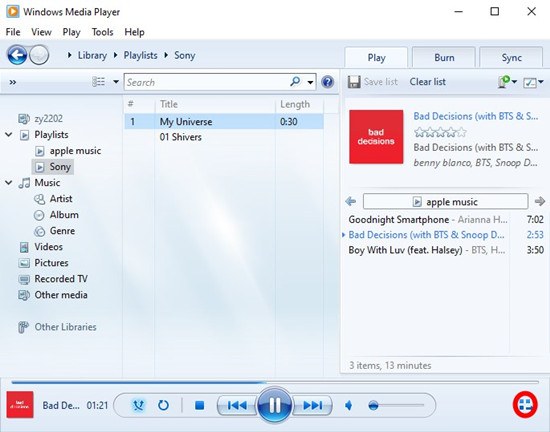 Open Windows Media Player and then click Open Files to add Spotify music files.
Start playing those Spotify songs by clicking on the Play button.
Click on the Mini player button at the bottom right or press Ctrl+M to open the mini player.

Open Apple Music on Mac and then transfer the song downloaded from Spotify to Music.
Start to play the song and click Window > Switch to MiniPlayer. Then you can listen to Spotify songs with Music MiniPlayer on Mac.
You can click the Lyrics button to see the lyrics of the song you're listening to. When you want to leave the mini mode, simply choose the Close button.
Conclusion
To use mini player while listening to Spotify, you have various choices, such as Lofi Spotify Mini Player and Alfred Spotify Mini Player. But if you use a third-party mini player to play Spotify music, it is necessary to own a Spotify Premium account. At the same times, the audio quality will be not good. So, the better solution is to download and convert Spotify songs at first. Then you can use the default music player with a mini player on your computer to play your liked Spotify songs.