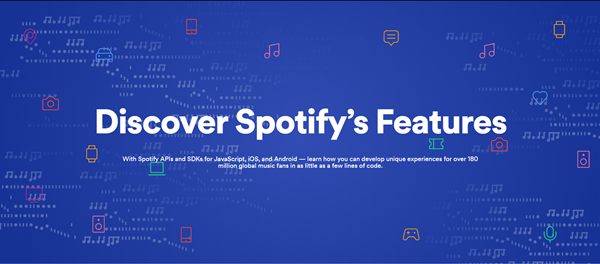 Spotify is a digital music streaming service that gives you access to millions of songs, podcasts and videos from artists around the world. As of April 2019, with 217 million monthly active users (including 100 million paying subscribers), Spotify become the world's most popular music streaming service.
With Spotify, it is easy to find the right music or podcast for every moment – on your phone, your computer, your tablet and more. You could choose what you want to listen, or let Spotify surprise you. You can also browse through the collection of friends, artists, and celebrities, or create a radio station and just sit back.
With the increasing of paid subscribers, Spotify is still striving to create professional music service and listening experience to its users. Get more out of Spotify and find what you are looking for faster with these Spotify features.
Part 1. Top 10 Spotify Features Make Your Experience Better
Here're the top 10 features on Spotify and all are popular among Spotify users. Choose your preferences and make a difference.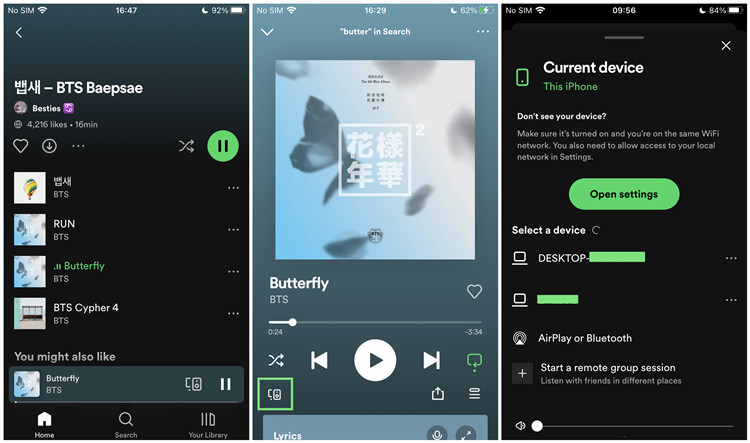 Connect to a device: When you listen to music on Spotify, you can use your mobile device as a remote control and connect your Spotify account with any other device such as computer, TV, Wi-Fi speakers, game console, Chromecast and Bluetooth.
To use Spotify Connect, ensure your device is compatible with Spotify Connect. When connecting to the speaker for the first time, all devices need to be on the same Wi-Fi. Open the Spotify mobile app to play something, then press the Spotify Connect Devices icon at the bottom of the screen and you're able to pick the device you want to play to.
Connect Apps: When you are on the move or in the car, you can control your Spotify music with the navigation app like Waze and Google Map. While navigating, you can enjoy Spotify music easier and better than ever without the distraction of safety problem.
Top 2. Spotify-curated Playlist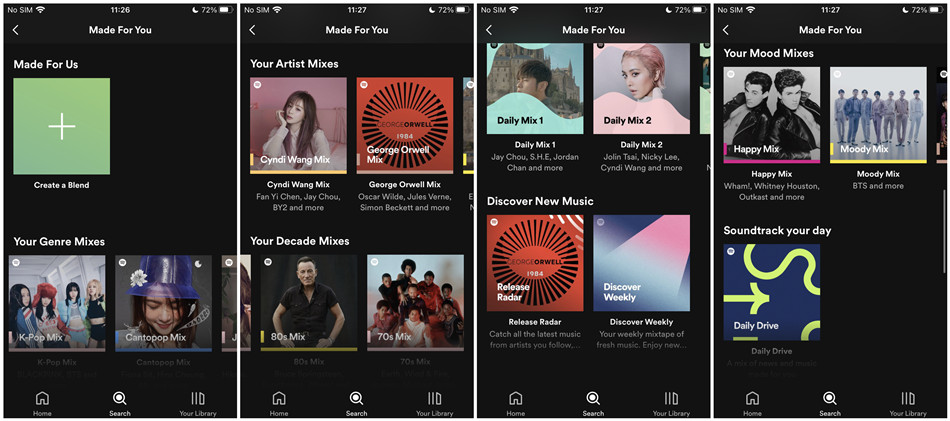 As for me, the most important tools for finding new music to listen to on Spotify is the Made for You hub, which offers tons of songs based on what you and others with similar tastes have been listening to. Most Spotify users are keen on Spotify's Daily Mix and Discover Weekly. Discovery Weekly updates every Monday to provides weekly mixtape of fresh music. Daily Mix updates daily and features music from artists you love and ones Spotify think you'll love.
You can also have the playlists made just for you on Spotify, including Spotify Mixes, Discover Weekly, Release Radar, On Repeat and Repeat Rewind and Your Daily Podcasts. If you wish to discover more songs you want on Spotify, head to Search to see the Made For You hub. You can have Discover Weekly, Blend Playlist, Genre Mix, Artists Mix, Decade Mix, Daily Drive and Daily Mix. With the improvement of the recommendation algorithm, you will get more comfortable music.
Spotify Wrapped is one of the most popular features that Spotify fans enjoy at the very end of a year. As an annual feature, Spotify Wrapped comes back with your most-streamed songs, artists, genres and is a celebration of the year gone by. You can check your top songs, top artists and top genres.
Top 4. Spotify Spotstats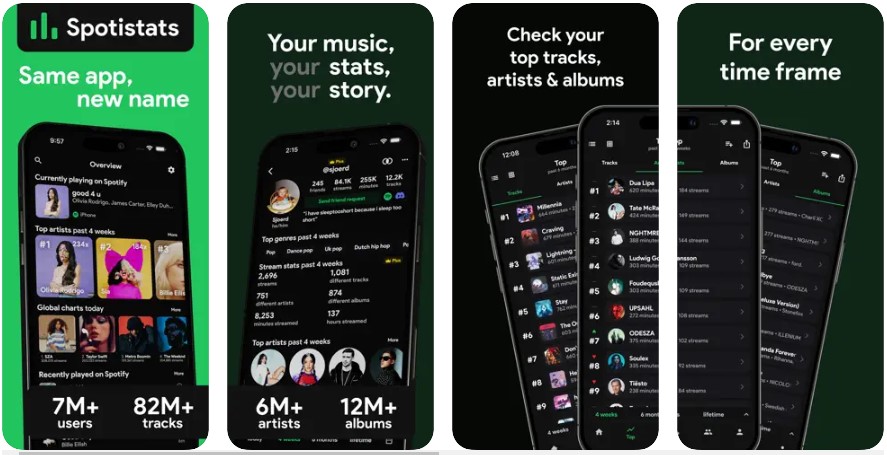 More than the Spotify Wrapped that comes annually, Spotify knows you best based on its calculated with its machine, which sees how often you stream a song and when for better recommendation. Spotify Spotstats allows all Spotify users to go into their own listening habits. You are able to view your spotify track, artist, and genre ranking and compare them to your last visit.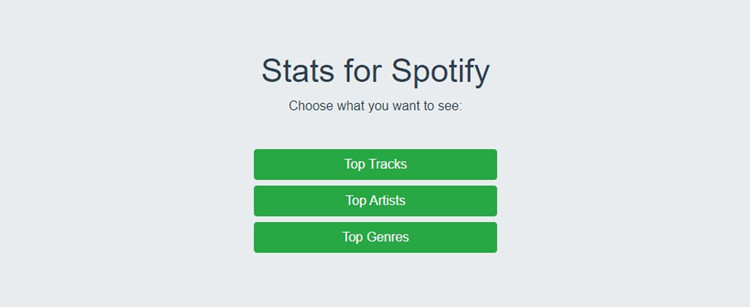 You can use a compatible web browser to visit is official website - statsforspotify.com or download the stats.fm for Spotify Music app from App Store or Google Play with up-to-date data. Once you got there, you can see top tracks, top artists, top genres and recently played. If you are using the stats.fm for Spotify Music app, there're more features like different time ranges, top tracks & artists, privacy, advanced song insights, create playlists and listening history.

Spotify's Local Files is a feature that lets both Spotify Premium and Free users to combine their own music collections with Spotify Music Library. You just need to ensure that your music files are compatible with this feature in MP3, MP4 or M4A and you're good to go.
The whole process to upload your music collections to Spotify Music Library is finished on Spotify desktop app. Go to Spotify desktop app > Spotify Settings > Local Files > Show Local Files > ADD A SOURCE. Then you can select your music location to add to Spotify. Once done, the compatible audio files are activated in Your Library > Local Files.

However, if you wish to take your local files to more place, such as your mobile device, you'll need an active Premium subscription to sync your local files to the Spotify mobile app. Or you can have the benefits to our ViWizard Music downloader to crack the DRM from the Spotify downloads to make them supported by all your devices - no Premium subscriptions required.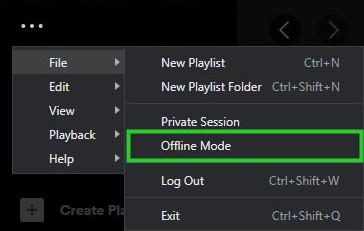 Streaming music from Spotify Music may be great, but it's not always convenient. If you use a solid internet connection to stream music online, you can also make use of it to download Spotify contents for offline play.
With Premium subscription, you have the immediate access to download music from Spotify for offline listening. As it stands now, Premium subscribers can download as many as 10000 tracks on each of up to 5 different devices. When you are on your device that has Spotify app, you can even enable the offline mode to save data cost. However, please keep in mind to go online at least once every 30 days to keep your Spotify downloads. Since this is how Spotify can collect play data to compensate the artists who can then keep making more music.
Download the music you want on Spotify in advance. Then you can head to enable the offline mode in the settings of the Spotify application, for either mobile and desktop. Once you are on the offline mode, you can play your Spotify downloads even without an internet connection. If you wish to free up the storage of your device, go to the storage setting and you can remove all downloads or change the offline storage location.

Top 7. Spotify Equalizer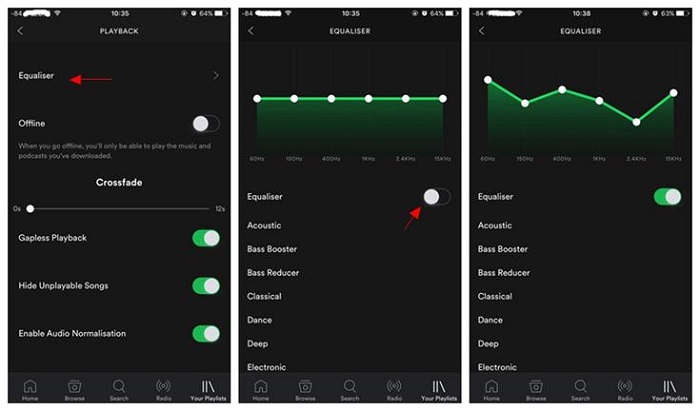 For keen Spotify Music fans, the in-app Spotify Equalizer is also convenient and good to use. When you prefer more hands-on with how the bass and treble come across each contents you listen to on Spotify, Spotify's Equalizer must be the best option. You can have the access to it on your both mobile and desktop experience with a Spotify Music application. Go to Spotify app > Settings > Playback > Equalizer, and you can have various equalizer presets on Spotify.
Please Note: Depending on the manufacture, Android users will have different Equalizer availability on certain Android versions. This means the change applies also affect the sound of other applications on the Android phone. You can check this with the manufacturer.
Equalizer presets on Spotify for iOS:
Bass Booster & Reducer
Treble Booster & Reducer
Acoustic
Classical
Dance
Deep
Electronic
Flat
Hip-Hop
Jazz
Latin
Loudness
Lounge
Piano
R&B
Rock
…
Top 8. Spotify Search
With the improvement of technology, the function of search becomes more and more accurate. You can improve the accuracy of your searches by adding extra information, such as dates, genres and albums. You can also widen or focus your search by adding "and", "or" or "not" to it, and can combines search terms too.
Top 9. Spotify Code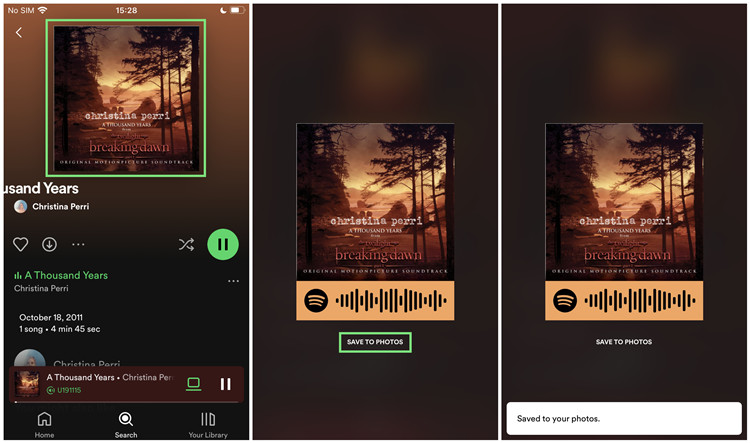 Similar to QR codes, Spotify Codes offer a sharing experience that works as quick as a snap - of a photo, that is. This code looks like a sound wave below the content's artwork from its profile. You can grab a Spotify Code of any Spotify content by using the mobile app.
For example, you can use Spotify Codes to share your favorite music to your contacts on Messenger. Head to the Spotify content, e.g., song, playlist, podcast or audiobook on the Spotify mobile app. When you're viewing the profile of the selected content, tap More > covert artwork > Save to the Photos, and you have saved the Spotify code of that content. Now you can send this code to the receivers to scan the code.
Top 10. Spotify's Supported Social Platforms
Signing up to Spotify with Facebook or connecting your Facebook account will allow you to easily add your friends on Spotify and see what they're listening to on the Friends Activity panel on the Spotify desktop app. Now with your Spotify friends, you can now create a Spotify Blend on mobile app to mix your playlists together.
If you don't want to connect your Facebook account to your Spotify for some particular reasons, you can also share your favorite music on other social platforms like Instagram Stories, Messenger, WhatsApp, Twitter, Snapchat and more in the form of a screenshot, link or the Spotify code. If you use Discord with your friends, you can connect your Spotify Premium account to Discord to play music on it.
Other Spotify Features:
Running Mode:
Running mode offered by Spotify plays music that matches your running speed. When you change your running pace, it will automatically adjust the music to match it. To access it, tap Browse, scroll down to Running, select a running playlist and tap Start Run. You can also manually set the tempo, to get the music to control your pace.
Spotify Alarm:
You can start waking up to a specific song of your favorite playlist supported by Spotify. This will surely strengthen the motivation behind waking up so early. Setting an alarm using Spotify has been made easier with various apps that are currently available.
Spotify Podcasts:
Spotify has begun to push hard into non-music audio like podcasts and even motion comics compared with their used business. There are serval kinds of podcasts available on Spotify now. Those podcasts on Spotify explores in the different fields like news, music, comics and more and it's very difficult to choose best Spotify podcasts. Meanwhile, Spotify would automatically generate some podcasts according to your listening preference.
Bonus Tip: How to Enjoy Your Spotify Music with a Free Account
The above are some features of Spotify which can help you to customize your personal Spotify. Spotify is appealing because music lovers can access content for free by simply signing up with an email account or by connecting with Facebook. The free version of Spotify can be accessed on PC, laptop and mobile phone, but the full service needs a Spotify Premium subscription.
The service offered by Spotify is different between free users and premium users. See Spotify features comparison as the following.
| | |
| --- | --- |
| Free Subscription | Premium Subscription |
| Ad breaks | Ad-free music |
| Play in shuffle | Play any song |
| 6 skips per hour | Unlimited skips |
| Streaming only | Offline listening |
| Basic audio quality | High audio quality |
Tool Required: Enjoy Additional Service with Spotify Free Account
ViWizard Spotify Music Converter is a might and smart Spotify music converting tool to download Spotify songs, playlists, albums, artists as well as convert any track from Spotify to plain MP3, M4A, AAC, WAV, FLAC for any music player, like iPod, Zune, Creative Zen and more.
Key Features of ViWizard Spotify Music Downloader

Download Spotify tracks, albums, playlists, artists, and podcasts with free accounts
Up to six popular audio formats like MP3, AAC, M4A, FLAC, M4B, and WAV for you
Remove the digital right managements and advertisements from all Spotify contents
Work at 5× faster speed and save Spotify audio with the original quality and ID3 tags
More Spotify Tips & Tricks