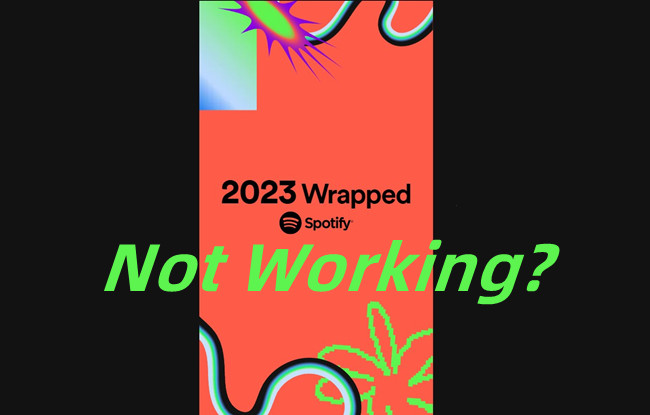 Wondering what could make the year 2023 just a little brighter? Look no further - Spotify Wrapped 2023 is here to provide the perfect soundtrack for your journey through the chaos of the year. It's designed to bring joy and delight by encapsulating the musical moments that accompanied you throughout the twists and turns of the past months.
However, amidst the celebration of musical memories, some Spotify users are experiencing a hiccup - they find themselves unable to access Spotify Wrapped 2023 on their computers or mobile devices. With Spotify Wrapped for 2023 freshly released, it appears that the Spotify team might not have anticipated the surge in demand, leaving users in a temporary bind.
Fear not! In this guide, we'll walk you through how to properly view your Spotify Wrapped and troubleshoot any issues you might encounter, recurring your Spotify Wrapped 2023 as soon as possible.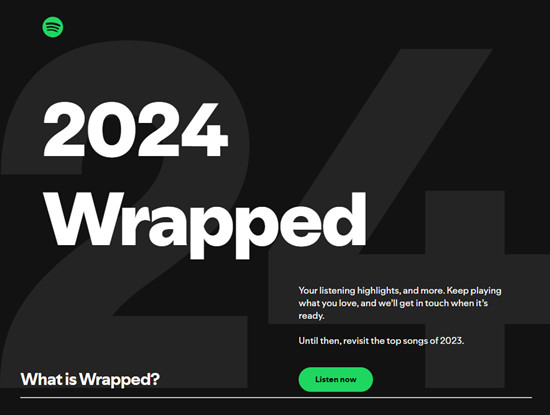 Part 1.

How to Fix Spotify Wrapped Not Showing Up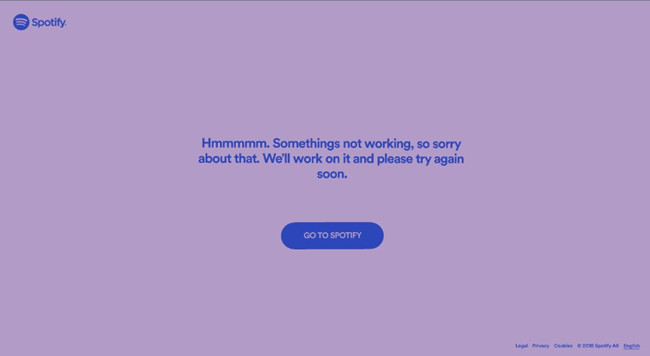 Spotify Wrapped, the annual musical retrospective, is a highly anticipated tradition for Spotify users. It's the moment to reminisce about your favorite songs, discover your top artists, and celebrate the soundtrack of your year. However, there may be instances when this cherished feature doesn't show up as expected, leaving users wondering where their Wrapped won't appear.
If you're among those who eagerly await Spotify Wrapped but find that it's mysteriously absent, don't worry. There are common reasons for this, and solutions are readily available.
1. Wait Until Your Wrapped Is Ready
Spotify Wrapped is an eagerly anticipated feature that Spotify rolls out gradually, typically in early December. If you don't see Spotify Wrapped immediately when December arrives, don't worry; you're not alone. Spotify typically takes a few days to a couple of weeks to roll it out to all users. The best approach is to be patient and keep listening until you receive an email or notification from Spotify indicating that your Wrapped is ready. Once notified, you can conveniently locate the Wrapped Hub in the pop-up.
It's important to ensure that you've opted into "Product News" in your notifications settings before December 1st. If you haven't, you may only be checking the app periodically. Before your Wrapped 2023 becomes available, you can only able to revisit the top songs of the previous year (in this case, 2022). Remember, the delay in availability doesn't necessarily mean there's a problem with your account or the app; it's just a part of Spotify's release strategy.
Note: Ready to go? Your Spotify Wrapped 2023 is here!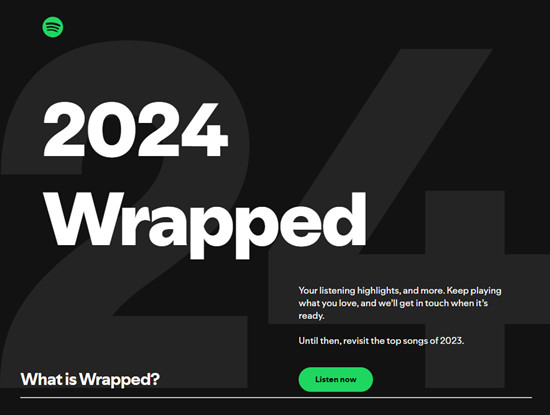 2. Ensure You're Eligible for the Wrapped
To access Spotify Wrapped, you'll need an active Spotify account a history of music streaming on the platform throughout the year. Since Wrapped is a year-in-review feature, it relies on your listening data. If you haven't been using Spotify much during the year, you might not have sufficient data to generate the Wrapped.
To be eligible, you should have streamed at least 30 tracks for over 30 seconds each from at least 5 unique artists. This allows Spotify to compile a personalized Wrapped for you. If you didn't been actively using Spotify during this period, don't worry; you can still explore this year's local and global top songs on spotify.com/wrapped.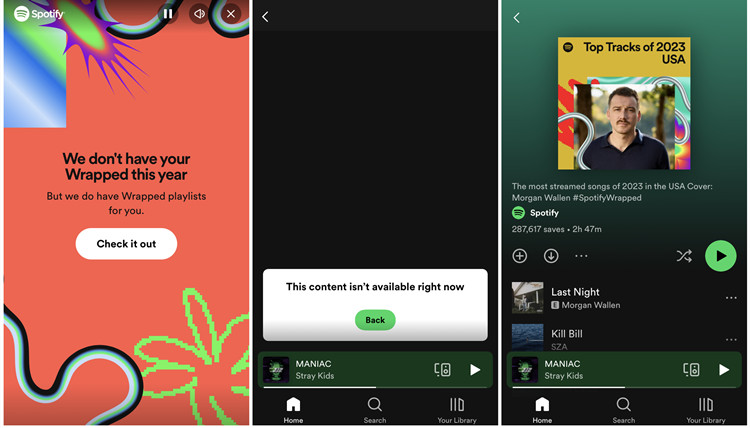 The good news is that any registered user, whether on a free or Premium account, can access Wrapped. To confirm your eligibility, simply log in to your Spotify account on the platform. If you can log in without any issue, your account is active and eligible. However, it's worth noting that not all markets have the same features within the Wrapped experience due to varying criteria, so the availability of certain features may differ depending on your location.
3. Update the Spotify App
If you find that your family and friends have already received their Spotify Wrapped, but yours hasn't showed up, it's a good idea to ensure that you're not using an outdated version of the Spotify app. Using an older version can sometimes cause compatibility issues with features like Wrapped. Outdated versions of the Spotify app may not be entirely in sync with the latest features, including Wrapped, resulting in potential issues with access.
To address this, take a moment to check for updates. This can be done by opening your device's app store, such as the Google Play Store for Android or the App Store for iOS. Search for Spotify within the app store, and check if there are any available updates. If an update is indeed available, proceed to download and install it.
4. Try Various Methods
If you've accidentally dismissed the email or notification containing your Spotify Wrapped, don't fret - there are alternative methods to access it:
Pro Tip: It's worth noting that after the campaign ends in mid-January, visiting spotify.com/wrapped will redirect you to your "Top Songs of 2023" playlist instead of the Wrapped Hub.
Tip 1
Search Method 1:

Open the Spotify app and navigate to the "Search" tab. Look for the "2023 Wrapped Hub Tile" and click on it. From there, you can proceed to the "2023 Wrapped Hub," which serves as an entry point to your Wrapped data stories for 2022.
Tip 2
Search Method 2:

In the Spotify app's search bar, type 'spotify:datastories:wrapped.' This will lead you directly to the "2023 Wrapped Data Stories."
Tip 3
Search Method 3:

In the Spotify app's search bar, type '2023 Wrapped.' This will take you to the "2023 Wrapped Hub," which serves as the gateway to your Wrapped data stories for 2022.
Part 2.

How to Fix Spotify Wrapped Not Working/Loading If you've ever encountered issues with Spotify Wrapped not working or loading correctly, you're not alone. These issues can be caused by various factors, including connectivity problems, device compatibility, and app-related glitches. Fortunately, there are steps you can take to troubleshoot and resolve these problems, ensuring you get the most out of your Spotify Wrapped experience.
1. Check the Internet Connection
A stable internet connection is crucial for Spotify Wrapped to work seamlessly, especially if you encounter the "Something wrong" error or if the feature appears stuck on the loading screen. Spotify Wrapped relies on data from the internet to craft your personalized year-in-review summary. If your internet connection is slow or unstable, it can lead to issues with Wrapped not loading or working properly.
Confirm that your internet connection is stable and reliable. You can do this by trying other online activities like loading other web pages. This helps verify the stability of your connection.
2. Check Your Device System
Your device' system, including the operating system and its version, can influence the performance of Spotify Wrapped. The compatibility of your device's system with the Spotify app is essential for proper functionality. Verify that your device's operating system aligns with Spotify's requirements. Specifically, for Android users, the Android version should be above 7.6.0 to guarantee full compatibility with Spotify Wrapped.
3. Check the Accessibility Settings
Sometimes, the accessibility settings on your device can disrupt the proper operation of Spotify Wrapped. Certain settings may interfere with the loading and functionality of Spotify Wrapped. Notably, screen readers and other assistive technologies, like automation tools, can introduce compatibility challenges.
4. Clear the Data/Offload the Spotify App
Clearing data or cache for the Spotify app on your device can often serve as a remedy for Spotify Wrapped issues, particularly when it's not functioning correctly or fails to load. The data stored by the Spotify app, which includes cached files and temporary data, can occasionally become corrupted, leading to disruptions in features like Wrapped.
Whether you're using Spotify on a mobile or computer device, you can navigate to the app's storage settings and clear the cache or data. This process helps eliminate potential issues stemming from corrupted data. If you're on an iOS device like an iPhone or iPad, an alternative method is to "Offload" the app. This action removes the app but saves your settings and data. Subsequently, you can reinstall the app.

5. Uninstall the Spotify App
If the above methods don't resolve the issues with Spotify Wrapped, consider uninstalling and reinstalling the Spotify app. Reinstalling the Spotify app from scratch can often resolve stubborn issues. The latest version of the app can help clear any underlying problems. After uninstalling, go to your device's app store and reinstall the Spotify app. Sign in with your credentials, and then check if Spotify Wrapped is functioning correctly.
Part 3.

FAQs about Spotify Wrapped

Q1:What is Spotify Wrapped?

A1:Spotify Wrapped serves as an annual personalized report showcasing the music and podcasts you've engaged with throughout the year. This includes insights into your top artists, most-played songs, favorite genres, and more.

Q2:When is Spotify Wrapped released?

A2:Spotify Wrapped reports are typically released annually in early December. Leading up to the launch, users can expect announcements such as "Wrapped is Coming" on various platforms, including Twitter and other social media.

Q3:How can I share my Spotify Wrapped 2023?

A3:Sharing your Spotify Wrapped is easy. While viewing your personalized report, simply tap the Share button and disseminate it on your preferred platforms such as TikTok, Twitter, Snapchat, Facebook, WhatsApp, Line, or Instagram.

Q4:Does Spotify Wrapped include December data?

A4:No, Spotify Wrapped does not encompass data from December of the current year. Therefore, any listening activity in December won't be reflected in your Spotify Wrapped report.
Bonus Tip:

How to Download Your Top Songs Playlist to MP3

Except for Wrapped Story, Spotify also concludes the top tracks and artists of 2022 for you. You might want to throw back the year and want to keep your Wrapped songs forever. With ViWizard Spotify Music Converter, you can download and save your Spotify Wrapped songs to your computer. Then you can play them offline on any media player and share them with your friends.

ViWizard Spotify Music Downloader is a smart music downloader for both Spotify Free users and Premium subscribers. It enables you to download any songs, albums, playlists, albums, podcasts, and audiobooks from Spotify. With ViWizard, you can save Spotify music into six popular formats like MP3, AAC, FLAC, and more. The following are the steps to download Spotify Wrapped songs by using ViWizard Spotify Music Converter.

Key Features of ViWizard Spotify Music Converter
Free Trial
Free Trial
* Security verified. 5, 481,347 people have downloaded it.
Download Spotify songs, albums, playlists, podcasts, audiobooks
Convert Spotify music to lossless MP3, AAC, FLAC, WAV, M4A, M4B
Support playing offline Spotify music on any device at any time
Compatible with Windows and macOS, as well as, the latest Spotify
Step 1

Import Spotify Wrapped Songs to ViWizard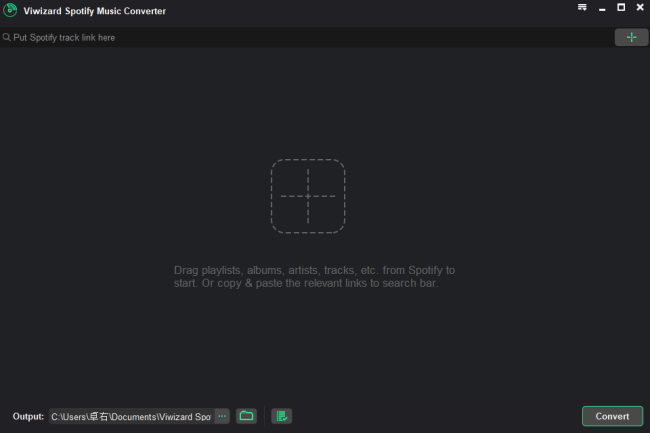 Start by opening ViWizard Spotify Music Converter and it will load the Spotify app on the computer. Go to find your Wrapped songs in Spotify, then directly drag and drop them into the interface of the converter.
Step 2

Set the Output Audio Format and Parameters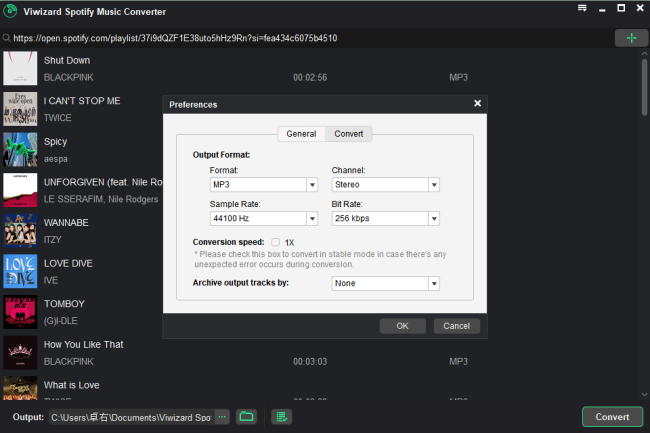 Locate the menu bar and select the Preferences then there will pop up a setting window. Here you can set the output format and change the bit rate, sample rate, and channel. According to your demands, select your preferred format and save the settings you change.
Step 3

Download Spotify Wrapped Songs without Premium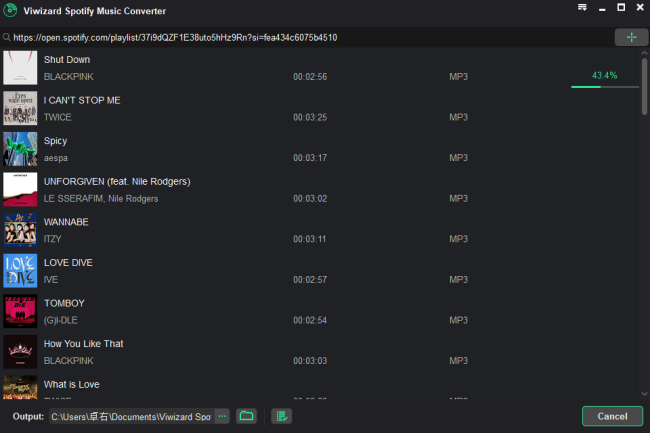 Now click on the Convert button to let ViWizard Spotify Music Converter download your required songs. Wait for a while and you can find all the converted songs in the history list by clicking the Converted icon. You can freely play those Spotify Wrapped songs on your device.
Conclusion
Do you know how to find your Spotify Wrapped now? Go to perform the above steps on your device to view and share your Spotify Wrapped. Also, you can try using ViWizard Spotify Music Converter to download your Spotify Wrapped songs for keeping forever.