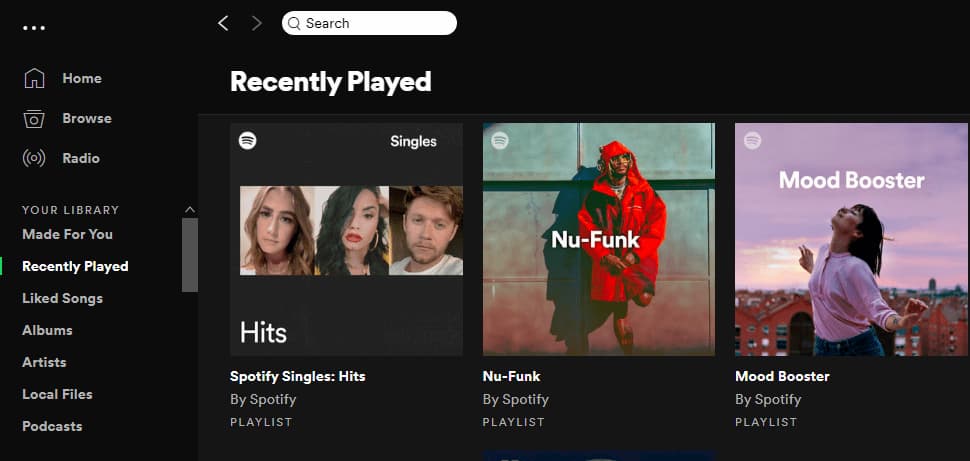 On a cozy Sunday afternoon, you're just lying under the sun and shuffling a random playlist on Spotify. Then you hear a song that's mesmerizing, but it suddenly ends and jumps to the next one. How can you find the song name?
That's when the Spotify Recently Played feature comes in handy. As it stands now, Spotify users can access Spotify recently played on all Spotify's platforms. You can select the most familiar platform to see Recently Played section or use Spotify's Download your data or Stats for Spotify tool to either download your listening history data or see your recently play tracks anythime you want.
Part 1. How to See Recently Played on Spotify Platforms
In our test with Spotify's different platforms(e.g. Spotify standard apps and Spotify web player), the "Recently Played" sections are quite independent from each other. Sometimes you'll see different items are under the Recently Played section even with the same Spotify account.
You can try this method to find your desire items across devices.
To See Recently Played on Spotify:
In Spotify app for desktop:
1. On desktop, make sure to log in to the correct Spotify account.
2. In the side menu, click Home.
3. You should now see the "Recently Played". Under the Recently Played section, Spotify will display the most recent items depending on the window's size. You can adjust the window's size to see more items.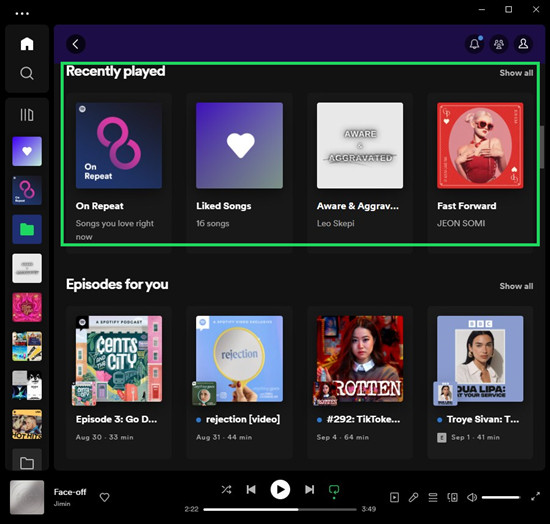 4. To see more items, click SEE ALL button next to the "Recently Played" section.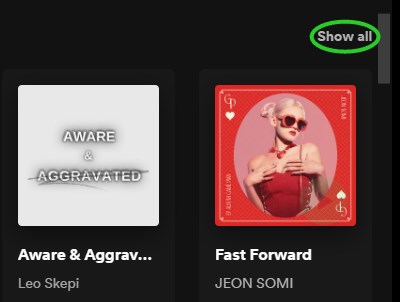 5. In the new view, you should now see your Spotify listening history.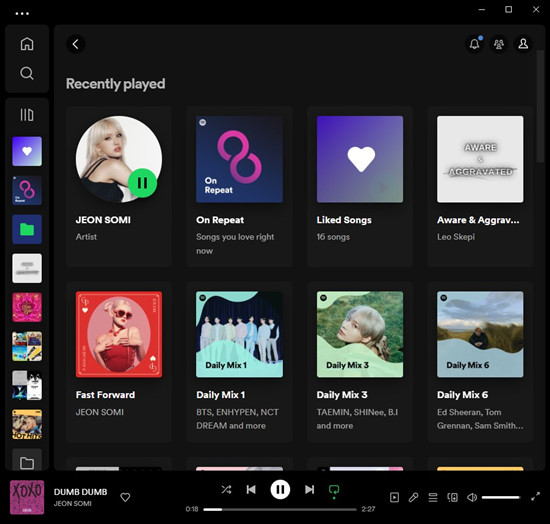 Or you can access Spotify recently place in a different place:
1. On desktop, go to the Now Playing bar > Play Queue button.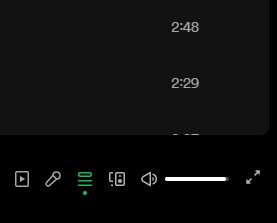 2. On the top of the screen, click Recently played next to Queue. Your listening history will appear here.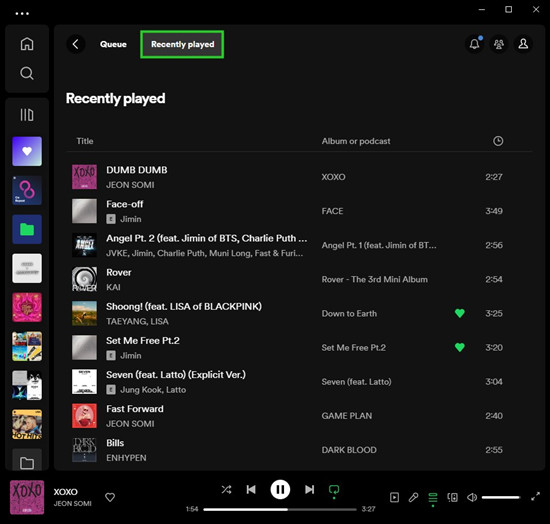 Spotify Recently Played Not Updating?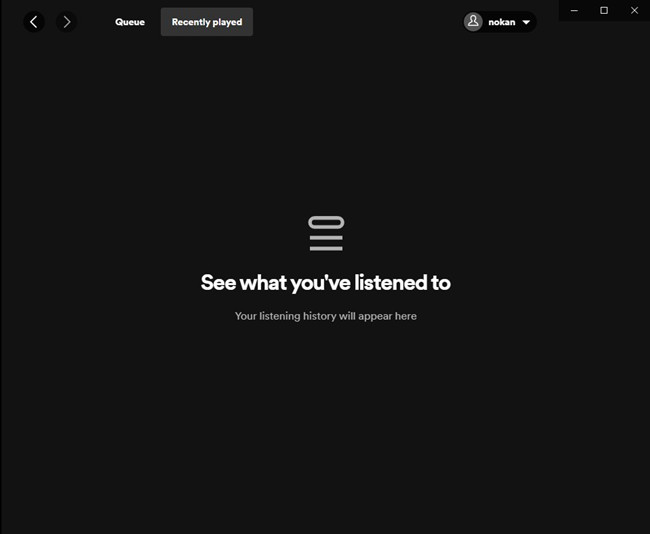 In our test, the listening history doesn't appear in the queue view. We're afraid that Spotify has merged it into the "SEE ALL" button next to the "Recently Played" section in Home, which works fine to display the desired items. Please try both the methods on desktop or use these fixes.
To fix Recently Played Not Updating on Spotify:
1. Clear Spotify cache.
2. Reinstall the Spotify app.
3. Check out your internet connection.
If these steps have been tried with no luck, you can use another 2 official methods.
In Spotify app for mobile:
1. On mobile, please be sure to log in to the correct Spotify account.
2. Go to Home, click the Recently played button at the top next to Gear icon (Setting).
3. All the contents you've listened to recently on mobile will be displayed here.
On Spotify Web Player:
1. On desktop, use a browser to go to Spotify web player.
2. If required, log in to the correct Spotify account you want to see the listening history with.
3. In the side menu, click Home.
4. You should now see the desired items are under "Recently Played" section.
5. You can also click SEE ALL button next to the "Recently Played" section to see your Spotify listening history.
Part 2. How to Download Spotify Listening History Data
Spotify provides an useful tool - Download your data tool for you to request a copy of your personal data. There're 3 different packages of data: Account data, extended streaming history, technical log information. You can get your full listening history on Spotify in the Account data file.
Account data: Playlist, Streaming History (audio, video, and podcasts), Your Library, Search queries, Follow, Payments, User Data, Family Plan, Inferences, Voice Input, Podcast Interactivity, Episodes, Spotify for Artists.
Streaming History is a list of items (e.g. songs, videos and podcasts) listened to or watched in the past year, including:
1. Date and time of when the stream ended in UTC format (Coordinated Universal Time zone).
2. Name of "creator" for each stream (e.g. the artist name if a music track).
3. Name of items listened to or watched (e.g. title of music track or name of video).
4. "msPlayed"- Stands for how many mili-seconds the track was listened to.
To Download Streaming History Data:
1. On desktop, click the profile icon > Account > Account overview. You can also use a browser to go to this Spotify Account Overview website to log in to your personal Spotify account.
2. In the side menu, select Privacy settings.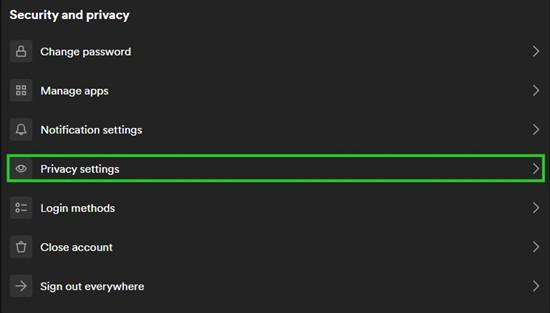 3. Scroll down to Download your data section > Account data > Select Account data > Request data. You can also select another packages of data (e.g. Extended streaming history and Technical log information).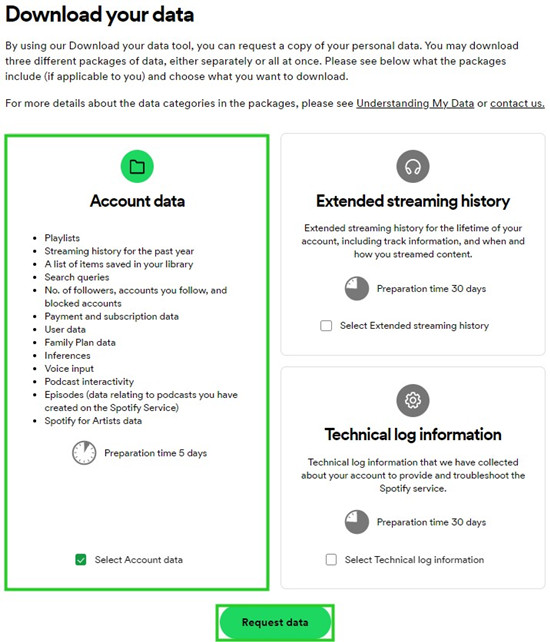 Please note: Account data will need preparation time 5 days.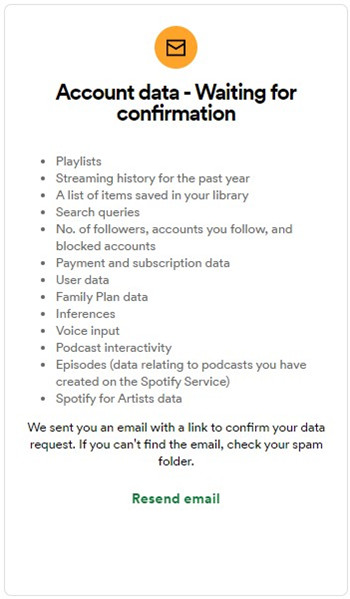 4. Once you request your data, please go to your email box to confirm your request to download personal data.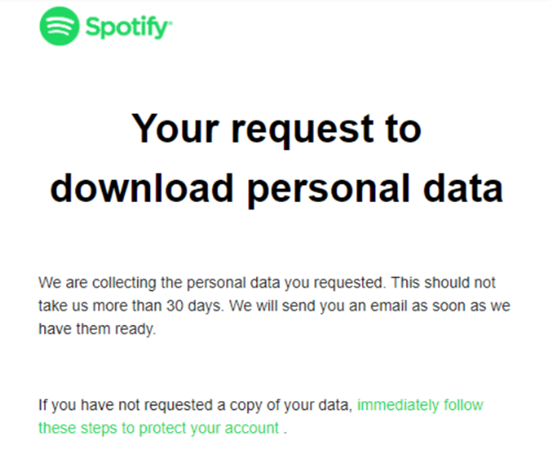 5. You should also be noted that Spotify are now preparing your data, which can take up to 5 days or 30 days. You will receive an email when the data file is ready, then you can see your streaming history in the past year including your desired contents.
Part 3. How to See Spotify Recently Played Tracks
Yes! There's still one more method for Spotify users to access Recently Played on Stats for Spotify's website. Stats for Spotify is also a useful tool for Spotify users to track their listening activities on Spotify. To find the desired items, you can even see the exact time when you played it on Spotify!
While most Spotify users prefer to use this tool to check their most-streamed Spotify songs, you can also check your recently played tracks list all the time.
Please note: Spotify tracks listened to while in "Private Session" will not be shown on Stats for Spotify.
To access Recently Played on StatsSpots:
1. On desktop, go to statsforspotify.com.
2. Click the "Login with Spotify" button to log into your Spotify account.
3. On the new page appears, scroll down the notification and click the "Agree" button to continue.
4. From the top of the Stats for Spotify, click on "Recently played".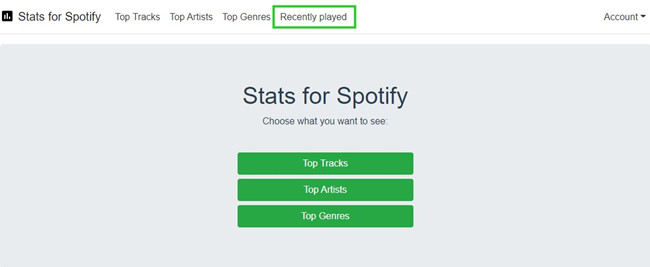 5. Now you get the list of Recently played Tracks, which include all the tracks you played for more than 30 seconds in play history.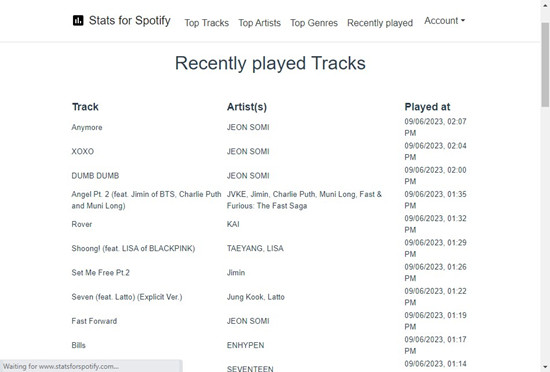 Part 4. Can You Delete Recently Played on Spotify?
While it's simple to access "Recently Played" on Spotify, some Spotify users would like to delete it for some specific reasons. However, at this time we fail to find out how to delete it from Spotify with the 3 official methods above. There' s no longer the "Remove" button for it - the Recently Played section appears every single time when users are on the Home screen, which can be frustrating.
This is how Spotify Privacy Policy is related to this issue:
Do we need to keep data to ensure the service that users expect? We keep personal data for an appropriate period to deliver a personalized service to our users over time. We typically keep streaming history for the life of an account, for example, to provide retrospective playlists that users enjoy (e.g. Your Summer Rewind and the end-of-year Wrapped campaign) and personalized recommendations based on current listening habits.
Spotify once let users to delete items included in Recently Played tab, but now this function has been discontinued. We decide to keep this outdated guide in case you won't miss anything any time you reach this post.
To Delete Recently Played on Spotify:
1. Open Spotify on your computer.
2. Click Recently Played on the left bar of the Spotify screen.
3. Right-click on the album or artist you want to delete, then click Remove from Recently Played.
Bonus Tips: How to Download Spotify Songs without Premium
Since the Spotify Recently Played list will constantly get updated with the more songs you play on Spotify, you'll have to download them if you don't want to lose these songs.
With ViWizard Spotify Music Converter, you can directly download all your Spotify Recently Played songs to your computer without Premium. Then you can save these songs to your computer and keep them forever. These songs can be play anywhere else without the Spotify app.
ViWizard Spotify Music Converter is designed to convert Spotify audio files into 6 different formats such as MP3, AAC, M4A, M4B, WAV and FLAC. Almost 100% of the original song quality will be kept after converting process. With 5X faster speed, it only takes few seconds to download each song from Spotify.

ViWizard Spotify Music Converter Key Features
Convert and download Spotify songs to MP3 and other formats
Download any Spotify contents at 5X faster speed
Play Spotify songs offline without Premium
Download Spotify Recently Played songs
Save Spotify with the original audio quality and ID3 tags
1

Launch ViWizard and Import Songs from Spotify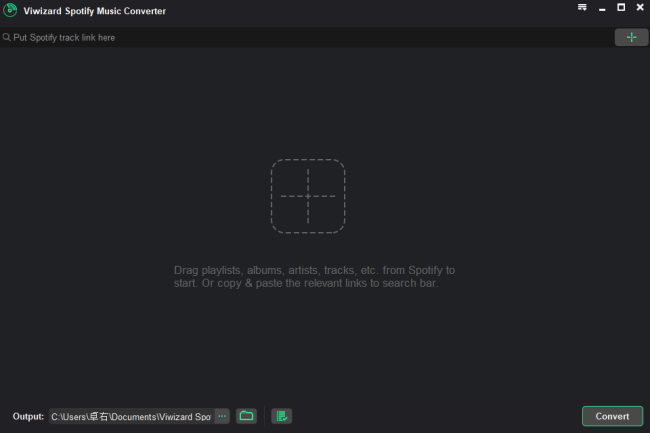 Open ViWizard software and the Spotify will be launched simultaneously. Then drag and drop tracks from Spotify into the ViWizard interface.
2

Set Up Output Parameters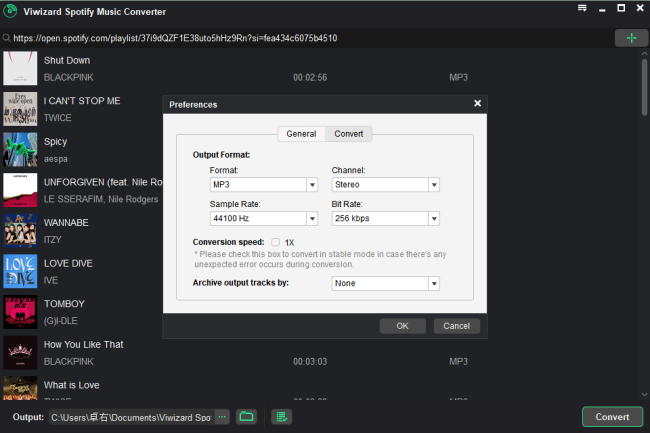 After adding music tracks from Spotify to ViWizard, you can choose the output audio format. There're six options including MP3, M4A, M4B, AAC, WAV and FLAC. And then you can adjust the audio quality by selecting the output channel, bit rate, and sample rate.
3

Start the Conversion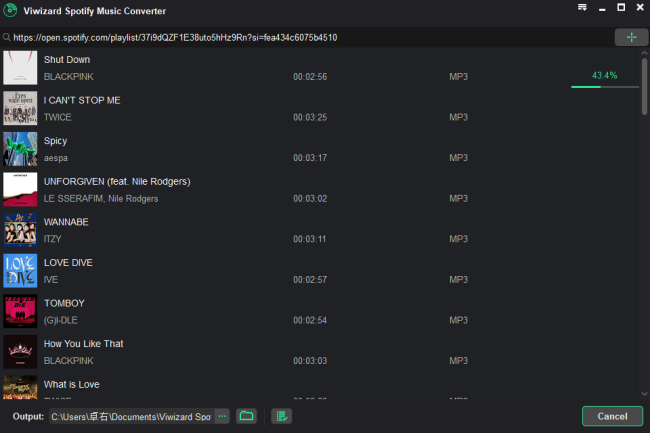 Once all the setting is finished, click the "Convert" button to start loading Spotify music tracks. After the conversion, all the files will be saved to your specified folder. You could browse all the converted songs by clicking "Converted" and navigate to the output folder.