Whenever we talk about music streaming, Spotify is the biggest name. However, parts of the choice also come down to more, so more Spotify alternatives for music streaming is taken into consideration, one of which is Pandora.

Considering that at this moment Pandora is much more popular than before and even is a hit among some keen music fans, we update the Spotify vs Pandora comparison with the latest information, including available content, social sharing, recommendation, addition feature, subscription plans and more. Choice is very depending on these added information and news. Reading on for more and making the best decision!
Part 1. Available Content: Pandora vs Spotify

While both Spotify and Pandor have vast libraries of available music, other available contents can be different.
Spotify vs. Pandora: Available Contents
| | | |
| --- | --- | --- |
| | Spotify | Pandora |
| Music Library | over 50 million music tracks | over 40 million music tracks |
| Ad-free music | Yes, for Spotify free. | Yes, for Pandora free. |
| Podcasts | Yes, for Spotify free and Premium. | Yes, for Pandora free, Plus and Premium. |
| Audiobooks | Yes, for Spotify free and Premium. | Yes, for Pandora free, Plus and Premium. |
| Search and play | Yes, for Spotify free and Premium. | Yes, for Pandora Premium and ad-free for Pandora free and Plus. |
| Make and share playlists | Yes, for Spotify free and Premium. | Yes, for Pandora Plus and Premium. No, for Pandora free. |
| Download music and offline listening | No, for Spotify free; Yes, for Premium. | Yes, for Pandora Plus and Premium. No, for Pandora free. |
| Download podcasts | Yes, for Spotify free and Premium. | Yes, for Pandora Plus and Premium. No, for Pandora free. |
You can see how the similar contents of these two services are available in their plans. Both are flexible options if to stream songs without subscriptions because either Pandora or Spotify has a free, ad-supported version.
However, the choice also comes down to how to do with these available contents. When it comes to making and sharing playlists, users in Pandora's free version will spend an extra cost on it while users can have more freedom for free. Like most streaming music services, the offline listening needs to be unlocked with their subscriptions.
Spotify's Podcasts are free to download.
For podcasts lovers, either Pandora or Spotify has a robust support in podcasts.
On Spotify premium, you can download Spotify albums, playlists, and podcasts. On Spotify free, even the podcasts are available to download with an account but Pandora sets more limits on its offline service. On Pandora plus and premium, the podcasts can be downloaded but not for its free version.
Part 2. Social Sharing: Spotify vs Pandora
Social sharing is a win for Spotify.
Either Pandora or Spotify lets you follow your favorite artists to keep up to date with their posts and latest releases.
Sharing contents from Spotify is quite simple from the app, just get a Spotify code for the selected contents, a simple scan with friends' phone camera can have it to friends. Besides the code, you can also take a screenshot to share it around.
For sharing on social medias, Facebook is available to be integrated both on Spotify and Pandora to find and add friends. In addition, Spotify has partnership with more like Tinder and Instagram, for posters or artists, it's simple to use the Spotify's share menu to share music tastes or new releases with followers or fans.
Spotify vs Pandora: Which has better social features?
One of the best things added to Spotify is its various social features - follow friends to activate Friend Activity on desktop to see each other's listening activities and share music tastes up-to-date. To limit to sharing to Spotify playlists, use the feature of Collaborative Playlist. Invite friends to create and edit a unique list together. It's worth mentioning that features all above ca be disabled with a start of Private Session or few more private settings.
There are even more exclusives for Premium on mobile and tablet: users can either start a Group Session or join one in the same Wi-Fi connection. To make it remote, start a Remote Group Session is OK.
Of course Pandora also has social features. Following friends on Pandora can allow a glance of their Stations and liked songs, but their active listening history can't be viewed and either the Collative playlists is not allowed.
Part 3. Recommendation: Spotify vs Pandora
Your "Thumbs Up" and "Thumbs Down" will bring Pandora's personalized service further, while the "Like" or "Dislike" on Spotify also help to get to know you better so Spotify's recommendations improve. Just like or give thumbs up to something to save to vx or My Collection.
However, Spotify can add more that include social recommendations.
On mobile, social recommendations can appear in playlists like Blend and Friends Mix. As stated, that if the sharing features are invasive, Private Session can disable them but the recommendations won't be influenced.
Spotify knows what you wish for and provides it all on Spotify.
Either for every week or every day, there'll be something new in playlists. Every Monday songs Spotify think you'll love will show on Discover Weekly. Every Friday, songs from now releases of your favorite artists will appear on Release Radar. For podcasts lover, Your Daily Podcasts is here for more exploring. The more you listen, the more frequently Your Daily Podcasts will update.
Pandora Lets you decide more.
While Spotify's recommendation seems to read your mind, Pandora let you decide what you want to discover. With Pandora's personalized algorithms manually, thing like Station can be customized to your liking based on artists and songs as well as the mode while Spotify won't ask, even the suggestions are perfect.
But still as I mentioned, when it comes to recommendation, Spotify gives a little more freedom in enabling or disabling its recommendations than Pandora does.
Part 4. Additional Feature: Spotify vs Pandora
Spotify's Wrapped has come back to wrap up your year on top.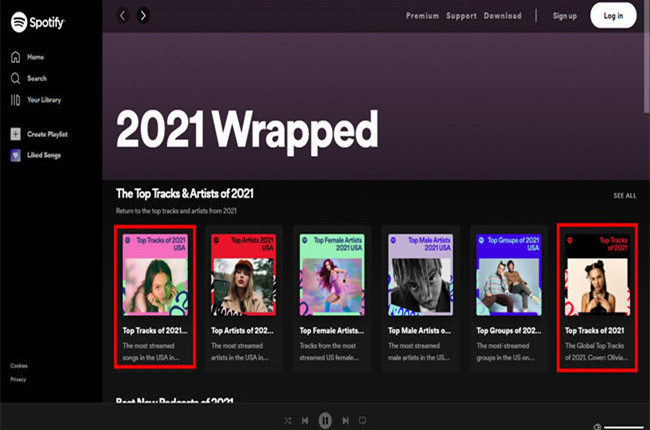 In 2021, Spotify's annual feature Spotify Wrapped came back to let users see their listening activities, music tastes and listening experiences on December with the stats collected from an account. It shows as "Your 2021 Wrapped" card on desktop and Spotify Wrappedx box on mobile when it appears.
Besides both create a playlist of the 100 songs you most streamed over the year and others, Spotify Wrapped on mobile tells info like total minutes you spent listing, the countries your favorite artists come from and more.
Pro Tips: The Movie, Your Audio Aura, Playing Cards and Wrapped Blend are all-new on mobile in 2021.
You shouldn't be too worried because Pandora soon releases a similar fun feature called Playback to wrap your year. While not so deep as Spotify Wrapped, it offers similar info for Pandora users.
However, also note the additional tool Spotstats allows an all-time stat to check on its web statsforspotify.com or its app from App Store and Google Play to check Top Artists, Top Artists, and Top Genres (most-streamed) for the last 4 weeks, last 6 months and all time. This means you don't have to wait until the end of a year but can see what you like all the time on Spotify.
Part 5. Subscription Plans: Pandora vs Spotify
Spotify and Pandora cost the same (mostly)

Both Spotify and Pandora offer a free month trial period for their premium services, which mostly cost the same $10 a month. It costs $5 for students, $15 for Pandora family planx or $15 for Pandora family plan. Note there are exclusives: duo plan, which costs $13 for 2 accounts.
From this moment until Nov. 18, 2022, Spotify is offering three months of its premium version to new users for free, while Pandora has a different free trial for premium and plus however both have more limits in their trial periods - two months for premium and one month for its plus version free to new users.
Spotify vs Pandora: Subscription Plans
| | | |
| --- | --- | --- |
| | Spotify | Pandora |
| Individual plan | $10 a month for Spotify Premium | $9.99 a month for Pandora Plus; $4.99 a month for Pandora Plus |
| Duo plan | Yes, 2 accounts for $12.99 a month after offer period. | No. |
| Family plan | Yes, 1-month free trial and $15.99 up to 6 people after. | Yes, 2-month free trail and $14.99 up to 6 people after. |
| Student plan | Yes, 3 months free trial $4.99 a month after offer period. | Yes, 2 months free trial and $4.99 a month after offer period. |
| Free trial | 3 months | 2 months for Pandora Premium; 1 month for Pandora Plus |
| Stream quality | Depends on platform: 256Kbps AAC (Premium) or 128Kbps AAC (free) on web player; up to 320Kbps (Premium) or 160Kbps (free) on desktop, mobile and tablet. | 64kbps (free) or 192Kbps (Plus and Premium) |
Does Spotify or Pandora have better streaming quality?
The truth is, when it comes to streaming quality, unfortunately neither Spotify Premium not Pandora Premium offer a better option.
When it comes to their free versions, bit rate of 160Kbps is available on Spotify for desktop, mobile and tablet while a much lower 64Kbps is for free on Pandora.
As for now, Spotify uses the Ogg Vorbis or AAC fomat, and ACC format is the same for Pandora. While there the maximum bit rate for Pandora Premium is 192Kbps, on Spotify for mobile you can feel free to choose which bit rate to stream songs considering using up too much mobile data. It's even available to maximize it to 320Kbps on Spotify. It streams in AAC at 128Kbps for free users or 256Kbps for premium.
It's also worth mentioning most keen music fans wish a HiFi subscription for lossless audio announced in 2021 can be expected in 2022.
Conclusion & Suggestion: Which is Better for You
With all that told, it's time to make a choice. With the close subscription fee, both these two services have good features. But the biggest attraction can be that each has an ad-supported version, which is just a fit for those want to give it a shot.
For those prefer Spotify, we also offer some exclusives - ViWizard Spotify Music Converter. This powerful and professional can help users get accessible and available music tracks from Spotify with or without Premium.
ViWizard Spotify Music Converter will convert music tracks to MP3, M4B, M4A, M4V, FLAC and and AAC. You can download its Mac or Windows version.

ViWizard Spotify Music Converter Key Features
Convert and download Spotify songs to MP3 and other common formats
Download any Spotify track, playlist, album without premium subscription
Download any Spotify music with 5X faster speed
Save Spotify with original audio quality and ID3 tags
More streaming music tips