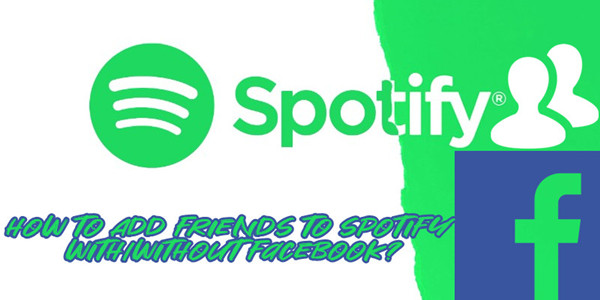 The social media platform such as Facebook has made it easier to share various contents with both your friends and the public. What of when it comes to music streaming services like Pandora, YouTube, or Spotify? Probably none has a leeway for direct doors to share content with friends until you add them. Even though this move can be a bit tricky, it is still possible to add friends on Spotify by following simple steps. Many users opt to add their friends to Spotify for companion and to keep in touch. This article walks you down the lane to have as many friends as possible in Spotify.
So, Why Spotify?
Sending and sharing music
This is probably the major concern why many users opt to add friends on Spotify. Gone are the days when friends and family used to gather together to merry-make as they listen to their favorite old days' music. Nowadays, just let the streaming services do its work. Get some cool music then remember to share with friends.
Application
Spotify app is encompassed with state-of-the-art technology to help you find the correct music according to your mood. In addition, it comes with a Radio function that lets you create stations according to your favorite artists, albums or songs.
Library files
Yes! The better part is that you can organize your music in a manner that suits you. The library will foreshow all your music in one place, giving you an easy time to access any file whenever you need it. You actually don't have to go the extra mile of opening iTunes or other players to search for music; the library makes Spotify a one-stop shop for that matter.
Playlists
Spotify works in a dedicated manner by notifying you any time your friends or those you follow, add tracks or playlists to their collections. You also have the liberty to create your own playlists by clicking the new playlist button. Meanwhile, your friends are also able to get notifications about your new creations.
Part 1. How to Add Facebook Friends on Spotify
It could be that you are already friends on Facebook. In this case, you will require fewer steps to add the same Facebook friends as Spotify friends.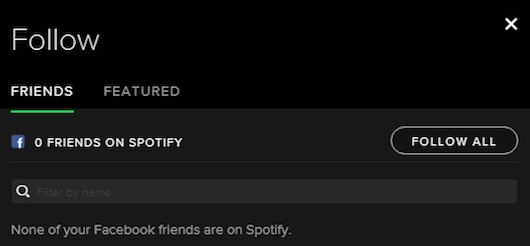 Step 1. Start by signing in to your Spotify account.
Step 2. Click the 'Follow' option found at the left column of your Spotify screen. This should take you to the 'Follow' page.
Step 3. Click on the 'Find friends' button at the 'Follow' page to view a list of friends from Facebook.
Step 4. Go to the upper left search bar of the screen and type in your friend's Facebook name. This will speed up the process instead of going through the whole list of friends from Facebook.
Step 5. Once you find the particular friend that you need to add, click on the name.
Step 6. Look for the 'Follow' option behind that particular friend that you need to add. Click on it to change the status as 'Following'. This is an indication that you are now friends on Spotify.
Part 2. How to Add Friends on Spotify without Facebook
This first option is only effective if you are already friends on Facebook. However, you may also need to add friends on Spotify without Facebook. Remember that both of you will need to have a Spotify account for this to be accomplished.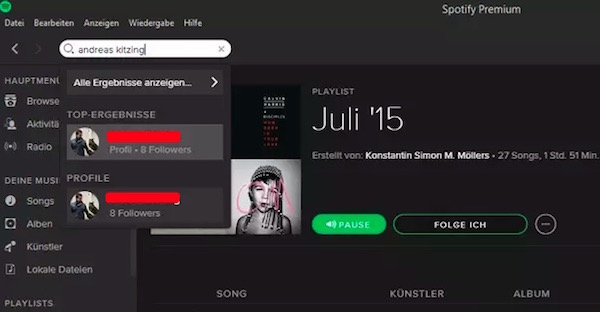 Step 1. Tap on the Spotify app icon to open the home page. In the event that you are not logged in then you need to enter your username and password to open your Spotify account.
Step 2. Scroll to the upper right corner of your screen to start the search. You should find a search bar for that matter.
Step 3. Then input the Spotify username of your friend. Ensure you type in their name the way it appears on their Spotify profile. Otherwise, you will run through tons of the same names without hitting your goal.
Step 4. Scroll down to the 'Profile' heading and select your friend's profile. Once you are sure you are home, tap on the profile to open your friend's page.
Step 5. Click on the 'Follow' button to follow your friend. Once it indicates 'Following' then it means that you are now friends on Spotify.
Extra Tips: Share Spotify Playlists to Friends without Facebook
In case you want to share your Spotify playlists to others who have no Facebook account, we are here providing an easy solution for you to get it done without Facebook account. You can use ViWizard Spotify Music Converter to download and save any track from Spotify as offline MP3 even if you are using the free account of Spotify. Once the Spotify songs are converted into MP3, you are able to share the files to your friends for playback on any device. For more details, please visit: Best Ways to Share Spotify Playlists.
The Bottom Line
It is now evident that you can add friends on Spotify without Facebook and still get to share with them all your favorite playlists. Better still, your Facebook friends can also make a good starting point as your Spotify friends. Once you add friends on Spotify, it is still advisable to check your privacy settings so as to control what you share with friends. In the event that you don't want to broadcast your content on the News Feed, you can uncheck the Facebook sharing option. Otherwise, the Spotify section can just remain checked so that your followers are able to be notified about your new updates.
More Spotify Music Tips & Tricks

Matt Smith is an amateur writer engaged in ViWizard in 2013. He is a movie lover who write a lot of movie reviews for many websites and blogs.