Rivalries make products better in their bid to outrun each other in the provision of their services to clients. A rivalry we will have a glance at in this review is Spotify vs Deezer. Both are famous streaming music service providers that offer large music library to millions of subscribers worldwide. The debate between them never seems to clear up and in order to have a clear picture on who is better among the two, we are going to compare Spotify and Deezer's features and differences from music catalog to sound quality, subscription plan to design, and so forth.
Deezer vs Spotify: Music Catalog
When we speak about the catalog, we are referencing the music collection of both music streaming services. Both Spotify and Deezer pride themselves in having a very vast collection of musical tracks from all genres and many artists which is very impressive.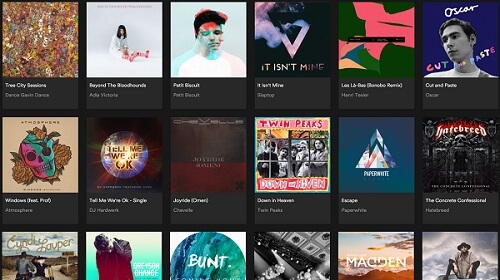 Spotify in its website claims to have a collection of tracks numbering at least 43 million. This is very great as its subscribers are assured of a lot of tracks that can be described as endless.
Deezer, on the other hand, claims to have at least 50 million tracks on its catalog. This is a huge blow to Spotify by 7 million tracks which is not just a mere number and can a make a huge difference in subscriber numbers. Subscribers to Deezer hence have a larger access to more tracks than Spotify subscribers.
Deezer vs Spotify: Subscription Plans
Both Spotify and Deezer are well known as freemium services. Freemium denotes the quality of a service provider being free on subscription but with guaranteed additions in more lucrative features on a paid upgrade.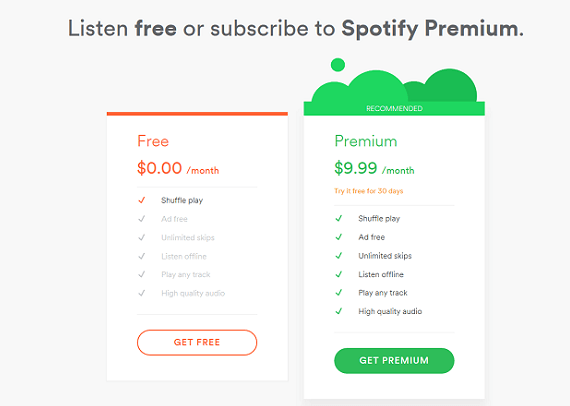 Deezer and Spotify have the free subscription that will not require the subscriber to pay anything for the services. However, the service will have ads among other interruption and at times the audio quality will not be the best compared to the original. In the free subscription, both have no offline playing hence the tracks cannot be listened to later on. The audio bitrate for Deezer is at 128kbps while for Spotify is at 96kbps which means Deezer has the better quality of the two in the free subscription.
In the Premium subscription plan that both providers have, the features are more impressive. No matter you are using Spotify or Deezer, you can play the tracks offline meaning you can put them off for a future session. Also, both of them have no ads which may be so interruptive while bumping to your favorite joints. This plan in both subscribers also allows you to play your favorite tracks on TV, hi-fi and car support. These plan in Deezer has an audio bitrate of 320kbps while Spotify has its bitrate at 160kbps. This is another hats up for Deezer when it comes to sound quality.
The final package is the Family package which interestingly, both providers have. The Family package will allow for up to six accounts in Deezer and a higher up of five accounts on Spotify. All the members will have a Premium-like subscription with the same perks. This again is a hats up for Deezer which allows for many accounts under this plan compared to Spotify.
Deezer vs Spotify: Worldwide Presence
Spotify and Deezer have been in the music industry for almost the same time in like a decade. Over this time they have managed to crawl out of the comfort zones of their founding territories and expand to more making them global brands in music services.
As at the moment, Deezer leads in the number of countries where it is present with 181 plus regions in its name. Spotify on the other hand trails at 78 countries worldwide.
The presence of Deezer in many countries makes it a desirable provider as the subscriber is sure of uninterrupted service wherever he or she will be.
Deezer vs Spotify: Subscribers
When it comes to subscriber numbers, we will have a glance at which service provider as the greatest following hence more popular. In this case, Spotify music take the lead at 83 million paying subscribers worldwide. This is in comparison to Deezer's 9 million in paying subscribers. In this popularity test, Spotify takes the trophy with a wide margin of almost 70 million in music-heads. This coming from a limited number of countries is very impressive. This translates to almost 1.2 million per country it is available compared to Deezer with a factor of almost 500000 per country.
Deezer vs Spotify: Music Quality
As we have earlier seen the bitrate for Deezer is way greater than Spotify's at different subscription levels. Another thing that makes the music quality of Deezer greater than Spotify's is in its file formats. Deezer uses the FLAC which is uncompressed hence has a higher bitrate than Spotify which uses OGG Vorbis audio format.
Deezer vs Spotify: Design

The simplistic design of Spotify is way ahead with its very simple yet intricate design. It is easier to navigate and the menu items are clearly placed and indicated. Its color combination is also very calming and it takes a head up in this parameter.
Deezer vs Spotify: Discover Music
Discovering new music is key for an enhanced musical experience as avid music lovers will always want to listen to new and different music being developed. In this, it is a tie as both have features that will help you discover new music. Deezer comes with its hard-hitting Hear This that will help in the discovery of new musical tracks according to your history and playlists.
Spotify, on the other hand, comes with the efficient Discover Weekly that will also bring you musical tracks suggestions with 30 old and new tracks according to your observed taste and track playlists.
Deezer and Spotify Comparison Table
| | | |
| --- | --- | --- |
| Provider | | |
| Catalog | 43 million songs | 50+ million songs |
| Free Plan | Ad-supported, shuffle-only mode, no offline | Ad-supported, no scrubbing, no offline |
| Premium Plan | $9.99 monthly | $ 9.99 monthly |
| Family Plan | $14.99 monthly for 6 members | $14.99 monthly for 6 members |
| Monthly Active Users | 191 million | 14 million |
| Subscribers | 87 million | 6 million |
| Music Quality | 320kbps for Premium, 96kbps for Free | 320kbps for Premium, 128kbps for Free |
| Audio Format | OGG Vorbis with DRM | MP3 |
| Free Trial | 30 Days | 30 Days |
Final Words: Should You Choose Spotify or Deezer?
We have come to the conclusion of this analysis of the fierce battle that is Deezer vs Spotify. In this hard fight, both have held up for their own with Deezer getting the props in music quality and worldwide accessibility as well as the number of tracks in its wonderful catalog. Spotify, on the other hand, has had heavy shots in the number of subscribers as well as design. This battle can be summed up as a tie and both have services have a great chance of improving and measuring up to one another.
More Tips: How to Transfer Playlists Between Spotify and Deezer
No matter which music service you are using now or going to try later, you can easily transfer the playlists between Deezer and Spotify with the help of some 3rd-party tools, like ViWizard Spotify Music Converter. It's a smart Spotify music downloader that can download any Spotify track and playlist to MP3 format which is supported by Deezer.
For more details, you can install the free trial version of this application on your Mac or Windows and follow this tutorial to see how to move playlist between these two music accounts.