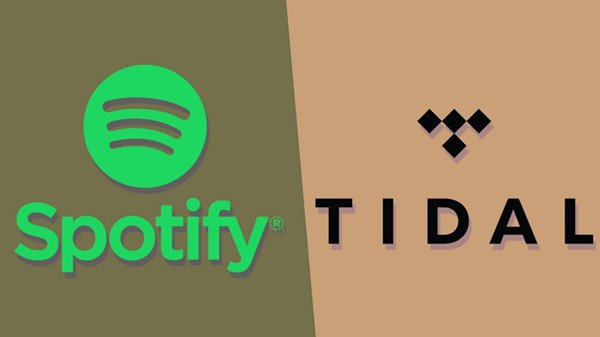 The wide variety of music services in streaming makes us ask which of them the one that is worth more when paying is Spotify vs. tidal sound quality. Spotify is one of the undisputed kings of the sector. Very few shade him. Especially if we take into account its extensive catalog with more than 30 million songs, or its interface, clean and simple. The truth is that there is one that, we can say, is able to rival his height, or even overcome him on several points as we will see below. It's about Tidal.
This service is currently available in Vodafone completely free with the Red M and Red L rates. Its key point and that differentiates it greatly from Spotify, is that it offers music to the same quality that we have in the CDs. That is, at 44.1 kHz, 16 bits and a bit rate of 1,411 kbps, about four times that of Spotify.
If you are undecided and want to know if you prefer Tidal or Spotify, do not stop reading. We compare detail in detail these two streaming music services.
Design
If we download the Spotify and Tidal applications, we will see that they are very similar at the design level. It seems that Tidal is a clone of his rival. The appearance of both is very clean and invites you to start looking for music of all kinds right away. Both have tabs to explore, search or library (my music in the case of Tidal). What the latter lacks are a Radio tab. Here Spotify plays its cards very well, with different personalized lists with the music related to the one we listen to. Or different recommended stations with the artists that we usually click on the service. There are also stations by genre: blues, classical, country, funk...

As we find in Tidal, within Explore, artists or albums suggested based on our tastes. The truth is that in this section is something poorer than his rival, which is much faster and smarter in this regard. Also, both Spotify and Tidal can find music by genre or be depending on our mood. Of course, Spotify shows something more visual with music lists created for different times. Here you can also find news or videos.
It seems that Tidal gives more priority in genres and moods to recommendations, new songs and albums added to the service. Also to those who have been in the history of music for a long time and who deserve a remember. In this sense, especially if you give more priority to find new music or remember old classics, Tidal takes the prize. If, on the other hand, you prefer a service that recommends music lists according to your tastes, Spotify is yours. We can say that Tidal is more worked on what to find new jewels.
Sound Quality
If you're worried about the sound quality and you want to enjoy the best, we have to tell you that here Tidal wins by far. And it is that this service has a more expensive HiFi subscription based on FLAC, the same quality that we have in the CDs. This means that we can enjoy a song or album at 44.1 kHz, 16 bits and a bit rate of 1411 kbps. As we said at the beginning of the article, it is about four times the best quality of Spotify.
For the rest, and removing this HiFi subscription, Spotify and Tidal behave the same. Both have a normal quality at 96 kbit/s. A high quality at 160 kbit/s or a maximum quality at 320 kbit/s. It can also be adjusted so that it becomes automatic, depending on the network to which we are connected. One thing that we have observed is that in the background Spotify works without problems in iOS even opening the camera application. The same does not happen with Tidal, which is disabled when making use of this or other apps.
Content
It is true that Spotify is one of the streaming music services with more content. It has more than 30 million songs. However, Tidal, who started his career in 2014, currently has more than 53 million songs. It is a very striking difference, which may end up convincing us if we opt for one or the other. For the benefit of Tidal, we will say, in addition, that it offers more than 200,000 music videos in HD quality, as well as the exclusive content of different renowned artists. Since it is the first online music service owned by artists, we find content by Beyoncé, Kanye West, Rihanna or Jay-Z himself. It is easy to find concerts and other videos in Tidal that cannot be seen on other platforms. Right now, for example, you have one of Coldplay exclusively.
Price
The price may also be another reason to choose one or the other. As we say, Tidal is now available for free for Vodafone users one or two years, according to the tariff (Red M or Red L). Without an offer, its price is 9.99 dollars per month for the premium model and 19.99 dollars per month for the HiFi. For its part, Spotify has several price plans tailored to each customer. It has a normal premium plan for 9.99 dollars per month (the same as Tidal). Another Family Member is also available for 14.99 dollars per month or bi-monthly for 2 dollars if we use it on the PlayStation.

Unlike Tidal, Spotify also discounts for students with the possibility of obtaining the service for 5 dollars per month. Of course, both Tidal and Spotify allow you to try the service for a month completely free.
Summary: Tidal and Spotify Side-by-Side Comparison
| | | |
| --- | --- | --- |
| | Spotify | Tidal |
| Opened | 23 April, 2006 | October 28, 2014 |
| Country of Origin | Sweden | Norway |
| Catalogue | 35 million songs | 48.5 million songs |
| Availability | 65 regions | 52 countries |
| Subscribers | 83 million paying users | 3 million subscribers |
| Sound Quality | 320 Kbps for Premium / 160 Kbps for Free | 320 kbit/s for Premium / 16-Bit/44.1 kHz for Hi-Fi |
| Format | Ogg Vorbis | AAC, FLAC, ALAC, MQA |
| Monthly Fee | $9.99 | $9.99 for Premium / $19.99 for HiFi |
| Free Trial | 30 days | 30 days |
| Family Plan | $14.99, 6 members | $14.99 for Premium/$29.99 for HiFi, 5 members |
| Student Plan | $4.99/month | $4.99 for Premium/$9.99 for HiFi |
| Platform | Android, iOS, Windows, macOS and Linux | Microsoft Windows, OS X, iOS, Android |
Conclusion
This main option, perhaps less known, is one of the alternatives most valued by true lovers and purists of music. For starters, the sound quality is much higher than the mainstream platforms that we are used to consuming. On the other hand, and a very positive point in its favor is that it is created in its origins to defend the rights of artists and the industry that surrounds them. In addition, it also has great privacy because it is not seen as a social application as they usually do this type of platforms. Perhaps its biggest disadvantage is in the price because you cannot enjoy Spotify and Tidal without paying since it does not have a version of its service for free.
As you can see, these are just some options with which you can enjoy all your favorite music. Go ahead and convert to the streaming world.
More Tips: Move Spotify Playlist to Tidal
So which one will you choose? For existing Spotify users who care more about the music quality, you may probably like to switch to Tidal due to the HiFi quality, though it was reported Spotify would release Hi-Fi music service soon. But before moving from Spotify to Tidal, you should take some time to transfer your Spotify playlists and songs to Tidal account if you have a large music collection. In this case, a Spotify music converter like ViWizard Spotify Downloader is highly recommended to help you convert Spotify songs to AAC, FLAC that are compatible with Tidal.
For more details, follow this guide: How to Transfer Spotify Playlists to Tidal.