Spotify is one of the most popular music streaming services that users have continued to enjoy over the past 10 years. With over 40 million songs collection, there is no better way to get unlimited and ad-free music on your phone, tablet or computer than with Spotify. Users have the ability to listen to the music of their choice as well as link their accounts with social media accounts. However, competition is on the rise and these top 8 alternatives to Spotify can also give you great music experience to some extent, if not better.
1. Pandora Radio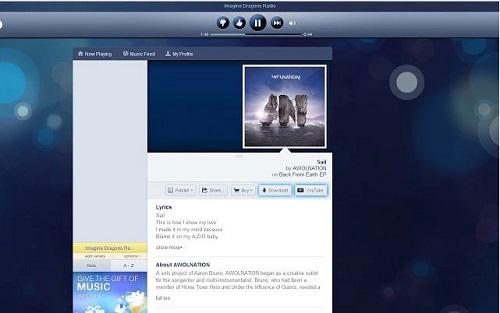 It is known to give a customized music experience dictated with your tastes. With Pandora, you can easily create stations from your favorite songs and artists. Besides, this streaming music service is a perfect choice for background music. If you are not the so picky user, then make use of Pandora and let it dig up your next favorite band for continuous entertainment.
Pros:
• It enables you to download the music you want for offline listening
• It provides a great way to create playlists
• It offers high-quality audio
• You can listen to your favorite music without adverts
Cons:
• It at times uses large amounts of data, pushing up the carrier data charges
• It has some licensing restrictions which limit offline features
2. Apple Music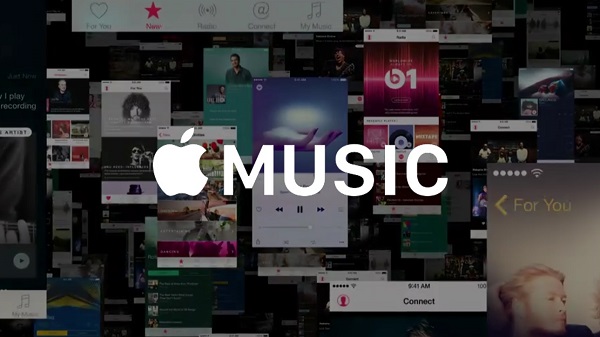 This music streaming service is also regarded as among the best Spotify alternatives currently available. As a matter of fact, Apple Music was the first service with subscription-based music. It comes with 'Human Curation' feature which is useful in the creation and use of live radio broadcasts. It comes with an attractive user interface, enabling easy navigation to its 30 million and more songs.
Pros:
• It has a more attractive user interface than Spotify
• You can play Apple music via Siri feature on your phone
• It lets you listen to live radio stations
Cons:
• It doesn't include all the tracks in iTunes
• It does not provide a free subscription plan like Spotify
3. Grooveshark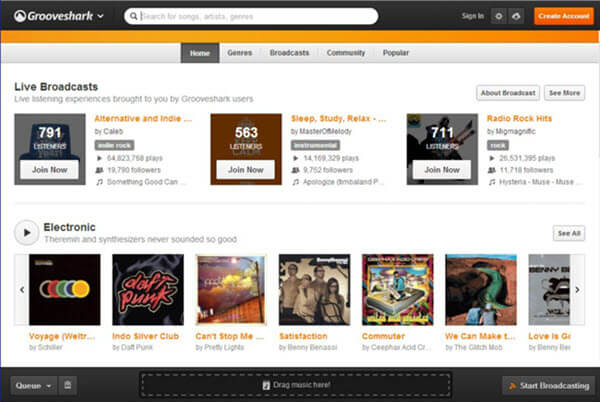 Even though not so many people use Grooveshark, it is still among the top Spotify alternatives for free music streaming. It can be likened to more of a file sharing system that relays just what you upload. With this, you are sure of not getting any disturbing ads throughout your music session. Although you can enjoy its free version, you won't evade advert until you upgrade to the paid version.
Pros:
• It has ad-free songs for the paid version
• The user has the freedom to upload any audio of choice
Cons:
• It produces poor music quality when compared with Spotify
• Some features are limited with the free version
4. Deezer
Deezer is a French music streaming service which comes with two types of membership plans, including free and premium, just like Spotify. Its numerous features let you carry out tons of activities. As long as you sign up for this service, you will have the liberty to build a profile of what you enjoy listening to. It is your genres and artists selection that will direct this service to suggest playlists.
Pros:
• Deezer lets you build a profile by selecting your favorite artists
• It has got the availability of a free plan
• It has a user-friendly interface
• There are no ads with its free plan
Cons:
• It is not perfect at picking up your favorite artists by itself
5. Amazon Music Unlimited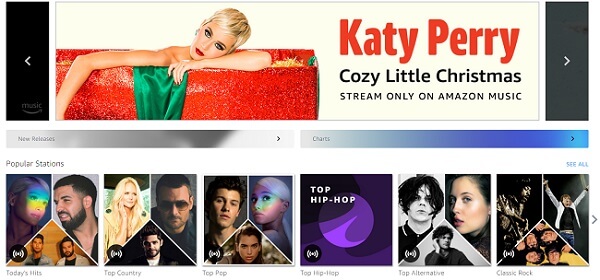 Amazon Music Unlimited is also among the popular music streaming services that offers more than meets the eye. It has a collection of more than 30 million tracks, making it a super choice besides Spotify music. It is encompassed with numerous features including Amazon Echo which makes it possible to download music for offline listening. Other than streaming, you can use Amazon music for watching movies, downloading games and shows.
Pros:
• Enables you to enjoy a 30-day free trial and full access to Amazon music unlimited
• You can use one account on up to 10 devices
• The voice-control assistant is a pillar of integration and intelligence
Cons:
• The premium version is expensive as compared to its peers
6. Google Play Music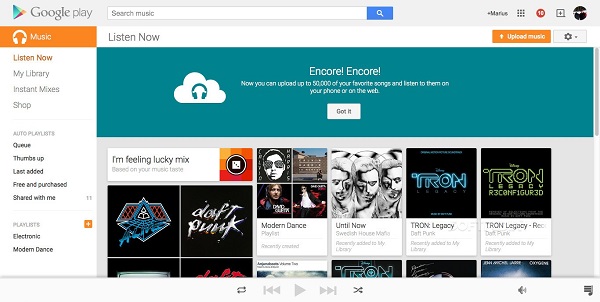 Google Play Music is one of the best Spotify alternatives with exclusive music streaming services. However, it does not have a free option as many others. What gives it a cutting edge is its availability for cross platforms such as desktops, smartphones, iPads, and Tablets. This service enables the user to personalize their favorite tracks and get free access to YouTube Red.
Pros:
• It lets you customize your favorite songs in your way
• It allows you to download all your favorite songs and listen to them when you are offline
• It comes with an intuitive user interface
Cons:
• It doesn't display the lyrics
7. Last.fm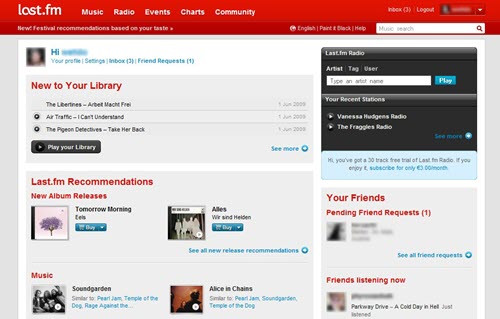 This is another free Spotify alternative that lets you mark your favorite artists. Last.fm allows you up to 30 days of free demo service. However, you can only enjoy online radio if you graduate to the premium version. With Last.fm, you can also track all of the music you listen to via your devices including Android, iPhone.
Pros:
• You can enjoy the free version for one month
• It enables you to track all of the music you listen to via your devices
• It is easy to view your personal artists and tracks with this music service
Cons:
• It sometimes prompts you to subscribe to other services first before using it
8. YouTube Music

YouTube Music is easily accessible, a reason for its availability in numerous countries. It uses Artificial Intelligence learning to tailor the streaming to your taste. With this service, you get to enjoy millions of tracks at your disposal. However, the ads will surely be a drawback if you are a free user.
Pros:
• YouTube is cheap and easy to use
• You get lots of variety of how-to-do videos and infomercials
• It allows you to upload your creations and videos
Cons:
• There is no restriction for video uploads, hence the rise of explicit videos
• There are copyright infringement issues
Conclusion
These top 8 alternatives to Spotify music are not in for replacement but for competition. However, Spotify is still regarded as the most reliable music streaming service. It is more geared towards helping the lesser-known artists expose their works. This is one of the reasons why exploring its alternatives can bring the seventh heaven by just the click of a button.