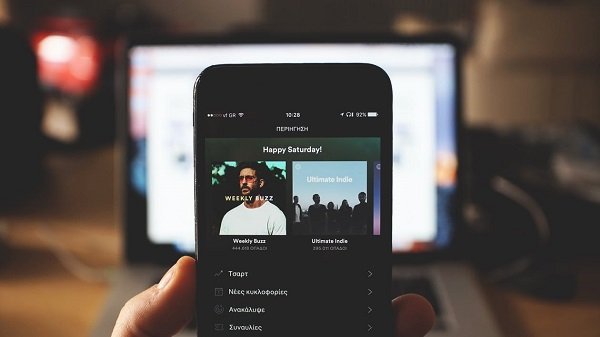 When talking about the largest streaming music service worldwide, the undisputed king could be Spotify, a Swedish-born service with a reported paid user base surpassing 39 million subscribers. But when it comes to the hottest music streaming service, it could remind us of Apple Music, a subscription-only streaming service developed by Apple with over 15 million subscribers so far. Given the short time since Apple Music's release, as well as its recent release on Android, it seems reasonable to take stock of how it measures up against Spotify. Now that the dust has settled, a larger question remains: Should you subscribe to Apple Music, the fast-rising star, or Spotify, the current market share leader? Now, let's take a look at the head to head comparison between Apple Music and Spotify in this review.
Apple Music vs. Spotify: What's the Difference
Price
In terms of the subscription fee, both Apple Music and Spotify are evenly matched. The monthly fee of an individual account to subscribe both services is $9.99 per month and $14.99 per month for a family account with up to six users. The main difference between the two is that Spotify has a free, ad-supported while Apple Music only offers three-month trial which forces users to pay.
User Interface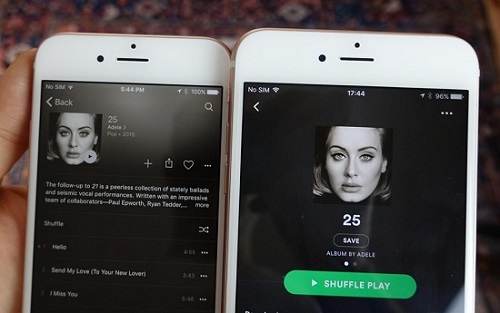 Although the Apple Music interface certainly feels fresh and lively, we have to admit that Spotify does extremely better in this part. Both Desktop and mobile versions of Spotify provide users an easy way to browse music, access playlists, listen to Internet radio, and find new music. Each section features its own set of straightforward sub-categories giving users easy access to all of the service's features. At the meantime, Apple Music interface, for a company with a penchant for minimalist design, is probably more cumbersome than it should be. Although Apple Music is also easy to pick up and use, even when first setting up an account, navigating its extensive catalog as well as your own music can be confusing.
Availability
Currently, Apple Music is available in 113 countries while Spotify is available in 60 countries only.
Music Library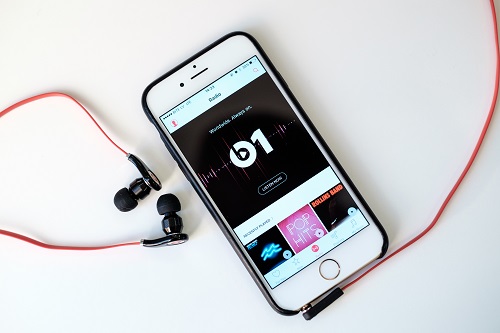 One of the main reasons Spotify continues to enjoy streaming dominance is its staggering 30 million-song catalog. Couple this with the fact that it adds over 20,000 new songs each day, and there's more music in Spotify than your ears even know what to do with. More importantly, Spotify has the majority of tracks that are popular right now. However, while Spotify's catalog has been essentially unrivaled up to now, Apple's service also reportedly touts around 30 million songs — roughly similar to Spotify's "more than 30 million" figure. Moreover, Apple has taken steps to secure more exclusives than the competition. This is where Apple Music shines. A few big artists like Taylor Swift aren't available on Spotify. Aside from Taylor Swift, Apple's catalog is as ridiculously large as Spotify's with massive amounts of overlap. Obviously, Apple Music wins in this part as it has the bigger and better exclusive acts than Spotify.
Sound Quality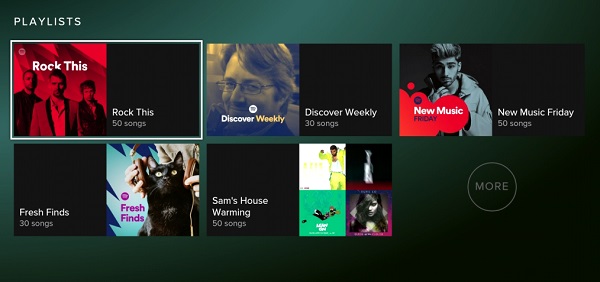 Spotify offers encoding quality of the music with three choices: Normal, High, and Extreme, at 96kbps, 160kbps, and 320kbps, respectively. Apple Music, on the other hand, has a single standardized 256 kbps sound option, in AAC format, whether you are paid user or free user. For most people listening with computer speakers or Apple's earbuds, this won't sound any worse than Spotify's higher bitrate tracks. it's nearly impossible to tell the difference unless you have good headphones or a proper audio setup. But in this case, sticklers will still want to subscribe to Spotify for its highest-quality option.
DRM Encryption
Another similarity between Apple Music and Spotify is that both services are protected with DRM (Digital Rights Management) technology. That's to say, the music tracks you downloaded from the music store and saved on your devices are prohibited from copying and offloading to other devices or platforms. Fortunately, there's always a way out. If you want to get DRM-free copies of the Apple Music songs, you can use some third-party DRM removal tools, such as ViWizard Apple Music Converter (or ViWizard Apple Music Converter for Mac) to completely bypass DRM lock from the offline M4P music files and convert the tracks to MP3 or other non-DRM audio formats. You are suggested to follow this tutorial to see how to delete DRM layer from Apple Music: How to Remove DRM Protection from Apple Music. And for Spotify subscribers, you can simply refer to ViWizard Music Converter for Spotify for Windows in order to crack the DRM and convert any Spotify stream to MP3, WAV or other common formats for offline listening. To see how it works, you can read on the tutorial here: How to Convert Spotify Music to MP3.
Social Features
Apple Music has Connect, which is supposed to interface musicians directly with their fans. Artists have the ability to share with their fans a host of exclusive insight and information. But in reality, that hasn't really happened. As you may find out that many artists' pages are ghost towns of aimless posts and aging music videos. However, Spotify approaches social differently. Its social functions allow subscribers to follow friends, see what they listen to, who they follow, and gives users the ability to share or recommend playlists. Spotify's social core is solid, but adding a stronger focus towards connecting people to their friends, and who they listen to, would go a long way in keeping people more engaged in the site.
Quick Overview of Differences between Apple Music and Spotify
Now you can take a quick review of the differences between Apple Music and Spotify from the following face to face comparison.
| | | |
| --- | --- | --- |
| | Apple Music | Spotify |
| Release | June 30, 2015, WWDC 2015 | October 2008, Stolkholm |
| Subscription Fee | $9.99 (individual account), $14.99 (family account) | $9.99 (individual account), $14.99 (family account) |
| Availability | 113 countries | 60 countries |
| Users | 15 million till June, 2016 | 100+ million till June, 2016 |
| Music Library | 30 million | 30 million |
| Sound Quality (Free) | 256 Kbps in AAC | 96 Kbps, 160 Kbps in OGG |
| Sound Quality (Paid) | 256 Kbps in AAC | 320 Kbps in OGG |
| Supported Platforms | iOS, Mac, Windows (via iTunes), Apple TV, Android | Windows, Mac, PlayStation 3 or later, Android, iOS, Windows Phone |
| Offline Listening | Yes, with paid subscription | Yes, with paid subscription |
Conclusion: Which Streaming Music should You Subscribe?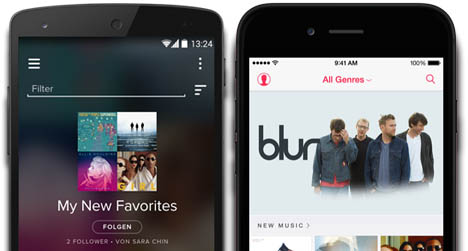 Both Apple Music and Spotify are among the best music streaming services available today, and are differentiated in increasingly narrow ways. The fact is, which service is best for you simply depends on your own needs, with Spotify and Apple Music each offering specific services the other does not. To sum up, if you prefer to on-demand music, and you're not so interested in radio, Spotify still reigns supreme. However, if you are looking forward to being served with a constant diet of new and interesting music, then Apple music beats Spotify hands-down.