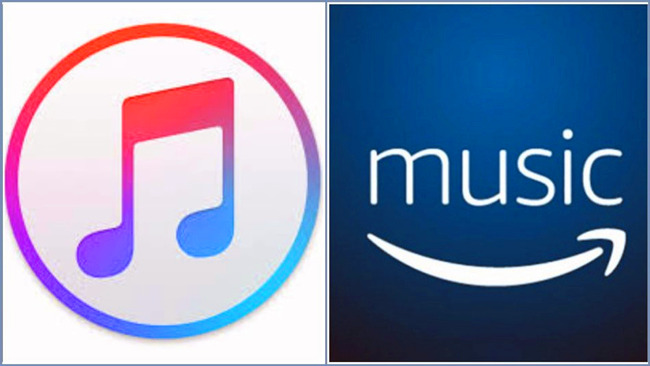 There's an endless argument on social media platforms over Apple Music vs. Amazon Music Unlimited. The argument is based on which music streaming app is superb in terms of sound quality, compatibility, and affordability. The confusion is brought about by the thin line separating the two. Ideally, each of them has its uniqueness. Let's find out which one is the biggest player in the music industry.
Music Library
Amazon Music Unlimited vs. Apple Music battle may take longer before getting to an end if users will continue to ignore some of the distinctive factors that separate the services. Both services have music libraries and offline listening plans that offer users access to a massive catalog of content after opening an account.
The two music streaming service providers give you at least 50 million songs, but Apple Music goes the extra mile to offer you exclusive content such as topnotch music videos and interviews. You can connect your Apple Music account and iCloud music library to store up to 100,000 downloaded songs in one place, accessible to any device. On the other hand, Amazon music unlimited also gives you a 100,000 song upper limit on your library downloads but is only accessible to a maximum of 10 devices.
Sound Quality
Apple Music is contemplated to be one of the greatest platforms for audiophiles. It streams 256kbps advanced audio coding (AAC) across the board. It offers a better sound quality when your device is connected to Wi-Fi than your own data transmission, thus saving your data. Depending on the quality of sound you want, you can change the setting in the Apple Music app, especially when you want to enjoy a high-quality sound every time.
On the contrary, Amazon Music Unlimited does not offer accurate values for the music quality instead provides a verbal description of the quality you can select.
Music Discovery
When creating your Apple Music account, you will be asked to choose some of your favorite artists so that this music app can discover a sense of your taste. Using this information, the service's algorithm will provide you with daily mixes, new album releases, and even playlists appealing to your preference. Additionally, Apple Music presents Beat 1 radio station through its radio tab option and customized playlists. Through the radio tab option, you can access the most popular radio shows and playlists from the past years.
This is where Apple Music beats Amazon Music Unlimited when it comes to Apple Music vs. Amazon Music Unlimited comparison because Amazon Music Unlimited does not give users room to create a station from a song, playlist, album, or artist.
Supported Devices
Apple Music vs. Amazon Unlimited battle can easily be solved in terms of supported devices, including mobile, desktop, and web apps.
Well, Apple Music uses a bright, white interface that is preinstalled on all the iPhones, iPads, and iPod touch, also available as a separate downloadable app on Androids. Apple Music app has well-arranged tabs that are easy to navigate placed at the bottom of your screen. The tabs help you get access to your music library, browse music catalog, and a 'for you' tab that gives you the opportunity to check out suggestions based upon your listening preference.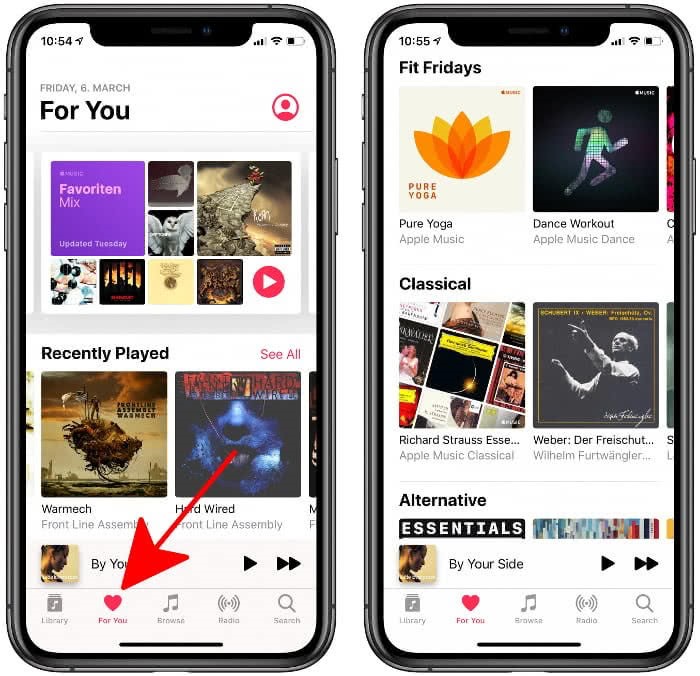 Amazon Music Unlimited, on the other hand, has a dark and sleek interface and menu placed on the bottom of your screen. Just like Apple Music, it is also available on Android devices and iOS. From left to right, you can access the 'browse' section with category of new album releases, popular playlists, tracks, and artists suggested. At the same time, the 'recent' button gives you songs you have recently accessed. Other tabs display categories of playlists, albums, artists, songs, and genres.
These competing services are both supported by Windows, Mac, iOS, and Android devices.
Subscription and Plan
For an individual package subscription, Apple Music charges $9.99 per month in the US with small price variations in other countries and territories. The membership means you will enjoy unlimited ad-free music, get access to a massive library of 45 million songs, be able to download 100,000 songs, and listen to Beat 1 radio station. For the family package, you will pay $14.99; the package allows linking up of up to six accounts.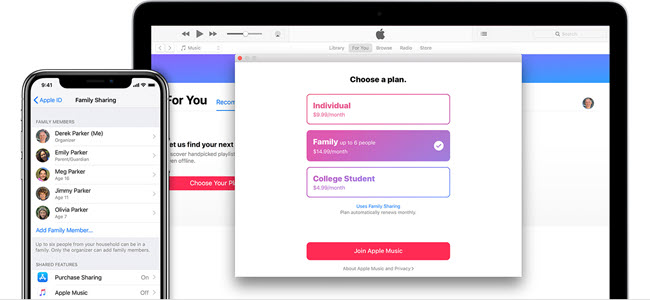 Well, for Amazon Music Unlimited, the price you pay for an individual package subscription depends. If you are a member of Amazon Prime, the streaming music service costs an extra $7.99 per month or $79 per annum. For Prime Members who own Amazon Echo, the cost is $3.99, and the package is limited to one device. For the rest, it is $9.99 per month, similar to what Apple Music charges. If you subscribe to $9.99 a month, you will automatically enjoy ad-free access to Amazon 50-million music catalog with offline listening plus unlimited skips.
When it comes to the student subscription plan, Apple Music vs. Amazon Unlimited charges the same price. The two music streaming services charge $4.99 per month; both will ask you to register with your educational institution credentials. They also provide a family plan at the cost of $14.99 monthly, a package that allows a maximum of six people to use the services using an individual account for each family member.
Apple Music vs. Amazon Music Unlimited memberships automatically renew every month; however, you are allowed to cancel the renewal at any time; the cancellation will not affect your current subscription billing cycle.
Summing up & Extra Tip
It is easier to spot the winner in Apple Music vs. Amazon Music Unlimited battle from the above comparisons. Apple Music seems to be outshining its rival in terms of interface and apps. Not to mention better music quality at affordable cost. But for larger music collection Amazon Prime and Amazon Music Unlimited is recommended for you.
Nonetheless, if you want to convert Apple Music for offline listening on any device you want, ViWizard Audio Converter could prove to be handy for transferring your songs and playlists. It's able to help you enjoy all sorts of songs, playlists, albums, artists from Apple Music or iTunes store by converting them to MP3, WAV, FLAC, etc. quickly. Besides, you can also use it to convert iTunes audiobooks and Audible books to multiple formats for playing at any time anywhere. If you like it, you can get the free download to have a try.
More Apple Music tips & tricks