There are more and more participants in the streaming music service market. Apple Music and Pandora are among them. Apple Music vs Pandora: Which one do you prefer?
Apple Music allows you to listen to tens of millions of great songs. It has many wonderful features, including downloading songs and playing them offline, displaying lyrics in real time, listening across devices, recommending new songs according to your preferences, and Selected playlists from editors, etc.
Pandora is one of the selected apps of the Apple Store, music, and multimedia software. It is committed to providing users with free music and broadcasting and has a certain user base in North America.
This article will cover a comparison between Pandora vs Apple Music.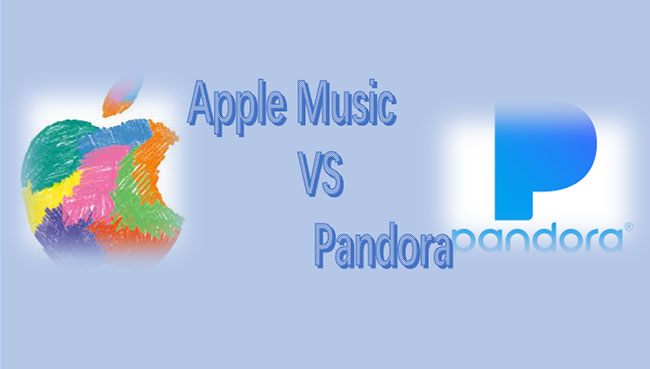 Part 1. Apple Music VS Pandora - Music Collection
The method to get music on Pandora Music vs Apple Music is both easy. It is to click on the search box and you will see the latitude database divided by singer, song, author, and style.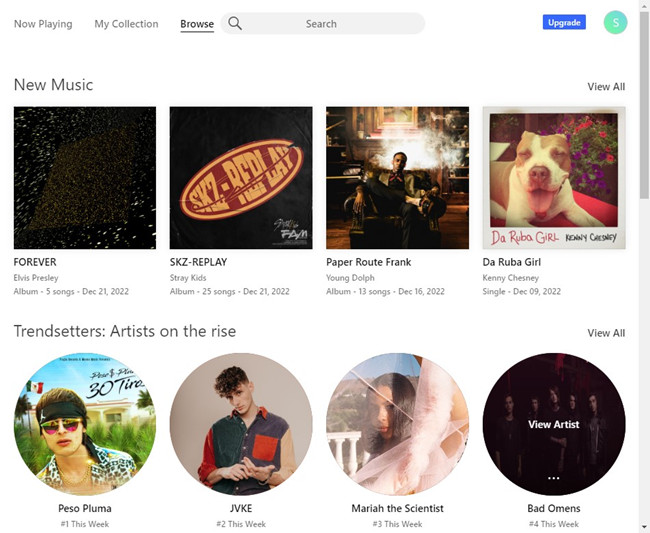 When entering the main interface of Apple Music, you will see a brief interface with detailed classification and clear content. "Listen Now" is the easiest way to find out and play what you love. "Search" provides the various genres of music including pop, country, oldies, reggae, etc. for you. You can add your favorite music to the library and create your playlist.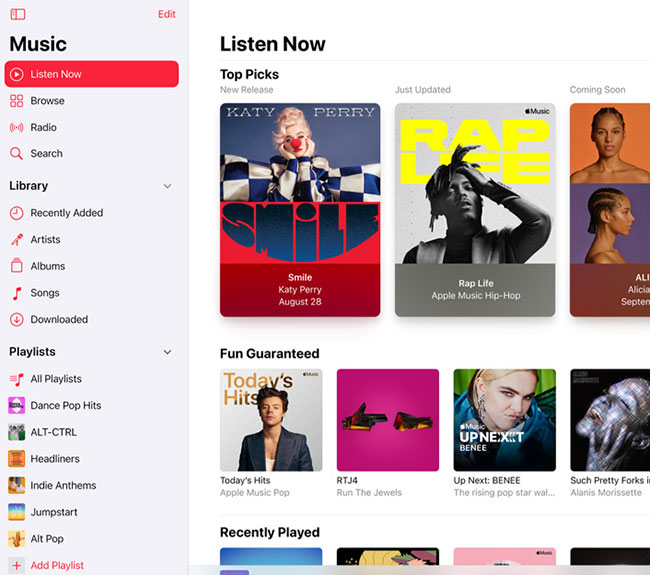 Apple Music has a key advantage over Pandora in that you can combine your music collections and the exclusives from the Apple Music streaming catalog. If you want to upload the music you already owned to Pandora Music, you'll find this is not currently a feature. See how to add your own music to Apple Music >>
Pandora and Apple Music also have radio stations based around your favorite artists, tracks or genres. Pandora is a free service that lets you create custom internet radio stations personalized just for you. With Pandora's personalized algorithms manually, thing like Station can be customized to your liking based on artists and songs as well as the mode while Apple Music won't ask, even the options are perfect. This means you can decide more with the created radio station to play only the music you love.
However, Apple Music lets subscribers tune in to 3 live radio stations - Apple Music 1, Apple Music Hits and Apple Music Country. Apple Music also has a separate station called Beasts 1 Radio, which is curated and hosted by actual DJs, so you can listen to these shows live and on-demand. Even you don't have an Apple Music subscription, you can listen to Apple Music Hits and Apple Music Country for a limited time.
Part 2. Apple Music VS Pandora - Music Recommendation
These music apps all hope to recommend songs to users. The first step is to understand the user. Likes and dislikes are the simplest criteria.
In the Music app, you can use Listen Now to discover and play your favorite albums, playlists, interviews, and personal mixes. All these are based on your music tastes. If you wish to interact will the app to tell Apple Music what you love, you just need to go to the selected album, playlist or song, then choose Love or Suggest Less Like This and Apple Music will take care of the rest. However, it's a little difficult to assess your loved songs on Apple Music. See how to find your loved songs on Apple Music >>
Pandora let you decide what you want to discover. Pandora offers personalized recommendations with the For You and Browse, "My Thumbs Up" Playlist, Pandora Modes and Thumbprint Radio features. If you are looking for something new, try the For You tab on mobile and you'll find all of Pandora's curated stations along with other music that you'll love. When it comes to "My Thumbs Up" Playlist and Thumbprint Radio features, Pandora uses a thumbs up and down to directly express like or dislike. Just search for Thumbprint Radio, you can listen to your Thumbed-Up songs from all your stations, as well as other songs related to those Thumbs.
Part 3. Pandora Music VS Apple Music - Music Quality
The truth is, when it comes to the music quality of these 2 music services, Apple Music offers a better option.
Apple Music streams 256Kbps AAC files and now has lossless and spatial audio on select songs. You can go to the Settings of the app and opt-in the Audio Quality settings under Music section. Apple Music has an advantage that both free users and subscribers can hear high-quality lossless music.
Pandora Premium subscribers have 3 different audio quality options: Low (32Kbps at AAC version), Standard (64Kbps at AAC version) and High (192Kbps at MP3 version).
Part 4. Apple Music VS Pandora - Subscription Plan
There are two modes of online music player, one is charging, the other is free adding advertisement.
Apple Music and Apple Music offer its subscription plans at different price. However, from this November in 2022, Apple Music has raised its subscription fee. Please consider to make the full use of Apple Music special offers. See how to get Apple Music free or cheaper on multiple devices >>
Apple Music offers 1 month of its subscription plan to new users for free, while Pandora provides 1-month free trial of Pandora Plus and 2 months free trial of Pandora Premium on its upgrade page. You can also have the benefits to Pandora's free, ad-support tier.
The monthly subscription of Pandora Plus is $4.99 and Premium plan is $9.99. Its free version is mainly advertising. Pandora has a lot of advertisements, including image ads and video ads (ranging from 16-27 seconds).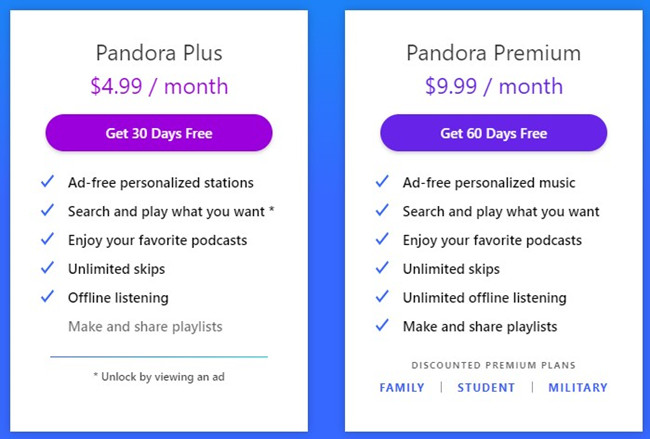 Pandora Plus: $4.99/month
Pandora Premium: $9.99/month
Pandora Family Plan: $14.99/month
Pandora Student Plan: $4.99/month
Pandora Premium Military: $7.99/month
The cost of Apple Music vs Pandora is a little different. Apple Music contains 3 kings of plans which are individual plan ($10.99 monthly), family plan ($16.99 monthly for 6 persons), and student plan ($4.99 monthly). The model of Apple Music is very clear. It's to guide users to Apple Music for paid downloads.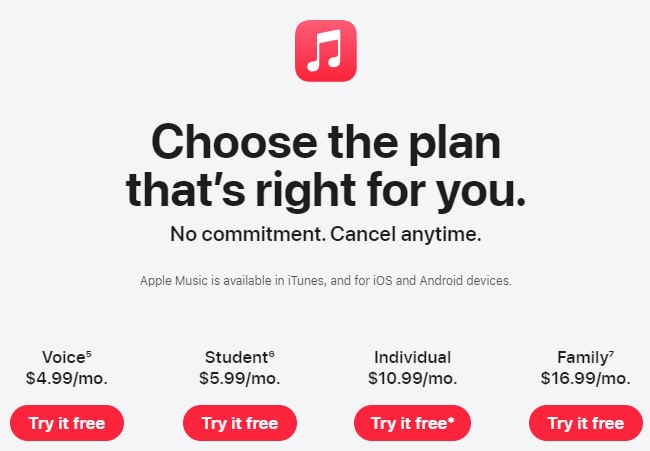 Apple Music Voice: $4.99/month
Apple Music Individual Plan: $10.99/month
Apple Music Family Plan: $16.99/month
Apple Music Student Plan: $4.99/month
Apple Music for Free or Apple Music with Discounted Offers
You can also get Apple Music for free with the time-limited trials from 1 month, 3 month, 4 months and 6 months. You can also subscribe to an Apple Music subscription at a discounted account with some exclusives like Apple One or Apple Music Gift Card, which is sold at apple.com, BESTBUY, or Apple headphones.
Part 5. Apple Music VS Pandora - Comparison Table
| | | |
| --- | --- | --- |
| | Pandora | Apple Music |
| Free Plan | Ads imported, no offline playback | Ads imported, no offline playback |
| Monthly Plan | Pandora Premium $9.99, Pandora Plus $4.99 | $10.99 |
| Family Plan | $14.99 for 6 family members per month | $16.99 for 6 family members per month |
| Student Plan | $4.99 every month | $4.99 every month |
| Free Trial | 60 days for Pandora Premium; 30 days for Pandora Plus | 30 days |
| Music Library | Over 40 million music tracks | Over 75 million music tracks |
| Music Quality | 64kbps for free users, 192kbps for Pandora Plus and Premium users | 256 kbps in AAC |
| Available Countries | US, Australia, New Zealand | Over 100 countries |
Pandora's image ads make the user experience worse, because they will obscure a large part of the interface. If you want to click to know more about the song information, you may accidentally click on the ad. Besides, the available countries of Pandora are less while Apple Music is available over in 100 countries. The cost of Apple Music vs Pandora hasn't many differences.
Conclusion
Both of the two software provides users with a variety of music, but the songs downloaded from them are protected to prevent playing on MP3 players, Samsung TV, Soundbar, Android, etc. If you want to play Apple Music on your portable devices without limitations, ViWizard Apple Music Converter may your good assistant. This Music converter can is good for you to convert protected Apple Music to MP3 for playback offline forever.

ViWizard Apple Music Converter Key Features:
Download and convert Apple Music to popular output formats including MP3, M4A, AAC, FLAC, WAV, M4B.
Convert Apple Music files at a 30x speed and output the converted music files with high quality at the same time.
Edit the ID3 information like the name of artists, albums, genres, titles, covers, and so on.
Support to stream converted music files offline forever and provide free lifetime upgrade and instant customer service.