Music streaming services are now very popular. The increased penetration of smartphones has made it possible for people the world over to stream music rather than buy a physical CD. Today, for a small monthly fee you can listen to thousands of songs nonstop all from your favorite artists on your favorite music-streaming platform. One great advantage of music streaming as that you do not have to buy the whole album for you to enjoy the one song that you love in the album. You only stream or download your favorite songs and leave the rest.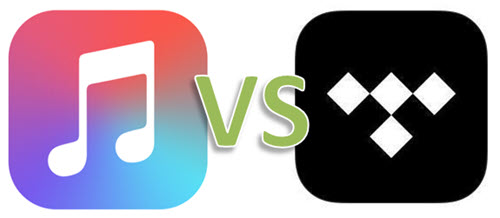 As music streaming have become central to how we listen to music, there have emerged numerous music streaming services competing to offer you their services. To get the best experience, it is always important to choose the best service provider. Apple Music and Tidal are some of the top music streaming services in the world today. But, which is the best music streaming service, Tidal or Apple Music? To help here is a detailed side-by-side comparison of Tidal vs. Apple Music.
Sound Quality
Sound quality is important in determining how good a music-streaming platform really is. Apple Music streams music at 256kbps across the board. Tidal on the other hand streams music at 320kbps for premium subscribers while the Tidal HiFi music subscribers get the CD quality streaming at 1411Kbps. This is the highest music-streaming rate in the industry. In this regard, Tidal offers better quality at a price as its HiFi subscriptions are way higher than Apple Music premium.
Price Comparison
Both Tidal and Apple Music offer their Premium subscription plans at $9.99 a month for an individual subscriber and a $4.99 a month subscription for students. In addition, Apple Music has a family plan for $14.95 a month for a family of up to six members. Tidal on its part has a HiFi plan for $19.99 a month. This is a high quality lossless audio service for anyone interested in CD quality music. For premium subscription, the two services are at par but if you want higher quality music then you may be forced to pay more for the Tidal's HiFi subscription. For a large family of up to six people then Apple Music family plan is the best for you.
Music Library
If you want, a large pool of different songs to listen to the Apple Music is he winner for you. Apple Music has over 45 million tracks in its library. Tidal on the other hand has slightly over 40 million tracks in its library that you can listen to. While there seems to be a big gap between these two music-streaming services in terms of the number of songs they have it is important to note that it is impossible to listen to all those songs in a month leave a lone a year. Therefore, it may not make a huge difference for people who listen to music once in a while.
Music Discovery
The Apple Music offers you a number of ways to easily discover new songs. First, there is the Beats 1 radio, which prides of a number of great DJs and music industry veterans that brings you a great mix of music test to let you sample some of the great songs you have not heard. Next you have the "For you" feature which tracks your listening habits and recommend specific songs based on these information. This feature analyze things such as the songs you love listening to, tracks in your music library and your music search history and find songs that you might love based on this information. It also has a section to let you know of any new song just released for the market. The "New Music Mix" feature gives you a personalized playlist made up of 25 new songs that the system thinks you will love. A new personalized playlist is released every Friday. There is also the connect section where artists can connect with fans and give them a preview of what they are working on, upcoming tracks and albums and even their latest music videos.
Tidal on the other hand has the "curetted Playlists" feature where the staffs pick songs based on a given theme. There are also the top 20 charts where staffs rate the best music for the week.
Content Exclusives
Both Tidal and Apple Music have embraced the idea of exclusive releases for albums on both their sites. Apple has been able get exclusive albums from big names such as Britney Spears, Drake, Future, Ministry of Sound, Frank Ocean, and Taylor Swift among others. Apple Music also has a huge collection of exclusive videos just for its subscribers. Tidal on the other hand has exclusive content from the likes of Jay Z, Kanye West, Beyonze, Rihanna, and Prince among others. Tidal also has a huge collection of video content such as concert videos not found on the other music streaming services. In terms of exclusive content, Apple Music vs. Tidal comparison is a tie. However, Apple Music has cleverly integrated its platform with the iTunes giving users the best experience when it comes to accessing music videos.
Built-in Devices
Often people who stream music are sometimes forced to use third party players and other accessories because their music streaming is not available on many devices. This is why you should go for a service with many build-in devices. Apple Music is available on HomePod, iPod, Apple TV, iPad and iPhone among many other devices. Tidal on other hand is only available on Chromecast, Sonos, Android TV, and Squeeze Box.
Playing Apple Music/Tidal on More Devices
If you however want to listen to Apple Music or Tidal on more popular devices or MP3 players, you'll need the help of some 3rd-party streaming music tools, such as ViWizard Apple Music Converter to download and convert the Apple Music songs from protected M4P format to MP3 or other common formats. For Tidal users, TunesKit Audio Capture will help you to record the music tracks from Tidal without losing any quality.
Conclusion: Which One is Better
This side by side comparison between Apple Music and Tidal has brought out the small differences between these two leading music-streaming services. The choice of either should therefore be based on your personal preference because these two services are very close together. For example if you want the highest CD quality music then Tidal is your best bet, but if you want more songs in the catalog, family friendly plan and more built-in devices then Apple Music is your best bet.