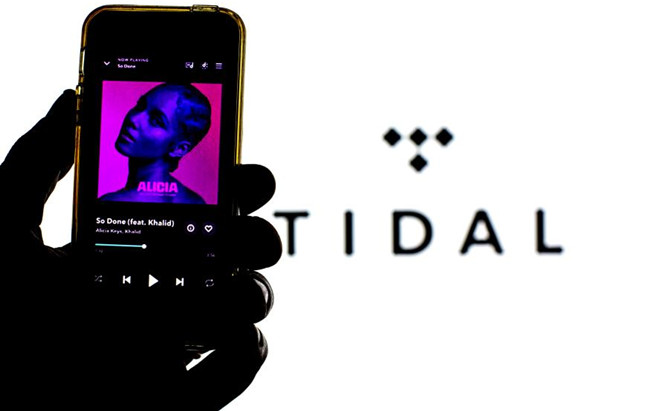 Master Quality Audio is the highest quality audio format available on the Tidal platform. It is a high-resolution audio format that delivers studio-quality sound with more detail, depth, and clarity than other audio formats, ensuring the original recordings can be delivered to Tidal memberships directly from the master sources. With TIDAL Masters, you can stream millions of master-quality tracks, including albums and playlists across a wide range of genres.
If you want to try the Master Quality on Tidal, you have to make use of the TIDAL Masters audio feature with your Tidal HiFi membership and change the audio quality to Master. In this post, we introduce how you can try the Tidal Master Quality by adjusting the sound quality in the Tidal app. Currently Tidal offers a 30 days free trail, you can sign up and try it in Tidal HiFi.
Part 1.

How Can You Get Tidal Master Quality Audio?

To get master quality audio on Tidal, listeners should make sure they have a subscription to Tidal HiFi, which offers the highest quality audio available on the platform. Once you've signed up for Tidal HiFi, you can pick a compatible device to try Tidal Master Quality. If you're a HiFi member, you'll need to upgrade to a Tidal HiFi Plus membership to enjoy the Tidal Master audio feature.

Meanwhile, you should make sure you have a device that supports master quality audio playback, such as a digital audio player or a smartphone with a high-quality DAC (digital-to-analog converter) to handle high-resolution audio files. Then with your Tidal HiFi subscription you're officially ready to go.
Part 2.

How to Get Tidal Master Quality on Desktop/Mobile

To get Tidal Master quality on your PC or Mac, you should enable the master quality audio settings in the Tidal application. If you haven't, please download and install the right app version to your compatible devices. Then, you can try to enable the Master Quality Audio setting for the tracks you've got.
Enable the Master Quality Audio setting on desktop:
On your PC or Mac, launch the Tidal desktop to logged in with Tidal HiFi Plus account.
Click the horizontal 3 dots > Settings > Streaming.
Scroll down to Streaming audio quality, and select Master.
Go to the Master track or any track you want to check if it's supported by Master Quality Audio. You can also click the Now Playing bar at the bottom of your screen, and click the current Streaming Quality and select the Master option.

Once the Master Quality Audio is enabled, it will take effect from the next playback.
If the track you play is not the Master one, the audio quality will be automatically switched to HiFi, which is currently the highest audio quality for the track.
Enable the Master Quality Audio setting on mobile: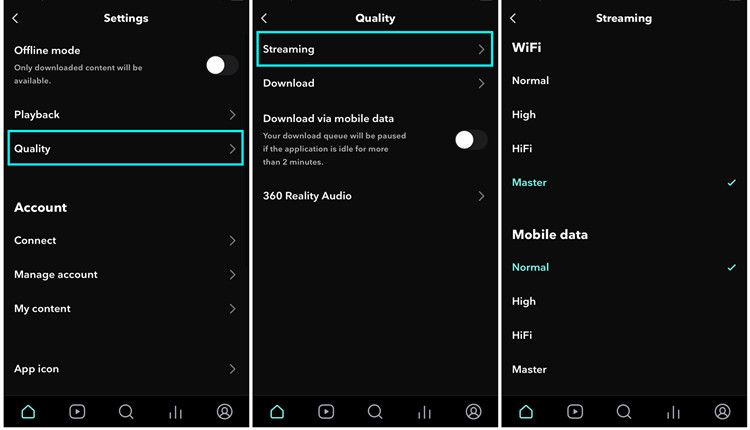 On your Android, iOS, iPadOS device, open the Tidal application.
Tap on My Collection.
Tap on Settings (the gear icon) in the upper right corner.
Scroll down and select "Quality".
Select "Streaming".
Select "Master" for WiFi, Mobile data connection or both. This change with the quality will take effect from the next track playback.
Go to the Master track or any track you want to stream in Master Quality audio. You can also click the Now Playing bar at the bottom of your screen, and select the current sound quality to change it to Master.
If the track is streamed in HiFi instead when "Master" is enabled, the track is not supported by Master Quality audio.
Part 3.

How to Find Tidal Master Tracks on Desktop/Mobile

As stated, Tidal HiFi Plus members can access millions of tracks featuring Masters through the TIDAL desktop app. Once you find these Master tracks, you can stream them in Master Quality easily.
Search for Master Tracks on desktop:
On your PC or Mac, open the Tidal desktop app.
Click on the home button to the left-hand side.
Scroll down until you see "Master Quality Authenticated Albums" and "Master Quality Authenticated Playlists".

Or you can click on explore button to the left-hand side and get TIDAL Masters to explore for the Master-only features.
Search for Master Tracks on mobile: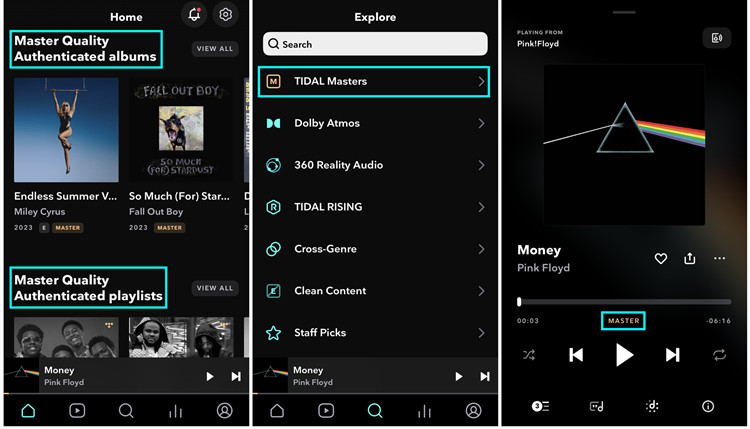 In the home page of the Tidal application, scroll down to "Master Quality Authenticated Albums" and "Master Quality Authenticated Playlists". Pick the Master track you want.
Alternatively, you can select the Explore and scroll down to TIDAL Masters and get the tracks that are supported by MQA.
Part 4.

How to Download Tidal Music in Master Quality Audio

While the MQA tracks are readily available for online streaming and offline listening with a Tidal HiFi Plus subscription, there's a caveat to consider: the inaccessibility of the MQA tracks on mobile devices as they are encrypted in digital rights management. Meaning that you cannot transfer them to other devices for sharing.

If you want to listen to these MQA-quality Tidal tracks on multiple devices, you can consider using ViWizard Tidal Music Converter. To save time and efforts, ViWizard Tidal Music Converter emerges as an even more optimal solution, especially for those are using computers. This tool offers a convenient way to convert and download MQA tracks off Tidal for personal use, while preserving the 100% lossless audio quality. With just a few clicks, you can save them in universal formats like MP3, M4A, M4B, WAV, AAC, or FLAC, and transfer them using your preferred method, such as syncing with your smartphone or tablet.

Key Features of ViWizard Tidal Music Converter
Free Trial
Free Trial
* Security verified. 5, 481,347 people have downloaded it.
Download any Tidal content, including songs, albums, playlists, and artists
Support exporting Tidal music to MP3, AAC, FLAC, WAV, M4A, and M4B
Preserve a whole set of ID3 tag information in the downloaded Tidal songs
Handle the conversion of Tidal music up to 5× faster speed and in batch
Step 1

Add MQA tracks

Start by downloading and installing the ViWizard Tidal Music Converter on your computer. After installation, launch ViWizard, and the Tidal desktop app will be automatically launched. To access your Tidal music library, you'll need to log in to your Tidal account within the Tidal desktop app. Browse or search for the MQA tracks you want to download and drag and drop them to ViWizard's main interface.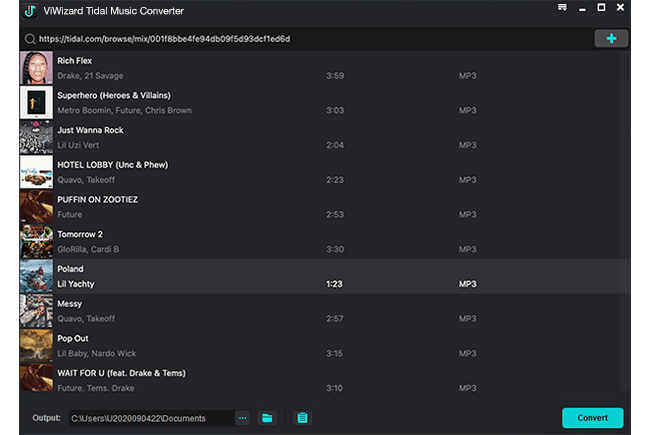 Step 2

Adjust output format

Once you've added the desired MQA tracks to the conversion list, configure some settings. Click on the menu icon in the upper-right corner > Preferences > Convert > Format, and set the desired format from the dropdown menu. Click on the OK button to save.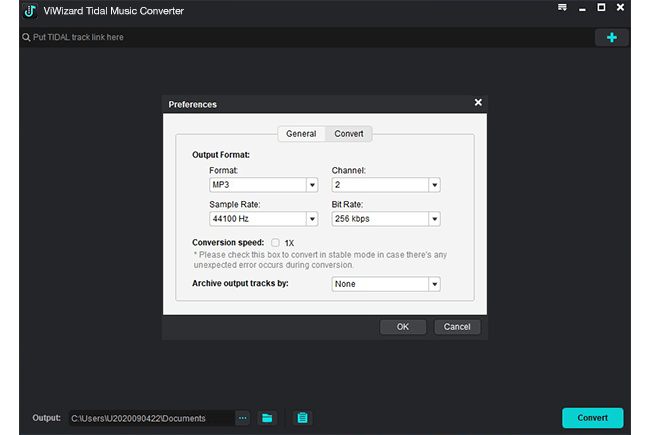 Step 3

Download MQA tracks

You can then initiate the conversion process by clicking on the Convert button. ViWizard will start downloading the MQA tracks from Tidal, converting them to the specified format and quality (MQA), and saving them to your designated output directory on your computer.