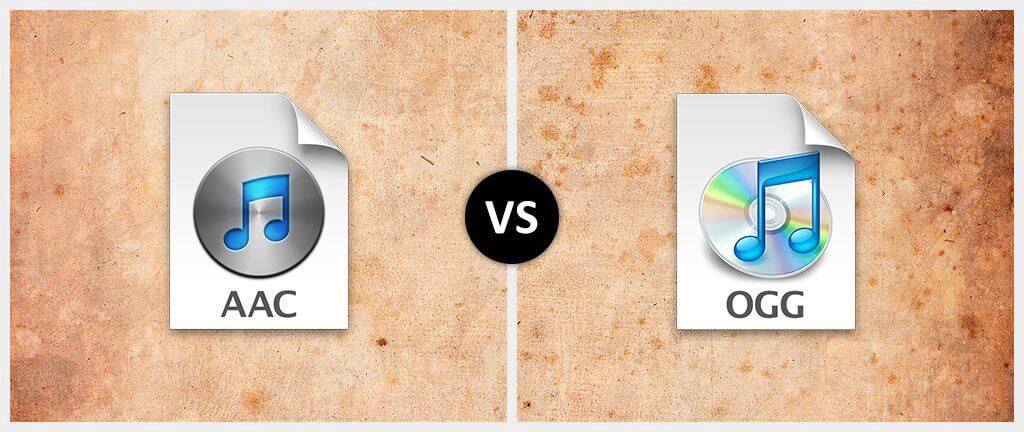 With unceasing revolutions in the music industry, music streaming services, as well, are taking advantages of the trend to optimize their online streaming strategies for bigger markets. Apple Music and Spotify are the two of them.
For better music streaming quality, Apple Music applies AAC format as the successor of MP3 in its service, while Spotify uses an open-source format - Ogg Vorbis - for streaming. This might have been a cliché, but today we're going to do a comparison of AAC vs Ogg Vorbis in order to help you choose the one that suits you better.
Part 1.

What Are AAC & Ogg?
What Is AAC?
AAC is the abbreviation of Advanced Audio Coding, which is an audio coding standard designed to replace MP3. It's lossy and compressed, but it's been proven to sound better than MP3 at the same bit rate. AAC is the default audio format for iTunes and Apple Music. Its file extension is .m4a.
What Is Ogg?
Ogg is a free open-source lossy format. It's unrestricted by patents and created to provide high quality and efficient streaming. The .ogg is used as the filename extension for Ogg Vorbis and this format is used in Spotify music streaming.
Part 2.

What Are the Differences between AAC & Ogg?

AAC and Ogg are two different audio formats that have their own strengths and weakness. Here's a comparison between the two formats, considering, efficiency, compatibility, sound quality, file size, and more.
1. AAC vs Ogg: Comprehension
AAC is primarily a lossy audio format, which means it achieves compression by discarding some audio data. Ogg Vorbis can also be used as a lossy format, but it also supports lossless encoding through the FLAC (Free Lossless Audio Codec) extension. This makes Ogg Vorbis a more versatile format when it comes to preserving audio quality.
2. AAC vs Ogg: Compression Efficiency
AAC is known for its high compression efficiency, which means it can deliver good sound quality at lower bitrates. Ogg Vorbis, on the other hand, also offers good comparison but generally requires slightly higher bitrates to achieve similar sound quality as AAC.
3. AAC vs Ogg: Compatibility
AAC is a widely supported audio format across various devices and platforms. It is the default audio format for Apple's iTunes and iOS devices (iTunes only sells 256kbps AAC format). AAC is also the standard format for online streaming service such as Apple Music, Spotify, and YouTube Music. If you are wrapped up in the Apple world, AAC is much better than Ogg Vorbis. Many portable media players, such as iPods and MP3 players, support AAC playback.
Ogg Vorbis, on the other hand, has relatively lower compatibility. Spotify uses Ogg as its default audio format for streaming. While many media players and devices support Ogg Vorbis, it may not be as universally compatible as AAC. However, The Ogg format is widely supports on Linux-operating systems, and most media players have native support for it, such as VLC Media Player, Foobar 200, and Winamp. If you prefer using web browsers and some game consoles to listen to music, you can take advantage of the Ogg format.
4. ACC vs Ogg: Sound Quality
Both AAC and Ogg Vorbis can provide high-quality audio, especially at higher bitrates. However, ACC is often considered to have a slight edge in sound quality, particularly at lower bitrates. This advantage becomes more noticeable when comparing low-bitrate AAC with low-bitrate Ogg Vorbis.
| | |
| --- | --- |
| Bit Rate | Results |
| 64k | AAC > OGG |
| 96k | AAC > OGG |
| 128k | OGG > AAC |
| 192k | OGG > AAC |
| 224k | OGG > AAC |
| 256k | OGG > AAC |
| 320k | OGG = AAC |
| >320k | Both OGG and AAC are almost lossless |
If you are involved in streaming audio content, especially over limited bandwidth connections, AAC's high compression efficiency can be beneficial. It allows you to deliver good sound quality at lower bitrates (64kbpts-96kbps). If you have specific requirements for open-source formats, Ogg can be a suitable choice and it offers good sound quality at higher bitrates (128kbps-256kbps), making it suitable for scenarios where file size is less of a concern. You can select one based on your personal demand.
5. AAC vs Ogg: File Size
Due to its higher compression efficiency, AAC files tend to be smaller in sized compared to Ogg Vorbis files at similar bitrates. This can be advantageous for storage limitations or when streaming audio over limited bandwidth connections.
If you have more flexibility with file sizes, Ogg Vorbis can be a better option, as it offers good compression and audio quality, although it may result in slightly larger file sizes compared to AAC at similar bitrates. Ultimately, the decision depends on the balance you want to strike between file size and audio quality. If you are willing to sacrifice a bit of audio quality for smaller file sizes, AAC can be a preferred choice.
6. AAC vs Ogg: Licensing Issues
AAC is a proprietary audio format developed by Fraunhofer IIS, Dolby, and other organizations. Although AAC is widely used, there may be licensing and royalty fees associated with its use in some cases. However, if you purchase 256kbps AAC from the iTunes Store on authorized devices, you are not directly responsible for paying any licensing fee.
However, if you prioritize open-source formats, Ogg Vorbis is an open-source and royalty-free format. This means it can be more accessible for developers and users.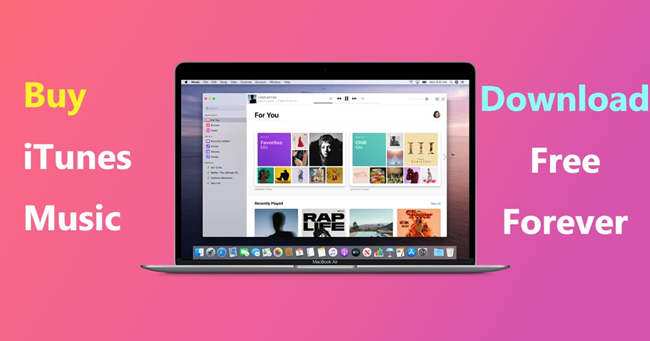 How to Buy Music on iTunes & Download Music from iTunes
Can you still buy music on iTunes? Yes, you can purchase music from iTunes even without subscription to Apple Music. However, you still can't play music you've paid for without Apple services, but here's a solution to download and play iTunes music everywhere without restriction.
Part 3.

AAC vs Ogg: Comparison Table

To determine which audio format is better, you can compare them at different aspects. From the above table, you can clearly figure out the differences between AAC and Ogg Vorbis. You can select one according to your personal demand.
| | | |
| --- | --- | --- |
| | AAC | OGG Vorbis |
| Compatibility | Compatible with many players and platforms | Compatible with fewer media players and platforms |
| Comprehension | Lossy | Lossy |
| File Size | 3 to 5 times smaller | 3 to 5 times smaller |
| Sound Quality | Good | Good |
| Highest Bitrate | 256 Kbps | 320 Kbps |
| File Extension | .aac | .ogg, .ogv, .oga, .ogx, .ogm, .spx, .opus |
Part 4.

How to Download AAC & Ogg from Streaming Music Services?

Apple Music streams its songs in the AAC format at highest bit rate of 256kbps, which Spotify does it at the highest bit rate of 320kbps. During our tests with songs ranging from classical, jazz, rock, R & B, to electronic music, there's a slightly perceivable cleanliness you can feel from each song played on Spotify. Since Spotify normalizes the volume, you can notice that there would be more detailed from Apple Music simply because it's louder.

When it comes to downloading music from their apps, the files you download are protected by digital rights management (DRM) to prevent unauthorized copying. These files can only be played on authorized devices and software. However, you can use the conversion tool to convert and download music from your selected music service into transferrable and playable music files.
We'd like to provide the best music solutions for both Spotify and Apple Music users. You can extract music files directly from the music service by using our ViWizard Spotify Music Converter or ViWizard Apple Music Converter. Then you can play music files in MP3, M4A, M4B, WAV, AAC, and FLAC on even the most media player, and enjoy your offline listening!

Key Features of ViWizard Audio Converter
Free Trial
Free Trial
* Security verified. 5, 481,347 people have downloaded it.
Convert songs, albums, and playlists from Apple Music to MP3
Remove DRM protection from Apple Music, iTunes, and Audible
Save the converted audios with the original quality and ID3 tags
Support the conversion of up to 100 audio formats to others
Final Thoughts
As an ordinary user, you may not be able to figure out how AAC and Ogg work. But when it comes to which one is better for listening to, that depends on your listening habits and how much you can discover the texture of timbre from different audio formats. So, the advice would always be, feel it by yourself.