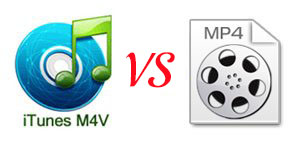 Q: Can you tell me what's the difference between a .M4V file and a .MP4 file? I'm confused about these two formats. Thanks in advance! – Jimmy from Quora
Many users may don't know the similarities and differences between M4V and MP4. If you're one of them, don't worry. This article is going to explain the definitions of M4V and MP4 as well as the exact differences between the two.
Part 1. What Is M4V/MP4?
What Is M4V?
According to the definition from Wikipedia, M4V is a video container format, which is developed by Apple Inc. M4V file format is used to encode video files in iTunes Store, and thus protected by Apple's FairPlay copy technology. It allows users to play iTunes movies, TV shows and music videos, etc. on Apple device only, such as iTunes, iPhone, iPad, etc., in order to prevent piracy and copy. This, on the other hand, restricts users from watching iTunes videos on other devices like Andorid phones, Windows phones, etc., even if they purchased or rented them.
What Is MP4?
Short for MPEG-4 Part 14, MP4 is considered as the most commonly used multimedia container format. Developed by Moving Picture Experts Group (MPEG), it can be used to store not only video and audio, but also images, subtitles and other data. Thanks to its good compatibility and compression, MP4 allows streaming over the Internet and playing on almost all media players and devices.
Part 2. M4V vs MP4: What Are Differences?
Generally, M4V format is to some extent very similar to MP4 format. The primary difference is that the M4V video files may optionally be encrypted by digital right management (DRM) technology and thus protect them from being coped. Next we will explore more about the differences between M4V and MP4 formats.
Encoding Method
From the viewpoint of encoding method, M4V and MP4 have different encoding media codecs. M4V video container can hold only H.264 codec while MP4 container can use MPEG-4, H.264, H. 265 and other video codecs. As for audio codec, both M4V and MP4 can hold MP3, AAC or AC3 audio codecs. The quality for both files is almost the same but the size will be a little larger if it's encoded with H.264 codec.
Compatibility
Due to its DRM protection, M4V videos can only be played on the computer via iTunes as well as other Apple-devices like iPhone, iPad, iPod touch or Apple TV. However, MP4 is much more compatible and can be used on almost all various devices and media players such as Android phones and tablets, Windows phones, smart TVs, etc.
Popularity
Since it has great compatibility and low-bandwidth requirement, MP4 format is much more popular and widely used by users all over the world. Users are easily to upload or download through the Internet, copy, transfer and play on different players and portable devices. However, as Apple products have been used by more and more people, M4v format has becoming popular nowadays. Besides, this format is copy-protected, and many Apple fans are more likely to keep in M4V format.
Part 3. M4V vs MP4 Comparsion in Table
Now we will list out the differences between M4V and MP4 as well as their own advantages and disadvantages in a table as follows, and you can then understand them better in a clear way.
| | | |
| --- | --- | --- |
| | M4V | MP4 |
| Developer | Apple Inc. | Moving Picture Expert Group (MPEG) |
| File extension | .m4v | .mp4 |
| Video Coding Formats | H.264 | MPEG-4, H.264, H.265 and others |
| Audio Coding Formats | MP3, AAC, AC-3 and others | MP3, AAC, AC-3 and others |
| Supported Devices & Players | Apple devices and players only | Most common devices and media players |
| Copy Protection | Optionally be protected by DRM | No copy protection |
| Pros | Special copyright protection makes it impossible for users to use media contents on iTunes store without paying. | Can be used by almost all media players and devices due to its great compatibility; and users can easily upload, copy and move the files. |
| Cons | Limited compatiblility for devices and players, even if users pay for them; and only paid users can copy and move the files. | Can only support up to 1440*1080 resolution. |
Part 4. Conclusion & Bonus Tip
After reading the thorough M4V vs MP4 comparsion above, you may find that there is in fact no essential difference between M4V and M4V. If the copyright protection of the M4V video files is removed, then M4V format will be the same with M4V format. In addition, it will give more freedom for iTunes paid users to make the best of their video files. So, is that possible to get rid of the restriction of M4V files?
The answer to this question is definitely yes, what you need is a useful M4V to MP4 converter such as ViWizard M4V Converter. This software can help you easily download videos from iTunes and then convert them to MP4 and other common formats without quality loss, so that users can play iTunes movies on any device or player at any time anywhere. Moreover, it supports batch conversion, which means that you can easily get multiple iTunes videos in a couple of clicks. ViWizard M4V Converter is available for both Mac and Windows system, you can now download the right version for free and have a shot.
See Simple Guide: How to Convert M4V to MP4 with ViWizard

Nick Orin is a review writer, software geek and Mac OS enthusiast. He spends all his free time in searching useful software and gadgets to share with others.