Although we listen to music, podcasts, audiobooks frequently, most of us are unfamiliar with the format of these audios. MP3 and M4A are two kinds of formats which are used universal in our daily life. Usually, we need to choose one format for your music, audiobooks, or others. But, do you know what are MP3 and M4A? Are you unable to tell the differences between M4A and MP3? Do you want to know which one is better? Well, you are not the only one!
Since we aim to make your digital life easier, we took it upon ourselves to familiarize you with the differences between these two formats. What is even more useful is that this post further shows you how you can convert M4A to MP3. Before all this, let us first take the time to independently understand what an M4A format is and what an MP3 format is.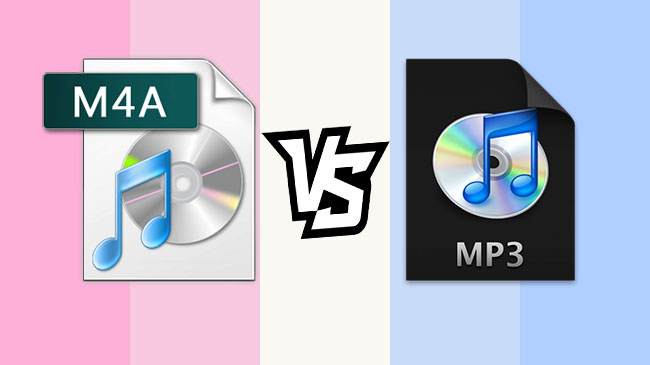 What Is an M4A Format?
M4A, whose full name is MPEG 4 Audio, is a compressed audio file in the MPEG-4 container format. M4A can be the successor of MP3. An M4A format is a file that supports audio-only. The reason is that it is not an official MPEG-4 file thus cannot support the video. This format works by allowing Apple users to download unprotected music from the iTunes Music Store. The type of music in this format is usually encoded using a lossy AAC compression but can use the lossless ALAC in some situations. Below are its top pros and cons;
Pros
Users are assured of smaller files with high quality
One can use the audio from the M4A as their iPhone ringtone as long as they have renamed the audio from M4A to M4R
It is not protected thus, can stream a variety of audio without license and payment limitations
Cons
Only supports a limited number of devices
Does not support the video formats
What Is an MP3 Format?
MP3, whose complete name is MPEG-1 Audio Layer III, ranks among the common audio file formats in the market today. Similar to the M4A, MP3 is a file format that supports the download and play of audio music only. It was introduced in the industry before the M4A; thus, people term is the less developed version of the M4A. It works through the use of a compression algorithm, which reduced the size of the files. The file allows Apple users to freely download, save, and share their audio across other devices.
Pros
Allows sharing across other devices
Provides easier storage due to its compression algorithm
Supports the download of audio files
Cons
The quality is not as good as M4A's
Differences Between the M4A Format and MP3 Format
From the above information, it is apparent that the M4A and the MP3 share a lot in common. For instance, they are both designed for download audio and not any other type of digital content. They also use the compressing mechanism to impact the size of the music they are downloading. Irrespective of the common attributes that these two have, they also have several differences that make them distinct from one another. So what are the differences between MP3 and M4A? Well, let us take a look below.
There are about two distinctive features that differentiate MP3 from M4A. They include:
1. MP3 vs M4A: Quality
Quality is a fundamental aspect when it comes to music. Well, the M4A file has better sound quality compared to the MP3. Influencing this is the large bit rate of the M4A, which translates to a relatively larger file size, thus better sound quality. Ideally, the original sound of the music is maintained when one is downloading an audio sing the format M4A format. However, this does not mean that the MP3 file has poor sound quality. It has a good sound quality when in matter M4A vs. MP3, the sound quality of the M4A is better by a wide range.
2. M4A vs MP3: Compatibility
The next differentiating factor is compatibility. Compatibility is the rate at which something blends with the other. As mentioned initially, the M4A is a limited audio format file. As a result, it is not supported in some of the devices, and also, it does not support sharing on other devices. On the other hand, the MP3 is highly compatible, which explains its popularity in the industry in spite of the introduction of the M4A. Therefore, if you are looking for something that is compatible with numerous devices, it is recommended that you settle for MP3 or consider confirming if the M4A is compatible with your device.
Knowledge: Players and Devices that Support M4A
You may want to know the devices and players that are accessible for M4A format audio. We list some of the most famous and widely-used ones.
Devices: iOS devices including iPhone, iPad, iPod touch, Android devices.
Players: iTunes, Quicktime, VLC, Windows Media Player, Google Play Music, Poweramp Music Player, and more.
MP3 vs M4A: Which Is Better?
| | | |
| --- | --- | --- |
| Format | M4A | MP3 |
| Compatibility | Less compatible | More compatible |
| Quality | Better quality | Lossy quality |
| Size | Small size | Relatively larger size |
Different persons have different tastes and preferences. That is why it becomes impossible to tell which among these two formats is the best. The least we can say is that if your main concern is compatibility, settle for the MP3. However, if you are concerned about sound quality, consider settling for the M4A. In short, you have to know your priorities and select the audio format in line with these priorities or preferences. With this, you can trust that you will make the best pick and enjoy your audio music.
Additional Tip: How to Convert M4A to MP3?
In as much as you cannot share or listen to your M4A audios on other devices, all hope is not lost. The reason is that you can use ViWizard Audio Converter and make life easy for yourself. Highly ranked in the market, this software has the ability to convert your M4A audio to MP3 without interfering with its sound quality and originality. Moreover, anyone, including a newbie, can use this program because its software is easy to navigate. With this converter, you can also adjust the parameters of the output audio, like sample rate, bit rate, channel, codec, and others. Here's the highlight of ViWizard Audio Converter:

ViWizard Audio Converter Key Features
download and convert Apple Music with the original quality
Convert Apple Music to MP3, WAV, M4A, M4B, AAC, FLAC
Remove the protection from Apple Music, iTunes, and Audible
Handle the conversion of audios in batch at 30× speed
Step 1. Add Local Audio into ViWizard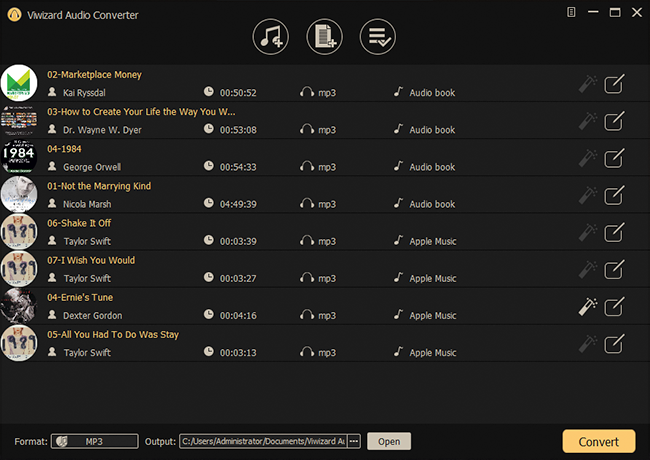 Drag and drop the music files into the ViWizard interface after opening ViWizard Audio Converter. You may also use the Music Note button to load music from your local folder.
Step 2. Choose Target Format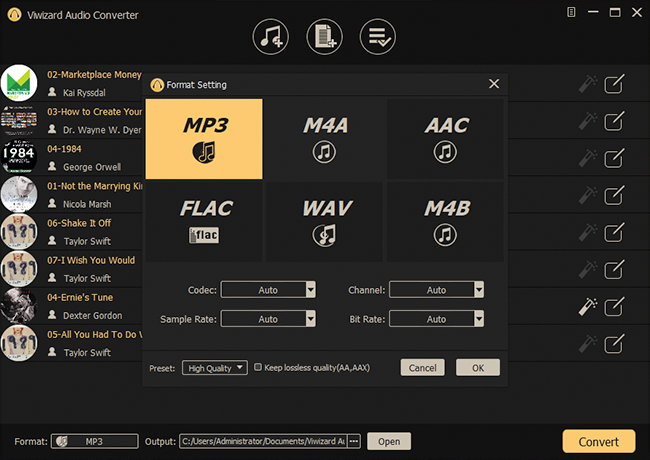 Navigate to the Format panel in this software and click it to open the Format window. Simply choose MP3 as your export format. You may also alter the output audio's sample rate, bit rate, channel, and other audio parameters. Finally, to save your changes, click the OK button.
Step 3. Start to Convert Audio to MP3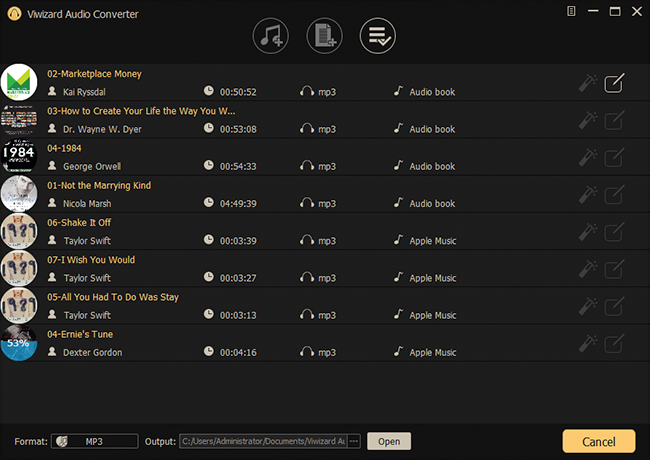 You may now convert the M4A audio to MP3 by hitting the Convert button. To access your converted songs, wait a few seconds before clicking the Converted button. When the conversion is complete, the converted audio will be saved to your computer's hard drive.
Conclusion
M4A and MP3 are both good formats for audio. You can choose one as your preference. M4A has higher audio quality at the same size, although MP3 has wider device compatibility. To convert audio from M4A to MP3, you can use ViWizard Audio Converter. It supports 20+ open input formats and 6 output formats. You will get a smooth conversion with this app. This tool can also convert Apple Music, iTunes audio, and Audible audiobooks to MP3, WAV, M4A, and other open formats with high quality.

Dave Henry is a long-time ViWizarder who loves all technological things. In his free time, he likes reading about science and technology, writing for his blog, watching sci-fi films, and meditating.