Although we listen to music, podcasts, audiobooks frequently, most of us are unfamiliar with the format of these audios. MP3 and M4A are two kinds of formats which are used universal in our daily life. Usually, we need to choose one format for your music, audiobooks, or others. But, do you know what are MP3 and M4A? Are you unable to tell the differences between M4A and MP3? Do you want to know which one is better? Well, you are not the only one!
Since we aim to make your digital life easier, we took it upon ourselves to familiarize you with the differences between these two formats. What is even more useful is that this post further shows you how you can convert M4A to MP3. Before all this, let us first take the time to independently understand what an M4A format is and what an MP3 format is.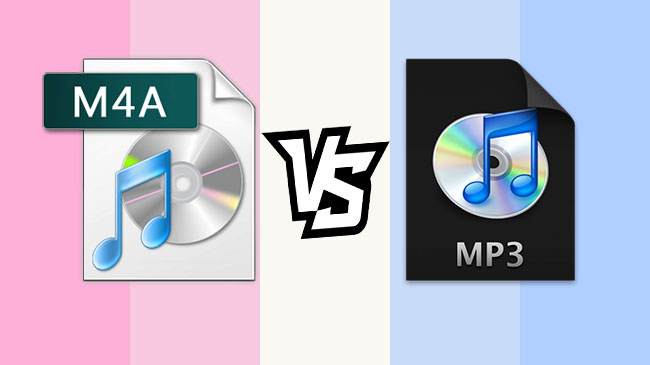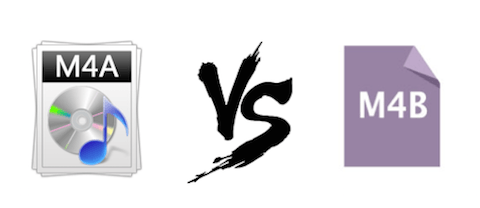 M4A vs M4B: What's the Difference
This review compares M4A and M4B audio file in different aspects including encoding method, compatibility, copy-protection etc to help you get a clear understanding of the difference between m4a and m4b.
Part 1.

Review of MP3 & M4A
What is MP3?
MP3, whose complete name is MPEG-1 Audio Layer III, ranks among the common audio file formats in the market today. Similar to the M4A, MP3 is a file format that supports the download and play of audio music only. It was introduced in the industry before the M4A; thus, people term is the less developed version of the M4A. It works through the use of a compression algorithm, which reduced the size of the files. The file allows Apple users to freely download, save, and share their audio across other devices.
Pros

Allows sharing across other devices
Provides easier storage due to its compression algorithm
Supports the download of audio files
Cons

The quality is not as good as M4A's
What is M4A?
M4A, whose full name is MPEG 4 Audio, is a compressed audio file in the MPEG-4 container format. M4A can be the successor of MP3. An M4A format is a file that supports audio-only. The reason is that it is not an official MPEG-4 file thus cannot support the video. This format works by allowing Apple users to download unprotected music from the iTunes Music Store. The type of music in this format is usually encoded using a lossy AAC compression but can use the lossless ALAC in some situations. Below are its top pros and cons;
Pros

Users are assured of smaller files with high quality
One can use the audio from the M4A as their iPhone ringtone as long as they have renamed the audio from M4A to M4R
It is not protected thus, can stream a variety of audio without license and payment limitations
Cons

Only supports a limited number of devices
Does not support the video formats
Part 2.

Differences between MP3 & M4A

From the above information, it is apparent that the M4A and the MP3 share a lot in common. For instance, they are both designed for download audio and not any other type of digital content. They also use the compressing mechanism to impact the size of the music they are downloading. Irrespective of the common attributes that these two have, they also have several differences that make them distinct from one another. So what are the differences between MP3 and M4A? Well, let us take a look below.
Which format should I choose for better audio quality?
Audio quality is a fundamental aspect when it comes to music. MP3 uses lossy compression, which means it sacrifices some audio data to achieve smaller file sizes. The audio quality can be good, especially at higher bit rates, but it may exhibit slight degradation compared to the original source.
While MP3 only uses lossy compression, M4A can use both lossy and lossless compression. When both MP3 and M4A are lossy, lossy M4A files (e.g., AAC) generally offer better audio quality at lower bit rates compared to MP3. And Lossless M4A files (e.g., Apple Lossless) provide identical audio quality to the original source. The larger bit rate of M4A format will translates to a relatively larger file size. However, this does not mean that the MP3 format has poor audio quality.
Audio quality: M4A
Which format should I choose for more device compatibility?
The answer can be obvious that MP3 is one of the most universally supported audio format, which explains its popularity in the music industry. It is compatible with virtually all devices, media players, and operating systems.
While MP3 is universally supported, M4A file are natively supported by Apple devices, such as your iPhone, iPad, and more. If you want to keep the M4A file on most or even all your devices or platforms, it may not be supported. Nor does it support sharing on other devices. However, if you are wrapped up in the Apple world, M4A is also a good option.
Device compatibility: MP3
Which format should I choose for smaller file size?
The file size can be based on the bit rate. MP3 has more efficient lossy compression, resulting in smaller file sizes for the same audio content at the same bit rate compared to M4A lossy formats. Lossless M4A files have larger file sizes than lossy MP3 files but maintain the exact audio quality of the original source.
File Size: MP3
The main difference lies in the compression algorithm they use. MP3 uses lossy compression, which sacrifices some audio quality to achieve smaller file sizes. M4A, on the other hand, can use both lossy and lossless compression, allowing for better audio quality at the same file size.
Part 3.

MP3 VS M4A: Which Is Better?
| | | |
| --- | --- | --- |
| Format | M4A | MP3 |
| Compatibility | Less compatible | More compatible |
| Quality | Lossy or Lossless | Lossy |
| Size | Relatively larger | Usually smaller |
Both MP3 and M4A formats can be played on most modern devices, including smartphones, tablets, computers, and dedicated audio players. MP3 has been around for a longer time and is supported by virtually all devices and media players. M4A compatibility has also become widespread over the years.
And they can store metadata such as artist name, album titles, track numbers, and more. When you transfer the formats file to a supported device or media player, this information will be displayed to provide additional context about the audio file.
However, if you concern audio quality primarily, M4A is the better choice, as it has lossless compression or a high bit rate. However, for most practical purposes. Such as portable music players (MP3 media player), MP3 with a reasonable bit rate offers good audio quality and smaller file sizes.
Part 4.

How to Convert MP3 to M4A or Vise Versa

After reviewing the difference between M4A and MP3 format, you may want or need to convert your files to another format. Fortunately, you can convert MP3 to M4A or M4A to MP3 using various software. If you use iTunes and store your MP3 files there, you can easily use the built-in converter to create an AAC version, which extension is .m4a. However, converting M4A to MP3 will require a professional audio converter called ViWizard Audio Converter, which makes the conversion easy and fast.
Converting MP3 to M4A and vise versa: ViWizard Audio Converter
ViWizard Audio Converter is the best audio converter designed for iTunes users to convert and download music files from your iTunes music library. From there you can access your entire iTunes music library and feel free to add any music files for conversion. For the desired MP3 or M4A format, you can adjust the output format by yourself. If you are interested in other popular formats, you can also get M4B, WAV, AAC, and FLAC.
If you are an Apple Music subscriber, you can even take advantage of ViWizard to download and convert your Apple Music, iTunes music, podcasts, audiobooks, and even Audible audiobooks.

Key Features of ViWizard Audio Converter
Free Trial
Free Trial
* Security verified. 5, 481,347 people have downloaded it.
Convert songs, albums, and playlists from Apple Music to MP3
Remove DRM protection from Apple Music, iTunes, and Audible
Save the converted audios with the original quality and ID3 tags
Support the conversion of up to 100 audio formats to others
Before using ViWizard Audio Converter, please make sure you import your MP3 or M4A files to the iTunes app. If you haven't, launch the iTunes app on your computer and use the "Add File/Folder to Library" (Windows) or "Import Music" (Mac) button to put your files.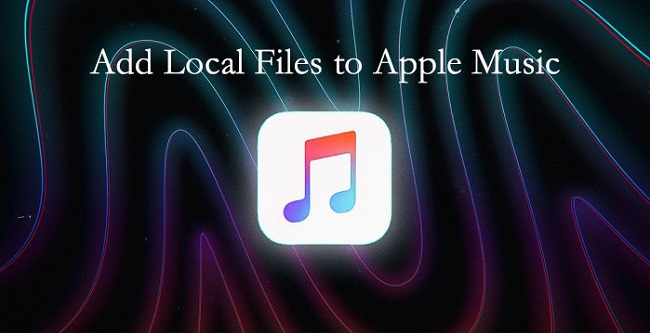 Step 1

Add Local Audio into ViWizard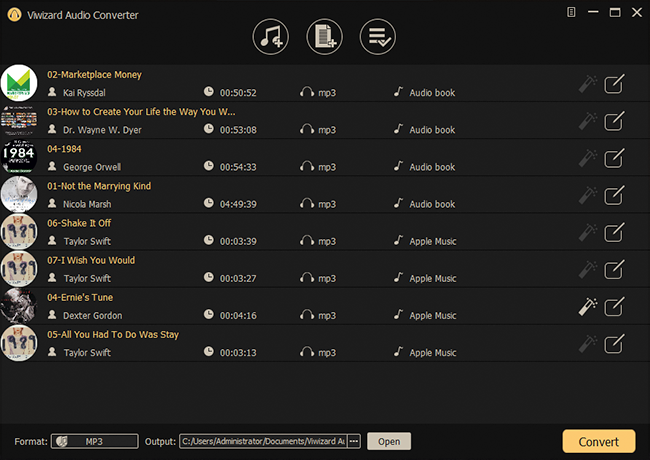 Drag and drop the music files into the ViWizard interface after opening ViWizard Audio Converter. You may also use the Music Note button to load music from your local folder.
Step 2

Choose Target Format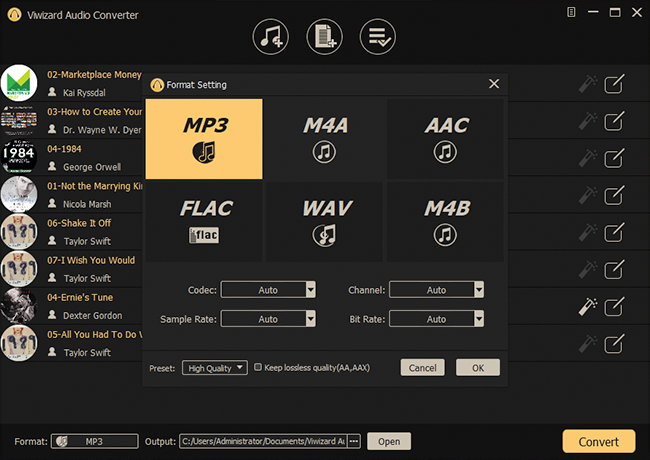 Navigate to the Format panel in this software and click it to open the Format window. Simply choose MP3 as your export format. You may also alter the output audio's sample rate, bit rate, channel, and other audio parameters. Finally, to save your changes, click the OK button.
Step 3

Start to Convert Audio to MP3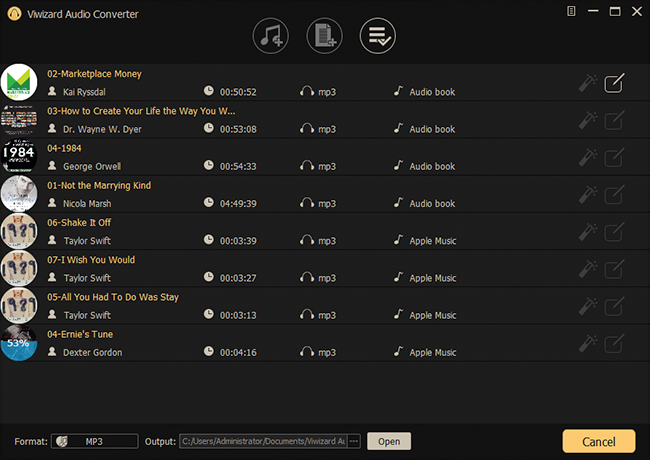 You may now convert the M4A audio to MP3 by hitting the Convert button. To access your converted songs, wait a few seconds before clicking the Converted button. When the conversion is complete, the converted audio will be saved to your computer's hard drive.
Conclusion
M4A and MP3 are both good formats for audio. You can choose one as your preference. M4A has higher audio quality at the same size, although MP3 has wider device compatibility. To convert audio from M4A to MP3, you can use ViWizard Audio Converter. It supports 20+ open input formats and 6 output formats. You will get a smooth conversion with this app. This tool can also convert Apple Music, iTunes audio, and Audible audiobooks to MP3, WAV, M4A, and other open formats with high quality.