Fewer and fewer Apple users know that once upon a time, iTunes music was also copy-protected by Apple's FairPlay DRM system. Apple didn't free the music sold in the iTunes store until 2009. If you ever purchased songs from the iTunes Store back before 2009, then there's a chance that all the music is protected.
Removing DRM from these "antique" songs from iTunes is the only way you can polish them up and literally "fair play" them as you want. Otherwise, you cannot play these iTunes songs on those common music players except Apple's own devices, nor can you share iTunes music with your friends or on other platforms. So, how do you remove DRM from iTunes music? Today, here we'll introduce several simple solutions to help you completely remove DRM from iTunes music.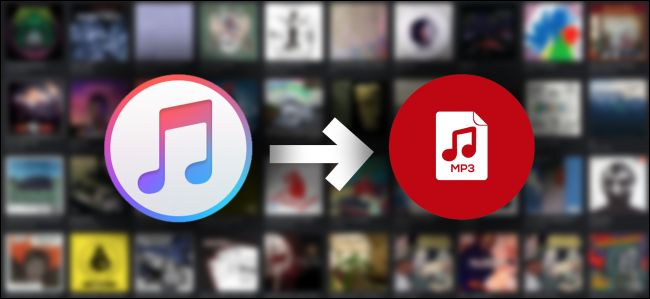 Part 1.

iTunes and DRM - What You Need to Know

When you download music from your Apple Music library, it gains DRM protection, even if it was DRM-free when purchased, and it remains playable only with an active Apple Music subscription.

However, downloads from the iTunes Store library won't have added DRM unless they initially had it. iTunes Match, on the other hand, offers DRM-free downloads, regardless of whether you subscribe to Apple Music or not.

If you have Apple Music only, your downloads will come with DRM. If you choose iTunes Match alone, all your downloads are DRM-free, whether they're matched to the iTunes Store or not. And if you opt for both Apple Music and iTunes Match, downloads from Apple Music will have DRM, but songs matched to the iTunes Store or uploaded to iCloud Music Library via iTunes Match will be DRM-free.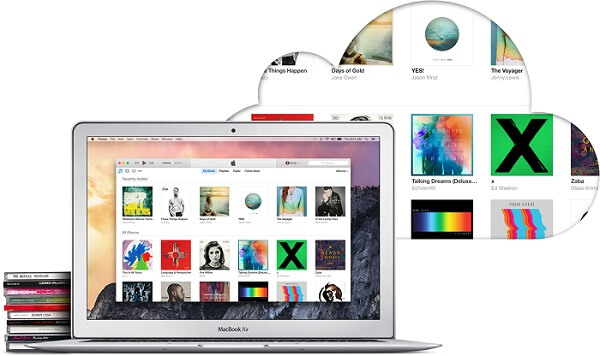 Your choice of subscriptions plays a significant role in whether your music collection is DRM-protected or DRM-free, with iTunes Match offering a pathway to a DRM-free music library.
| | | | | |
| --- | --- | --- | --- | --- |
| Subscription Type | Stream & Download All Songs in Apple Music Library | Re-download Purchases Without DRM | Matched Ripped Songs (Store/Library) | Upload Ripped Songs (Not in Store/Library) |
| None | No | Yes | No | No |
| iTunes Match Only | No | Yes | Yes with DRM | Yes without DRM |
| Apple Music Only | Yes with DRM | Yes (and with DRM if from Apple Music) | Yes with DRM | Yes without DRM |
| Both | Yes with DRM | Yes (and with DRM if from Apple Music) | Yes without DRM | Yes without DRM |
Figuring out the relationship between subscription types and music with or without DRM can be quite complex, especially if your primary goal is to remove DRM from iTunes.
Apple Music subscribers download their favorite tracks for offline listening, but these downloads come with DRM restrictions. If you cancel your Apple Music subscription, you'll lose access to these downloaded songs. To overcome this limitation and enjoy your music library freely, you'll need a trusted DRM-removal tool like ViWizard Apple Music Converter, which will make this process much simpler for you. Stay tuned for step-by-step instructions to unlock your iTunes music collection from DRM restrictions.
Part 2.

How to Remove DRM from iTunes (Apple Music subscribers)

Apple Music subscribers often encounter the frustrating challenge of DRM-protected music. While this protection is designed to prevent unauthorized sharing and distribution of songs, it can limit your flexibility with the music you pay for. Fortunately, you can regain control of your Apple Music downloads and enjoy them without DRM using ViWizard Apple Music Converter.

ViWizard Audio Converter is the ultimate solution to remove DRM protection on iTunes music and Apple Music. It excels in removing DRM from iTunes songs and converting iTunes music to a wide range of common audio formats, including MP3, AAC, M4A, M4B, WAV, and FLAC. In addition to that, ViWizard Audio Converter supports handling the conversion of Audible and iTunes audiobooks. It can even split large audiobooks into smaller episodes by chapter or time, offering you complete control over your digital audio content.

Key Features of ViWizard Audio Converter
Free Trial
Free Trial
* Security verified. 5, 481,347 people have downloaded it.
Convert songs, albums, and playlists from Apple Music to MP3
Remove DRM protection from Apple Music, iTunes, and Audible
Save the converted audios with the original quality and ID3 tags
Support the conversion of up to 100 audio formats to others
Step 1

Add Audio Files to the Converter

Make sure the Apple Music tracks you wish to convert are playable on your computer before downloading them. After that, launch the converter and drag the files to the main interface. Wait a few seconds for the loading to complete. There is another method for importing tunes. DRM-protected audios can be imported by clicking the Load in iTunes button at the top of the converter.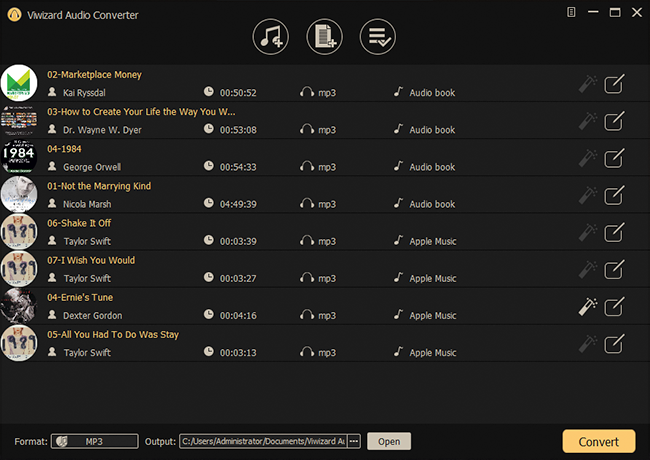 Step 2

Tune Output Parameters and Format

After all of the music has been successfully imported into the converter, go to the Format tab and pick MP3 as the default output format. ViWizard adds 20 new input format possibilities to the six most prevalent output formats. You may alter the codec, channel, sample rate, and bit rate of the songs below the output format. When you've decided on all of your options, don't forget to save the changes by clicking OK.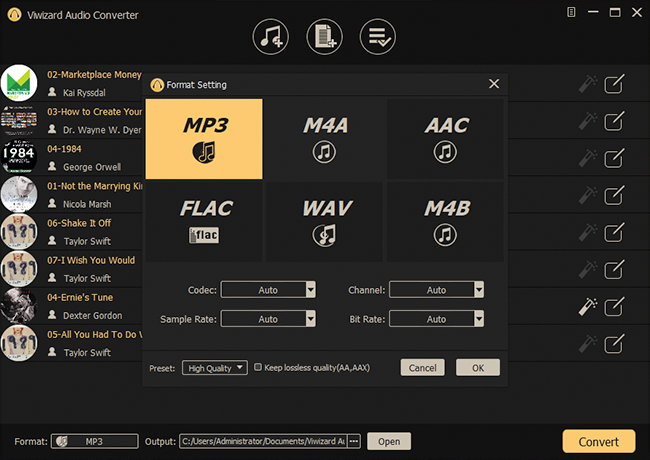 Step 3

Start to Free Apple Music

After importing the tracks, you can begin removing the DRM and converting your Apple Music songs from M4P to DRM-free formats by clicking the Convert button. Once the Apple Music files have been converted, click the Converted button to locate them.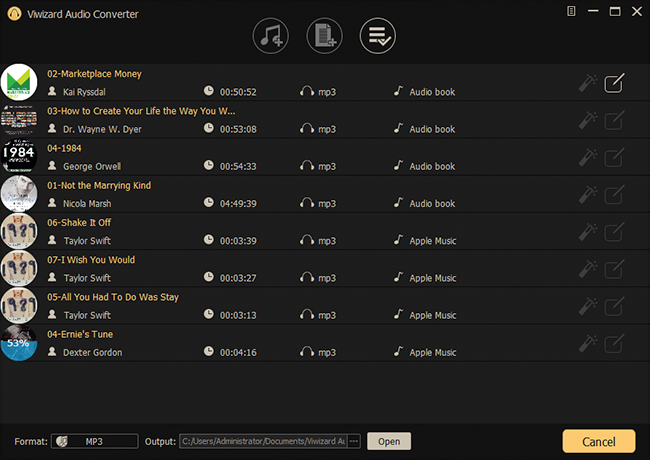 Part 3.

How to Remove DRM from iTunes (iTunes Match Users)

iTunes Match offers a convenient way to upgrade your existing iTunes library by replacing DRM-protected tracks with high-quality, DRM-free versions. While it won't remove DRM from previously purchased DRM-protected songs, it provides a way to enjoy DRM-free versions of your music going forward.
Step 1

Subscribe to iTunes Match

Before you can utilize iTunes Match, you'll need to subscribe to the service.

For Windows Users:
Open iTunes on your Windows computer.
Click the "Store" button in the top menu.
Select "iTunes Match" on the bottom.
Fill in your billing information and click the "Subscribe" button.
For Mac Users:
Open iTunes on your Mac.
Click on the "Account" tab in the top menu.
Select "iTunes Match."
Fill in your billing information and click the "Subscribe" button.
Step 2

Identify DRM-Protected Songs

To identify DRM-protected songs in your iTunes library:
Click "View" in the iTunes menu.
Select "Show View Options."
Under the "File" section, choose "Kind."

Close the window, and you'll see a new column labeled "Kind."
DRM-protected songs will have "Apple Music AAC audio file" or similar listed in the "Kind" column.
Step 3

Upgrade iTunes Library

iTunes Match will work to upgrade your library by matching tracks in your library with those available in the iTunes Store. Here's how:
Click the "File" menu in iTunes.
Select "Library" and then choose "Update iCloud Music Library."

iTunes will begin the process of matching and upgrading your songs.
Step 4

Download Upgrade DRM-Free Songs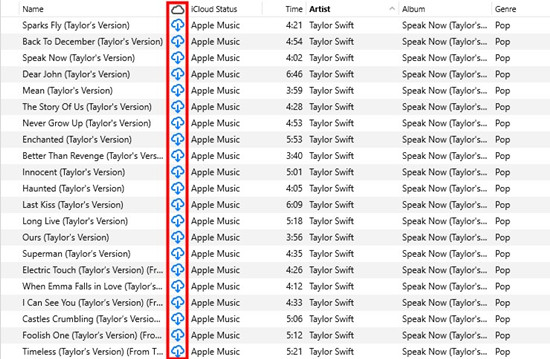 After iTunes Match has done its work, you can download the upgraded, DRM-free versions of your songs:
Navigate to the "Music" section in iTunes.
Select "Library" to access your music library.
Find the songs with the "Cloud" icon and click it to download the upgraded, DRM-free versions.
Part 4.

How to Get DRM-Free Music from iTunes (All Users)

Another highly effective method to enjoy your iTunes songs without DRM restrictions is by using a third-party iTunes music recorder. While there are many audio recording tools available on the internet, not all of them are capable of removing DRM from iTunes.
1. ViWizard Audio Capture for DRM-Free iTunes Music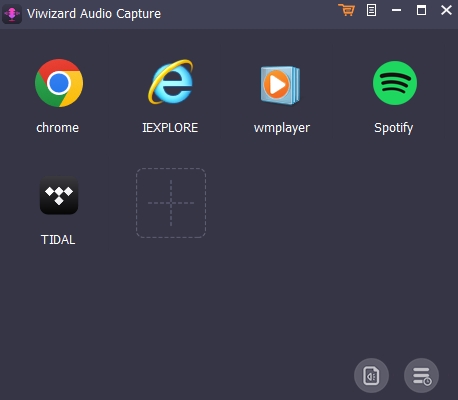 We've selected two tools, and one of them is ViWizard Audio Capture, which is designed to help you record and convert iTunes music into DRM-free audio files. Here's how ViWizard Audio Capture works to ensure your access to DRM-free iTunes music:
Unlike typical audio recording tools, ViWizard Audio Capture is a versatile streaming music recording software. It can capture audio from a variety of sources, including Apple Music, Spotify, YouTube Music, and Amazon Music, and convert it into popular DRM-free formats such as MP3, AAC, FLAC, WAV, M4A, and M4B.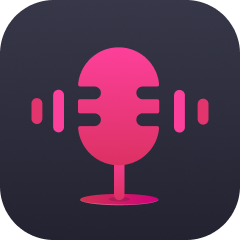 Key Features of ViWizard Audio Capture
Free Trial
Free Trial
* Security verified. 5, 481,347 people have downloaded it.
Lossless Apple Music recording software on computer
Support multi-track audio recording
Cut, trim and merge recordings flexibly
Keep and fix ID3 tags of Apple Music music
Capture any other sound play on computer
What sets ViWizard Audio Capture apart is its built-in audio editor, which lets you customize your recorded Apple Music. You can merge, trim, and split audio files with ease, giving you full control over your music collection.
Now, let's see how you can use ViWizard Audio Capture to record and convert your Apple Music to a DRM-free format like MP3:
2. Requiem for DRM-Free iTunes Music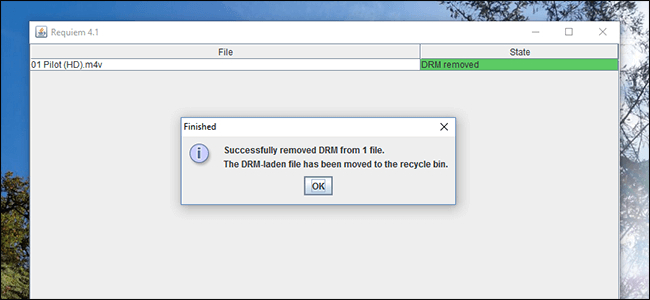 Another tool is Requiem, which is a specialized tool designed for removing DRM protected from iTunes music and videos. It allows you to enjoy your iTunes content on devices that are not officially authorized by Apple Inc. While Requiem is powerful in removing DRM, it has certain limitations, including compatibility issues with newer operating systems and iTunes versions.
Note
Please note that Requiem is best suited for users with older iTunes versions and specific operating systems. Its availability and functionality may vary over time, and users should exercise caution and research legal implications when using DRM removal tools.
Step 1

Install iTunes 10.7

To use Requiem effectively, you'll need to install an older version of iTunes, typically iTunes 10.7. If you already have a newer version of iTunes installed, you'll need to uninstall it first to avoid conflicts.
Step 2

Download Requiem 4.1

Obtain Requiem 4.1 from a reliable source. Please note that Requiem's availability may be limited, as it is no longer actively maintained. Be cautious when downloading from unofficial sources.
Step 3

Navigate to Your iTunes Library

Once Requiem is downloaded, navigate to your iTunes library directory on your computer. For Windows users, the path may be "c:/Users/username/Music/iTunes." Rename the folder containing your iTunes library to ensure Requiem works correctly.

Step 4

Launch iTunes 10.7 and Download Songs

Open iTunes 10.7 and download the iTunes songs you wish to remove DRM from. Ensure you use this specific version of iTunes for compatibility.
Step 5

Remove Authorization and Re-Authorize

To make the downloaded files playable in iTunes, you'll need to remove the authorization and then re-authorize your computer. This step ensures that the DRM-protected files will work correctly in iTunes.
Step 6

Close iTunes and Launch Requiem

Close iTunes and launch Requiem. Requiem will automatically identify DRM-protected iTunes files in your iTunes library and proceed to remove the DRM from them.
Extra Tip:

How to Rip DRM-Free Music from CD in iTunes (All Users)

One of the great benefits of using iTunes is its ability to import songs from while ensuring they remain DRM-free, giving you complete control over your music collection. Follow these straightforward steps to enjoy your music without digital rights management restrictions:
Step 1

Insert the Audio CD

Start by inserting the audio CD you wish to import into your computer's CD or DVD drive. iTunes will recognize the CD and automatically display the list of songs it contains.
Step 2

Select Songs for Import

iTunes will present you with a list of the songs on the CD. Here, you have the option to choose which songs to import. You can either select all the songs by checking the box labeled "All," or you can pick specific songs by checking the individual boxes next to them. Make your selections based on your preferences.
Step 3

Initiate the Import Process

Once you've made your song selections, click the "Import CD" button, which you'll find in the upper-right corner of the iTunes window. iTunes will promptly commence importing the chosen songs from the CD into your iTunes library.
Step 4

Customize Import Settings (Optional)

By default, iTunes will import songs using the AAC (Advanced Audio Coding) format. However, if you have a preference for a different format, such as MP3, you can customize the import settings.
To do this, navigate to "Edit > Preferences" (on Windows) or "iTunes > Preferences" (on macOS).
In the Preferences window, select the "General" tab, then click "Import Settings." From this menu, you can choose your desired format, such as "MP3 Encoder" for the MP3 format, and adjust other import settings as needed.
Step 5

Enjoy Your DRM-Free Music

During the import process, iTunes ensures that the songs are stored in a format that is DRM-free. Once the import is complete, you'll find these DRM-free songs neatly organized in your iTunes library. These DRM-free songs can be played, organized into playlists, and enjoyed across various devices without any restrictions.
Conclusion
In this guide, we've explored the world of iTunes music and how to liberate it from Digital Rights Management (DRM) restrictions, like using ViWizard Apple Music Converter that works with your entire iTunes library. Also, you can try downloading DRM-free music from iTunes with if you're using iTunes Match. Or you can consider using other tools like ViWizard Audio Capture or a professional Requiem to get DRM-free music from iTunes.