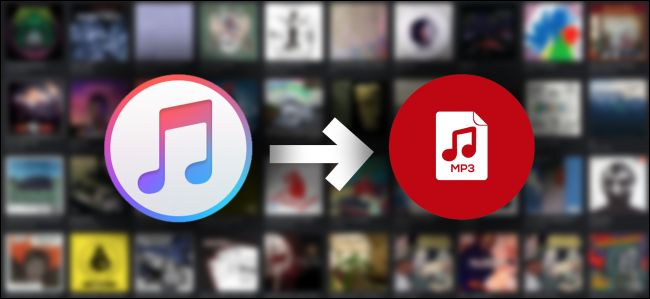 If you have a large iTunes library on your computer, it would be tiresome if you're about to move your library to other devices. And that device should have the iTunes app installed to play these songs. To make all your songs from the iTunes library easier to be played on other players or devices, the best way is to convert them to MP3 format which supports most audio players and devices.
Originally all songs you buy from iTunes Store are in AAC format, which is not compatible with most media players you can reach out for. But if they're all converted to MP3, then you can play them in almost every available player.
So in the following parts, I am going to show you how to convert iTunes Library to MP3 with two easy methods.
Why MP3 is Much More Popular than AAC?
Speaking of why MP3 is so popular that almost everyone is playing music in MP3 format, one of the major reasons is that this format came out in the booming years of digital music. At a time people were crazy about sharing music in MP3 and then as MP3 players came out, MP3 obviously was the first choice for streaming music.
Another reason why MP3 keeps its popularity is that it's basically "free" for everyone. MP3 used to ask for licensing fees from music brands, but due to messy management, they got nothing back most of the time. So music listeners and brands got to use MP3 more and more and the heat still keeps going up until now.
AAC is designed to replace MP3. But even the audio quality in AAC is better than MP3, AAC is still not widely used among music listeners. Because most people won't switch to another player or device to merely play a format that is not as compatible as MP3, even though AAC format has been widely accepted in the digital audio industry.
Convert iTunes Library to MP3 on iTunes or Apple Music
If your songs are not protected, you can use iTunes installed on your Windows or Apple Music on Mac to easily convert songs in iTunes Library to MP3:
How to Convert iTunes Library to MP3 on Windows
First, let's see how to use iTunes on a Windows computer to convert songs in the iTunes library to MP3.
1. Open iTunes, go to Edit > Preferences > General > Import Settings. Set the Import Using choice as MP3 Encoder. You can also set the conversion quality down below.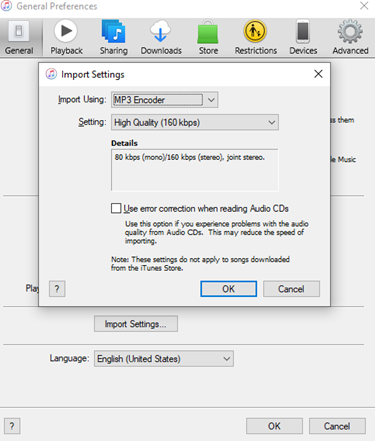 2. Click OK and go back to iTunes Library. Click on a song that you want to convert to MP3 to highlight it. Then click File > Convert > Create MP3 Version (If you want to convert many songs at a time, select the first song, then hold the Shift key on your keyboard and select the last song you want to convert).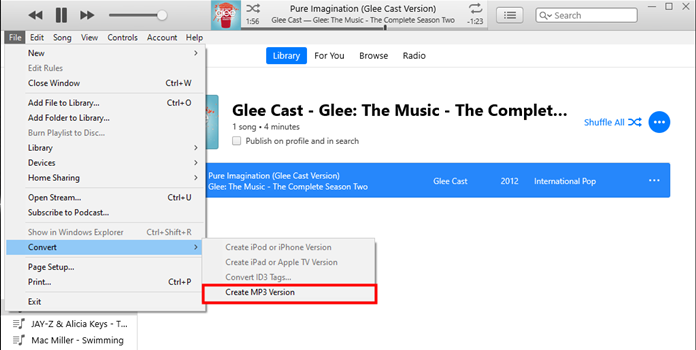 How to Convert iTunes Library to MP3 on Mac
If you have a Mac computer, you can use the Apple Music app to convert. See the instructions below:
1. Open the Apple Music app. From the menu bar, choose the Music > Preferences button.
2. Select the Files > Import Settings > MP3 Encoder button.
3. Choose the songs you want to convert and choose File > Convert > Create MP3 Version.
Convert Entire iTunes Library to MP3 (Apple Music Songs Included)
If your songs in iTunes Library are added through an Apple Music subscription, you don't actually own the music. That means you can't do anything to the downloaded songs. If you try to convert these songs to MP3, a prompt will pop up to tell you that you can not convert protected files.
But with the ViWizard Audio Converter, you can download all your iTunes Library to MP3 and save them to your computer. You can play these songs on any media player without iTunes or Apple Music.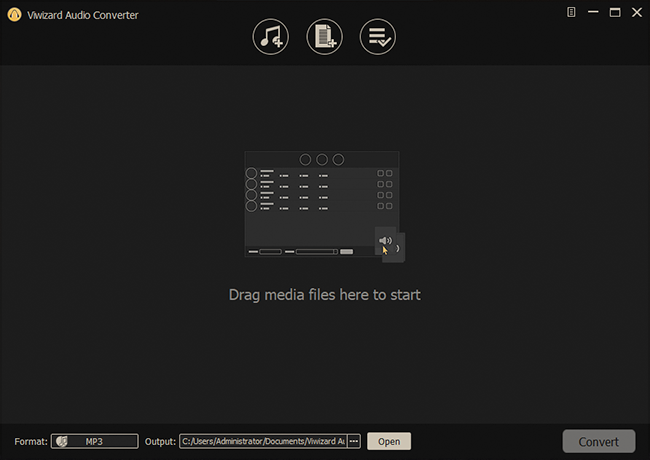 Comes with an intuitive interface, the ViWizard Audio Converter is designed to convert all protected iTunes, Apple Music songs, iTunes audiobooks and common audios into MP3, M4A, AAC, FLAC, and other common formats.
The specially designed booster will keep the converting speed up to 30X faster with high output quality preserved. With this tool, you'll be able to remove the protection of all the songs from your iTunes Library and play them anywhere you want. Just download this software for free and follow the usage guide below.

ViWizard iTunes Music Converter Key Features
Convert iTunes songs to MP3, M4B, AAC and other popular formats
Download and play iTunes Library songs offline without limitations
Customization options to change output parameters
Retain 100% original quality and ID3 tags
Convert at a 30X faster speed
1. Launch ViWizard and Import iTunes Library Files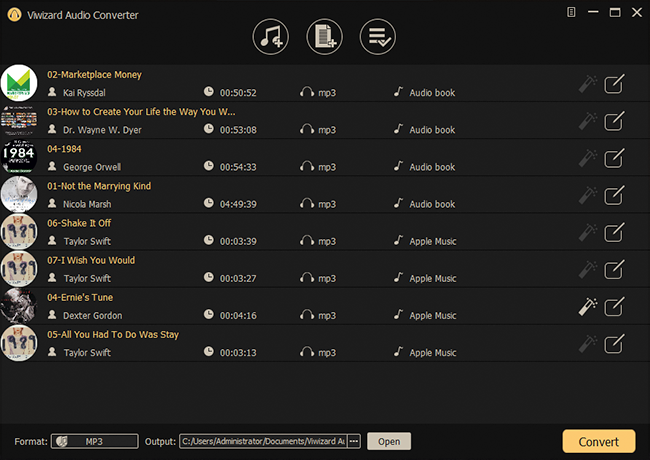 Launch this iTunes music to MP3 converter, and then click the music note "+" button to import songs from your iTunes Library. Or you can add the files from your iTunes Library folder.
2. Set Output Format and Parameters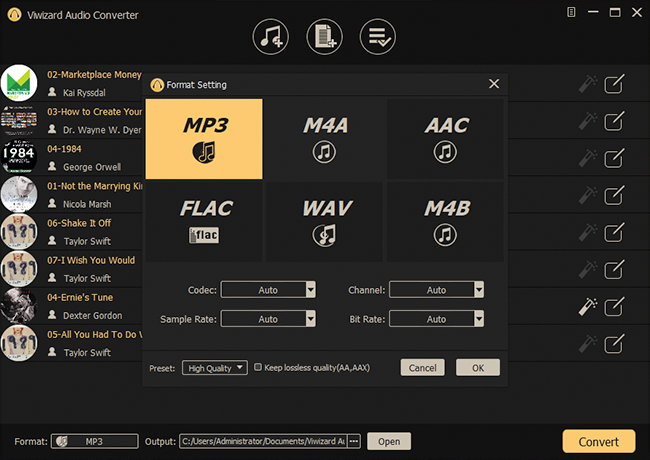 Once completed loading input files, you can click the "Format" button in the bottom left and choose the output format among MP3, AAC, FLAC, WAV, M4A, and M4B. You can also click the "Output" button and choose the output location.
3. Convert iTunes Music to MP3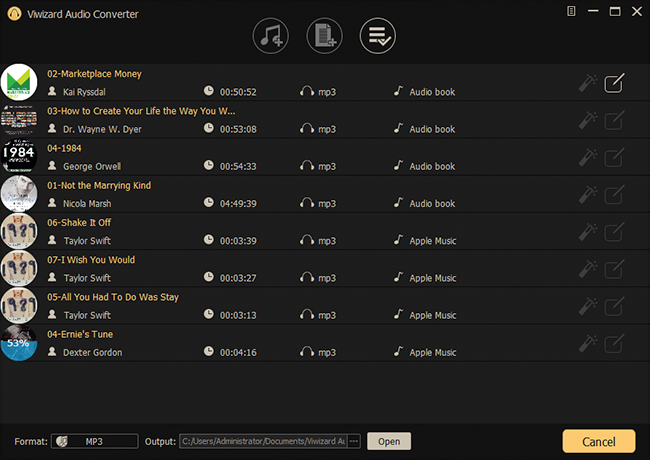 With format setting done, press the "Convert" button and ViWizard will start the conversion process. When it is done, you can find all your converted songs by clicking the "Converted" button.
Now you can enjoy all your downloaded songs from iTunes Library on any media player without iTunes and Apple Music. You can easily move these songs to any device and play them without any restrictions.
Summary
For the two methods to convert iTunes library to MP3, which one do you prefer? If your songs are not protected, you can use iTunes, Apple Music, or ViWizard Audio Converter to export songs from iTunes library to MP3. If your songs are protected, like iTunes songs bought before 2009 or Apple Music songs, you need to use ViWizard to convert iTunes library to MP3.
More iTunes music DRM removal tips