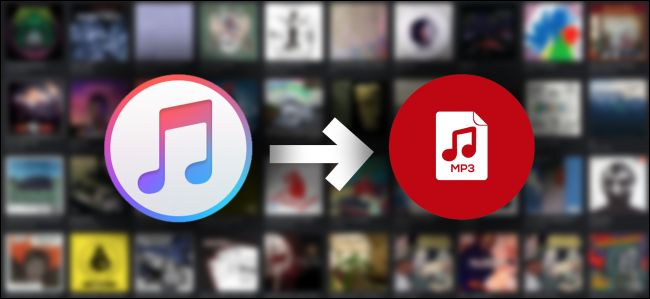 If you have a large iTunes library on your computer, it would be tiresome if you're about to move your library to other devices. And that device should have the iTunes app installed to play these songs. To make all your songs from the iTunes library easier to be played on other players or devices, the best way is to convert them to MP3 format which supports most audio players and devices.
Originally all songs you buy from iTunes Store are in AAC format, which is not compatible with most media players you can reach out for. But if they're all converted to MP3, then you can play them in almost every available player.
Part 1.

iTunes DRM vs. AAC vs. MP3

As the music industry continues to evolve, so do the formats in which we listen to and enjoy our favorite songs. For Apple Music users, navigating the realm of digital music formats can sometimes be a bit perplexing. Apple offers a rich ecosystem that includes iTunes, Apple Music, and iTunes Match, each with its own unique characteristics and compatibility.

Apple Music subscribers often find themselves dealing with various audio formats, such as iTunes DRM-protected M4P files and AAC files. Understanding these formats and their interplay is essential for those who wish to have more flexibility with their music library. This guide aims to shed light on how Apple Music users encounter these formats and the reasons behind the need to convert iTunes music to MP3.
| | | | |
| --- | --- | --- | --- |
| Aspect | iTunes DRM (Apple Music/iTunes Downloads) | AAC (Advanced Audio Coding) | MP3 (MPED-1 Audio Layer III) |
| File Type | Offers DRM-protected songs as part of Apple Music subscription. | Lossy audio format | Lossy audio format |
| Compression Method | Proprietary Apple format | Lossy compression | Lossy compression |
| Quality | Can vary depending on source and bitrate | High-quality audio | Good audio quality |
| Compatibility | Limited to Apple devices and software | Widely compatible | Widely compatible |
| DRM (Digital Rights Management) | iTunes Music and Apple Music songs are DRM-protected but accessible through a subscription. | DRM-free | DRM-free |
| Purchase Option | Subscription-based access to songs with DRM. | Buy individual tracks without DRM from iTunes Store | Buy individual tracks without DRM |
| Common Use Cases | Listening on Apple devices, part of Apple Music subscription. | General audio playback on various devices | General audio playback on various devices |
In many cases, users may desire to convert their iTunes music to the MP3 format. This is because MP3 files are widely recognized and compatible with a broad range of devices, media players (ex: MP3 player), and software, making them a versatile choice for music enthusiasts. Additionally, some scenarios, such as creating a backup library or sharing music with friends, may require the use of MP3 files.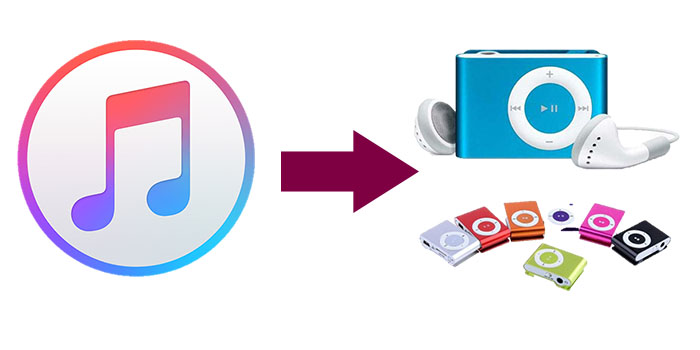 Part 2.

How to Convert iTunes DRM-Protected Audio to MP3

If you have purchased music from the iTunes Store in the AAC format or have local files that you want to convert to MP3, you can easily do so using iTunes. This process allows you to create MP3 copies of your music files without altering the original format. Follow these steps:
Pros

The MP3 encoder is seamlessly integrated into iTunes.
Straightforward, involving just a few clicks to convert songs to MP3.
Users can customize the MP3 encoder settings (bitrate).
Doesn't need to install additional software.
Cons

Primarily designed for use within the Apple ecosystem.
Specifically works with AAC-format audio and local files, not including DRM-protected Apple Music.
Uses lossy compression, resulting in a reduction in audio quality.
Step 1

Purchases iTunes Songs from Store

Stary by purchasing and downloading the AAC-format songs from the iTunes Store.
Open the iTunes application on your computer.
Click on the "iTunes Store" option.
Use the search bar in the upper-right corner of the iTunes Store to find and select the songs you wish to purchase.
Click on a song to preview it by clicking the play button next to the song title. If you decide to purchase it, click the price next to the song.
Follow the on-screen instructions to confirm your purchase. The song will be added to your iTunes library.
Step 2

Upload Local Files to iTunes

Alternatively, you can begin by uploading your local music files to your iTunes library.
In the iTunes application, go to the "File" menu.
Select "Add File/Folder to Library" (Windows) or "Import" (Mac).
Locate and choose the music files or folders you want to add to your iTunes library.
Click "Open" to add them.
Step 3

Configure Import Settings
While the iTunes application is open, click on "Edit" (Windows) or "iTunes" (Mac).
Select "Preferences" from the dropdown menu.
In the Preferences window, click the "General" tab.
Click on "Import Settings."

In the Import Settings dialog box, click the menu next to "Import Using" and select "MP3 Encoder."

Click "OK" to save your import settings.
Step 4

Convert iTunes Audio to MP3
In your iTunes library, select the AAC songs or local files you want to convert.
Go to the "File" menu.
Select "Convert," and then choose "Create MP3 Version." The newly converted MP3 files will appear in your iTunes library alongside the original files.
While iTunes' MP3 encoder can convert purchased AAC songs or locally added files, it cannot be used to convert DRM-protected content from Apple Music, limiting its functionality for subscribers of the service. Users with DRM-protected content may need to explore alternative methods for conversion, such as an Apple Music to MP3 converter like ViWizard Apple Music Converter.

Part 3.

How to Convert iTunes DRM-Protected Audio to MP3

If you've ever attempted to convert songs stored in your iTunes Library, especially those added through an Apple Music subscription, you may have encountered limitations due to DRM protection. DRM (Digital Rights Management) restrictions prevent you from freely converting and using these songs outside of the Apple ecosystem.

However, there's a powerful solution - the ViWizard Apple Music Converter. This third-party tool empowers you to download all your iTunes Library music, regardless of its source or DRM protection, and convert it to universally compatible MP3 format, saving it to your computer. With the resulting MP3 files, you can play your music on any media player without the need for iTunes or Apple Music.

Key Features of ViWizard Audio Converter
Free Trial
Free Trial
* Security verified. 5, 481,347 people have downloaded it.
Convert songs, albums, and playlists from Apple Music to MP3
Remove DRM protection from Apple Music, iTunes, and Audible
Save the converted audios with the original quality and ID3 tags
Support the conversion of up to 100 audio formats to others
ViWizard Apple Music Converter works seamlessly with your iTunes music library and allows you to convert various iTunes content, including Apple Music songs, iTunes music, podcasts, audiobooks, Audible audiobooks and your local files, into popular formats like MP3, WAV, AAC, FLAC, and more. It features a user-friendly interface for easy conversion by loading your entire iTunes music library into the program, mains lossless audio quality, and boasts remarkable conversion speed, up to 30 times faster. Most importantly, it helps you remove DRM protection from your iTunes music, giving you the freedom to play your songs on any device or media player.
Pros

Effectively removes DRM protection from iTunes music.
Converts iTunes music to various popular formats.
Preserves lossless audio quality.
Cons

May require a registration.
Step 1

Launch ViWizard and Import iTunes Library Files

Launch this iTunes music to MP3 converter, and then click the music note "+" button to import songs from your iTunes Library. Or you can add the files from your iTunes Library folder.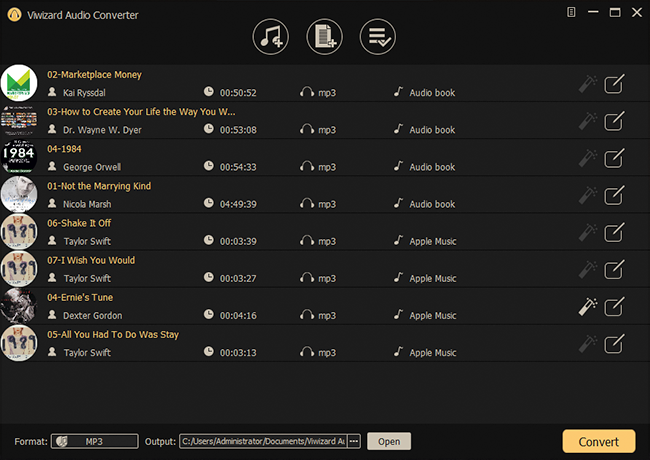 Step 2

Set Output Format and Parameters

Once completed loading input files, you can click the "Format" button in the bottom left and choose the output format among MP3, AAC, FLAC, WAV, M4A, and M4B. You can also click the "Output" button and choose the output location.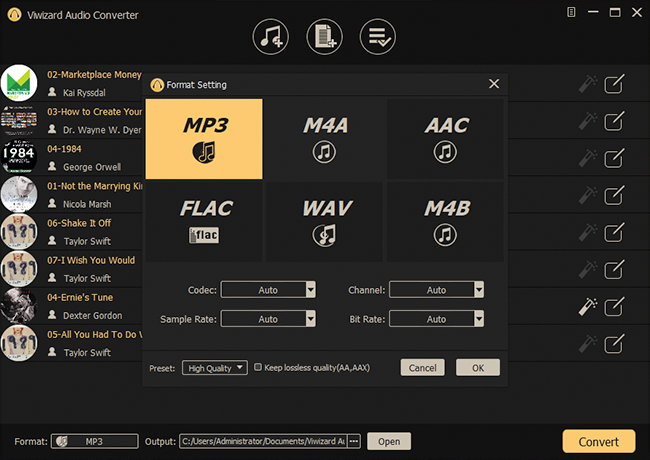 Step 3

Convert iTunes Music to MP3

With format setting done, press the "Convert" button and ViWizard will start the conversion process. When it is done, you can find all your converted songs by clicking the "Converted" button.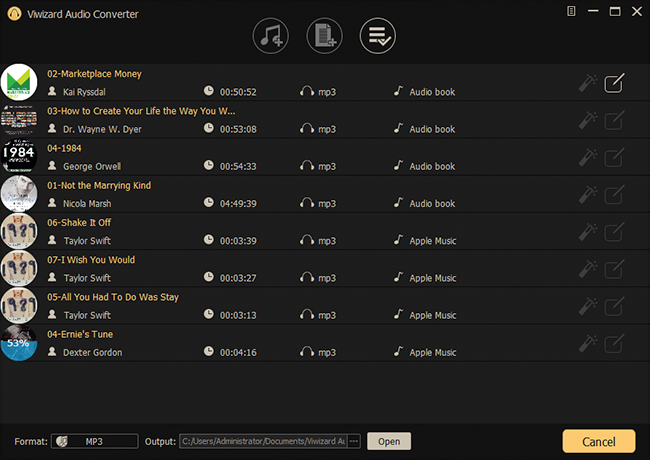 Now you can enjoy all your downloaded songs from iTunes Library on any media player without iTunes and Apple Music. You can easily move these songs to any device and play them without any restrictions.
Extra Tip:

How to Tell MP3 and AAC or Other Formats in iTunes

In iTunes, distinguishing between AAC and MP3 versions of a song isn't always straightforward since they may appear as identical copies. However, every file in iTunes contains essential information about the song, including artist, length, and file type. To pinpoint which file is the MP3 and which is the AAC, you can access ID3 Tags, which include details like artist, genre, and other song information: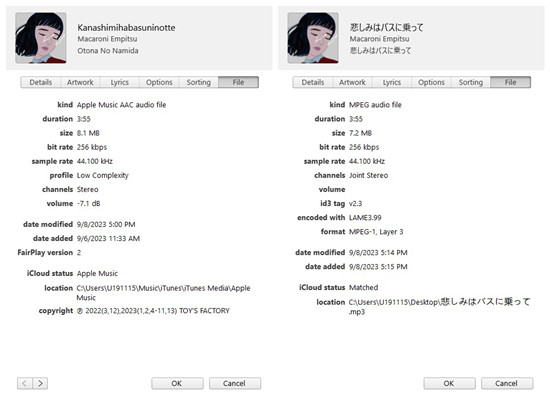 Open the iTunes application on your computer.
Locate the music file and its identical copy alongside with it in your iTunes music library.
Right-click on the music file.
Select "Song info" from the dropdown menu.
In the Song info dialog box, click the "File" tab.
You'll see information about the file type, such as "Apple Music AAC audio file" or "MPEG audio file." Additionally, in the "File" tab, you can check the specific duration, size, bit rate, sample rate, profile, channels, volume and more.
Summary
For the two methods to convert iTunes library to MP3, which one do you prefer? If your songs are not protected, you can use iTunes, Apple Music, or ViWizard Audio Converter to export songs from iTunes library to MP3. If your songs are protected, like iTunes songs bought before 2009 or Apple Music songs, you need to use ViWizard to convert iTunes library to MP3.