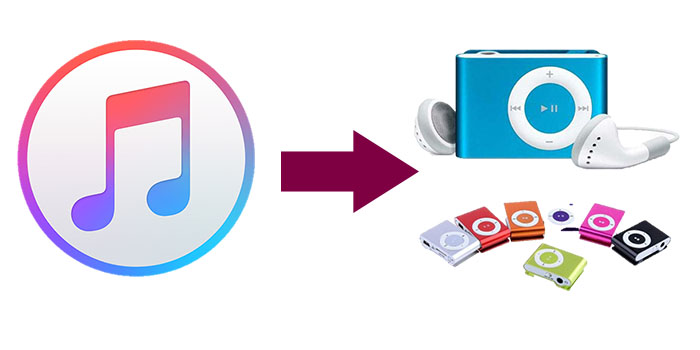 Remember the days when we enjoyed music on MP3 players? But have you ever thought about having your Apple Music there too? Whether it's a Sony Walkman, a SanDisk MP3 player, or any other MP3 player, we've got news: Apple Music can now be your travel companion.
Sure, Apple Music is at home on smartphones, tablets, and smart speakers, but the MP3 player is often left out. Can we change that? Today, we'll uncover how to actually get Apple Music onto your MP3 player, making your music world a whole lot bigger.
Part 1.

Can I Play Apple Music on a MP3 Player?

Apple Music, a popular music streaming service, has been optimized to work seamlessly within the Apple ecosystem. However, this integration creates certain limitations when it comes to playing Apple Music on a standard MP3 player.

For starters, like other music services, Apple Music employs a technology known as Digital Rights Management (DRM) to safeguard copyrighted content. Unfortunately, this means that Apple Music tracks are locked down and cannot be played on non-Apple devices, such as traditional MP3 players.

Also, when you download music from Apple music, you'll notice that Apple Music uses the AAC format for your purchases and the M4P format for your downloads, both of which aren't universally supported by all MP3 players. This format clash can make it difficult to play your favorite tunes on your go-to MP3 player. In most cases, offline listening is limited to Apple devices, excluding the possibility of enjoying Apple Music on most MP3 players without an internet connection.

In simple words, when it comes to play Apple Music on a MP3 player, MP3 format is key. Fortunately, there are still strategies that help you overcome these limitations and groove to your Apple Music on a broader range of devices. Let's dive in.
Part 2.

How to Play Apple Music on MP3 Player

In this part, we'll introduce two main methods that Apple Music users can create the MP3 version of their Apple Music songs. These MP3 files are now compatible with a wide range of MP3 player, allowing you to take your favorite tunes with you wherever you go.
Method 1: Convert iTunes Purchases to MP3
If you've purchased iTunes music and want to enjoy it on your MP3 player, converting it to the MP3 Format is essential. Here's how to do it:
Note
This method doesn't incur any additional costs beyond the ones you've already invested in purchasing your iTunes music.
Launch the iTunes application on your computer.
If you're using Windows, click on the "Edit" menu. If you're on a Mac, click on the "iTunes" menu. From there, choose "Preferences."
In the Preferences window, click on the "General" tab.
Within the General tab, locate the "Import Settings" button and click on it.

Look for the "Import Using" dropdown menu, click on it and select "MP3 Encoder" from the available options.

Click "OK" to close the preferences window.
Now, you're ready to convert your purchased iTunes music to MP3 format. Select the song you wish to convert to MP3 within your iTunes library. From the "Edit" menu, select "Convert," and then choose "Create MP3 Version."

The converted songs into the MP3 format will appear alongside the original. You can then transfer it to the microSD card you use for your MP3 player.
Method 2: Download Apple Music to MP3
For Apple Music subscribers aiming to savor their beloved tracks and even the entire music library on an MP3 player, third-party tools such as ViWizard Apple Music Converter come to the rescue. Here's how to make it happen:
ViWizard Audio Converter is, in other words, an Apple music converter. It can help you remove DMR from Apple Music and convert Apple Music songs to MP3 so that you can put Apple Music on an MP3 player for listening. Also, you can use this tool to convert iTunes audios and Audible audiobooks for playing on MP3 player. To enjoy Apple Music on MP3 player, simply follow the below steps.

Key Features of ViWizard Audio Converter
Free Trial
Free Trial
* Security verified. 5, 481,347 people have downloaded it.
Convert songs, albums, and playlists from Apple Music to MP3
Remove DRM protection from Apple Music, iTunes, and Audible
Save the converted audios with the original quality and ID3 tags
Support the conversion of up to 100 audio formats to others
Step 1

Add Apple Music Songs to ViWizard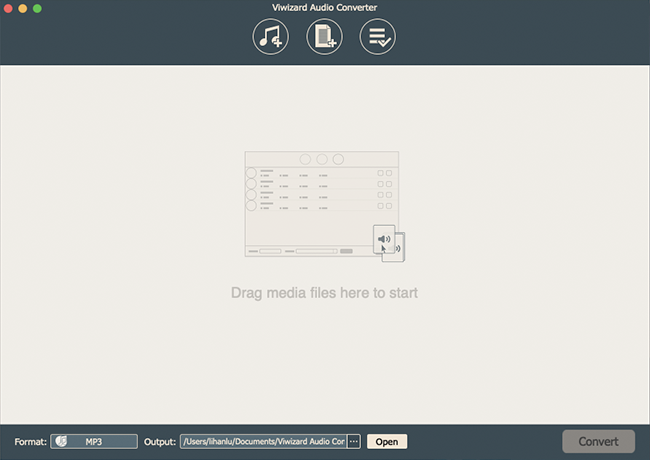 First, download and install ViWizard Audio Converter. There are two versions, including Windows version and Mac version, for you to choose. Then you can download Apple Music songs you want to convert before the conversion. Now launch ViWizard Audio Converter and Apple Music will be opened at the same time. You'll see three icons on the central top of the main screen.
1) This Music note icon is for import audios from iTunes and Apple Music to ViWizard.
2) This one is to locate the folder on the computer for adding audios to ViWizard.
3) This is the Converted History where you can find the converted files when the conversion is done.
You can click on the Music note button to import Apple Music songs to the converter or directly drag files from Apple Music to the converter as well.
Step 2

Adjust the Output Format for Apple Music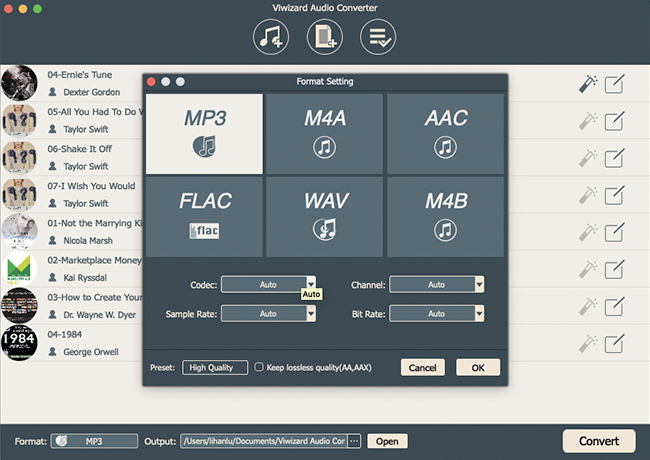 When you finish the step 1, open the Format panel to select an output format for Apple Music. ViWizard allows you to choose MP3, WAV, or AAC as the output format. In order to put Apple Music on MP3 player, the best choice is MP3 format. Right next to the Format is the Output Path option. Then click on the three-dot icon to select a file destination for your converted Apple Music songs.
Step 3

Edit the Songs with the Built-in Audio Editor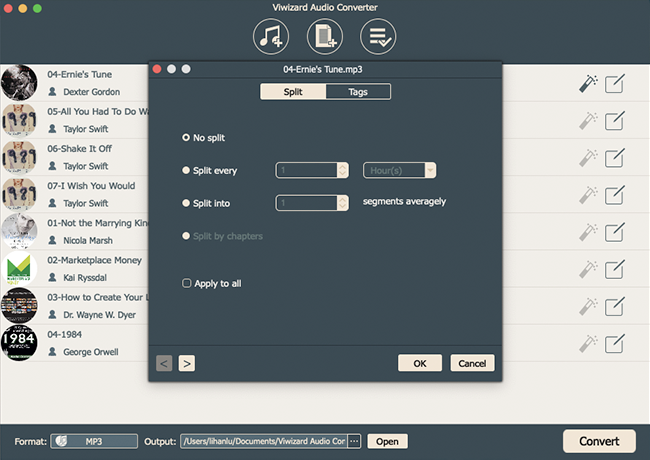 Format and Output Path are the basic settings. ViWizard Audio Converter also has many extra features for you to find out. Under the Format panel, you can adjust the codec, channel, sample rate, bit rate, and quality of the audio files. Here you can change the other audio parameters.
1) This magic stick icon is to change the volume, speed, and pitch of the converted audios.
2) Next to the special effects icon, the edit icon enables you to tailor the tags and split the audios.
Step 4

Convert Apple Music Songs to MP3 Format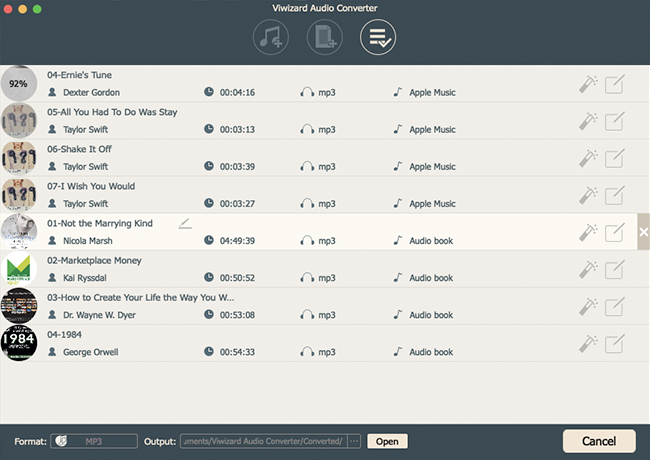 Once you are done with all the settings, you can take up the conversion by clicking on the Convert button. When the conversion finishes, a red reminder will show up on the Converted History icon. Then you can go to Converted History and use the search feature to locate the folder where you choose to save the converted Apple Music songs.
Part 3.

How to Transfer Apple Music to MP3 Player

Now that you've successfully converted your Apple Music tracks to MP3 format using iTunes or ViWizard Apple Music Converter, it's time to take your music on the road. Here's a simple guide on how to transfer your newly liberated tracks to your MP3 player:Now that you've successfully converted your Apple Music tracks to MP3 format using iTunes or ViWizard Apple Music Converter, it's time to take your music on the road. Here's a simple guide on how to transfer your newly liberated tracks to your MP3 player:
Plug your MP3 player into your computer using a USB cable. When it shows up as a storage device, open it.
Locate the MP3 files you store on your computer.
Drag the MP3 files from your computer's folder and drop them into your MP3 player's "Music" or "Media" folder.
Let the transfer finish. Then safely eject your MP3 player from your computer.
Unplug your MP3 player, navigate to the music section, and start enjoying your newly transferred Apple Music songs.
Extra Tip:

Best Compatible MP3 Players for Apple Music

While playing Apple Music on non-Apple devices might initially appear challenging, there are indeed MP3 players that can harmoniously sync with your Apple Music experience. Here are some standout options:
#1. iPod Touch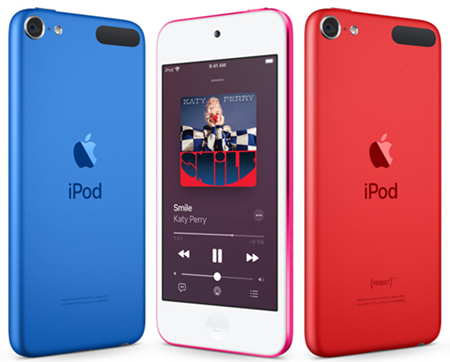 The iPod touch, a portable masterpiece crafted by Apple Inc., holds a time-tested place in the realm of music enthusiasts. Although production may have slowed, the iPod touch remains a stalwart contender among the best MP3 players.
The device, while no longer in active production, still stands tall as a beloved choice. Engineered within the realm of Apple's innovation, the iPod touch graciously accommodates the Apple Music app. This makes for a streamlined experience for subscribers, allowing direct access to their cherished playlist and tracks. While production may have seen its sunset, the iPod touch continues to shine as a beacon of seamless integration with Apple Music.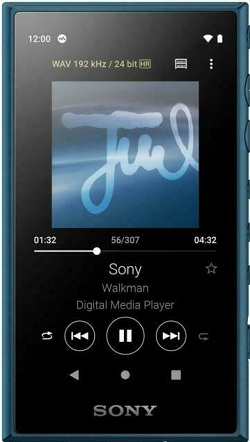 A timeless companion the Sony Walkman steps up as another appealing avenue for those seeking a dedicated MP3 player experience. Lightweight and graceful in design, this MP3 player embraces your music, ensuring up to 35 hours of playback between charges. Its simple drag-and-drop interface adds convenience to loading your entire music spectrum. The Sony Walkman's charm lies in its ease of use on the go.
However, it's worth noting that at present, Apple Music's streaming service isn't offered on the Sony Walkman platform.
#3. SanDisk MP3 Player
Streamlined simplicity carving a niche for itself, the SanDisk MP3 player emerges as a lightweight and robust contender in the MP3 player arena. Known for its user-friendly clip design and durability, the SanDisk MP3 player boasts an active and hands-free music experience. For those seeking a portable auditory companion, the SanDisk MP3 player offers a worthy option.
Yet, it's vital to recognize that Apple Music's compatibility eludes this device, making it a choice best suited for those who aren't subscribed to Apple's music streaming service.
Note
This method above for transferring MP3 files to a traditional MP3 player also applies for these options.
Wrap Up
Now that all the steps are finished, you can put Apple Music on MP3 player, then listen to Apple Music songs at any time. Don't forget that ViWizard Audio Converter can do a lot more than this. It can do the same trick to remove DRM from iTunes audios and Audible audiobooks. Go to have a try, and you'll like it.