Sony Walkman has been always recognized as the synonym of portable music player since the first release of cassette Walkman in 1979. There are different types of Sony Walkman had been released in the past over 30 years. Until now, though cassette, CD, and MD Walkman were discontinued, many MP3 Walkman still exist and some of them are rated as the top MP3 players for dedicated audiophiles for their luxurious appearance and incomparable audio quality.
Once some models such as NWZ-ZX2 even comes with Android streaming music services like TIDAL and Spotify, allowing music lovers to enjoy streaming music online. However, none of them can play streaming music including Apple Music currently. In this guide, we will walk you through to find an alternative way to transfer Apple Music to Sony Walkman for playing.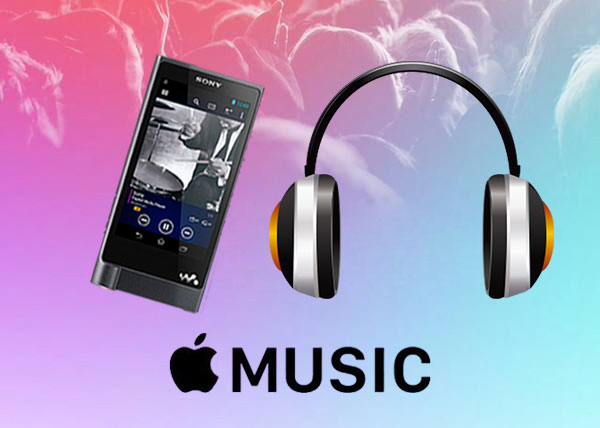 Part 1. Can You Play Apple Music on Sony Walkman?
Apple Music is a music streaming service developed by Apple company which owns a collection of over 75 million songs in lossless audio, ad free. When you sign up for Apple Music for the first time, usually you'll be benefit from Apple Music's time-limited free trial for 1 to 3 months.
Once your subscription plan is activated, you can listen to any contents from Apple Music streaming catalog on the device that is Apple Music-compatible by using the Apple Music application for mobile, desktop, and web. If you own a Sony Walkman, you'll want to play Apple Music there instead of a new iPod.
So, can you play Apple Music on Sony Walkman with the native app? If your Walkman is Android based then yes. Just head to Google Play to search for Apple Music then you're good to go. If your Walkman is one of the Android models such as W/E/F or the discontinued Z series, follow these steps to install the Apple Music app from the Google Play store. If your player is not Android-based, head to Part 2 where we'll introduce another workaround for you to make Apple Music compatible with all series.
How to install the native Apple Music application to Walkman [Android Models]: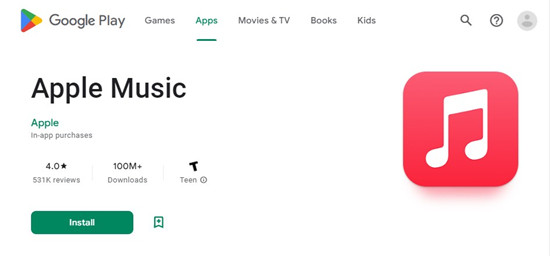 Step 1. To visit the Google Play store, you should enable the Wi-Fi function on your player. To connect the player to the internet, swipe the home screen upwards > Settings > Network & internet > Wi-Fi and then select the network in the home to use with the password. Tap Connect.
Step 2. On the Home screen, find and tap on the Google Play Store icon.
Step 3. Enter "Apple Music" in the search field.
Step 4. Follow any steps on the screen to download and install the Apple Music app to your player.
Part 2. How to Get Compatible Apple Music Audio with Sony Walkman
Another workaround for Sony Walkman owners to play Apple Music on the player would be to make Apple Music audio compatible with it, especially if your player is not Android-based. In most cases the Apple Music is unplayable with device that's not compatible with the DRM-protected Apple Music's AAC. Then you'll need to crack the DRM from the contents you wish to play on your Walkman. One of the essentials to use DRM-free Apple Music is a powerful music downloader called ViWizard Audio Converter.
Best Apple Music to Sony Walkman Converter - ViWizard Audio Converter
ViWizard Audio Converter features the Apple Music contents downloader for you to download any on-demand items stored in your iTunes library. In addition to the music you want from Apple Music catalog, iTunes files, iTunes audiobooks and even Audible audiobooks that you synced to the iTunes app can be downloaded for your Walkman. To make the desired contents compatible, you just need to adjust the output audio format as MP3 in ViWizard. Before we get you started, pick either the Windows or Mac version of the ViWizard Audio Converter from the download box below.

Key Features of ViWizard Apple Music Converter
Support the conversion of Apple Music, iTunes audios, and Audible books
Convert Apple Music to FLAC, M4A, M4B, WAV, AAC, and MP3 losslessly
Remove the built-in protection from Apple Music, iTunes, and Audible
Handle the conversion of audios in batch at the faster speed of 30×
Step 1

Drag Apple Music files to the converter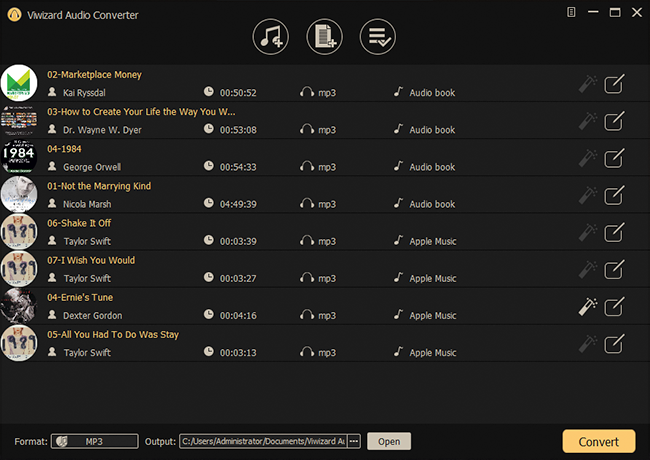 Simply launch the converter and then directly drag Apple Music files to the main interface. Or you can click Add Files to load all Apple Music songs which are already downloaded in the iTunes library or the folder.
Step 2

Set MP3 as the output format for Apple Music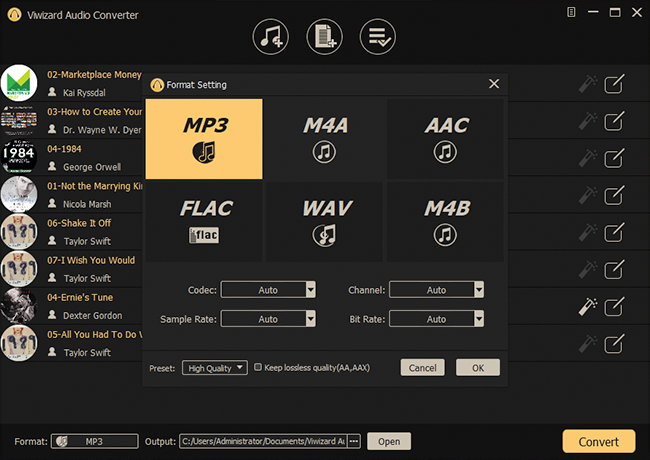 There are six audio formats, including MP3, AAC, WAV, FLAC, M4A, and M4B available for you to choose from. By clicking the Format panel, then set MP3 as the output format. Different Walkman supports different formats, but MP3 is a common format working for any Walkman.
Step 3

Start to convert Apple Music to MP3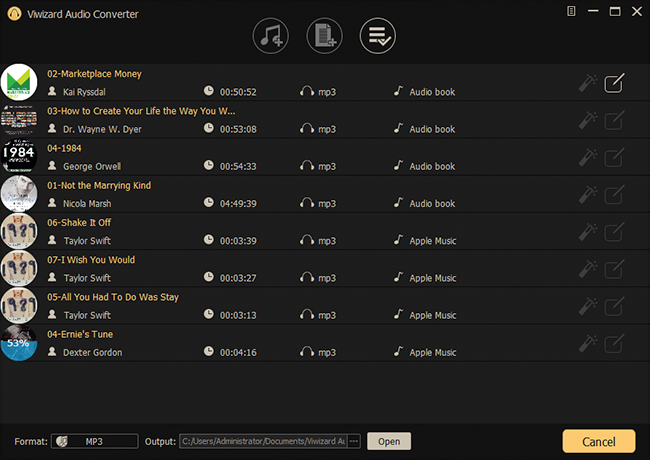 Next, you can click the Convert button, then the software will get rid of the DRM protection from Apple Music songs and convert them to the common audio files with the extension you selected. After conversion, you can browse them in the history list.
Part 3. How to Transfer Apple Music Library to Sony Walkman
Now with the compatible Apple Music files with Sony Walkman, it's easy for you to add them to your player. Here're 3 options to transfer the files to your Walkman based on the model of it. We'll let you through the guide to finish the transfer by using Windows Explorer (Windows) / Finder (Mac), Media Go or Content Transfer.
To transfer Apple Music audio files from Windows/Mac:
Step 1. Connect your Walkman to your Windows or Mac computer via USB.
Step 2. On Windows or Mac, use Windows Explorer or Finder to find the Apple Music folder that contains all the compatible audio files. In the meanwhile, turn to your Walkman and open the storage.
Step 3. Now head to copy the music folder and paste it on the Walkman storage.
To transfer Apple Music audio files through Content Transfer:
Step 1. Connect your Walkman to either Windows or Mac computer.
Step 2. Start Content Transfer.
Step 3. Display the Apple Music audio in Finder or the iTunes app (if you replace the original Apple Music contents with the compatible audio files).
Step 4. Drag the Apple Music content or playlists you want to and drop it to Content Transfer.
To transfer Apple Music audio files through Media Go:
Step 1. Connect your Walkman to the computer that has both Media Go and the Apple Music audio files.
Step 2. Start Media Go.
Step 3. In the Music Library of Media Go, select the desired content, and drag and drop it to your "Walkman (model name)". Media Go will recognize the type of data by the file name extension (at this time should be .mp3) and send it to the appropriate folder of your player.
Part 4. How to Play Apple Music Audio on Sony Walkman
Your Apple Music library should be transferred to your Walkman successfully by using any methods above. To play those Apple Music files, you just need to open the Music player application on your Walkman.
To play Apple Music audio files in the Music player application:
Step 1. On the home screen, tap Apps > Music player.
Step 2. From there select an Apple Music audio file to play directly. Or if you wish to access the entire music library, tap Library > Search > Folder, now you can play individual files and all music.
Step 3. To control the Apple Music playback, use operations on the music playback screen to play/pause, forward/back.
Conclusion
In the end, you will have those DRM-free Apple Music files and even back up them to those iCloud platforms like Google Drive or media server like Plex. Even if you unscribe to this streaming service, you can still keep the music forever. That's it. When everything is done, you can enjoy Apple Music on your Sony Walkman with beautiful natural sound.