At the moment when you subscribe to Apple Music streaming service, you should be clear about the restrictions of Apple Music, such as you can only access the streaming music from devices registered with your Apple Music account, the tracks would become unplayable after canceling the subscription, and the most annoying limit - you are not allowed to transfer the downloaded songs from Apple Music to USB or other devices and players.
So what if you want to copy the Apple Music songs to play on your car radio using a USB flash drive? Don't worry. This article will guide you to easily transfer songs and playlists from Apple Music to USB stick in a few clicks only.
Can I Copy Apple Music to USB?
With an active Apple Music subscription, you can download various Apple Music content for offline listening. However, it's challenging to find where your downloads are stored on your device. And they are not transferrable to your other devices, such as iPad or iPod. The best solution to copy your Apple Music to USB as transferrable and playable music files is using a third-party tool called ViWizard Apple Music Downloader. By converting and downloading all your Apple Music at once, you can effortlessly transfer your Apple Music to USB and put them on any devices or media players, including TVs, Game Consoles, Echo devices and a safer place.
Part 1.

Where Are My Apple Music Offline Downloads?

By default, the Apple Music downloads are stored in M4P format in the folder of "iTunes Media" on your device. You can change the file location by going to the Music or iTunes app > Edit > Preferences> Advanced > iTunes Media folder location.

On macOS computers: /Users/[Your username]/Music/Music/Media/Music/.
On Windows PC: C:\Users\Yourusername\Music\iTunes\iTunes Media.
On Android phone: Internal Storage\Android\data\com.apple.android.music\files\Media.
You can access the downloaded Apple Music files in encoded AAC, M4P or ALAC format. However, these Apple Music tracks are protected by Digital Rights Management (DRM). This means you can't freely share or transfer downloaded music to other devices, such as your USB drive.
The songs you download are only playable within the Apple Music app. You won't be able to transfer them to other media players or devices unless you use other methods like ViWizard Apple Music Downloader to convert and save them in compatible formats, such as MP3.
Pros

Allow you to have your favorite music as downloads available offline.
No extra charges with an active Apple Music subscription.
Cons

Require an active Apple Music subscription.
Only play within the Apple Music app.
Cannot transfer to other media players or devices directly.
Tied to your Apple ID and specific devices.
The amount of downloaded music is limited by Apple Music's download limit.
Part 2.

How to Save Apple Music to USB Directly

Expect for the local files put into the software, Apple Music users may want to save the exclusives to Apple Music to a USB drive for a backup. To save Apple Music content to USB, it's essential to remove the Digital Rights Management, which enables users to full control of the Apple Music content.

ViWizard Apple Music Converter is a dedicated software designed to convert and download Apple Music files to USB in universally playable formats like MP3. It helps computer users to convert and download various types of Apple contents, including Apple Music, iTunes music, podcasts, audiobooks, Audible audiobooks and even the local files put into the iTunes software. By using ViWizard Apple Music Converter, you've found an easy, fast, and secure way to save your Apple Music into your USB for a permanent backup.

Key Features of ViWizard Audio Converter
Free Trial
Free Trial
* Security verified. 5, 481,347 people have downloaded it.
Convert songs, albums, and playlists from Apple Music to MP3
Remove DRM protection from Apple Music, iTunes, and Audible
Save the converted audios with the original quality and ID3 tags
Support the conversion of up to 100 audio formats to others
The converted files can be played on a wide range of devices and media players beyond the Apple Music app and Apple devices that support the chosen output format (e.g., MP3, WAV, FLAC, AAC, M4A, M4B). As it strips away the DRM protection, allowing you to freely transfer and play them anytime, anywhere.
Pros

Use iTunes software as the original music source.
Converted files are not limited to Apple Music app and Apple devices.
Converted files won't have Digital Rights Management protection.
Allows to play converted files on various devices and media players, including USB.
Preserve lossless audio.
Keep full metadata such as album art, track name, artist, album name, release date.
Offer customizable output settings.
Help music management by archiving music by artist, artist/album or none.
Cons

Manage converted files separately on your computer and USB drive.
Take up additional storage space on your computer and USB drive.
Step 1

Select Apple Music Content

Launch ViWizard Audio Converter, wait until it launches or relaunches iTunes to load the whole iTunes Library. Click on the Add Music button > Library, Audiobooks or Apple Music to add Apple Music contents to convert. You can also drag and drop them from iTunes app to ViWizard's main interface.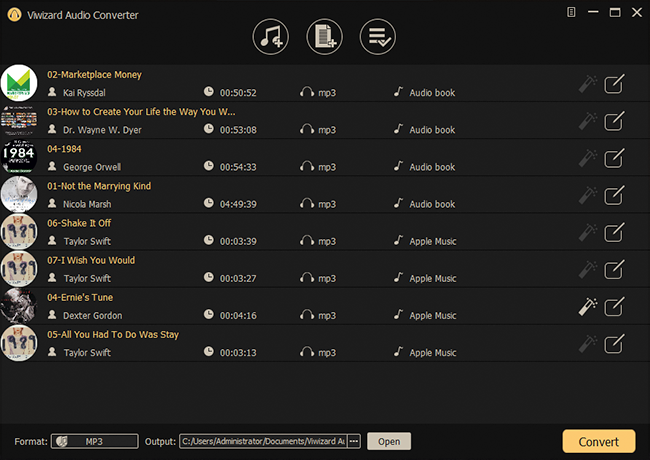 Step 2

Configure output parameters

Once the music contents are added to ViWizard, click the Format tab at the bottom > Format Setting, then select the compatible output format with the devices via a USB or iTunes as MP3, AAC or WAV. After that, click OK to save this change.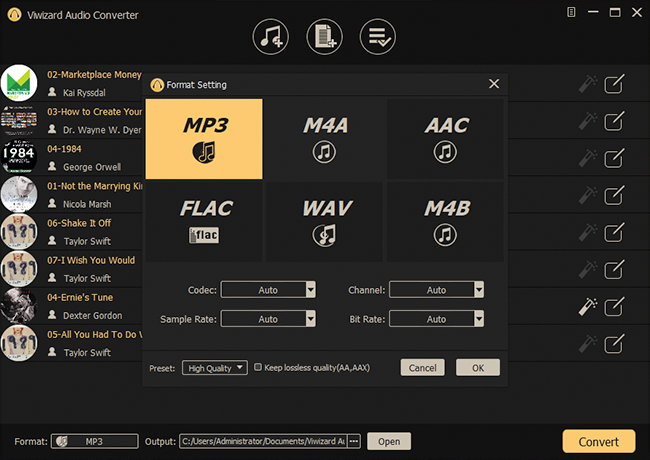 Step 3

Convert and Downlaod Apple Music Content

Click Convert to start the conversion at a 30x speed. Once the conversion completes, you can open the Converted menu > Search to navigate to a converted music file or click Open next to the output location to go to the whole output folder.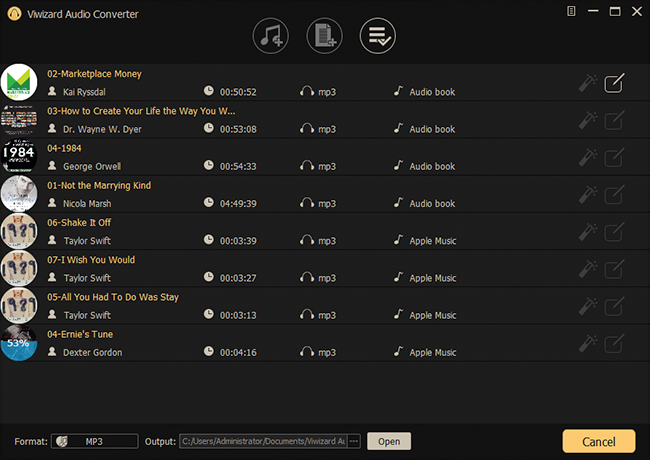 Step 4

Copy Apple Music to USB

Based on the format setting, you can choose to back up your iTunes Library with the converted files in MP3, AAC or MAC or transfer them to a USB drive from local for other devices and platforms. Right-click the converted Amazon Music file or the whole "Music" folder, then Copy. Go to the USB drive, then right-click > Paste to transfer the converted Apple Music to it.
Part 3.

How to Copy Apple Music Library to USB Manually

You can carry your Apple Music library, including playlists, metadata, and music files, with you on a USB drive and access it on different computers with iTunes easily. For starters you need to consolidate your iTunes library files, including the "iTunes Media" folder and relevant files. Then you can directly copy them to a USB drive. After that, you can access your Apple Music library on the USB drive and play the songs on a compatible device or media player that supports the format (iTunes purchased 256kbps in AAC).

Consolidating your iTunes library ensures that you have both the music files and metadata readily available on the USB drive, and allows you to play the songs on specific devices.
Pros

Ensure a complete backup of your entire media collection.
Transfer the entire iTunes library to a new computer.
Compatible with various media players and devices that support the file format.
Cons

Tied to iTunes and its directory structure specifically.
Require significant storage space.
Carry duplicate files, incorrect metadata, or disorganized content over to the consolidated library.
Require manual management.
Purchased AAC file format may not supported by your intended playback devices.
Step 1

Consolidate your iTunes library files
On your Windows or Mac computer running macOS Mojave or earlier, open the iTunes app.
Go to File > Library > Organize Library.

To consolidate files, check the box next to "Consolidate files."

Click OK. iTunes will copy the related media files into the "iTunes Media" folder.
Step 2

Copy iTunes library files to USB drive
Find and locate the iTunes Media folder on your Windows or Mac computer:

On macOS computers: /Users/[Your username]/Music/iTunes/iTunes Media.
On Windows PC: C:\Users\[Your username]\Music\iTunes\iTunes Media.

Locate the consolidated iTunes library files.
Plug your USB drive into an available USB port on your computer.
Copy the "iTunes Media" folder and related files to your USB drive, including the iTunes Library.itl file, iTunes Music Library.xml file (optional).
Conclusion
In summary, you can copy your Apple Music library to a USB drive using three methods: directly copying downloaded files (simple but limited), converting songs with third-party software for compatibility, or consolidating your library (complete but needs more space). You're highly recommended to take advantage of ViWizard Apple Music Converter to have the full control of your Apple Music library.