Summary: Can I copy my Apple Music songs to USB? Yes! You can do that with the method introduced in this post.

At the moment when you subscribe to Apple Music streaming service, you should be clear about the restrictions of Apple Music, such as you can only access the streaming music from devices registered with your Apple Music account, the tracks would become unplayable after canceling the subscription, and the most annoying limit - you are not allowed to transfer the downloaded songs from Apple Music to USB or other devices and players.
So what if you want to copy the Apple Music songs to play on your car radio using a USB flash drive? Don't worry. This article will guide you to easily transfer songs and playlists from Apple Music to USB stick in a few clicks only.
Part 1. Can I Transfer Apple Music to USB?
With a combination of personal music collection and Apple Music catalog, iTunes Library is a database that's made up of all the music and other media added to iTunes.
When it comes to the availability to transfer Apple Music to USB, it's hard not to mention that the thing you are transferring is either iTunes Library files or an iTunes Media folder.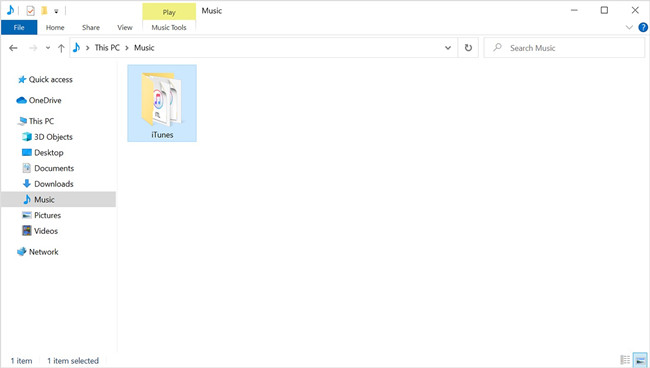 While the iTunes Media folder can be transferred to a USB drive for a backup of the purchased within Apple Music's platforms - iTunes or Apple Music app, the iTunes Library files can be accessed and transferred to USB for more platforms and devices.
For Windows to Transfer iTunes Library Files to USB
If the music was uploaded to iTunes from local before, you can locate the file easily with a click on the show in Windows Explorer button in iTunes.
1. In iTunes for Windows PC, open the Apple Music contents menu > Music. In the side menu, go to the Downloaded section.
2. Under the Downloaded section, click the alum covert of the music content, then right-click the song to see Copy or Show in Windows Explorer option (if available).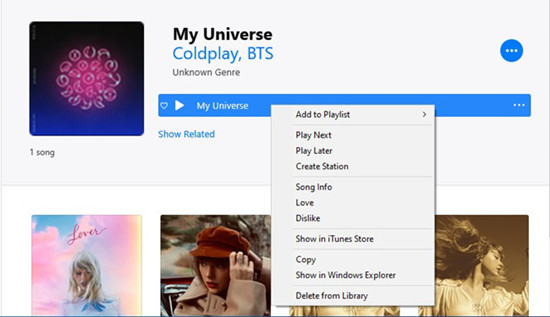 Note: If the iTunes Library files haven't been deleted from the device, the Show in Windows Explorer button works fine to browse the files on the device.
3. Now please connect your USB drive to the device. You can go to the USB drive, then right-click > Paste to transfer from iTunes to USB or right-click on the iTunes Library file > Copy > Paste to transfer from local to USB.
However, you may fail to access the files within the steps above, chances are that the purchases are not downloaded from iTunes Store, or the files are deleted from the device, or the contents you want are the exclusives to Apple Music - Apple Music catalog.
Even the files are accessible, you may find they are incompatible with the devices or platforms with the USB drive - like TVs(Apple/Amazon Fire/Vizio/Samsung/Android), Game Consoles(PS4/PS5/Xbox One), Echo devices(Alexa/Sonos/Soundlink) and more for a safer place(Google Drive/One Drive/Sound Cloud).
No worries. In the following part, we'd like to a method to save Apple Music to USB.
Part 2. Can I Save Apple Music to USB?
Except for the personal music collection, Apple Music users will want to save the exclusives to Apple Music to a USB drive for keeping. To save Apple Music streaming files to USB, you must remove the DRM protection from them, which will enable you the full control of Apple Music songs.
To save Apple Music to USB without limits, we'd like to introduce a powerful 3-party tool functioning as an Apple Music Converter to remove the encoded-DRM from the accessible music contents from Apple Music - like audiobooks, music and more.
ViWizard Audio Converter comes with some popular features to load the entire iTunes Library to convert, convert contents to some unprotected formats like MP3 & AAC, find the converted files on the Windows & Mac devices, which is a short process at a super faster conversion speed of 30x. For a better back-up, you can even customize the format settings as compatible MP3, MAV or AAC with iTunes, then transfer them to a USB drive.

ViWizard Apple Music Converter Key Features
Losslessly download and convert Apple Music for offline playing on any device
Convert M4P Apple Music to MP3, AAC, WAV, FLAC, M4A, M4B
Retain 100% original quality and ID3 tags
Support converting Apple Music songs, iTunes audiobooks and Audible audiobooks
Convert between DRM-free audio file formats
Part 3. How to Transfer Apple Music to USB from Local & iTunes
In the following part, we'll show a simple instruction to convert Apple Music into MP3s. Please pick up the correct version of this Apple Music converter for your Windows or Mac device.
These're some requirements & suggestions to transfer Apple Music to USB:
Download and install the correct version of Apple Music Converter for Windows or Mac device;
Make sure the latest version of iTunes is installed on the device;
Sign in to the iTunes with Apple ID and password;
Prepare a USB flash drive to connect to the device;
Confirm the audio formats that compatible the device or platform.
For Windows & Mac to Convert Apple Music into MP3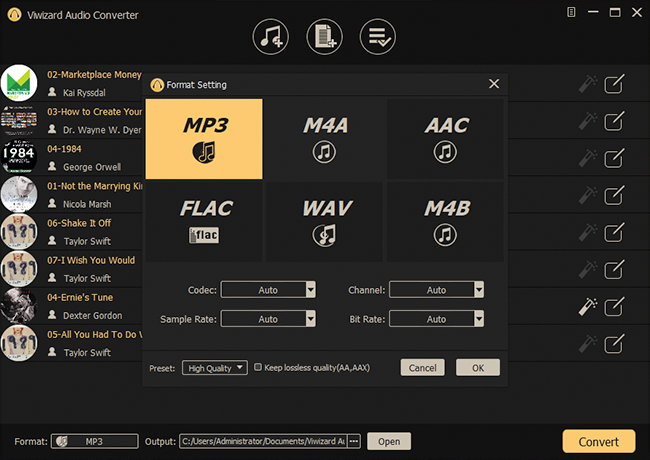 1. Launch ViWizard Audio Converter, wait until it launches or relaunches iTunes to load the whole iTunes Library. Click on the Add Music button > Library , Audiobooks or Apple Music to add Apple Music contents to convert. You can also drag and drop them from iTunes app to ViWizard's main interface.
2. Once the music contents are added to ViWizard, click the Format tab at the bottom > Format Setting, then select the compatible output format with the devices via a USB or iTunes as MP3, AAC or WAV. After that, click OK to save this change.
3. Click Convert to start the conversion at a 30x speed.
Based on the format setting, you can choose to back up your iTunes Library with the converted files in MP3, AAC or MAC or transfer them to a USB drive from local for other devices and platforms.
For Windows & Mac to Transfer Apple Music to USB Drive from Local
1. Once the conversion completes, you can open the Converted menu > Search to navigate to a converted music file or click Open next to the output location to go to the whole output folder.
2. Right-click the converted Amazon Music file or the whole "Music" folder, then Copy.
3. Go to the USB drive, then right-click > Paste to transfer the converted Apple Music to it.
For Windows & Mac to Transfer Apple Music to USB Drive from iTunes
Since now the Amazon Music streaming files are converted into compatible formats with iTunes, you can create a music content (for example: Playlist) based on them in iTunes, however as iTunes Library files!
Repeat some steps to copy iTunes Library files from iTunes to a USB drive. You'll find the converted music with ViWizard work fine as iTunes Library files!