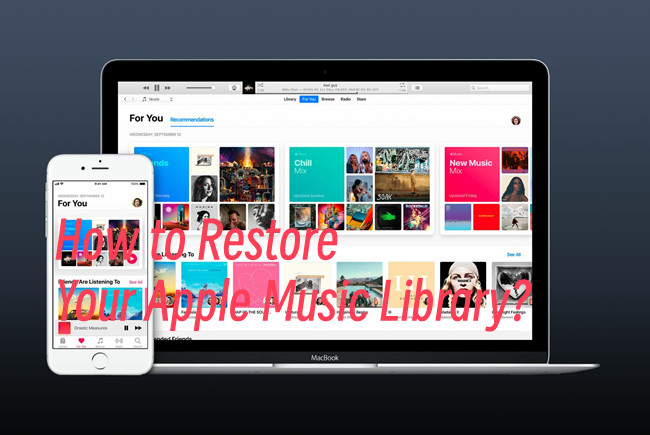 When you rely on Apple Music for your daily does of musical bliss, protecting your precious library becomes paramount. As an Apple Music user, you know the joy of curating a personalized music library that complements your every mood, and the pain of losing it. Whether you accidentally deleted a cherished playlist, experienced the loss of your library after a missed payment, or encountered a technical hiccup, fear not - we've got you covered.
We're here to help you navigate through the process to restore your Apple Music library seamlessly. In this guide, we'll unveil the steps to regain your access to your Apple Music library and make your listening back on track.
Part 1.

How to Restore Your Apple Music Library

If your Apple Music library and playlists are gone after missing a payment, your access to the service and music built up with your Apple ID has been restricted due to the unpaid balance. Then you may want to restore your Apple Music library and regain access to Apple Music.
Solution 1: Turn on Sync Library in Apple Music
For starters, turning on the "Sync Library" feature in Apple Music can help you get back your music library after renewing your subscription. When you enable this feature, it allows our music library and playlists to be stored in iCloud and synced across all your devices associated with the same Apple ID.
How to renew Apple Music subscription: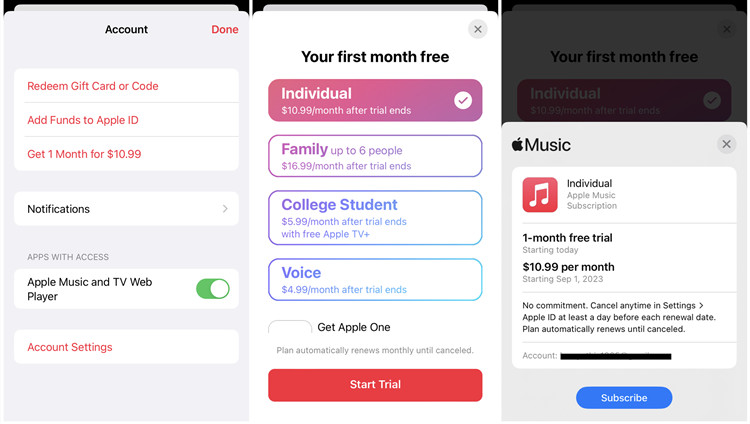 On your iPhone or iPad, open the Apple Music app.
Tap on the Profile icon in the upper-right corner.
Tap on any subscription button, such as "Get 1 Month for $10.99".
Select the plan you want to renew (Individual, Family, College Student, or Voice).
Tap on "Subscribe", and follow the on-screen prompts to complete the renewal process. If necessary, also update your payment method.
After that, restart the Apple Music app and then your device.
Once you restarted the device, open the Apple Music app and check if your Apple Music library is stored.
How to sync your Apple Music library:
On your iPhone or iPad, open the Settings app.
Tap on "Music".
Toggle on the "Sync Library" option under the "LIBRARY" section.
At the same time, make sure to toggle on the "Show Apple Music" option under the "APPLE MUSIC" section.

Wait until the syncing of your Apple Music library is done, and check to see it within the Apple Music app.
Solution 2: Request a Copy of Your Apple Music Library
Apple allows users in certain regions to request a copy of their personal data associated with their Apple ID through the Apple Privacy website. This data may include information from various Apple services, such as Apple Music, App Store, iCloud, and more.
How to request a copy of your Apple Musi data:
Go to Apple's Privacy website.
Sign in with the Apple ID that is associated with your Apple Music account.
Select "Request a copy of your data".

Choose the data you want to include in your copy. For your Apple Music library, select the checkbox next to "Apple Media Services information".

Scroll down and click on "Continue".
You can choose a maximum file size, and review your selections.
Click on "Complete request".
Apple will then process your request, and you will receive a copy of your data in your email address, which allows you to review the information associated with your Apple ID. From there you can look for any music information related.
Solution 3: Rebuild Your Apple Music Library
Rebuilding your Apple Music library can be a bit of work, but it's not an insurmountable task, as Apple Music stores your data like your "Loved" songs and previous listening history, which can help you reassemble parts of your library. For example, you may find some a albums you had with "Loved" songs, they will be still marked as "Loved". Moreover, you may take advantage of "Smart playlists" in Apple Music to get most of your music back.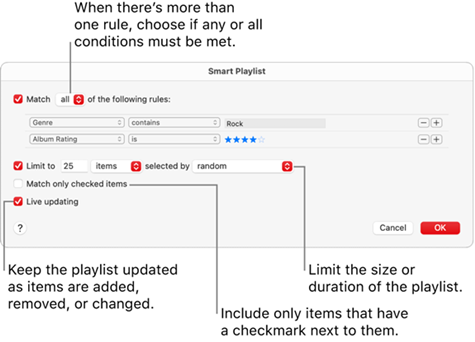 "Smart playlists" can indeed be a powerful tool to help you rebuild your library using the data that Apple Music has stored. Smart playlists are dynamic playlists and can automatically update based on specific criteria you set. You can create smart playlists using various parameters, including play count, last played date, loved status, genre, artist, and more. By leveraging this data, you can create smart playlists that mimic some of your previous playlists or listening habits.
How to Create a Smart Playlist:
On your Mac, open the Apple Music app. Or on your PC, open the iTunes software.
Choose File > New > Smart Playlist.

Set the criteria for the smart playlist based on your preferences and the data you want to use for rebuilding your library. For example, you can create a smart playlist that includes songs with a certain number of plays or songs that have "Loved".

Once the parameters are set, you can click the OK button to make this playlist.
If you had playlists that were based on specific criteria (e.g., most played songs, last played songs, recently added songs etc.), you can use similar criteria to create smart playlists that capture the same spirit.

After you created smart playlists to collect most of your songs, you can head over to them in the sidebar.
Part 2.

How to Back Up Your Apple Music Library Permanently

Apple indeed provides various options for users to back up their Apple Music library like iCloud. However, backing up your Apple Music library using an Apple Music downloader is highly recommended as it allows you to store your music library to your device locally, or an external hard drive. You can do this by downloading your entire Apple Music library with ViWizard Apple Music Converter on your computer. All your music, podcasts, audiobooks, and the local files you uploaded to your Apple Music library can be included.

ViWizard Apple Music Converter is an all-in-one conversion tool designed for Apple Music users to download various types of contents in their music library. To make the downloaded music transferrable and compatible with a device or platform, users can set the output format as MP3, M4A, M4B, WAV, AAC, or FLAC. For better music management on a device, ViWizard also download and embed the metadata, including title, artist, album, genre, and more. Moreover, it ensures a positive listening experience with keeping the lossless audio.

Key Features of ViWizard Audio Converter
Free Trial
Free Trial
* Security verified. 5, 481,347 people have downloaded it.
Convert songs, albums, and playlists from Apple Music to MP3
Remove DRM protection from Apple Music, iTunes, and Audible
Save the converted audios with the original quality and ID3 tags
Support the conversion of up to 100 audio formats to others
Step 1

Select Apple Music

Download and install either the Windows or Mac version of the ViWizard converter app to the computer, and launch it. When prompted, agree to launch the iTunes application. ViWizard will load your Apple Music library there. You can click on the Add music button to access it and select the desired music to download. Alternatively, you can drag and drop the music to the main interface.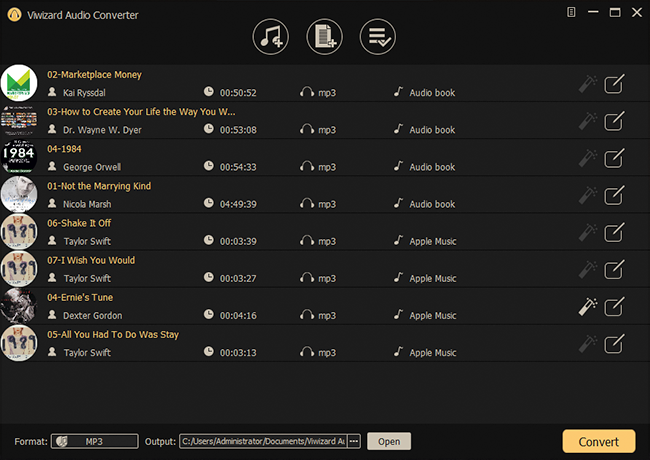 Step 2

Configure output parameters

Click on the Format tab from the lower-left corner, and head to choose the desired music format like MP3. You can also adjust bit rate, sample rate, channel, and more.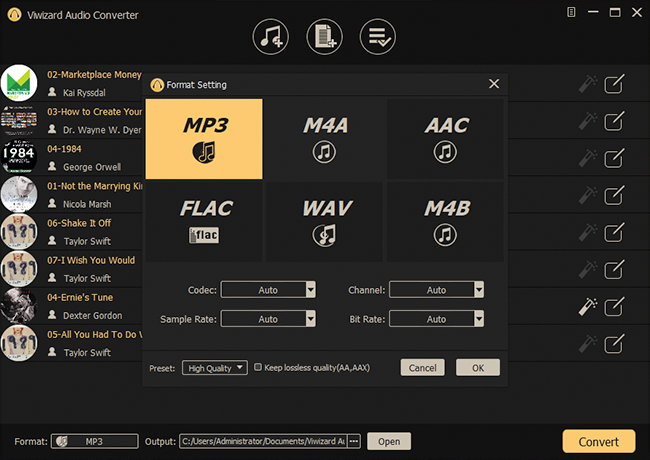 Step 3

Convert Apple Music

To convert Apple Music, head over to click on the Convert button, and ViWizard will start the downloading and conversion of the list of music tracks. You can then open up the converted menu to find the downloaded music.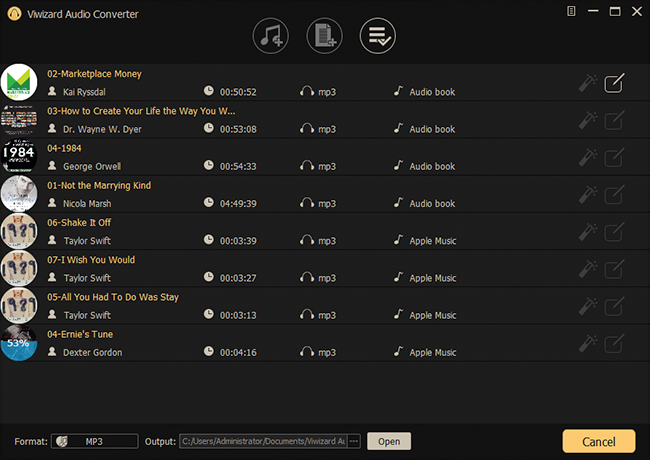 Conclusion
Congratulations! You've successfully reclaimed your precious Apple Music library once again. Remember that in this ever-changing digital landscape, safeguarding your music library is crucial. Take advantage of ViWizard Apple Music Converter's features like downloading your music to make a permanent backup of your Apple Music library across all your devices.