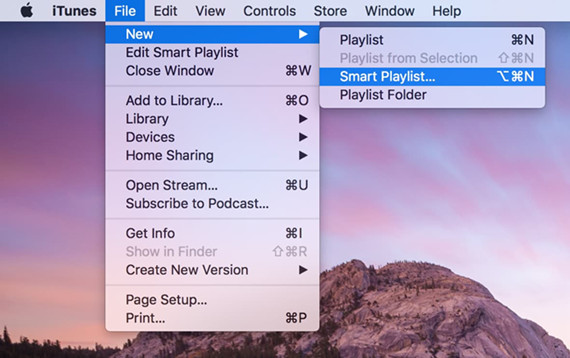 Apple Music is one of the go-to apps for music lovers. It's not only an online music streaming platform but also provides you with options to customize your own playlist. With the Smart Playlist feature, you can build up a playlist that fits the criteria you've set in advance and Apple Music will automatically add songs to the smart playlist.
In the following parts, I'll show you how to make a smart playlist on Apple Music and share the playlist with your friends.
How to Create An Apple Music Smart Playlist
Since Apple Music hasn't launched Smart Playlist feature on its mobile phone app, you can only create smart playlists on your computer using Apple Music desktop app or iTunes. Today I will show you how to create a smart playlist on PC iTunes:
1. In the menu bar, click File > New > Smart Playlist.
A new window will pop up within iTunes. It might look a bit complicated, but here's a picture that can help you understand how every button works.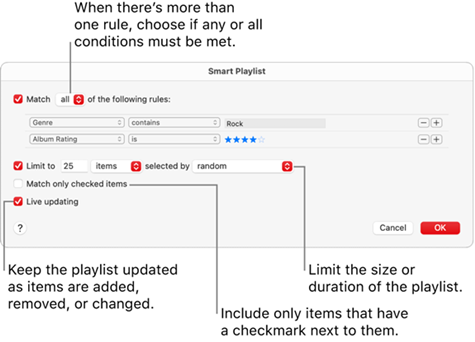 2. Set the rules and don't forget to tick the Live updating option.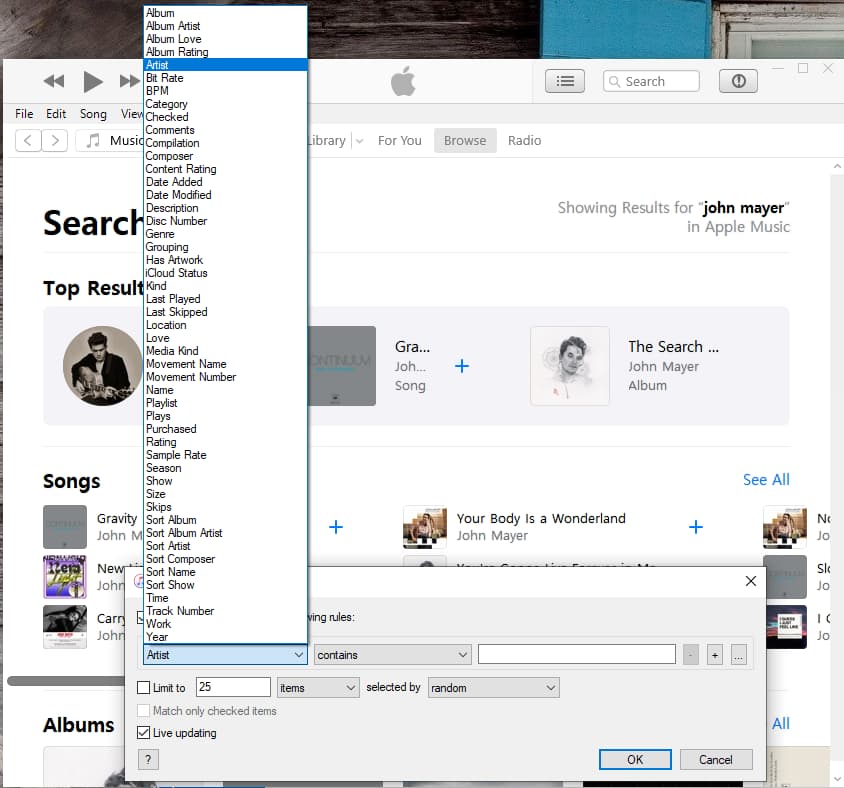 The criteria range from Album, Artist, BPM and all the way through Sample Rate and Year. You can add as many rules as you want to the playlist. You can also limit the playlist by time endurance and file size.
3. After setting up, click OK to finish.
A new iTunes smart playlist will be added to your library, and you'll be taken directly there. You can change the playlist name by double-click the name of the playlist. Whenever you Love a song to your library, the song will also be added to this playlist if it's eligible.
How to Mark Songs You Love?
There're several ways you can Love a song. In iTunes, you can either right-click the song or click the three-dot on the right of the song. And then click the Love option, then the song will be added to your Love Song playlist. Or you can do this in your Library. In the Library, click Songs and hover your mouse over the song. You'll see a "heart" icon appears beside Genre, click on the heart then you've successfully loved a song.
How to Sync Smart Playlists to Your Phone?
It's pretty simple to sync your smart playlist with your phone. On iTunes, go to Edit > Preferences. Then tick the iCloud Music Library, your songs and playlists will then be synced to all your devices.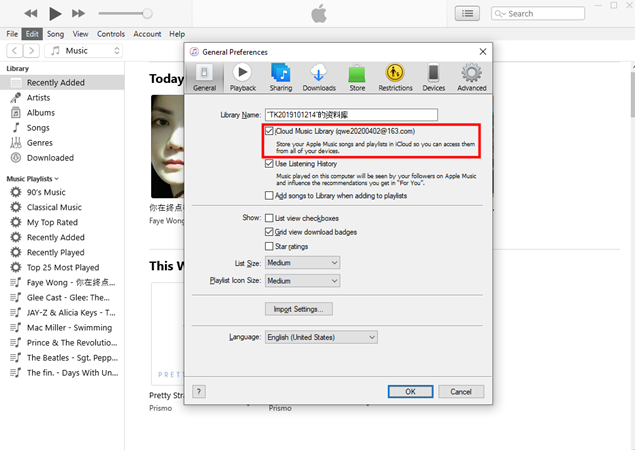 To be able to view your synced smart playlists on your phone, you'll also need to turn on iCloud Music Library on your phone:
1. Go to Settings on your phone, tap Music.
2. Tap the iCloud Music Library toggle to enable it.
How to Share Apple Music Smart Playlist with Friends
Is there a way to share smart playlists with friend? Would I be able to create a playlist and then add the "recently added" rule so that I can share it with other Apple Music users? I see at first glance that you cannot share smart playlists, just wondering if there is a way around this. - -User from Reddit
Unfortunately, the smart playlist is your personal playlist which can not be shared as a public playlist. To share the smart playlist, you'll need to make it public in advance. After you share the playlist to your friends, they also need to subscribe to Apple Music to stream your playlist. But is there a way to share your smart playlist to your friends and let them play songs in your playlist without having them to subscribe to Apple Music?
Yes, with the ViWizard Apple Music Converter, you can download all your smart playlist songs to mp3 and other popular formats and share them to your friends. Then your friends can play these songs on any media player without Apple Music or iTunes.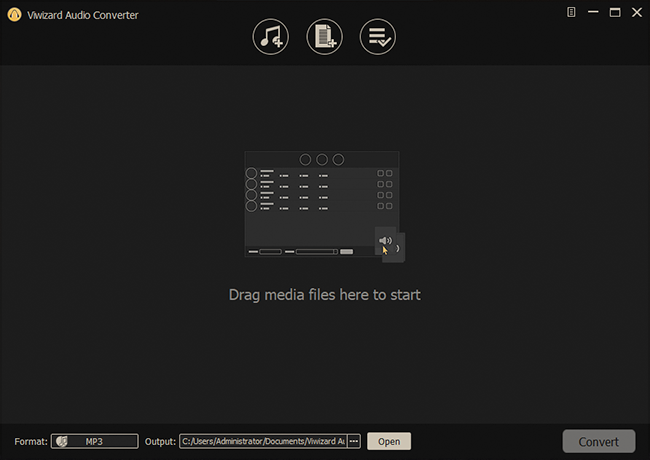 Comes with an intuitive interface, the ViWizard Audio Converter is designed to convert all protected iTunes, Apple Music songs and radio shows into MP3, M4A, AAC, FLAC and other common formats.
The specially designed booster will keep the converting speed up to 30X faster with high output quality preserved. With this tool, you'll be able to remove the protection of all the songs from your iTunes Library and play them anywhere you want.

ViWizard iTunes Music Converter Key Features
Convert iTunes songs to MP3, M4B, AAC and other popular formats
Download Apple Music songs offline
Play Apple Music smart playlist songs without limitations
Retain 100% original quality and ID3 tags
Convert at 30X faster speed
1. Launch ViWizard and Import iTunes Library Files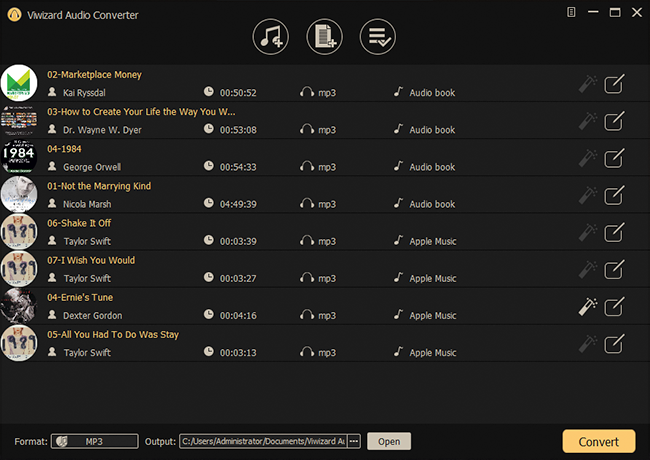 Launch your ViWizard Audio Converter and then click the music note "+" button to import songs from your iTunes smart playlist.
2. Setting Output Format and Parameters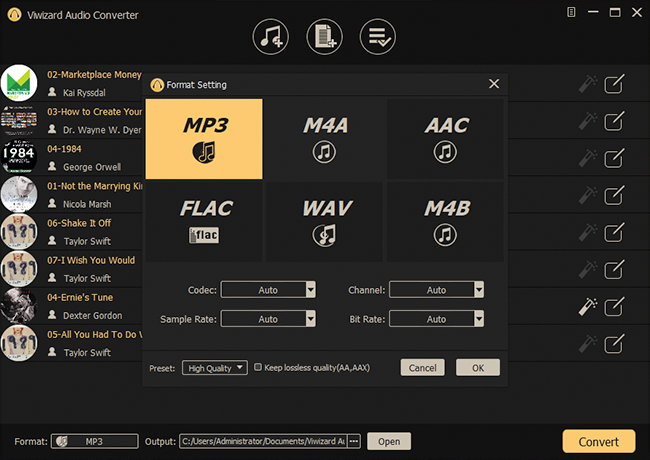 Once completed loading input files, you can click the "Format" button in the bottom left and choose the output format among MP3, AAC, FLAC, WAV, M4A, and M4B. You can also click the "Output" button and choose the output location.
3. Start Converting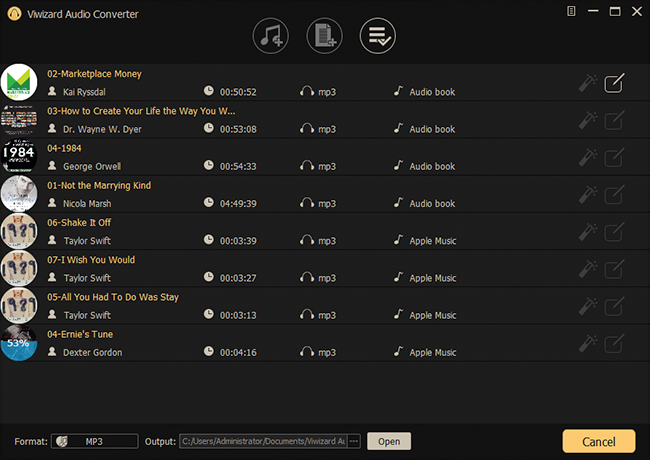 With format setting done, press the "Convert" button and ViWizard will start the conversion process. When it is done, you can find all your converted songs by clicking the "Converted" button.
4. Share Apple Music Smart Playlist Songs to Your Friends
Now you can enjoy all your downloaded songs from smart playlist and share them to your friends as well. Your friends can also enjoy these songs on any media player without subscribing to Apple Music.