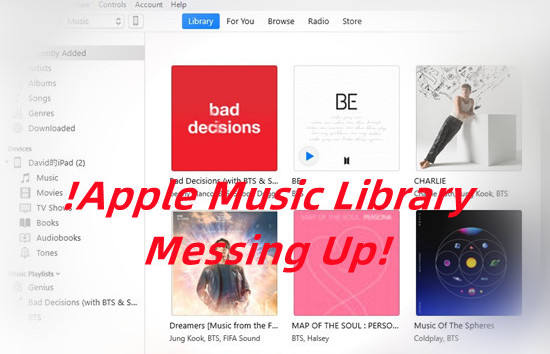 "I'm a 30F, I was wondering if this has ever happened to anyone. I found a random playlist I never created on my Apple Music library. It was called "Basketball". I don't even play basketball. The songs in the playlist were songs I do have in my library but songs that you wouldn't really put on a basketball playlist if I were to ever make one lol. Idk. It's really strange. I just deleted it when I saw it. No one even has any access whatsoever to my MacBook or iPhone." - Reddit
If you encounter with these issues when you're using either the Music app for iPhone, iPad or Mac and even iTunes, we'd like to tell you how to solve it immediately. If you wish to see the changes that happen to your Apple Music library, we also offer some helpful tips.
Part 1. How to Solve Apple Music Messing up Your Library
For starter we'd like to explain how this can happen, before you start to try signing out and back in to the Apple Music (iTunes) app.
If an Apple Music song/playlist/album is added to your library:
If you notice that some very random songs, albums, playlists showing up in your library included in the Recently Added section, and your Recently Added is totally messed up. It may be actually you told Apple Music to do so - you specifically requested those somewhere and now Apple Music add them for you. You should head to the For You tab in the Music app to find and follow your request.
To decline a follow request on Apple Music:
Step 1. Open the Music app on your iPhone or iPad.
Step 2. Tap the For You tab at the bottom of your screen.
Step 3. Tap on your profile picture in the upper-right corner of the For You page. If you have some very new notifications, they will appear in a red circle.
Step 4. Under your profile, tap Follow Requests.
Step 5. You should now able to see a list of your requests. If you don't want Apple Music add the items from those follow requests, tap the red "X" to decline it.
You may also need to pay attention to the Notifications banter appearing on the top of the screen. Apple Music's new releases notification will appear at the top of the "Library" tab in the Music app. So when an artist you have in your Apple Music Library releases a new song or album, you'll see a notification banner at the top of the Library interface. And if you miss that, you may deem the new songs are added by Apple Music but you don't specifically request it. It's better to manually control the in-app notification:
To open notifications on Apple Music: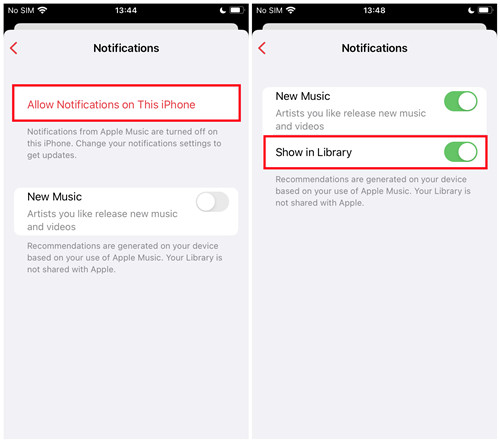 Step 1. Open the Music app.
Step 2. Tap the For You tab.
Step 3. Tap your profile picture in the upper-right corner.
Step 4. Tap Notifications.
Step 5. Tap "Allow Notifications on This iPhone/iPad" > Allow. This will send the notifications to your device.
Step 6. Once allowed, head to For You > Profile > Notifications and find the "Show in Library" toggle to enable.
Or course, sometimes the issues may be with the Apple Music. You can contact Apple Support or wait patiently until you a new version of the Music app is available on the App Store, so that you can try to update it. Fortunately, you would find the issues are fixed and your music library come back to you.
Other similar issues:
If an Apple Music song is missing: Learn how to stop Apple Music from deleting songs.
If an Apple Music song is not currently available in your country or region: Learn how to fix Apple Music is not available.
If you encounter the issues above and wish to see how Apple Music is manipulating your Music Library with a third-party software. Or it's best for you to keep your entire music library from Apple Music safely in Part 3.
Part 2. How to Stops Apple Music from Making Unexpected Changes
If you're confused and even frustrated with the changes that happen to your Apple Music library, you will need a third-party app for your iPhone or iPad to help you monitor additions, deletions, and other changes. That tool is called Music Library Tracker, and it could help you out.
Music Library Tracker - $3.99 on App Store for iPhone or iPad
Music Library Tracker keeps an eye on your music library and automatically monitors additions, deletions, and any changes to your songs as well as upgrades to Spatial Audio With streaming becoming more popular, it is very easy for song metadata to change or for songs to disappear as licensing deals expire; with Music Library Tracker you will always know when something in your library changes.
Features:
Automatic monitoring of the meta library on your iPhone or iPad (including iCloud Music Library if enabled on your device). Music Tracker checks the title, artist, album, album artist, genre, year of release, disc number, track number, rating, and Spatial Audio status.
See which of your tracks have been upgraded to Spatial Audio and have them placed into an automatic playlist within Apple Music. You can also opt-in to receive notifications when tracks are upgraded.
View an overview of changes of your library with filters to personalize the display to your requirements.
Drill down into the detail of individual tracks to see exactly which metadata changed and when along with dates for when tracks were added or deleted from your library.
A daily notification giving you a summary of changes in the previous day (this can be customized to just tell you about added, changed or deleted tracks).
Now this Apple Music Library tracker should start to make sense. It's best for users with an extremely large music library. In addition to common contents, Spatial Audio is supported in the app's library monitoring for the first time. All with Music Library Tracker.
If you wish to have this Music Library Tracker on your device, it costs you $3.99 (or $2.99 for 25% off for the next week) on the App Store. Just head to the App Store and search for "Music Library Tracker" from the Search bar and complete this one-time purchase. It's a very useful addition to any Apple Music user's library, with no personally identifiable information is ever sent and the data is kept only for as long as it takes to serve the request.
Part 3. How to Keep Your Apple Music Library Safely in Advanced
Even the Music Library Tracker can help you see any changes with your Apple Music library, the Apple Music contents are still exclusive to Apple Music, e.g., Apple Music streaming catalog. Every time you go online, it's possible that your library is not safe and some unexpected changes may happen. So most Apple Music users will choose to listen to Apple Music for offline play only.
Instead of playing their Apple Music contents offline, they prefer playing the music files that are stored on their device locally. Even Apple Music keeps replacing the songs with different versions in their libraries, they still have the original versions kept. All you can try to do is to download your Apple Music Library in advance, and the items contained should be DRM-free for a backup. For that, you'll need a powerful Apple Music converter called ViWizard Audio Converter.
Added with the DRM-removal function, the ViWizard Audio Converter is designed for all Apple Music users to convert your iTunes libraries from computer to any devices with DRM-free audio files. For starters, please ensure to have both the iTunes app and this ViWizard software on your computer. Then you can select and add the desired contents to convert. In addition to music, other Apple Music contents in your iTunes library from iTunes files, iTunes audiobooks and even Audible audiobooks (you sync to iTunes with Audible). Then you can convert them into MP3, M4A, M4B, AAC, WAV, and FLAC and start the conversion within seconds. Once it's done, you have the access to your Apple Music Library locally.

ViWizard Apple Music Converter Key Features
Losslessly download and convert Apple Music for offline playing on any device
Convert M4P Apple Music to MP3, AAC, WAV, FLAC, M4A, M4B
Retain 100% original quality and ID3 tags
Support converting Apple Music songs, iTunes audiobooks and Audible audiobooks
Convert between DRM-free audio file formats
Step 1

Select Apple Music Contents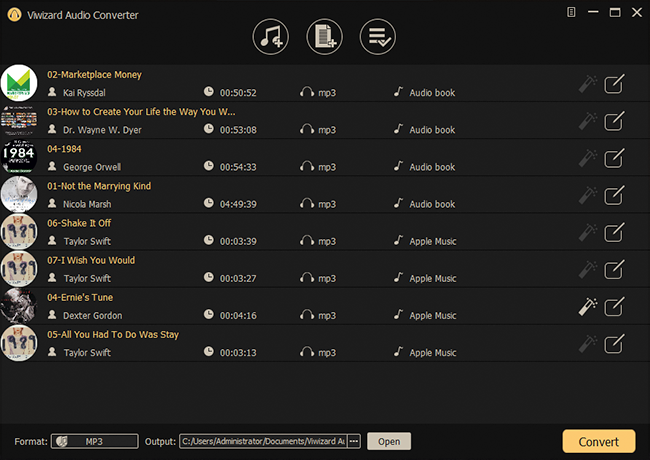 Launch the ViWizard Audio Converter you download and install from the download box above. In the meanwhile, the iTunes app should be open up automatically. Then you can start to select the desired contents to add to ViWizard via drag-and-drop.
Step 2

Adjust Format Settings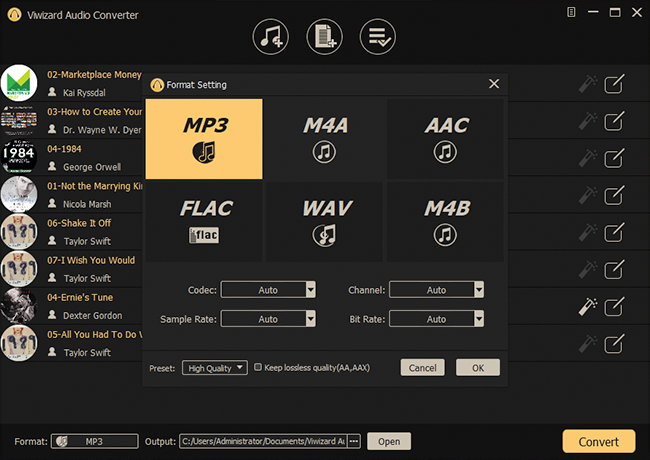 Once added, head to the Format tab at the bottom of the screen and select MP3 as the output audio format. You should also click OK to save this setting.
Step 3

Download Apple Music Library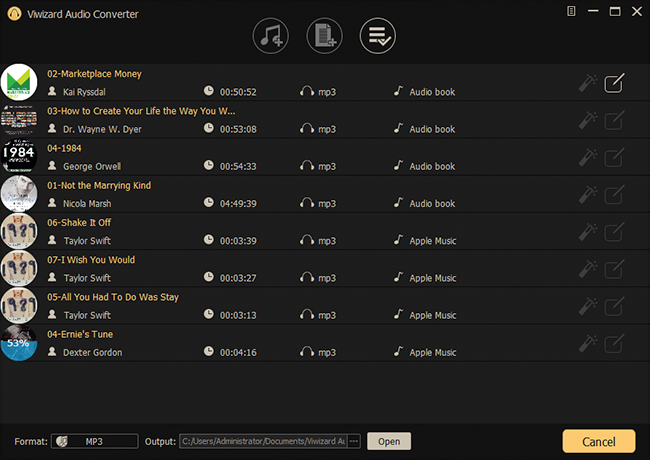 Click the Convert button to start the conversion at a 30x speed. Once the conversion is complete, the files are yours to keep on your device or bring to more places with no limits.