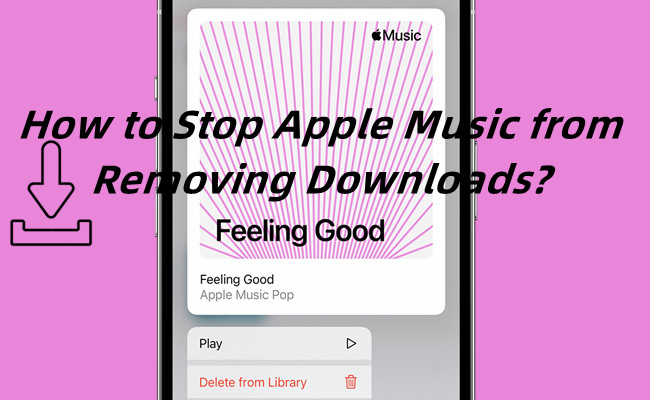 Apple Music is the best streaming music service if you want your online and offline music collections are on the same place. With the Apple Music subscription, you have the ability to download any songs from Apple Music streaming catalog for offline play. Or if you have certain purchases from iTunes Store, it's also comfortable for you bring you music together in the Apple Music app. But what if Apple Music keeps removing your downloads overnight?
If you encounter issues with Apple Music keeps removing your downloads for songs, albums, or playlist from your music library, you must try the following steps to fix it. Or if you find you won't be able to redownload the items, these steps can help troubleshoot any related issues further. You can also check another post to get some inspirations.
Part 1. How to Fix Apple Music Keeps Removing All Downloads
Solution 1: Confirm the Downloads Complete
Please also confirm if the Apple Music downloads under the Downloaded or Downloading bar is complete. You should also ensure you keep connected to the same network for either Wi-Fi or cellular data. Since a stable and solid network matters to the download progress in the Music app.
Step 1. Open the Apple Music app.
Step 2. Select the problematic song, album, or playlist in your library.
Step 3. Touch and hold the item > Download.
Solution 2: Update Your Device's OS
Please make sure the device is using the latest version of the OS.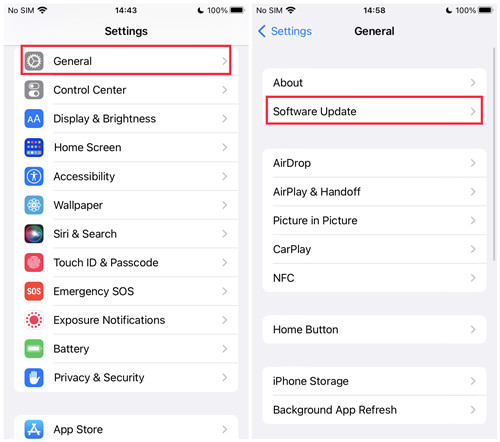 Step 1. On iOS or iPadOS, open the Settings app > General.
Step 2. Scroll to Software Update.
Step 3. If available, find and select Download and Install and follow the on-screen instruction to finish it.
Solution 3: Check Your Device's Storage
The device that stores your Apple Music downloads could remove some of them when more storage is needed for any activities above. In addition to your Apple Music downloads, the streamed music and files in the iCloud could be removed either. However, if you try to redownloaded, your device won't allow you to do so. You should check your device's storage.
On the iOS or iPadOS device, please follow these steps to see how much storage the Music app is taken up:
Step 1. Head to Settings > General > [Device] Storage.
Step 2. Scroll to Music.
Step 3. Check how much space it uses. Noted that the cached data and temporary data might not be counted as usage there.
Or the device storage can be checked through the iTunes software with either Windows or Mac computer.
Step 1. Connect the phone device to the Mac computer with mac Catalina 10.15 or later or a Windows PC.
Step 2. When prompts, head to iTunes > the device icon (next to the Apple Music Contents Menu).
Step 3. Check for the device storage.
Solution 4: Turn Off Optimize Storage
You might see a list of recommendations for optimizing your device's storage, followed by a list of installed apps and the amount of storage each one uses, including the Music app. If the device is low on storage, it'll free up space while installing an app, updating iOS or iPadOS, downloading music, recording videos, and more.
What's more, the device may also remove the items that can be downloaded again or aren't needed anymore to make more storage available. This includes your Apple Music downloads that you haven't use for a while. If you don't want the device do this for you, you should adjust "Optimize Storage" setting to make a difference.
About "Optimize Storage":
Optimize Storage is the iOS and iPadOS feature that allows Apple to manage the music files stored on the device based on the minimum storage chosen between 15GB, 32GB, 64GB, 128GB and None.
Step 1. Head to Settings > Music.
Step 2. Select Optime Storage.
Step 3. Toggle "Optimize Storage" to disable this feature.
Solution 5: Offload the Apple Music App
On either iPhone or iPad, offloading the Music app can free up storage used by it, but keep its documents and data, including the Apple Music downloads. To fix storage issues related, please offload the Music app. This will also help keep the items that haven't been removed available after then.
Step 1. On iOS or iPadOS, head to Settings > General.
Step 2. Scroll to iPad Storage (iPadOS) or iPhone Storage (iOS).
Step 3. Select Music.
Step 4. Select Offload App, and confirm to offload the Music app.
Step 5. Restart the device and redownload the Music app from App Store.
Solution 6: Restart Your Device
It's time to restart the device both to troubleshoot the issues further.
Step 1. Press and hold on the power button until the power-off slider appears on the screen.
Step 2. Drag the slider, then wait 30 seconds for the device to turn off.
Step 3. Once the device blacks out, press and hold the same button to restart the device.
Step 4. Reopen the Apple Music app to check if the remove Apple Music items recovered or can be redownloaded.
Solution 7: Sign out of Apple ID/iCloud Music Library
If you won't redownload the removed items in your Apple Music Library, you should try sign out both of your Apple ID and iCloud Music Library for your purchases. For Apple Music, all the downloaded items will be removed. By default, this setting will be turned on after you update the device's OS. However, this should work to fix issues with the Music app.
Step 1. Head to Settings > your name. Ensure to use the Apple ID you use with your Apple Music subscription to download items.
Step 2. Scroll down to the bottom and you see Sign Out.
Step 3. Tap Sign Out, and then enter your Apple ID password and tap Turn Off.
Step 4. Turn on the data that you want to keep a copy of on your device for Apple Music downloads if necessary.
Step 5. Tap Sign Out.
Step 6. Tap Sign Out again to confirm that you want to sign out of iCloud.
Part 2. Alternatives to Monitor Deletions in Your Apple Music Library
There's the best alternative for Apple Music users to monitor any activities or changes to your Apple Music library. This tool is called Music Library Tracker, which is accessible on the Apple Store with a one-time purchase at $3.99 or $2.99 for 25% off for the next week.
To monitor and avoid unexpected additions, deletions and other changes, this third-party tool can help you out. On your iPhone, iPad, or device that enables the iCloud Music Library, you can check the title, artist, album, album artist, genre, year of release, disc number, track number, rating and even Spatial Auto status with Music Library Tracker. Learn how to fix Apple Music library messed up.
Part 3. Alternatives to Keep All Your Apple Music Downloads
If you still confused and even frustrated with this issue even it has been fixed, maybe you should try an ultimate fix to keep all your Apple Music downloads. Since every time you enter your Apple Music library with an available network, items there are not safe and could be removed again. So most Apple Music users will pick the best Apple Music downloader to keep their entire music libraries forever.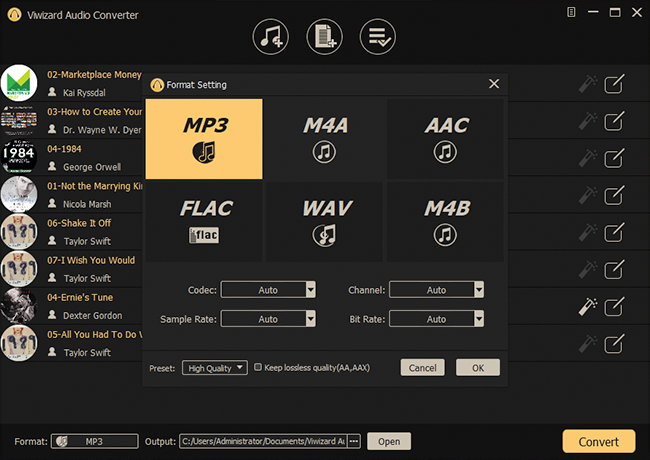 From there we'd like to introduce our ViWizard Audio Converter to you. It features the best iTunes library downloader for both Mac and Windows users to download and convert the desired Apple Music contents you've added to the library. In addition to Apple Music, other contents such as iTunes files, iTunes audiobooks and even Audible audiobooks are supported by ViWizard. Just select and add the items you want to ViWizard and adjust some output settings, then you can have the MP3, M4A, M4B, AAC, WAV, and FLAC version. Once the conversion is complete, all the files will be stored on your computer for a safe backup.