For streaming music, Apple Music completes its streaming with offline mode. Apple Music subscribers benefits from Apple Music's offline service across devices and platforms and have loads of downloaded Apple Music songs … well, until some issues come up like Apple Music songs not playing offline.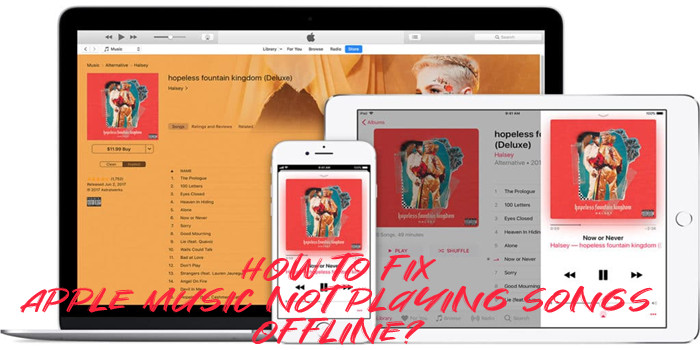 We're here to help save time and efforts with this article, which includes 12 fixes - 2 for device settings, 9 for devices and Apple Music app and 1 for the best alternative to download Apple Music songs offline without limits.
Part 1. Device Settings to Enable Apple Music Offline Service
For starters we'll check or reset some device settings to enable Apple Music offline service.
1. Check the status of iCloud Music Library Option
1. On the iOS device, go to the Settings and scroll down to tap Music option.
2. In the page appears next, see the iCloud Music Library option under LIBRARY.
From here check if this option has been disabled. If the option is switched off (gray), just tap it on (green).
Tips: The iCloud Music Library option is enabled (green) by default, from here to disable it and next follow the steps to reset all settings to make it function again.
2. Reset All Devices Settings
This step is both for enabling the iCloud Settings and reset all other settings that can be incorrect for Apple Music offline services.
1. Go to the Settings and tap on General.
2. In the Reset page, Tap on Reset All Settings option to reset the device.
3. Once the reset is done, go to Settings again and repeat the steps to check if the iCloud Settings have been enabled again.
Now open the Music app on the iOS device and see whether there's an improved performance of download songs offline or offline listening.
3. Restore iOS devices via iTunes
You can also use iTunes to reinstall the Music app on the iOS device and restore it to its default settings. However, iTunes will back up the device before restoring it.
To restore iOS devices via iTunes will delete all the device data but is restored with the data available on iTunes backup file.
Thing You'll Need: iTunes on PC
If there's an iTunes app on desktop, follow the steps to restore the iOS device with it.
Note: The iTunes app is suggested to update to its latest version for better performance.
1. On the desktop, run the latest version of iTunes app.
2. Use an USB cable to connect the iOS device with the computer.
3. Once the connection is successful, see the iOS device prompted in iTunes and click on the device.
Tips: If there's a pop-up window is asking for a new update of iTunes app for the device. Confirm it.
4. See and click on the little device icon to open a new view for device.
5. Click on Summary tab and then click on Restore or Restore Backup button and follow the onscreen instructions to restore the device.
Wait until the restoration progress completes and see whether the offline listening issue has been fixed.
Part 2. Troubleshooting to Apple Music Not Playing Downloaded Songs Offline
1. Restart the Devices
Sometime a simple restart of the device can solve most issues at hand.
2. Update the Devices
If there's a new available update for the iOS device, a simple update can also help fix most issues including Apple Music not playing downloaded songs offline that caused by the device.
1. From the Home screen, go to the Settings.
2. On the Settings page, scroll down to find and tap on General.
3. Next to tap on Software Updates.
4. Wait until it checks for the updates for the device, if a new update is available, then tap on Download and Install button at the bottom to install the new version.
After a reboot of the device, go back to Music app to see if the update has solved the issue.
If it's not the device or the settings to blame, next we'll turn to Apple Music app.
3. Force Stop Apple Music App
1. From the Home screen of the device, swipe up from the bottom and pause in the middle of the screen.
Or if there's a Home button:
1. Double click the Home button to show most recently used apps' previews.
2. On the screen, swipe right or left to find the Music app's preview.
3. Pause in the Music app's preview and swipe up to force stop it.
Now restart the Music app or first to restart the device. On Apple Music, enable the offline mode and select a downloaded song to see if it can be play well again.
4. Sign Out and Sign in to Apple Music App
As long as there's an Apple Music, just sign out and sign back in to Apple Music app to refresh the Music Library. Check if the Apple Music Not Playing downloaded songs issue has been fixed.
Tips: If there's another available Apple ID, do a simple test to log in to Apple Music app or iTunes with a different Apple ID.
5. Update Apple Music App
Chance is that an available updated version of Apple Music app is more useful to fix the issue at hand because there more fixes from official included.
1. Go to App Store, click Search.
2. Under the Search, use the search tool for Apple Music.
3. On the result page, if there's an available update for Apple Music, there's should be an Update button instead of an Open button.
If these normal troubleshooting steps won't work, following are exclusives but can cause a pain in the back.
6. Offload Apple Music App
To offload Apple Music app sometimes is also an effective troubleshooting step also helps to solve most app issues, while help save the downloaded songs and make them available even after reinstalling the app.
1. Still, on the iOS device, go to the Settings and scroll down to General.
2. In the page appears next, see and tap on the iPad Storage (iPad) or iPhone Storage (iPhone) option.
3. In the iPad Storage or iPhone Storge page, scroll down the app list and find and tap on Music.
4. In Music's app detailed page, hit the Offload App option to confirm to offload the Music app.
5. Repeat the steps to restart the device and redownload the Apple Music from App Store.
7. Remove and Redownload Apple Music Songs
It should be cleared that if it's just for one Apple Music song or all the songs have the troubles to play offline.
The simplest method is to mark these songs, then remove and redownload them Apple Music song to test if the files are damaged or the offline process is incomplete, thus causing the Apple Music not playing downloaded songs issue at hand.
1. On the device, open the Apple Music app.
2. On Apple Music, mark and select songs to delete or remove.
3. When Remove icon is available, tap on it to confirm.
Note: From here next to the song's title, check whether there is a download icon, which indicates the song has been stored in the Cloud but not on the current device (See Restore iOS devices via iTunes in Part 2). To have it to listen offline, please click the download icon to redownload it to the device.
4. When the song is deleted or removed, redownload the songs from the Music Library.
Note: You must enable Sync Library settings under Music in Settings to download songs from Apple Music to your library.
Once the selected songs are removed and redownloaded, switch to the offline mode and see if they can be played offline again.
8. Uninstall Apple Music App
If the troubleshooting steps above all fail, it's time to uninstall Apple Music app to fix the Apple Music not playing music offline issue.
Note: This will cause a loss of the purchased music and music that hasn't sync.
1. On the Home screen, find the Music app.
2. Long-press the Music icon until a menu appears.
3. Select Remove App and confirm to remove or delete App.
Now repeat the steps for updating Apple Music app but to reinstall it instead.
Part 3. Best Alternative to Download Apple Music Songs Offline without Limits
One issue that most Apple Music users ignore is that the DRM (Digital Right Management) is also a cause of all issues about Apple Music offline not working, including the Apple Music not playing downloaded songs offline at hand. .
DRM is more than the protection from music streaming services like Apple Music but can be problematic when it requires an internet connection to phone, not to mention it encode all the downloaded songs to listen offline.
Don't despair. Whether for removing DRM from downloaded Apple Music tracks or downloading them from Apple Music, ViWizard Audio Converter is perfect for both.
ViWizard Audio Converter is a professional and powerful tool that helps users with Apple Music's subscription to download music tracks and converted them into iTunes compatible formats like MP3, AAC and WAV for keeping them, while the DRM is removed at the same time. DRM-free music songs in the formats above are for uploading to iTunes, streaming well offline on Apple Music app and keeping forever.

ViWizard Audio Converter Key Features
Convert Apple Music to formats supported by Virtual DJ like MP3
Retain 100% original quality and ID3 tags
Built-in Editor for you to edit the music before DJ with it
Can also convert Audible audiobook & iTunes audiobooks
Support 30x faster conversion speed
Step 1. Launch ViWizard Audio Converter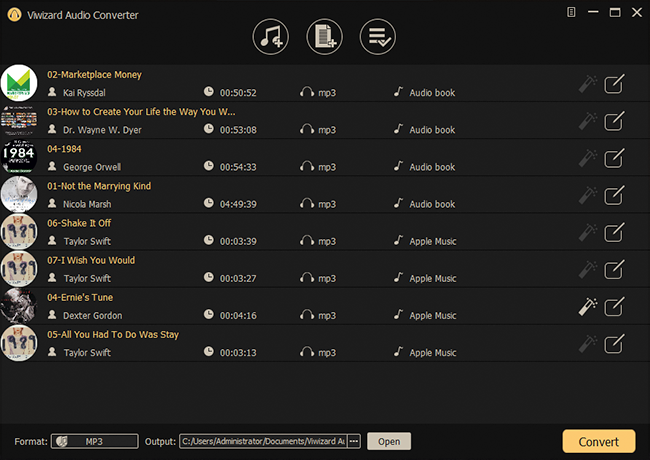 Launch ViWizard Audio Converter and wait until it detects and launches iTunes to continue the conversion. A simple click on the Load iTunes Library button (Add Music icon) at the top can load all the songs in the iTunes library. Choose the song to add to ViWizard drag and drop songs from iTunes to the program.
1)

This music note icon is to add DRM audios to the converter.
2)

This icon is to import non-DRM audios to ViWizard.
3)

This is where you can find the converted audio files.
Step 2. Set Output Formats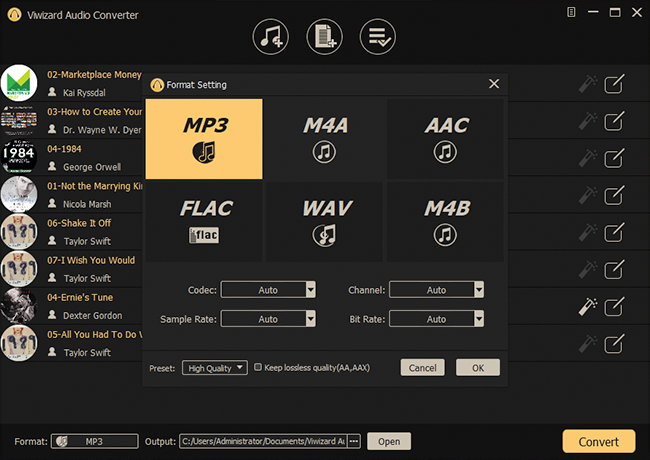 Now on ViWizard's main interface, see and click on Format option at the bottom. From here to open a Format Setting window and set output formats for added music tracks. You can also customize codec, channel, sample rate and bit rate here. Don't forget to click OK to save all the settings.
Step 3. Make Apple Music Tracks Offline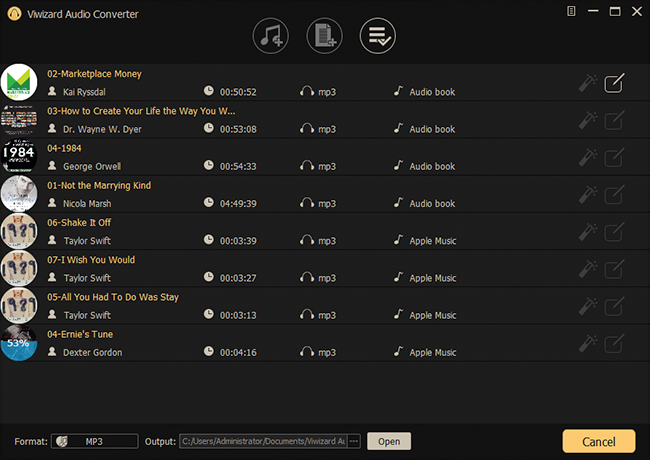 Note the output format of each song on the screen. Feel free to add more music tracks or click on the Convert button to start the conversion at 5x speed. As the conversion proceeds, the DRM of songs are removed.
Cnclusion
Now all the Apple Music songs downloaded with ViWizard Audio Converter are enabled to listen offline without limits. You can also benefit from it across different situations like want to have these available and accessible songs even the subscription of Apple Music is expired. Download it for more exploring!