As a streaming music platform, Apple Music has completed its streaming services with a perfect combination of its Apple Music catalog and users' personal music collections, which is the most flexible option. It's even better that Apple Music has added more functions and features to improve the listening experiences.
However, sometimes users can encounter issues that caused by some added functions at hand - for example, the Apple Music plays random songs. While the Apple Music app or iTunes still work fine, the actual listening experience can be frustrating.
No worries. We've collected some possible methods to fix this Apple Music playing random songs issue. Even we'd like to introduce how to have full control of the music contents.
Part 1. How to Fix Apple Music Playing Random Songs
When it comes to the music songs (random songs), it's hard not to method the 2 existing functions that Apple Music users will use to control their listening - Apple Music Shuffle and Apple Music Repeat.
As for the actual listening experience, the buttons to enable these 2 modes are close and even in the same place in Apple Music's platforms - as well as the number of clicks or taps. The difference is what modes that have been enabled or switched to, which is a rather unaware process to cause Apple Music plays random songs.
1. Disable Apple Music Shuffle Mode
Contrast to the repeat mode that makes Apple Music stream same songs, the shuffle mode is for music contents based on it to shuffle in a rather random manner.

Once the shuffle mode is enabled, users will have this experience. However, if this function is not familiar, users will consider this as an issue to fix. No worries. It's not a problem because it can be disabled with a click on the shuffle button in the shuffle/repeat section.
To disable shuffle mode in iTunes:
1. On desktop, open iTunes.
1. Based on the music content, select a song to stream.
1. At the top, see the Now Playing bar.

1. Check if the shuffle mode has been enabled with the button.
5. To disable the shuffle mode in iTunes, click the shuffle button again.
2. Enable Apple Music Repeat Mode
Yes. For users to fix Apple Music playing random songs, one possible fix is to enable repeat mode instead. However, note there're more options for the repeat mode to stream 1 song or the music contents based in the music queue.
To enable repeat mode in iTunes:
Repeat the steps to steam a song in iTunes.
1. At the top, click the repeat button to stream the music contents in queue.
Or
2. Double click the button to make it marked with "1" to stream a certain song.
3. Customize Apple Music Recommendation
As stated, Apple Music offer its music recommendations for its users based on their listening habits. In some cases, Apple Music think there're similar songs to the loved ones and add them to the list for users to discover more music.
If this is the situations, please perform more steps to skip back or forward to customized Apple Music recommendation, while at the same time Apple Music will understand this more. Next time to stream Apple Music, the experience with Apple Music playing random songs issue will be improved.
4. Create Apple Music Smart Playlist
For users want to customize their listening experience in a long time, the process to deal with Apple Music recommendation can make sense. However, if the music contents are prefer to control, we'd like to introduce another method - create Apple Music Smart Playlist.
Apple Music smart playlist is for users to cover certain music contents based on their actual music activities.
To create Smart Playlist in iTunes:
1. On desktop, open the iTunes app.
2. At the app menu, click File > New > Smart Playlist.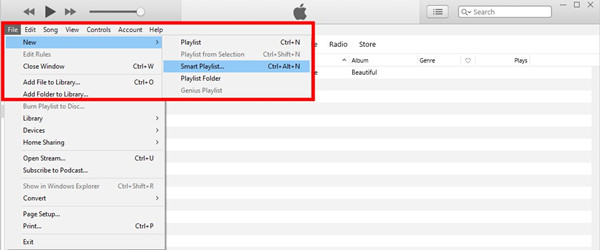 3. Set the first rule to click the first pop-up menu, choose an option to cover the music contents based on once music activities with iTunes or Apple Music app (For example: Artist: Taylor Swift).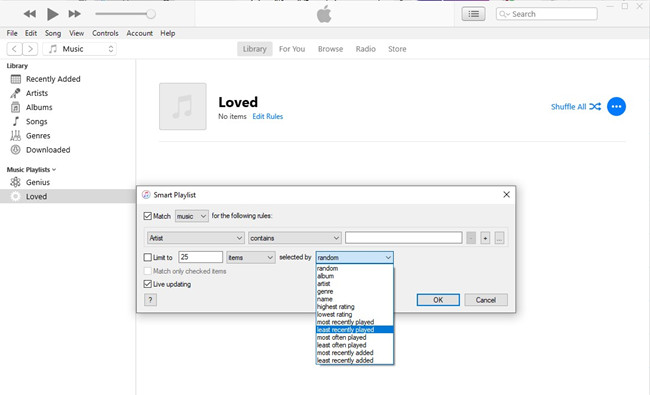 4. Complete or customize the rules that follow (For example: Limit to 50 items).
5. Click OK to create this Smart Playlist, which should cover the music contents for preventing Apple Music playing random songs issue.
Note: To create multi-Smart Playlist to cover different music contents, feel free to repeat the steps to set different rules and options.
Part 2. How to Get Full Control of Apple Music Songs
While this fixes above can let Apple Music work fine to provide the desired listening experience without Apple Music playing random songs issue, we'd like to recommend a method to have the full control of the music contents, music tastes as well as the users experience - using ViWizard Audio Converter.
ViWizard Audio Converter is a powerful tool for Apple Music subscribers to ensure their full control of the Apple Music services with all the items above. As an Apple Music convert-supported tier, it lets users download music contents from the service and convert them as compatible formats to upload to more platforms - like iTunes supported MP3, WAV and AAC.

ViWizard Apple Music Converter Key Features
Losslessly download and convert Apple Music for offline playing on any device
Convert M4P Apple Music to MP3, AAC, WAV, FLAC, M4A, M4B
Retain 100% original quality and ID3 tags
Support converting Apple Music songs, iTunes audiobooks and Audible audiobooks
Convert between DRM-free audio file formats
From the ViWizard software bot above, click the Download button to have its Windows version or Mac version for free.
1

Select Apple Music Songs to Download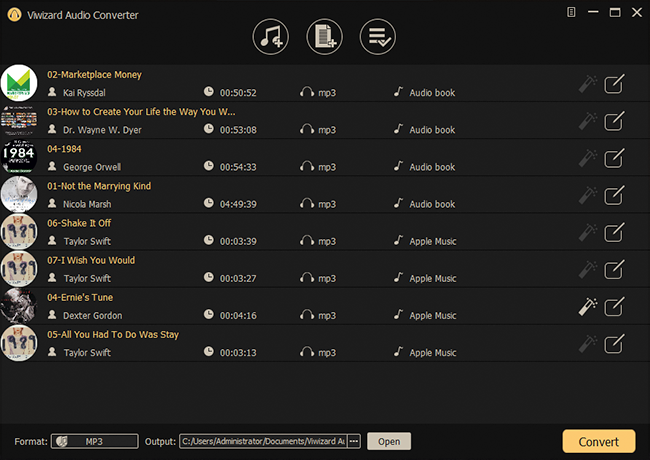 Open the ViWizard Audio Converter, add the songs from Apple Music catalog from the iTunes app to ViWizard's screen with several drags-and-drops. You can also use the Add Music button in ViWizard to load all the music contents in iTunes to select to add.
2

Customize Output Settings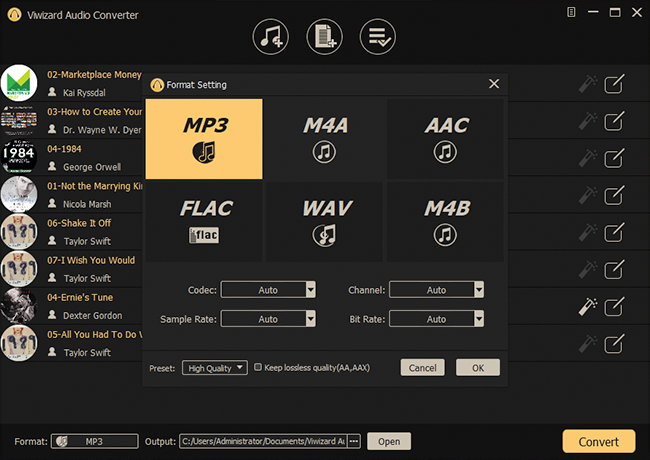 To ensure the full control of these selected Apple Music contents, there're additional output settings to adjust in ViWizard. See and click on the Format tab at the bottom to see all the settings options. Make sure the output format is set as MP3, WAV or AAC for iTunes, then click OK to save this change.
3

Convert Apple Music Songs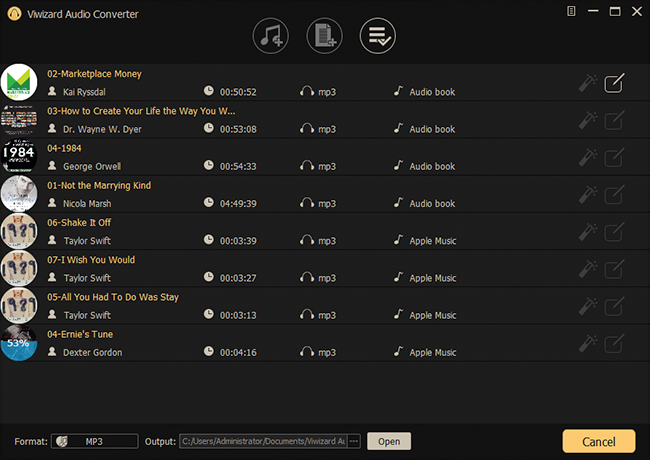 Back to the ViWizard's screen, note the output format next to each songs' titles have been customized to MP3, WAV or AAC. Click on the Convert button to start the conversion.
Conclusion
Wait while the ViWizard is downloading and converting the added music contents from iTunes. Once the conversion is complete, there's a local music collection for full control!
More Apple Music Troubleshooting Tips