If you want to combine and stream favorite songs you already own and purchase, Apple Music is the most flexible option. It's even better that Apple Music has its shuffle. Just turn on the shuffle mode at hand, you can go through your favorite songs in a random manner.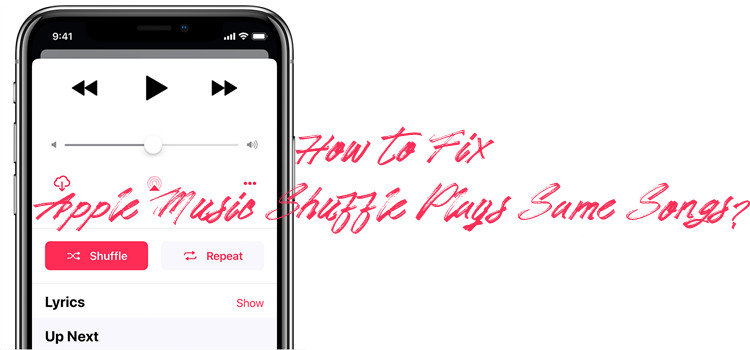 However, strange thing is that sometimes Apple Music shuffle plays same songs, or at the most time, some other songs almost never appear in shuffle mode. While Apple Music shuffle is still working, issues above can be frustrating.
Don't despair. We'll tell how to make Apple Music Shuffle better and solve all the issues at hand.
Part 1.

Why Does Apple Music Shuffle Play the Same Songs?

First thing to be cleared is that Apple Music won't require a listening in repeat mode per hour rather than in a random manner when the shuffle mode is enabled, but several situations are still here to cause the issue at hand.
1. Enabled Repeat Mode
When it comes to let Apple Music stream same songs, first thing to come to mind is another popular mode that Apple Music has - Repeat. Just like most music services' streaming view, the button to enable these modes are close and even in the same place - the difference is on the number of clicks or taps.

So if Apple Music shuffle plays same songs, check and find out if there are possibilities that the Shuffle mode has been switched to Repeat mode unaware and this change is unaware.
2. Low Number of Music Library
As stated, Apple Music lets its users to have a vast collection of their music from Apple Music or another place. However, the shuffle mode does care of the number in users' music library.
If an artist or list has a low number of songs, chance is that some songs in Apple Music's shuffle mode turn out to be streamed more often than a complete random mode.
3. Apple Music's Music Recommendation
As you play music, Apple Music learns what you love and organizes suggestions for music you might like in Listen Now. 
-- Apple Music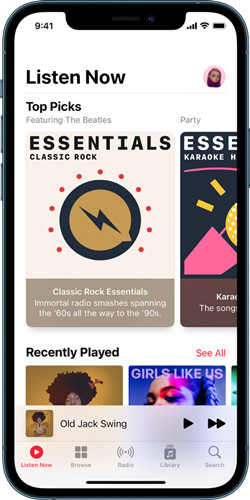 Just like other music services, Apple Music offer its music recommendations for subscribers based on their listening habits. A simple skip can make Apple Music stream this song less as its special offer and serve up others more - even this is in its shuffle mode.
So when the shuffle mode is enabled, chance is that the song on select will not be streamed or streamed in a pseudo-random manner for Apple Music subscribers.
Pro Tips: How to Make Songs Stream More Often
If Apple Music's recommendation is suspicious, skip other songs less or skip the same song streaming in shuffle mode more to make Apple Music understand. However, this can cost a lot of time and need more patience.
4. Apple Music Cache
For the same songs that Apple Music shuffle over and over again, their music tracks can be in cache, thus making it easier for Apple Music to load them and put them to stream in a frequent manner.
Part 2.

Solutions to Fix Apple Music Shuffle Plays Same Songs

Here're some solutions that can help fix or improve the shuffle problem. You can try them and make a difference.
Solution 1: Disable Repeat Mode and Crossfade:
Make sure the both the repeat mode and crossfade feature is turned off on the Apple Music platform, as these settings can affect the shuffle behavior.
Note
The crossfade feature is not available on iOS or iPadOS device. If you want to improve the shuffle mode by disabling the Crossfade feature, make sure you are on desktop and can access it in the Music or iTunes app.
For Music app on iPhone/iPad: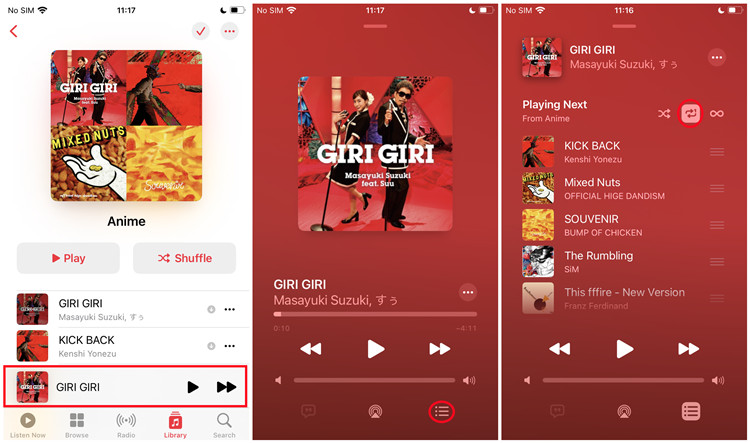 Open the Music app on your Ios or iPadOS device.
To check to see if the repeat mode is enabled for your playlist, tap on the Now Playing bar at bottom. This will open the Now Playing screen and more options should be revealed.
Tap on the Playing Next button in the bottom right-hand corner.
At the top of the Now Playing screen, check to see if the Repeat button is highlighted. When it's highlighted, tap it to dim it. This will disable the Repeat mode.
Tap the Shuffle button in the bottom right-hand corner, and Apple Music will shuffle the playlist.
For Music app on Mac/PC:
Open the Music or iTunes app on your Mac computer or Windows PC.
In iTunes, click Edit > Preferences > Playback > Crossfade Songs, then deselect the checkbox next to it, and click the OK button in the lower right corner to save this change.
In Music, click Music in the Apple menu > Preferences > Playback > Crossfade Songs, then uncheck this option, and click OK to save.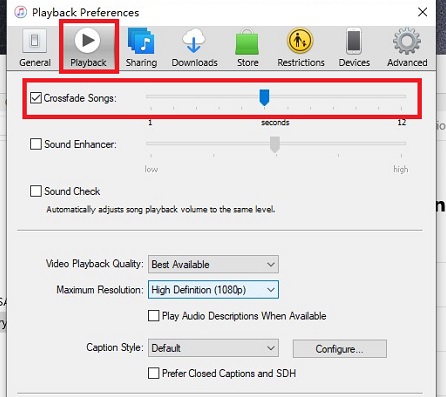 Solution 2: Increase Playlist/Library Size
If you have a low number of your music library or specific playlists you want to shuffle, you're suggested to add more songs to increase the size. Or you can create a larger playlist with a greater number of songs. This will reduce the likelihood of repeated tracks in the shuffle mode, and the algorithm can have a wider pool to select from.
Note
You can check to see your loved songs, or popular options like Apple Music's top songs to add to your library or playlists.
For Music app on iPhone/iPad:
Open the Music app on your iOS or iPadOS device.
To add songs to your library or playlist, go to Search, and search for the music you want to add to your playlist or library. You can search an existing song in your library or a new one in Apple Music.
Find and locate the song, and tap on the More button > Add to a Playlist or Add to Library.
Repeat to add songs until you are satisfied with the size of your playlist or library, and try to shuffle it.
Solution 3: Reset or Clear Cache
There's no direct option to clear cache for the Apple Music app. However, you can turn off and back on the iCloud Music Library option to achieve the same outcome.
For Music app on iPhone/iPad: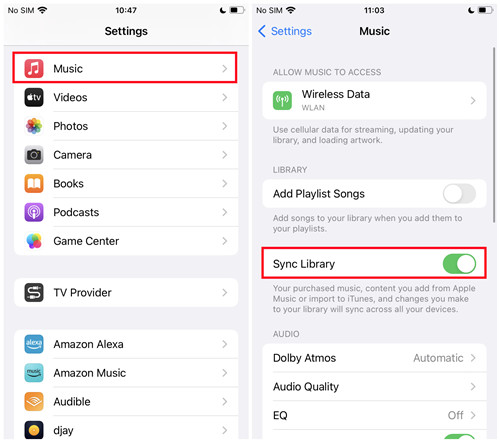 Open the Settings app on your iOS or iPadOS device.
Go to Music, and scroll to Sync Library.
When Sync Library is turned on, turn it off to disable this setting.
Wait a moment and turn it back on.
Open the Music app and it will start rebuilding your music library.
Solution 4: Disable Listening History
Use Listening History setting in Apple Music on your iOS device can potentially affect the shuffle experience, as it affects your music recommendations. When this setting is enabled, Apple Music takes into account your listening history and preferences to personalize the shuffle order. By disabling it, you may experience a more randomized and varied shuffle.
Note
While this can result in a shuffle experience that feels more random and unbiased, this will also impact other aspects of Apple Music such as personalized recommendations and the "For You" section.
For Settings app on iPhone/iPad: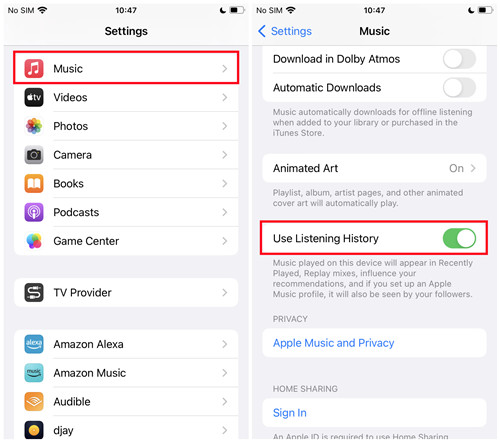 Open the Settings app on your iOS or iPadOS device.
Go to Music, and scroll down to Use Listening History.
When Use Listening History is enabled, toggle the switch next to it to disable this setting. If it is disabled, try to enable and then disable it there.
Part 3.

Alternatives to Fix Apple Music Shuffle Plays Same Songs

You can try some alternative ways to ensure the possive listening experience with Apple Music.
Alternative 1: Shuffle Album Instead in Apple Music
Apple Music provides the shuffle option for Songs, Albums, and Playlists section, meaning that you can shuffle albums instead of playlists or individual songs. By enabling the shuffle option for the Albums section, you can have a randomized playback of your albums rather than songs.
Note
If you prefer to shuffle your playlists in Apple Music, you're suggested to increase your playlists size.
For Music app on iPhone/iPad:
Open the Music app on your iOS or iPadOS device.
Go to Library > Albums, and tap on the Shuffle button there. This will enable the shuffle mode for all your albums. If you want to activate the shuffle specially for an album, go into the desired album and tap the Shuffle button there.
When shuffle mode is activated for albums, Apple Music will randomly select an album to play, and within that album, the songs will play in their original order.
Once the album is finished, Apple Music shuffle will move on to another random album in your music library.
Alternative 2: Create Radio Station in Apple Music
Apple Music lets subscribers create their own station from accessible songs, including ones that don't appear in Apple Music's shuffle. To customize station with all the songs least played recently from artists or artists, you are suggested to find out these songs first.
On mobile, play a song, artist or genre and go to Now Playing.
Tap More (horizonal three dots icon) then choose Create Station.
Alternatively, use the voice command of "Hey Siri, start a station from", then say the name of a song, artist or genre.
Now as the radio station has been created to include songs that appears less in shuffle mode, just listen to this station the next time.
Alternative 3: Create Smart Playlists in Apple Music
For radio station lovers with Apple Music subscriptions, the first method can help a lot. However, this doesn't make much sense to those just want to stream the less often played or the less recently played songs from Apple Music catalog, or even from their own collections without Apple Music subscription.
Don't despair. All you need is an iTunes or Music app on desktop and explore how powerful it is for fix the Apple Music shuffle plays same songs issue at hand with Smart Playlist.
For iTunes app on Windows/Mac:
On desktop, open the iTunes app.
At the top menu, click File and then New. Select Smart Playlist.
Right-click the black under Music Playlists tab at the side bar to select New Smart Playlist … option.

Set the first rule to click the first pop-up menu, choose an option that used to be put in Apple Music shuffle mode but often plays same songs (For example: Artist: Taylor Swift).

Complete the rules and see the second rule to limit the items to a number (For example: Limit to 50 items). Or customize the rule as preferred.

Next, see the selected by, change the option to least recently played or least often played to go through the songs appear less in the shuffle mode.
Click OK button to create the Smart Playlist with the least recently played or the least often played songs from artists or playlists in Apple Music's Shuffle.
Note
To create multi-Smart Playlists to include various songs as preferred, just repeat the steps above but to set different rules and options.
Now click on the created Smart Playlist and feel free to delete explicit songs from it. Or from here just shuffle the Smart Playlist.
Note
To shuffle the Smart Playlist, see the Shuffle All button or right-click of the created Smart Playlist to select Shuffle.
Now as the Smart Playlist with various songs shuffling, you will see the difference.
Part 4.

Shuffle Play Apple Music on Other Platforms

If achieving a truly random shuffle is crucial to you, you might consider exploring alternative music streaming services that provides more control over shuffle functionality to have different algorithms.

It's a great idea for Apple Music users to transfer their music library to other music platform, such as Spotify, which provides various amazing features including regular shuffle mode and smart shuffle mode. While the regular shuffle mode on Spotify can help play your songs, playlists, or albums in a randomized order, the new smart shuffle mode helps discover and shuffle play new recommended tracks together with the original ones in your playlists.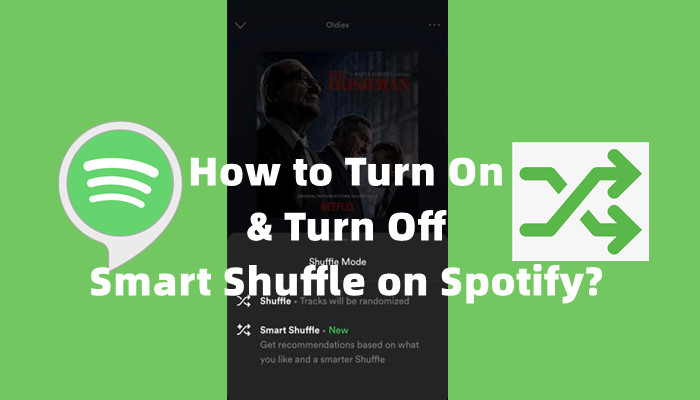 However, it's essential for Apple Music users to transfer their favorite music tracks and even the entire music library to Spotify. You can either use SongShift, Soundiiz, or TuneMyMusic to copy your Apple Music playlists to the Spotify platform. Or you can try our ViWizard Audio Converter to transfer the actual music files to Spotify.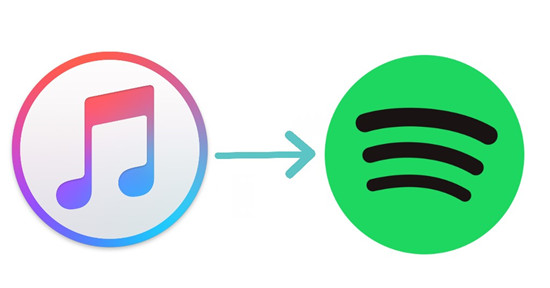 Thing You'll Need: ViWizard Audio Converter
ViWizard Audio Converter is the second stop for Apple Music subscribers. It's a professional Apple Music convert-supported tier. It lets Apple Music users download all their favorite music discovered in Apple Music and convert them as compatible formats such as MP3, WAV and AAC with iTunes. This powerful Apple Music converter also helps existing Apple Music subscribers to keep a means to get and keep various songs from Apple Music without putting too much strain on the budget.

Key Features of ViWizard Audio Converter
Free Trial
Free Trial
* Security verified. 5, 481,347 people have downloaded it.
Convert songs, albums, and playlists from Apple Music to MP3
Remove DRM protection from Apple Music, iTunes, and Audible
Save the converted audios with the original quality and ID3 tags
Support the conversion of up to 100 audio formats to others