"I use a Windows desktop and have the newest version of iTunes. Whenever I am browsing the internet any music I am listening to from my personal collection will skip or sputter. I've had to download a different music player because it's gotten so annoying." - a users from Reddit.
What's the most annoying thing when you just want some tunes from the computer? Some iTunes users might say the songs skipping glitch. Many people have been complaining about this issue on iTunes. Either the app keeps skipping songs and playing nothing, or skips when the song is partway through, this almost makes the app unusable. But don't worry, in the following parts, you'll learn how to fix iTunes keeps skipping songs and avoid glitches from iTunes forever.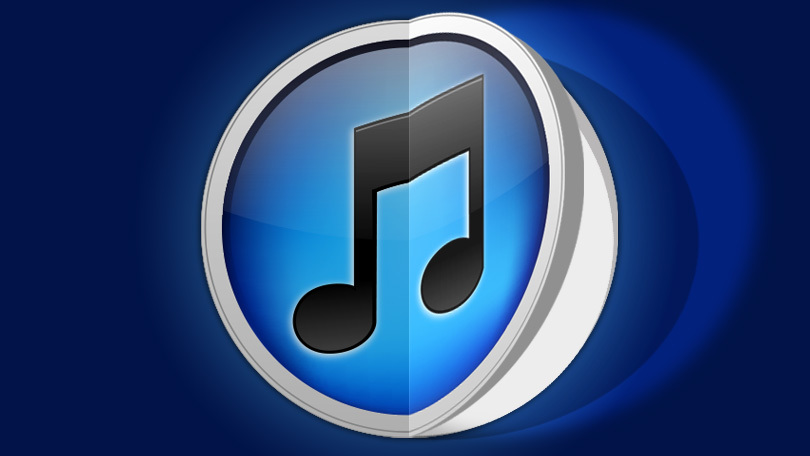 Part 1. iTunes Music Skipping Songs - Checklist
iTunes Music skips songs for some particular reasons. For starters, you should go through this checklist and solve the problem.
1. Check Your Internet Connection
One of the most possible reasons that causes iTunes skipping issue is the internet. When you are out of connection, the app will keep skipping until it finds a song that can be played offline. You can restart your router to reset your internet and then check if it is okay while using other apps online.
2. Check the Crossfade Duration on iTunes
Apple Music's crossfade feature is available on its Apple Music app for Android and Mac and the iTunes app for Windows and Mac. If you have set crossfade in the iTunes app and come across iTunes skipping issue before the song is finished, you may have set the crossfade duration too long.
To reduce the crossfade time:
Step 1. On the current device, open the iTunes app.
Step 2. At the top of the iTunes windows, choose Edit > Preferences.

Step 3. In the pop-up, choose Playback > Crossfade Songs.
Step 4. You can uncheck the "Crossfade Songs" option to disable this crossfade feature. Or if you want to keep this feature, you can choose to reduce the existing crossfade duration from 1 to 12 seconds. Generally speaking, 2 or 3 seconds is the best.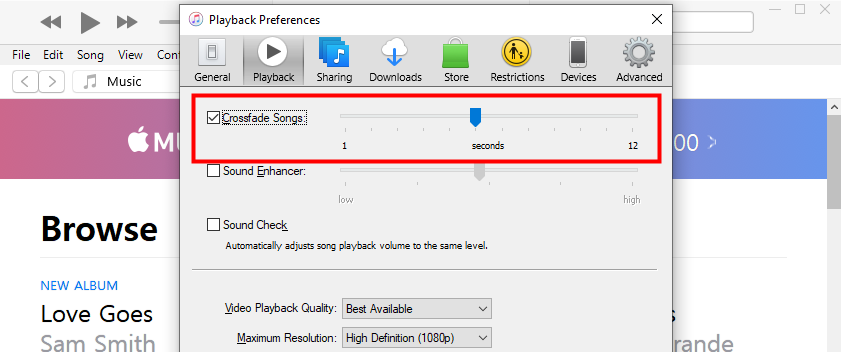 3. Check If the Songs Are Greyed Out
If an Apple Music content is no longer available, it will not be deleted but grey out in the playlist instead. If you see "No Longer Available" next to a song that's greyed out, the song was added from Apple Music and was removed from the Apple Music catalog. When it comes to the actual experience, iTunes will skip such contents. See how to fix Apple Music not available>>
You can also check how many Apple Music songs are greyed out in your playlist, try either delete them. See how to fix iTunes Song that's 'Greyed Out' >>
Part 2. iTunes Music Skipping Songs - Fixes
In this part, I'm going to show you some common solutions to fix iTunes skipping songs issue. You may follow the guides below to solve the error.
Step 1. Full close the iTunes app.
Step 2. From the Start menu, enter "%ProgramData%" > Open.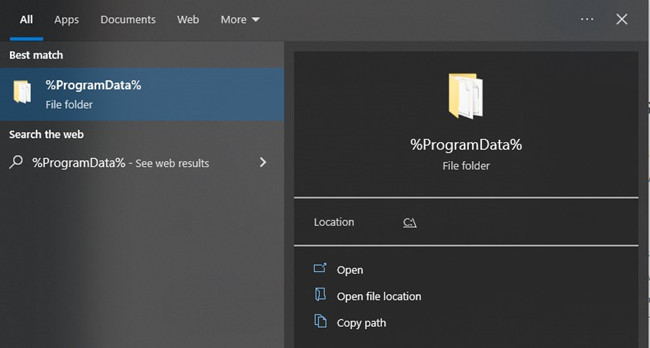 Step 3. From the top of the pop-up, choose View. Check the "Hidden items" option. You'll be able to view and access the Apple Computer in this location: This PC > Win10 > ProgramData.
Step 4. Go into Apple Computer > iTunes, delete all the folders in it.

Now reopen the Windows PC and then the iTunes app, check to see if iTunes still skips songs. If this doesn't help and the issue still persists, scroll to some common fixes.
1. Authorize/Deauthorize Your Devices
You'll need to authorize this computer device to consume Apple Music contents with no issues. You're allowed to authorize up to 5 computers for each Apple ID. You can also view how many computers are authorized.
How to Deauthorize Your Computer
Whether your computer has been authorized to play the purchased from your Apple ID or not, you should follow this step to deauthorize your computer.
Step 1. On the Windows PC or Mac, open the iTunes app.
Step 2. At the top of the iTunes window, choose Account > Authorizations > Deauthorize This Computer.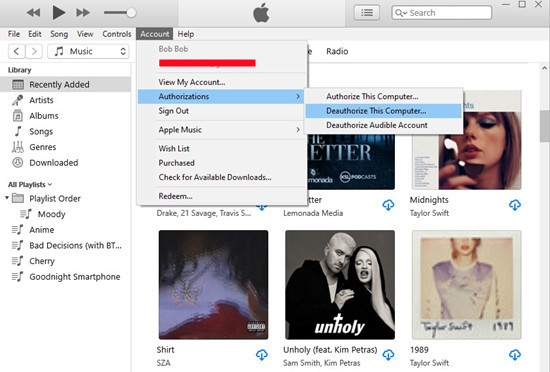 Step 3. Enter this Apple Music account's log-in credentials > Deauthorize.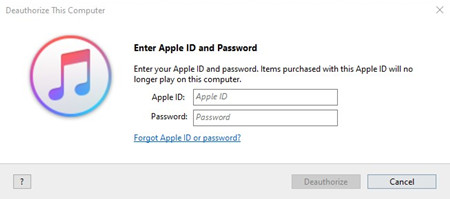 Step 4. Now the computer deauthorization is successful. Or if the computer is not authorized, please follow the steps to authorize it.
How to Authorize Your Computer
Step 1. On the Windows PC or Mac, open the iTunes app.
Step 2. At the top of the iTunes window, click Account > Authorizations > Authorize This Computer. You can also click Account > View My Account to see how many computers are authorized to play content purchased with this Apple ID.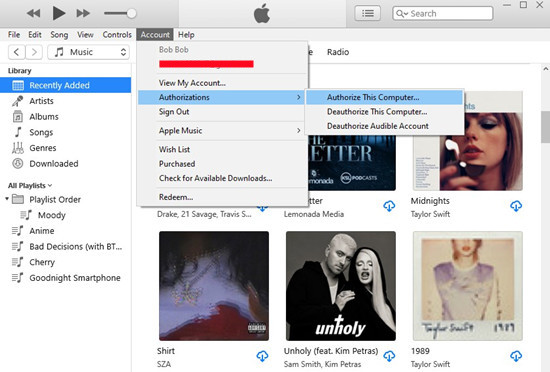 Step 3. In the pop-up, enter Apple ID and Password > Authorize.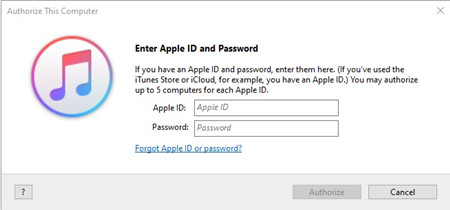 Step 4. Now the computer authorization is successful.
Now stream something from the Apple Music contents menu.
2. Restart the iTunes App
This might be overlooked by many people, but it's the quickest way to be possibly able to solve the problem. When you reopen the app, all the processes in the program will be terminated.
3. Upgrade Your iTunes
Sometimes there is a situation that iTunes has come out with a new version but your iTunes has not been updated automatically. If your iTunes does not play properly at such time, then you need to upgrade your iTunes manually, and it is better to check whether your device system is updated by the way.
How to Update iTunes App on Windows
Versions of iTunes from the Microsoft Store update automatically when new versions are released. If you downloaded iTunes from the Apple's website, you can follow the guide.
Step 1. Open the iTunes app on your desktop.
Step 2. Go to the menu bar, choose the Help > Check for Updates.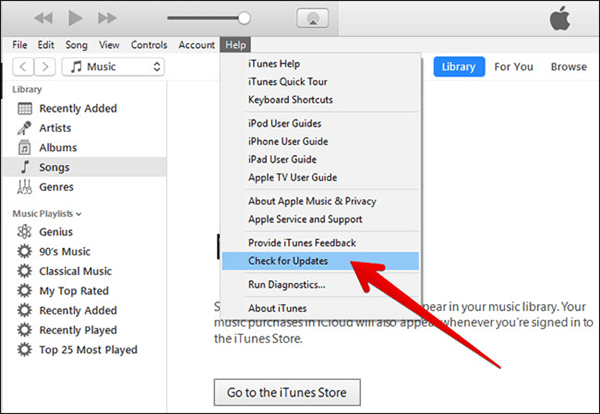 Step 3. Follow the prompts to download the latest version of iTunes.
How to Update iTunes App on Mac
Step 1. Open the App Store on your device.
Step 2. Click the Updates option at the top of the window.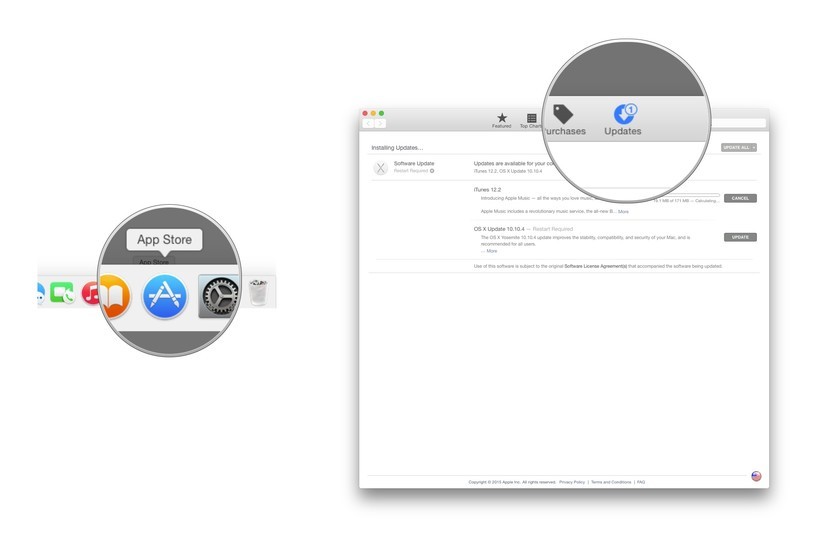 Step 3. If any iTunes updates are available, click Install.
4. Log Out & Log Back In to iTunes
This is another way to fix iTunes keeps skipping songs issues. When you log out of your iTunes, remember to also deauthorize your computer and authorize it again.
5. Music Files Corrupted
It happens that when the song files are corrupted or broken, they will be skipped and can't be played. The solution is to check each song in your library or playlist, and see if they can be properly played. If they're corrupted, replaced them with another version of the song or delete them.
Go ahead. You can have the benefits to download the actual files of the desired Apple Music contents with ViWizard Audio Converter. Later it's simple to replace the exclusives to Apple Music catalog with the itunes file that's iTunes compatible.
Part 3. How to Download Apple Music Files from iTunes App
If you have tried out all the fixes above and still can't fix the problem. The last one I'm going to introduce is to play your iTunes music offline, even without the iTunes app. Of course, you can directly download songs on iTunes and play them offline, but you can't make sure that the iTunes app will never go wrong again. So what's the solution to play every song on iTunes offline without using the iTunes app? Check this out.
With ViWizard Audio Converter, you can download all your songs from iTunes library to your computer. Then your can play them all offline without the iTunes app, but any media player you have on your computer. Comes with an intuitive interface, the ViWizard Audio Converter is designed to convert all protected iTunes, Apple Music songs and audiobooks into MP3, M4A, AAC, FLAC and other common formats.
The specially designed booster will keep the converting speed up to 30X faster with high output quality preserved. With this tool, you'll be able to remove the protection of all the songs from your iTunes and play them without interruption. You won't be annoyed by songs skipping again. Also, you can play the converted iTunes Music on any media player or device you like.

ViWizard iTunes Music Converter Key Features
Convert iTunes M4P songs to MP3, M4B, AAC, WAV, FLAC and M4A.
Download iTunes music, audiobooks, podcasts for offline playback
Play iTunes music anywhere
Retain 100% original quality and ID3 tags
Convert at 30X faster speed
Guide: How to Use ViWizard to Download iTunes Music in MP3
Do you want to know how to download iTunes Music in MP3? Let's have a look now. Don't forget to download ViWizard Audio Converter from the link above.
Step 1

Launch ViWizard and Load iTunes Music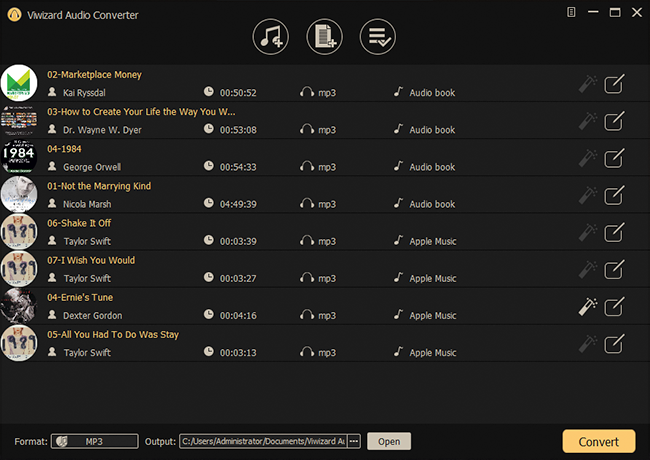 Open ViWizard and from the main interface, you will see three icons on the central top of the main screen. Here's what they for:
1)

This Load in iTunes button is for importing DRM audios to the Converter.
2)

This one is the Add Files button to add non-DRM audios to the Converter.
3)

This is the Converted History. When the conversion is done your converted files will be placed under this catalog.
iTunes Music are enrypted files, so you should hit the Load in iTunes button to import them to the converter. Or directly drag the local files from the iTunes Music folder to the ViWizard's interface.
Step 2

Customize the Output iTunes Music for Playing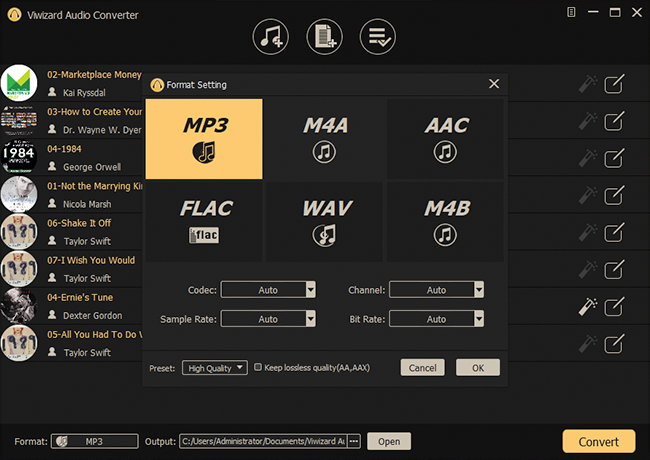 After uploading music to the converter, hit the Format panel to select an format for output audio files. We suggest choose MP3 for correct playing. You can also choose the correct format from MP3, WAV, AAC and others. Right next to the Format is the Output Path option. Click on

to select a file destination for you converted songs. Don't forget to click OK to save.
Step 3

Start Up the Conversion to Free iTunes Music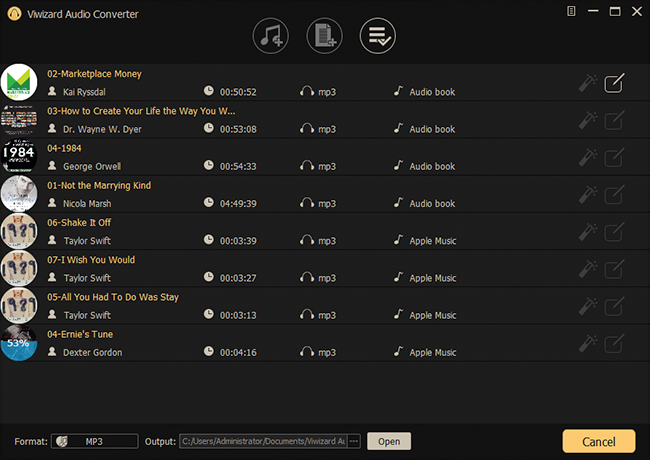 Once all the settings are over, you can begin the conversion by pressing the Convert button. Wait for a few minutes until the conversion is done, then you can locate the converted iTunes Music files in the folder you've selected. You can also go to the Converted History and use

to find the converted music.
Summary
When you finish reading this article, you should not be bothered by iTunes skipping through songs anymore. The most common problem is a network problem. You can pick the one that suits you from the above methods, go ahead and try it out. Don't forget that ViWizard Audio Converter can also help you solve the problem of songs skipping on iTunes, it also helps you to easily play your iTunes Music playlists on any device. Click the button below to start trying it out.
More iTunes music DRM removal tips