When searching iTunes forums, you'll probably find a frequently asked question like below:
"I have songs that I've added to my library via Apple Music that are grayed out in iTunes. They are unplayable from iTunes now but are fine on my iPhone and iPad. Any idea why iTunes songs greyed out with dotted circle? How to fix it?"
You may find it's familiar if you use iTunes music as well. It's really frustrating to play the iTunes songs but only discover that many of the tracks are grayed out and unplayable. Don't worry, though. To fix the iTunes songs greyed out issue is not very difficult. This post will show you some solutions.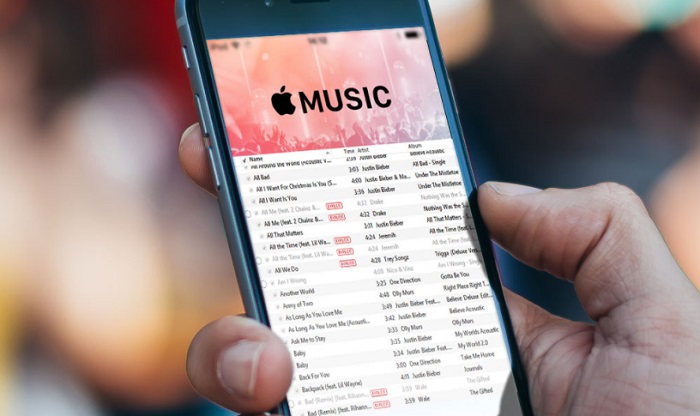 Part 1. Why Are iTunes/Apple Music Songs Greyed Out?
If your songs are greyed out in Apple Music or iTunes app, it usually indicates that the songs are not currently available for playback. There can be several reasons for this issue to identify.
1. iCloud Music Library syncing issue
If you have subscription to Apple Music or iCloud and use iCloud Music Library to sync your music across devices, songs greyed out in your music library due to the sync problems. You should try disabling and re-enabling iCloud Music Library on your devices to refresh the synchronization.
2. Local files syncing issue
If you have manually put local files to your iTunes library from other sources, such as ripped CDs or downloads, the greyed-out songs could indicate a program with the file location of the file itself. When the songs are deleted on your computer or corrupt, or unreadable in your music library, the songs won't be able to sync and greyed out in iTunes. You should try to check the accessibility of them and re-add to your library.
3. DRM (Digital Rights Management) restrictions
Some songs may be subject to DRM restrictions, which can limit their playback on Apple Music or iTunes. If the song that's greyed out in your music library have DRM, you may need to authorize your device or Apple Music account to play them. You should try to authorize your devices (up to ten and no more than five computers) associated with your Apple ID for the songs.
4. Unavailable or removed content
It's possible that the songs that're greyed out have been removed from the Apple Music catalog or are no longer available for playback. Or the songs are not available in your country or region. You should try to change the country or region settings on your devices. Alternatively, you may need to purchase the songs individually or find alternative versions or sources on Apple Music.
Part 2. Solutions to Fix iTunes/Apple Music Songs Greyed Out on Computer
All these could case the greyed-out issue of the songs on Apple Music or iTunes. We already sorted out the potential solutions along with the causes, and you can get the detailed guide to try these solutions in the following parts.
1. Check the Audio Format
If you are unable to play certain songs in iTunes or Apple Music, it may be that they are in unsupported formats or protected by the digital right management (DRM) protection.
To confirm whether they're protected, simply go to iTunes to find that specific track. Right-click it and choose Get Info. Look for Kind under the File tab. If it shows "Protected&quot, then it means the track is with protection.
In this case, you can fix the greyed out songs in iTunes by removing protection from the tracks with a third-party tool like ViWizard Audio Converter, an all-in-one audio solution to convert protected iTunes/Apple Music audio to common formats. It supports six output formats, such as MP3, WAV, AAC, FALC, M4A and M4B. The original audio quality will be kept after the conversion, so you don't need to worry the audio quality. And the information tag of each audio will be saved too. To save time, this tool can convert audio in batch at 30x faster speed. ViWizard definitely will be your best choice to back up Apple Music playlists.

ViWizard Apple Music Converter Key Features
Back up Apple Music Songs on computer
Convert Apple Music songs to MP3, FLAC, WAV, M4A, M4B, AAC
Download and play Apple Music songs without limitations
Retain 100% original quality and ID3 tags
Convert at 30X faster speed
Step 1

Launch ViWizard and Import Apple Music Files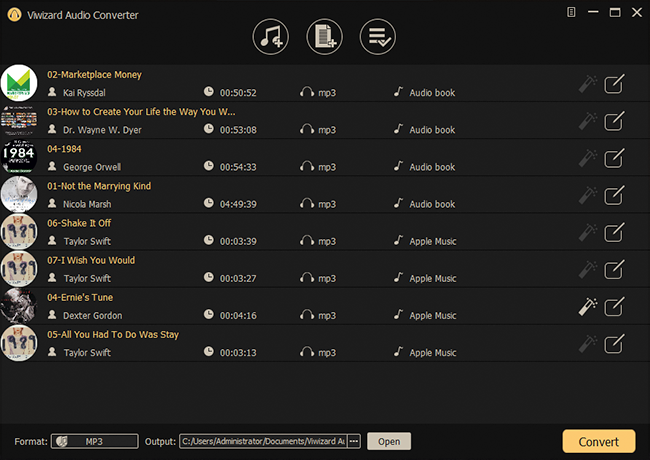 Firstly open ViWizard Audio Converter. Then click the Load in Library button to add the Apple Music songs you've downloaded on your Apple Music library. In the popup window, choose the music you want to convert and click OK to confirm. Or you can drag and drop the downloaded Apple Music files to the ViWizard.
Step 2

Setting Output Format and Parameters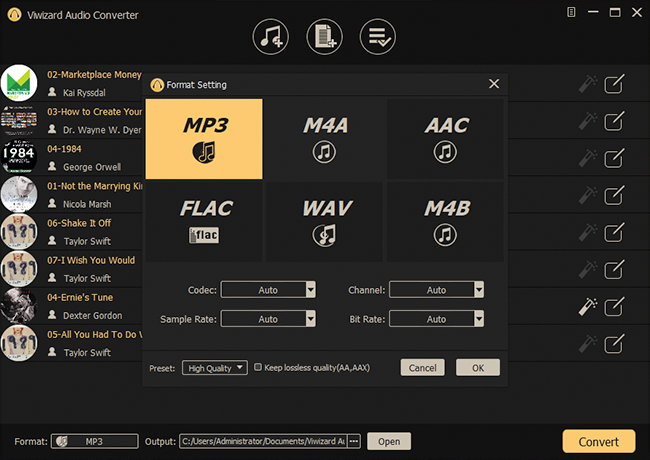 Once completed loading files, click the Format button in the bottom left and set the output format among MP3, AAC, FLAC, WAV, M4A, and M4B. Here you can also set the codec, channel, sample rate, bit rate, etc. depending on your preference. You can also click the three-dot icon and choose the output location. Don't forget to hit the OK button to save all settings.
Step 3

Start Converting Apple Music for Mixing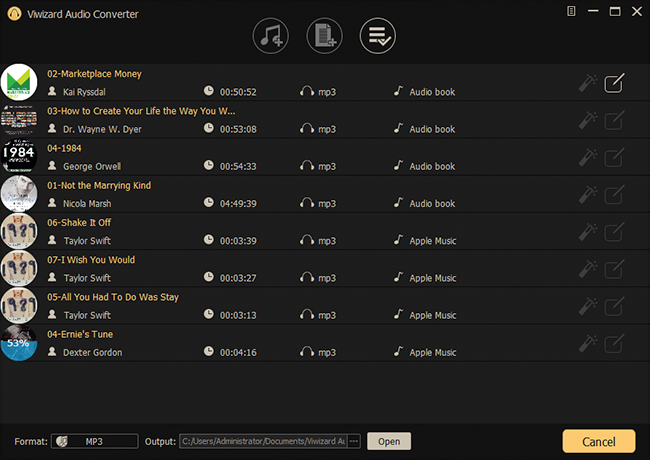 Now click the Convert button to start converting the Apple Music songs to the format you need. When the conversion is done, tap the Converted button to check the well-converted Apple Music songs.
2. Check iTunes Settings
Check Selection is a feature that allows users to manually select or deselect speicifc songs for matching or updating to your iCloud Music Library. When you have iTunes Match or Apple Music enabled, iTunes scans your library and matches your songs with its vast online catalog. If you enable the check selection setting in iTunes for these greyed-out songs, the songs should be available again for the playback.
Step 1. Select Edit > Preferences > General, and ensure to select "List view checkboxes" and click OK to save.
Step 2. Now head to the greyed out songs in the Album section. Right-click on it > Check selection.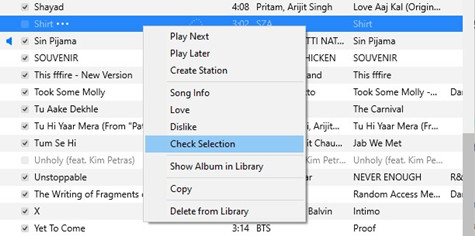 Note: This setting is relatively small and not very noticeable so you should carefully look for it.
3. Re-download the Songs Greyed Out in iTunes/Apple Music
Another way to make the greyed out iTunes songs or Apple Music play again is to check if the particular track in question was purchased by you in iTunes. If so, deleting and redownloading it from iTunes would always works.

Step 1. Go to iTunes Store on the top right.
Step 2. Click on your account and find the purchased option from the drop-down menu.
Step 3. It will list all the files you have purchased. Find the song that greyed out and then redownload it from iTunes.
4. Resync the iTunes Music
As we mentioned above, mostly the problem occurs because of a syncing problem. In specific, if you removed the songs from your iTunes library before, they might show up as greyed out when you sync iTunes to iPhone. To fix the issue, follow the tutorial here:
Step 1. Delete the grayed out songs from iTunes.
Step 2. Refresh your iTunes library and playlists.
Step 3. Re-sync your iPhone with iTunes using USB cable instead of Wi-Fi.
5. Re-authorize Your Computer
If unfortunately, all the above-mentioned solutions can't solve the Apple Music/iTunes songs greyed out issue for you, you are suggested to try the other option before contacting Apple support. All you need to do here is de-authorize and re-authorize your computer.

Step 1. Go to iTunes and click Store in menu bar.
Step 2. In the drop-down menu, select Deauthorize This Computer option and log out of your iTunes account.
Step 3. Restart your computer, navigate to iTunes > Store, and then click Authorize This Computer.
6. Check the Checkboxes Setting
If your songs are grayed out but can be played still, you can try to use this method.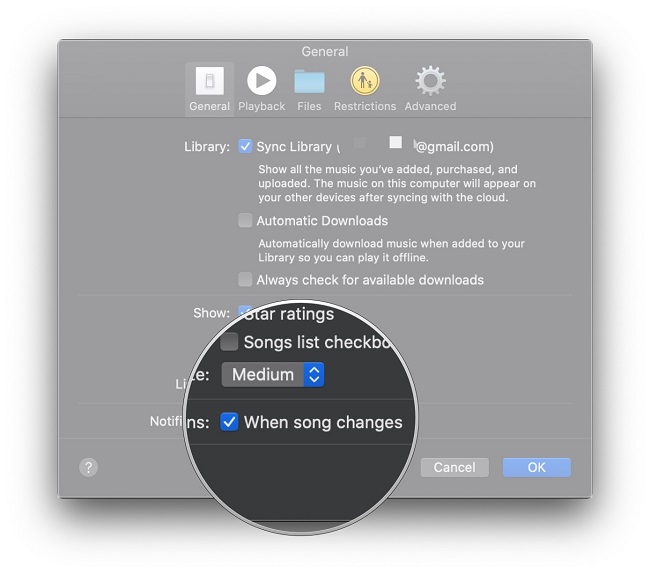 Step 1. You need to open Apple Music or iTunes and go to Library > Songs to see whether there is a check near the song.
Step 2. If you do not see the check, go to the menu bar and choose Music > Preferences on Mac or choose iTunes > Preferences on a PC.
Step 3. Go to General > Songs list checkboxes. Click OK.
Part 3. Solutions to Fix iTunes/Apple Music Songs Greyed Out on iPhone/iPad
1. Delete and Redownload the Songs
If you meet Apple Music songs greyed out issue on iPhone or iPad, you can simply delete and reinstall the songs in order to fix the problem. The process is quite simple as shown below.
Step 1. On your iPhone, launch the Settings app and navigate to General > Storage > Music. If you are using older iOS, you should go to Storage & iCloud Usage and choose Manage Storage under Storage.
Step 2. Press Music and tap the edit option.
Step 3. Tap the symbol on the left for all songs and select Delete. Then wait for the process to complete.
Step 4. Sync your iPhone to iTunes and let it re-download all the songs for you.
2. Check Network Setting
Apple Music allows us to stream songs on WiFi networking only by default. If you're using cellular data, it may become greyed out. Now check your network setting and allow it to use cellular network, too.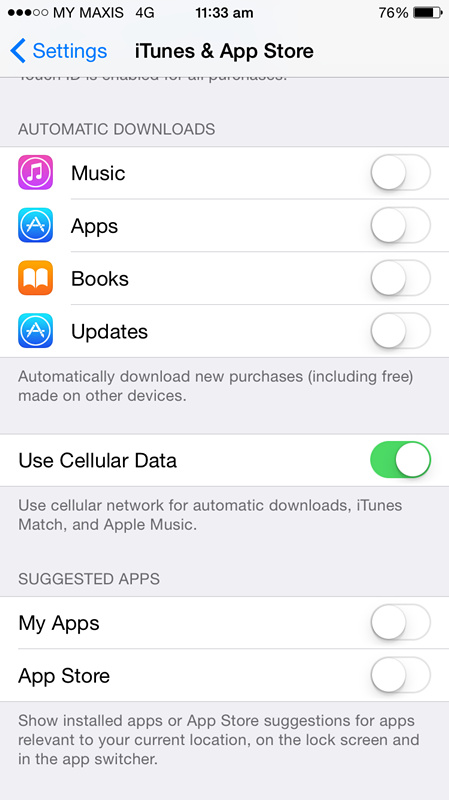 Step 1. Open the Settings App on your iPhone.
Step 2. Scroll down and find the iTunes & App Store menu. Enable the Use Cellular Data option. Now enjoy your Apple Music songs again.
3. Check Permission Settings
Your device permissions may cause the iTunes songs greyed out problem. You need to check the permission settings on your device to solve this problem. Follow the guide below: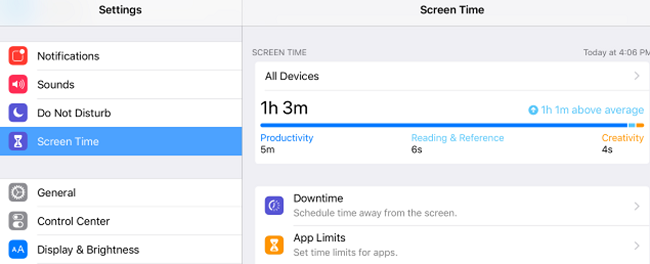 Step 1. Go to the Settings app on your iPhone, Mac, or iPad.
Step 2. Choose the Screen Time button.
Step 3. You can edit the permissions and exclusions here.
4. Log out and Log in Your Apple ID
Step 1. Open the Settings app on your iPhone, Mac, or iPad.
Step 2. Click iTunes & App Store and then tap your ID.
Step 3. Next, tap the Sign Out button.
Step 4. Wait for a few seconds, relog in to your Apple ID. And then the sync of Apple Music will be refreshed.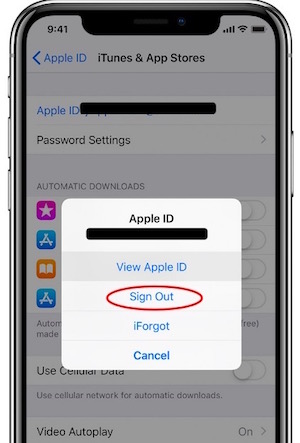 Part 4. Suggestions to Fix Greyed Out Songs on iTunes
Except for the solutions above, some other suggestions deserve to be tried.
1. Sometimes you will find that all or most of your songs are grayed out. You need to make sure that the Sync Library button is turned on.
2. If you are an Apple Music subscriber and some songs downloaded to iTunes greyed out, there are mainly 2 conditions. First, some songs might have not been released yet. So you need to wait for the release of these songs. Second, these songs may be removed by Apple Music. But you can buy them on iTunes to listen to them.
Summary
Now you may know how to fix greyed out songs on iTunes. You can try the guides above one by one to fix the problem. While most songs can be fixed, if the song has copyright issues, that may not be recoverable, so you'd better back up your playlist in time. The best tool to save your playlists is ViWizard Audio Converter which can save your Apple Music playlists in MP3 format and can be transfer to any device you like.